Top 10 Traditional Bengali Mehndi Designs For Weddings
A stunning mehndi design adds a dramatic appeal to your hands. Look at these best bengali mehndi designs to steal the limelight of your mehndi ceremony.
In India, women adorn their hands with beautiful henna designs to enhance the beauty of their hands on their wedding day. On the other hand, Bengali brides used to decorate their hands and feet with a red dye known as Alta.
Both mehndi and Alta are considered to be auspicious for a bride-to-be. Today with the globalization of these beautiful mehndi designs, Bengali brides are experimenting with various traditional and contemporary forms of bridal hand art. The beauty and creativity of these Bengali Alta or mehndi designs have always been appreciated by artistic kolkata wedding photographer like us. Whether it's the mesmerizing sight of Subho Drishti or the sacred ritual of Anjali, the beauty of the bride's hands captivates everyone. From traditional Alta designs to Arabic patterns, let us decode some most stunning bengali mehndi designs to capture the perfect bridal pose.
1. Captivating Peacock Style Bengali Mehndi Design
Peacock motifs are a part of graceful and traditional mehndi design that represents royalty. The physical beauty of this mythological bird is always given a special status in our country. Hence, the peacock bridal mehndi design is a flawless art to grab the attention of your wedding guests. With delicate lines of henna curves covering your palm has its own charm. The beautiful tail of the peacock design with old strokes elevates the beauty of your hands.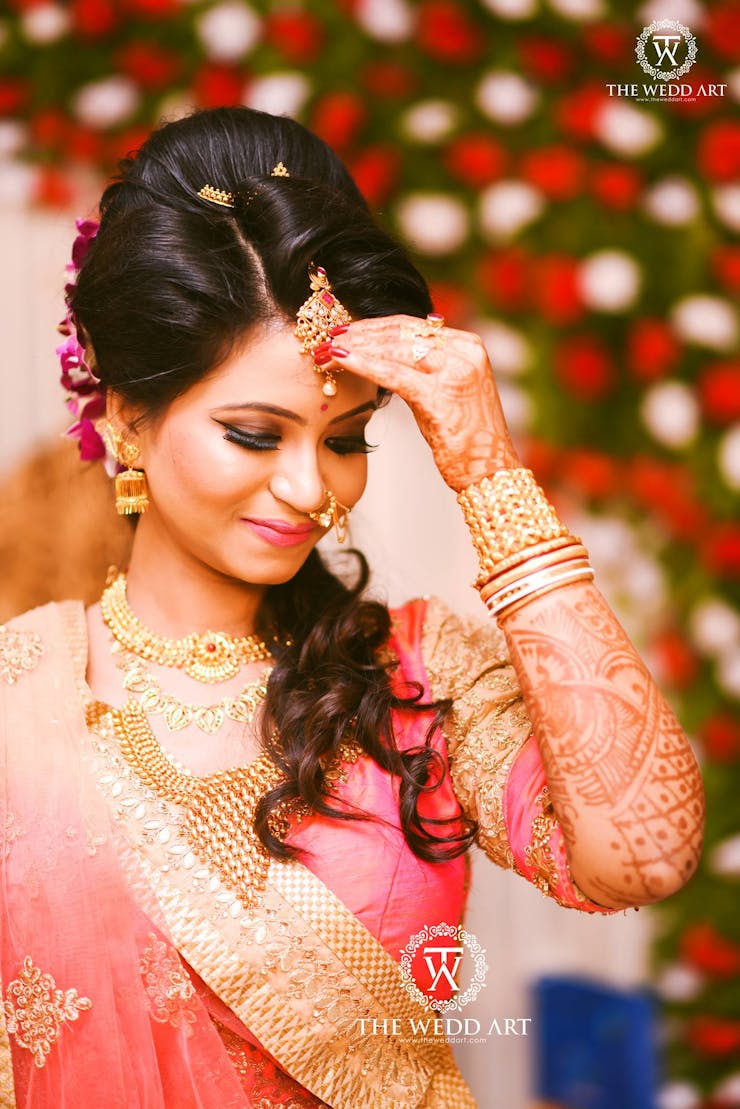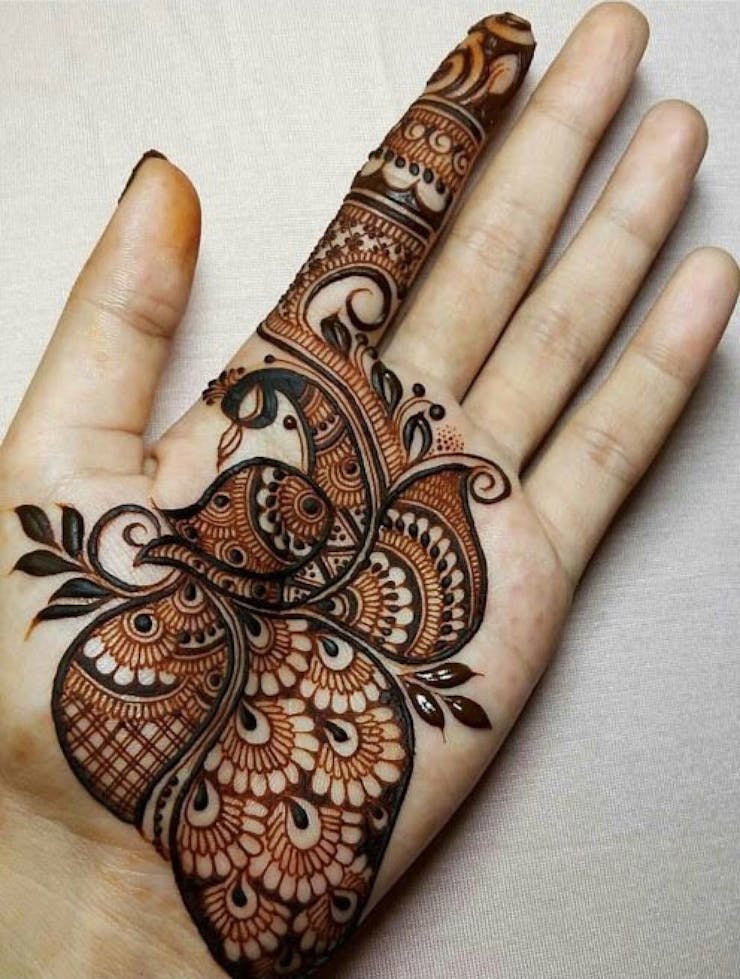 2. Beautiful Floral Bengali Mehndi Design
Floral mehndi designs are considered the top bridal mehndi designs which never fails to add a glamorous look every time you wear them. These delicate floral designs are always a beautiful part of candid wedding photography in kolkata. We bet you that these heavenly mehndi designs will provide an unparalleled eye-pleasing charm to your wedding look. Wearing golden bangles or armlets in your hands will offer you an elegant look in your gorgeous Bengali bridal pose.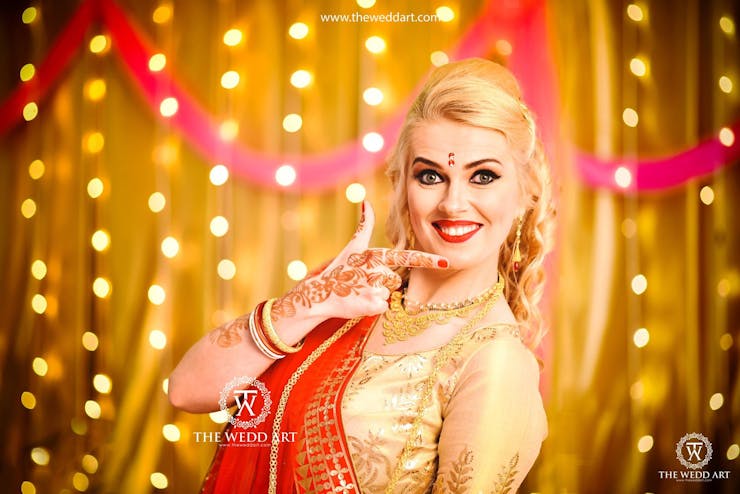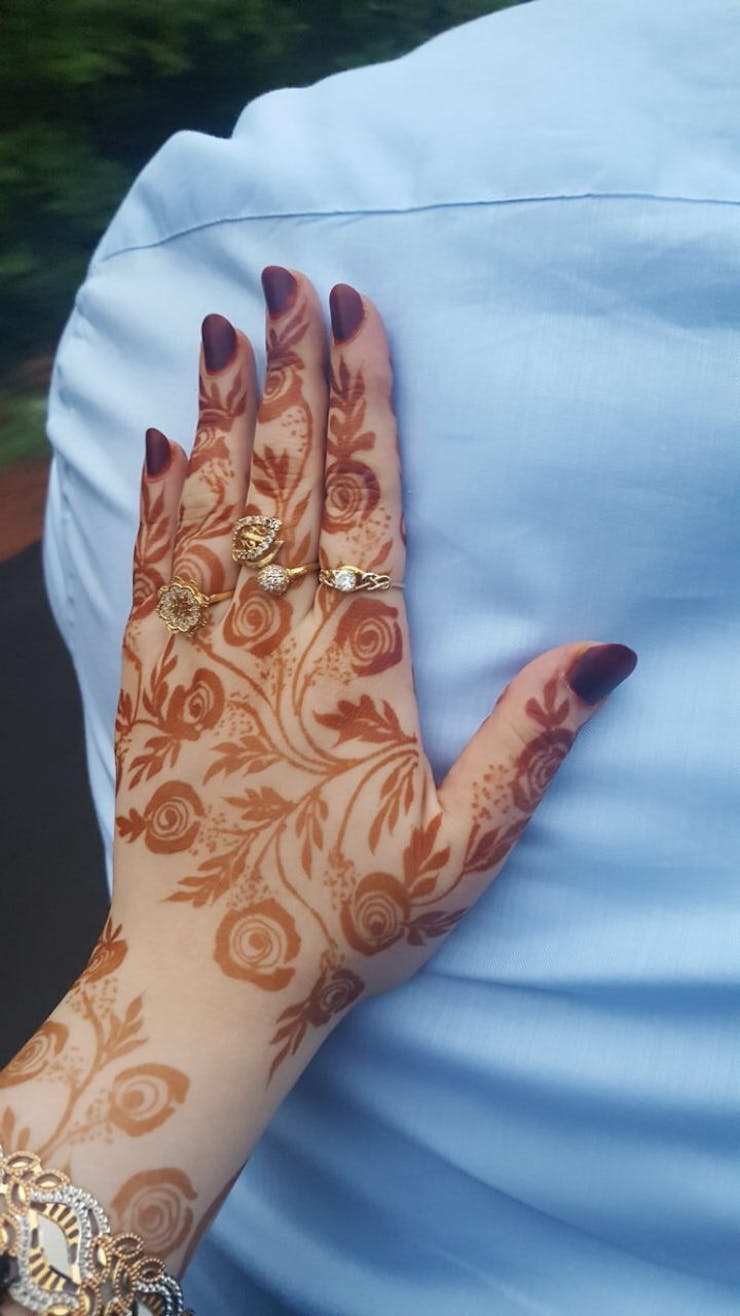 3. Traditional Alta Mehndi Design
Adorn your bridal hand with the beauty of red Alta designs on your special day. Traditionally the brides are applied with a deep red circle in the middle of their hands. To provide an artistic touch you can design the remaining part of your palm with intricate henna designs. These eye-catchy and traditional wedding mehndi designs stay longer in your hands and offer a divine look to you.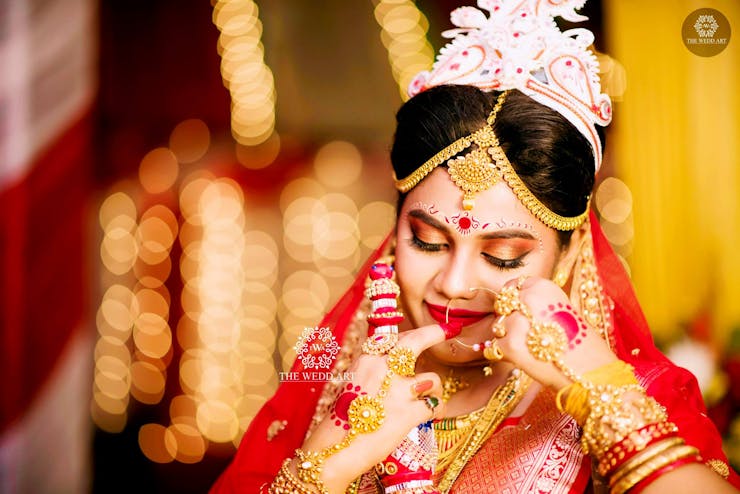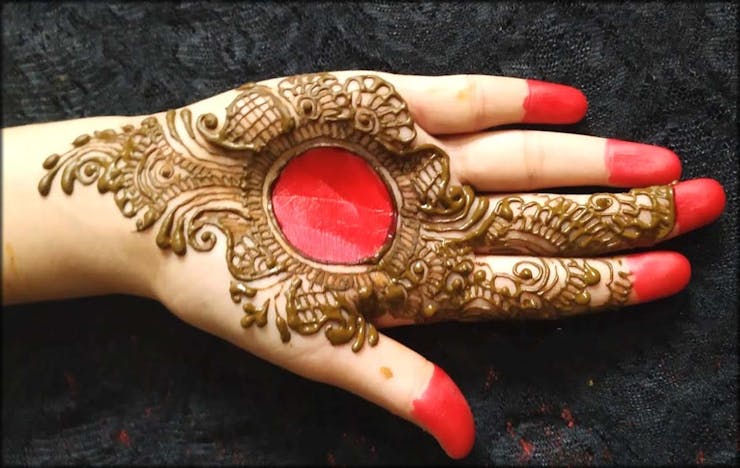 4. Intricate Bengali Alta Design
A bridal hand covered with blossoms, whines, and twists is a sign of beauty and elegance. This kind of Bengali mehndi design provides an ornamental look to the hands. If you preferred to adorn your hands with full hand mehndi design then this Alta art implementation will make your palm look beautiful. This red Alta design will match the beauty of your gorgeous Bengali bridal look. Don't forget to flaunt the stunning beauty of Alta covered hand in a dramatic Bengali bridal pose.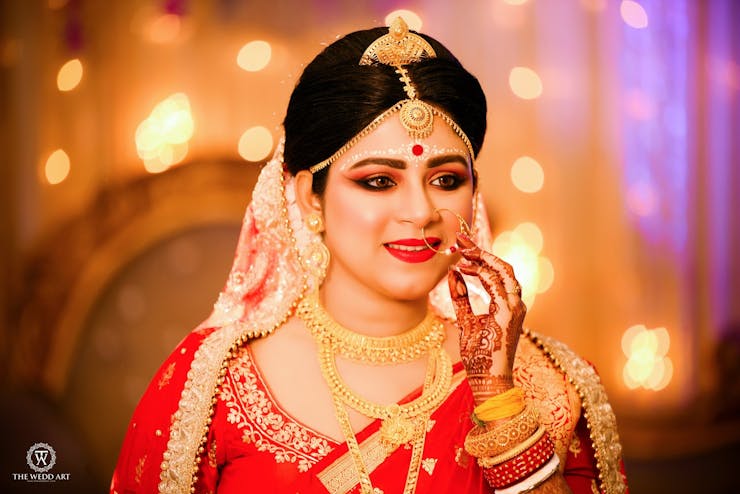 5. Astounding Jaal Mehndi Design
If you think that the traditional henna designs can not add the OTT elements to your bridal look then you are probably wrong. These are considered as one of the top mehndi design in Indian weddings. The intricate meshwork designs are the favorite of many Bengali brides. The dainty dots and bold strokes of a jaal mehndi gracefully adorn your hands. A dense and creative jaal like this narrates a beautiful story of your wedding day in your wedding pictures.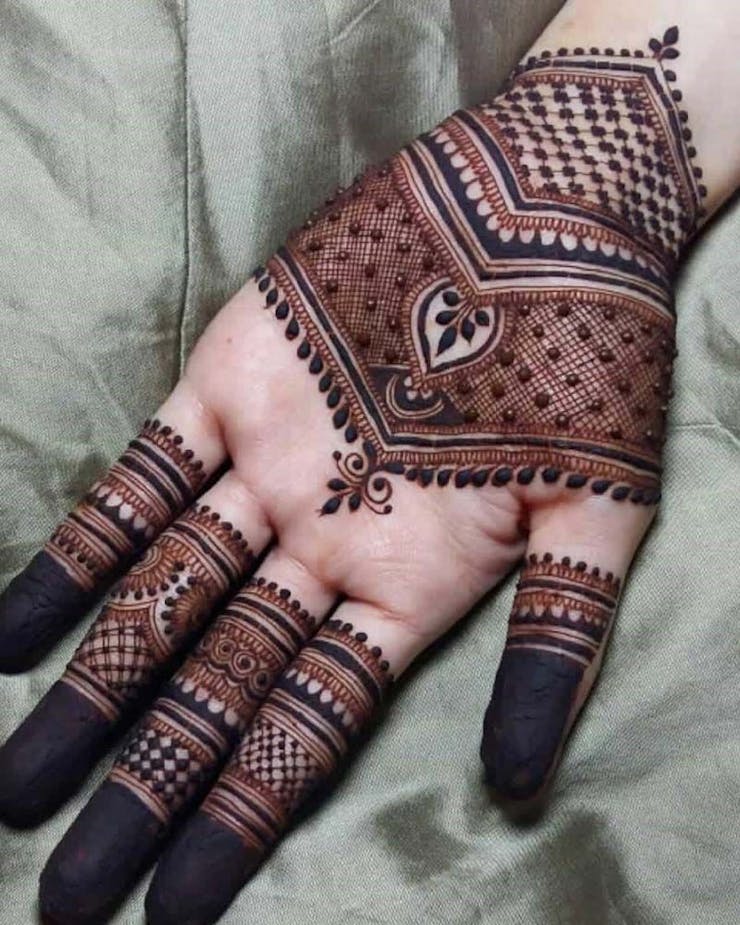 6. Wonderful Paisley Bengali Mehndi Design
Paisley designs have the part of the traditional wedding for centuries and it has adorned many brides' hand. These are simple mehndi designs that add extra drama to your bridal look. You can design the traditional paisley motifs in various designs by giving them bold strokes. Its spreads from one finger to your entire wrist area. These stunning designs are aesthetically pleasing to the eyes. This kind of unique mehndi design always wins heart due to its versatility.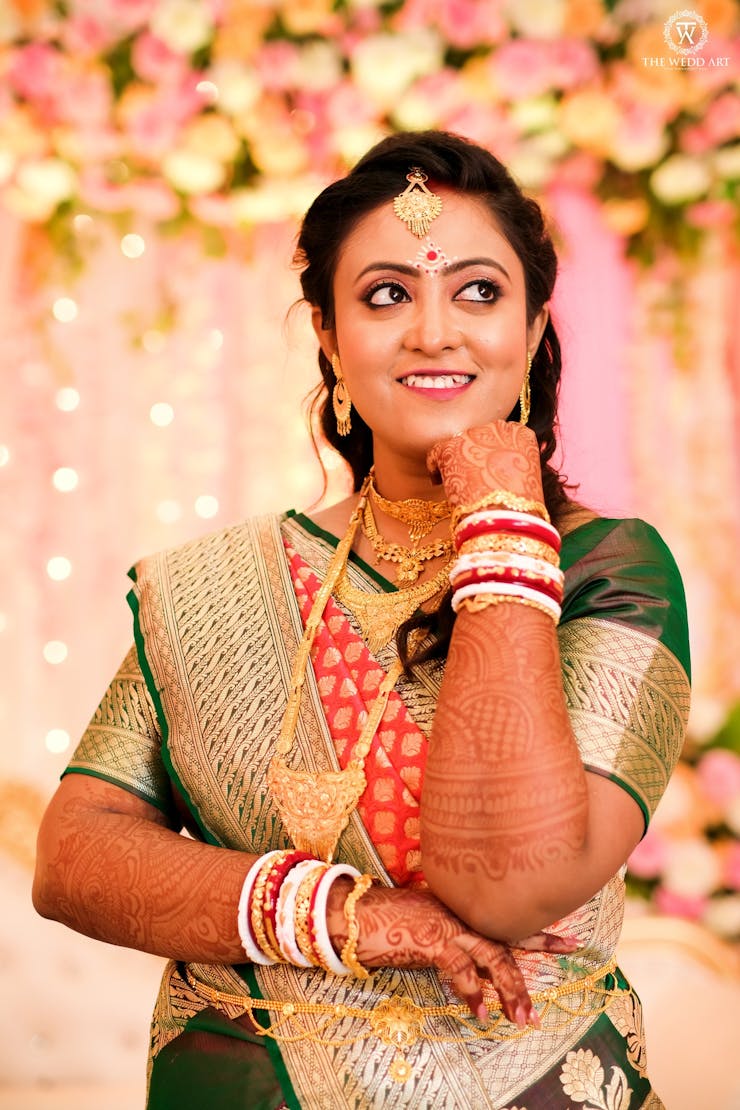 7. Circular Pattern Bengali Mehndi Design
A circular pattern design on hands looks stunning on a minimal bride. This neat and beautiful circular pattern is inspired by a traditional mandala design that looks absolutely breathtaking. To jazz up the style of this mandala design you can draw jaal patterns on your fingers and wrist area. The simplistic henna designs are a perfect pick for wedding festivities. Adding jaal patterns by leaving enough space in the palm area adds sheer perfection to this stunning mehndi design.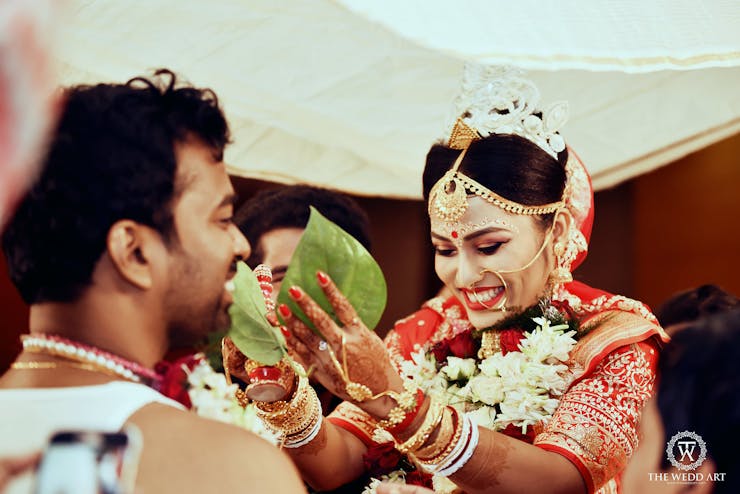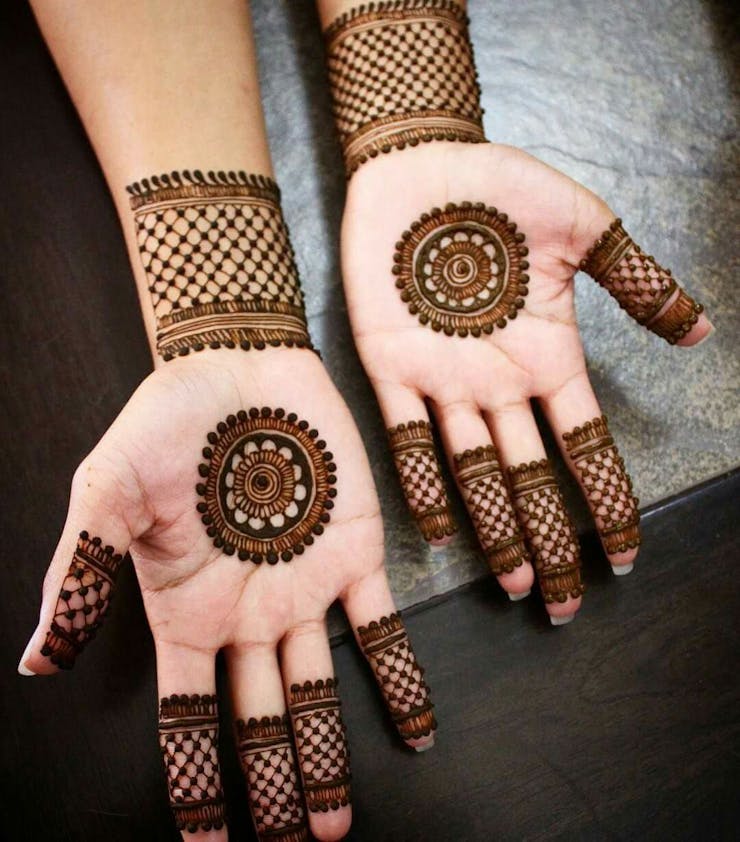 8. Full Hand Arabic Style Bengali Mehndi Design
Inspired by Arabic mehndi design this fully decorated hands of the bride is something you just cannot take your eyes off. The fine detailing and artistic element of this gorgeous bridal mehndi look awesome with traditional Bengali bridal wear. This art form has been lately adapted into Bengali mehndi designs to add an artistic effect to the bridal look. The bold curves, vines, and beautiful diyas designed in the palm bring the oomph factor to your mehndi-laden hands.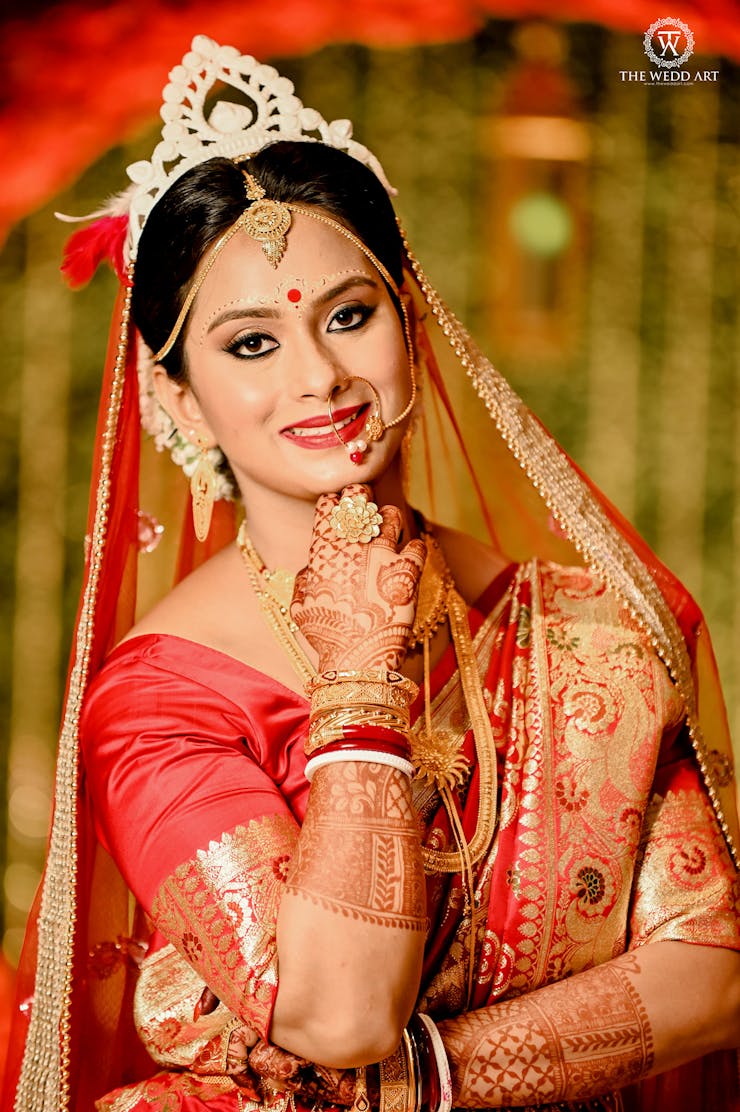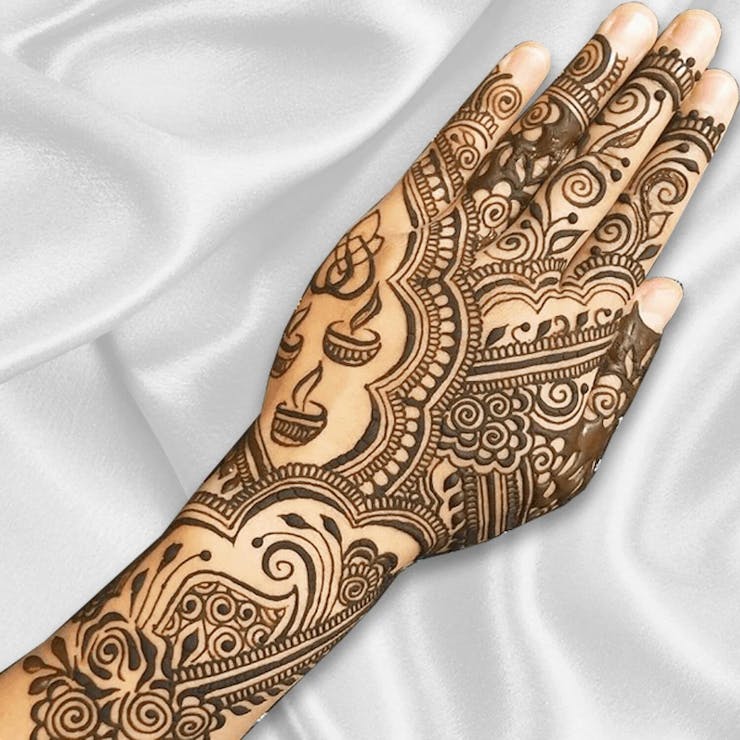 9. Simple Bengali Alta Design For Foot
You have surely seen this kind of gorgeous Alta foot design in Bengali wedding photos. Most of the Bengali brides adorn their feet with this circular Alta design on their wedding day. This is a beautiful traditional Bengali look of a bride. Being one of the best simple mehndi design you can see Bengali women decorating their feet with red Alta also on cultural festivals and other occasions. These elegant Alta designs enhance the beauty of your feet and provide it an attractive look.
10. Gorgeous Mirror Image Bengali Mehndi Design
This mirror image mehndi design finds its way to increase the ethnic charm of your hands. You can incorporate the beautiful paisley motifs and leafy patterns to make it more beautiful. This astounding mirror image provides an identical look to both your hands and makes it a stunning display of artwork.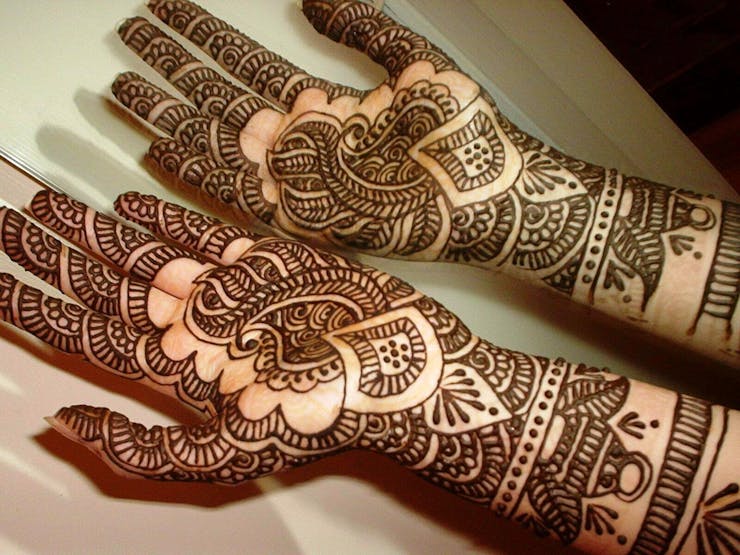 Hope you get an ideal Bengali mehndi design to provide your hand a dreamy and fabulous look on your wedding day.
More About Wedding Photography
Latest Blog Posts