The Ultimate Guide To Pre Wedding Shoot Ideas In Kolkata
Planning a pre-wedding shoot in Kolkata? We've created a list of some great pre wedding shoot ideas in Kolkata that creates wonderful wedding stories.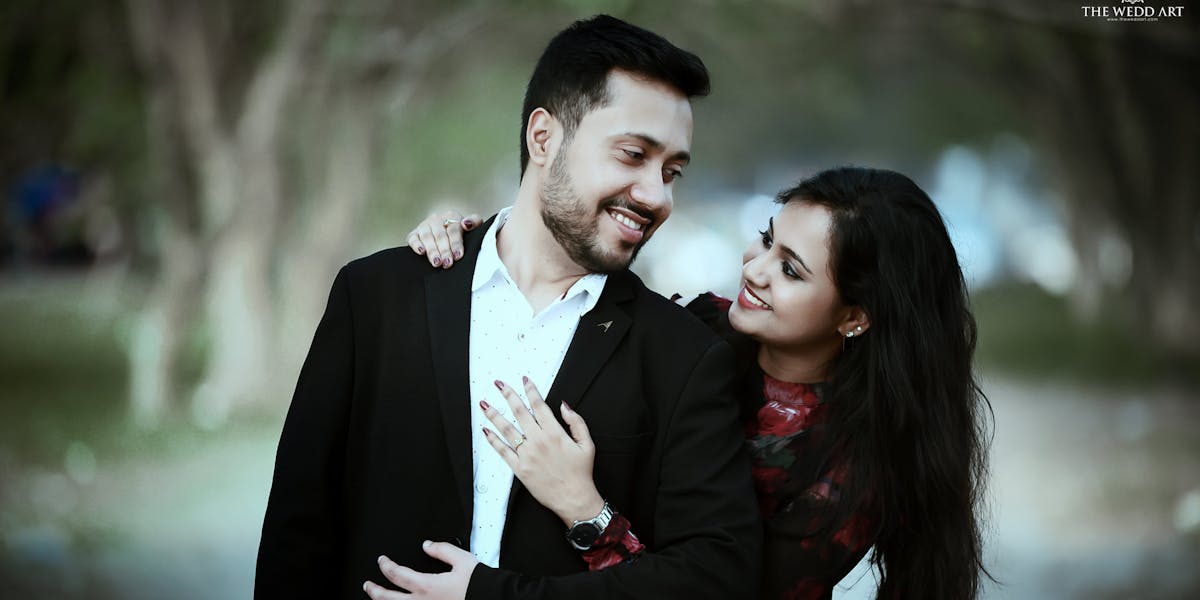 What can be a better way than a pre-wedding to capture your love and emotions together in a beautiful wedding frame? People nowadays take their pre-wedding shoot very seriously. Couples indulge themselves in pre-wedding shoots to tell everyone the beautiful tale of their love in a creative way. Every couple wants to shoot a dreamy pose that is inspired by romantic songs or movies. Bengali wedding photography kolkata is transforming itself by introducing new and innovative ways of conducting a pre-wedding shoot.
So, if you are looking for how to do stunning pre wedding shoot ideas in Kolkata, then keep scrolling down and read this interesting blog.
Some Important Tips For Couples To Shoot A Candid Pre-wedding Photos
The first and foremost thing to plan a pre-wedding shoot is choosing a perfect theme.
Nature and night shoots can create a romantic ambiance during photo shoots.
Choose a vintage location or heritage site if you want to display your cultural roots.
Choose a dress according to the pre-wedding theme and season of the year.
A smile makes your picture more beautiful. Thus forget to smile and enjoy your pre-wedding shoot.
You can opt for wonderful props like a boat, flowers, chandelier to create a dramatic effect.
The most important thing is choosing the best pre wedding photographer in Kolkata who can create a beautiful pre-wedding tale.
1. A Royal Wedding Shoot
You can opt for a vintage pre-wedding photoshoot that has a unique flayer and charm in it. Look at this beautiful pre-wedding theme design by using some vintage props like a gramophone, telephone, and a royal chandelier to provide a classic effect to your photos.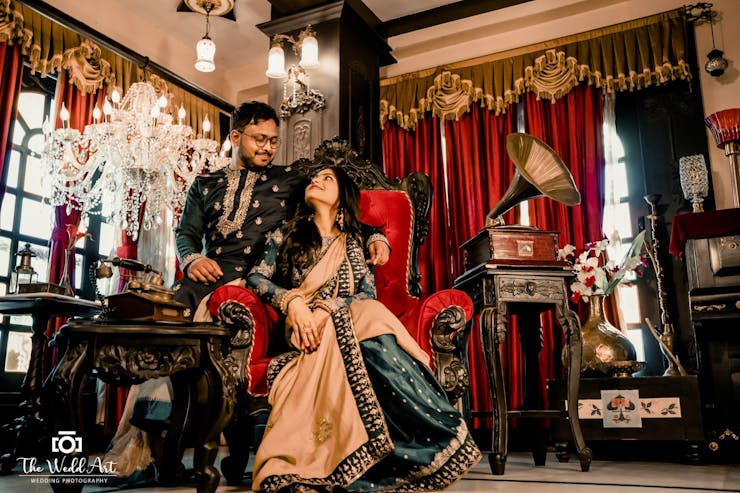 2. The Dramatic Black & White Portrait
We can never deny the charismatic effect of black & white of the golden era that we have seen on television. A black & white pre-wedding shoot ideas creates everlasting memories in a magical way that touches your heart. The black & white portrait of this adorable couple is truly an inspiration for all the love birds.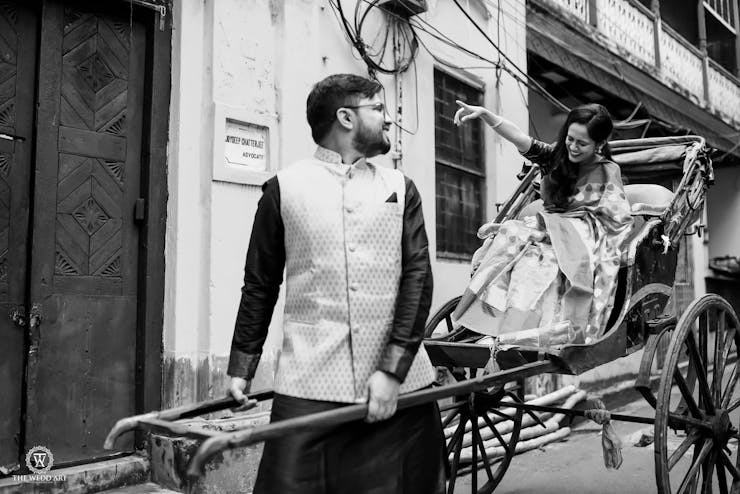 3. With The Iconic Howrah Bridge
A wedding shoot with an iconic backdrop creates a stunning wedding album. How can you miss the iconic Howrah Bridge? The spectacular display of this British colonial architecture on the beautiful river Ganga is going to be amazingly impressive.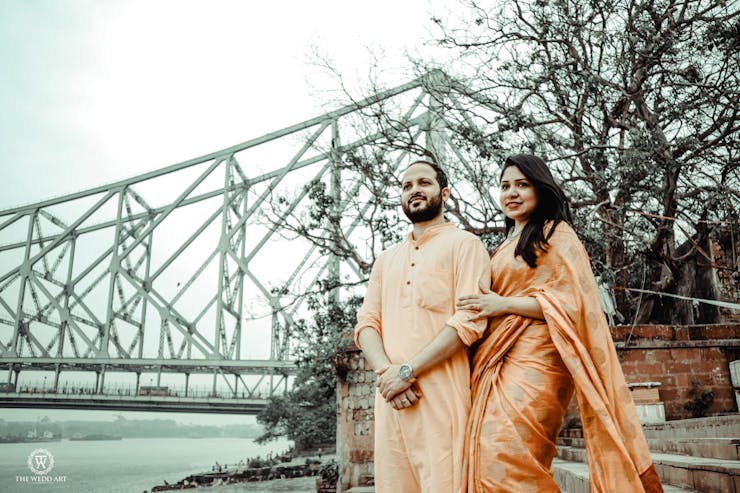 4. A Dreamy Shoot Amidst Nature
Get lost in the woods to create a dreamy fairy tale-type pre-wedding story. It is a better way to express your love and capture a romantic movie amidst nature. Make sure to capture your couple's chemistry in your pre-wedding shoot.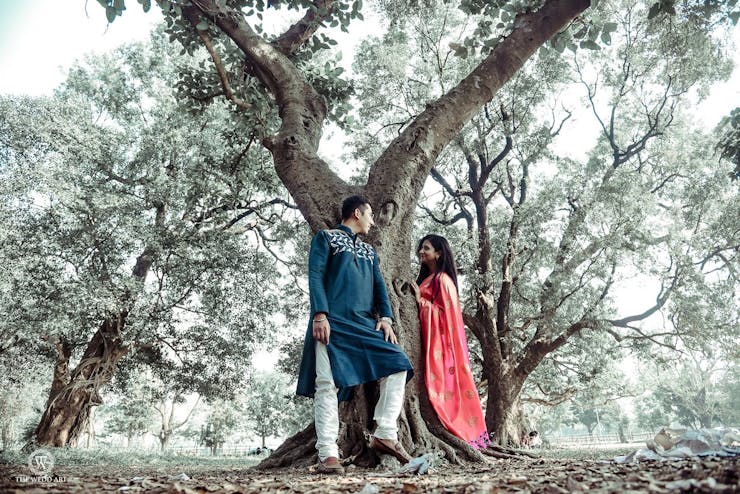 5. That Beautiful Journey
If you want to keep it simple and interesting taking a village highway would be a perfect idea. The majestic view of green fields and a deserted highway adds a little drama to your pre-wedding story. You can choose ethnic wear to flaunt your ethnicity. This is one of the most expressive couple photo shoot ideas for some artistic shots.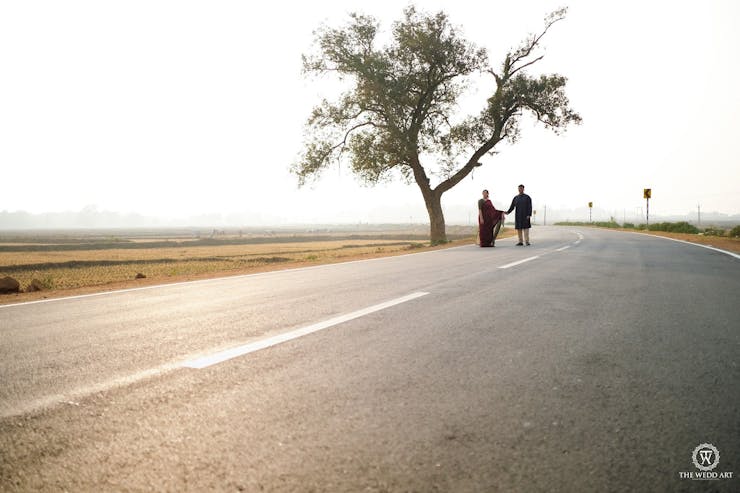 6. Inspired From DDLJ
Have you seen this scene anywhere before? If you are a great fan of Indian movies then you will definitely guess what we are talking about. The DDLJ inspired romantic shoot in a flower or mustard field is surely a great way to live your Bollywood dream. Get dressed in Indian style to recreate the great moment of superhit blockbuster DDLJ.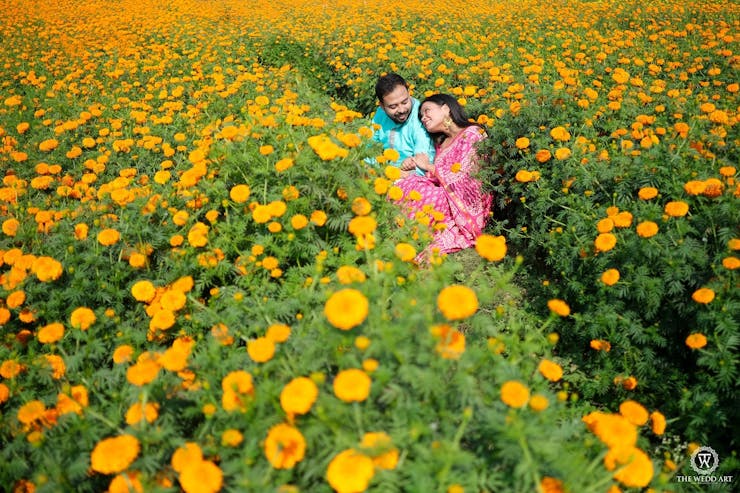 7. A Classic Love Story
Raindrops add a dramatic effect to pre-wedding photography. This cute couple sitting in a vintage car is inspiring us for a dramatic photoshoot. The raindrops on the front glass of the vintage car look amazing and beautiful.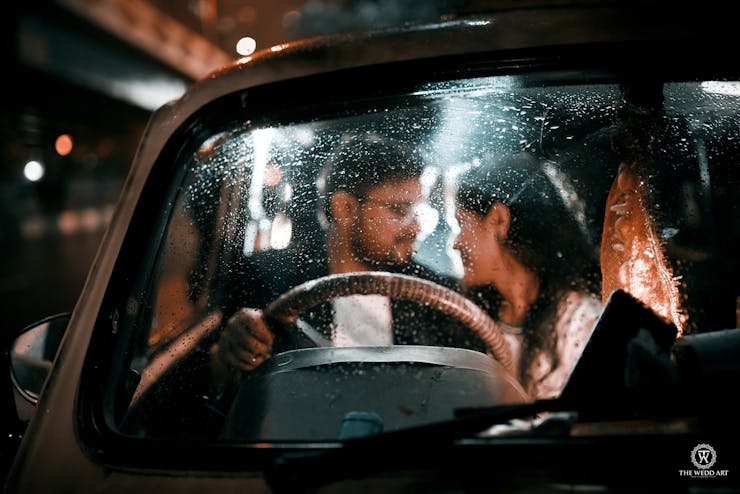 8. A Dramatic Scene Behind
This is the most romantic and trending pre-wedding photoshoot styles. Adding a cinematic backdrop like this can glamorize your pre-wedding photograph to an outstanding level. Spending a day on lakeside and shooting at the time of beautiful sunset enhances your wedding pictures and gives you some time to spend together.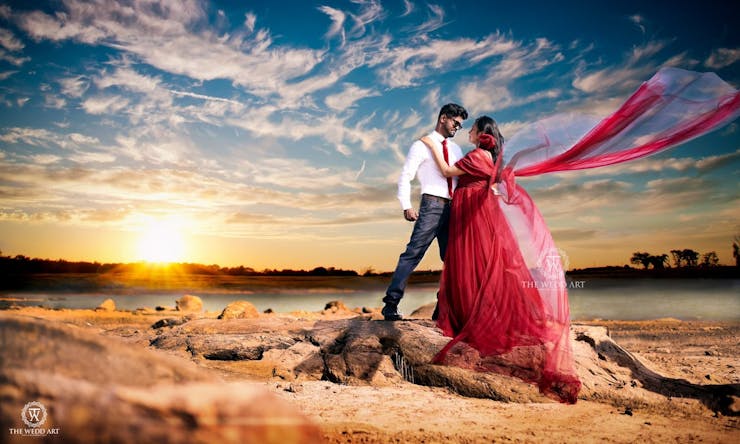 9. Romantic Vibes With Guitar
Here is another option for a pre-wedding romantic photo shoot. Musical instruments like a guitar in a dark night with a dreamy campfire can add a romantic twist to your photoshoot. Under the dark sky, in the company of your would-be life partner makes everything a real fantasy.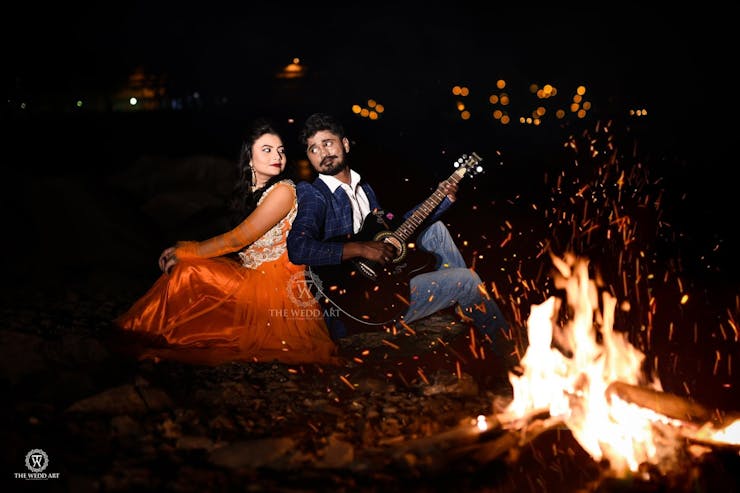 10. Your Miniature Shot
Share your love story in a more creative way like this couple has done. Miniature photography is the latest trend in pre-wedding shoots. Not only this theme makes your pictures more adorable but also adds a fun effect that you would love to enjoy forever.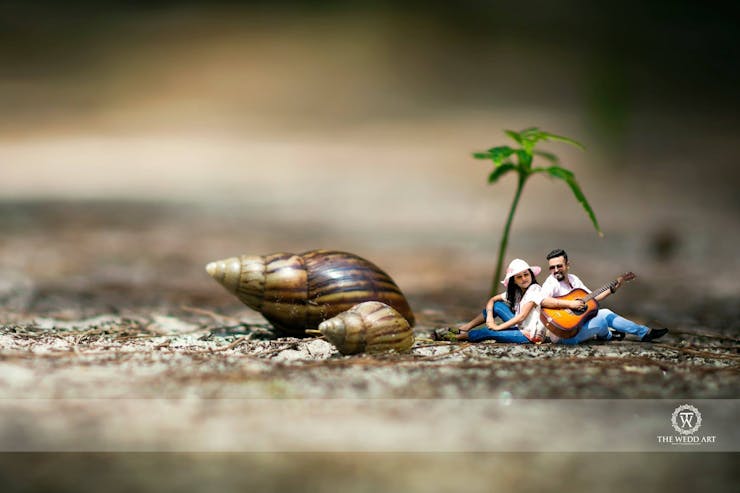 11. Make It Filmy With Props Like Boats
If you are looking for some extraordinary pre-wedding photo shoot props then take inspiration from this cute couple. Standing in front of a wooden boat in a Titanic pose amidst lush green trees and bushes is awe-inspiring.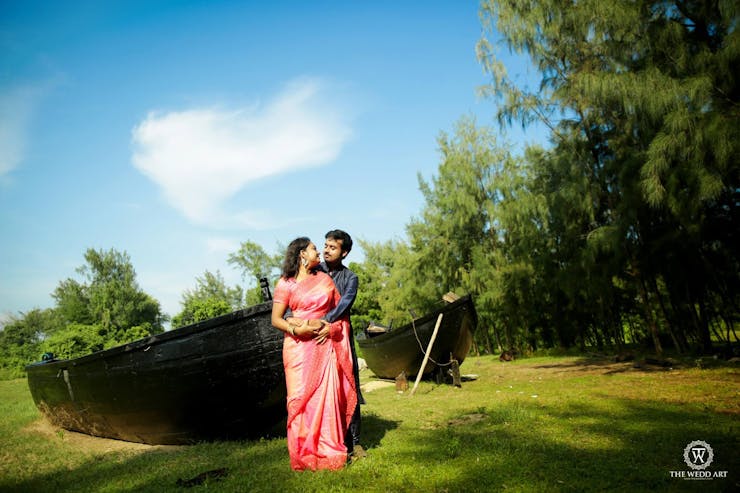 12. The Romantic Rain And You
Capture your love story in a rain-themed photo shoot. We have witnessed this romantic scene in many Bollywood movies. Get nostalgic in a rainy background with an umbrella to shoot one of the most attractive pre-wedding poses.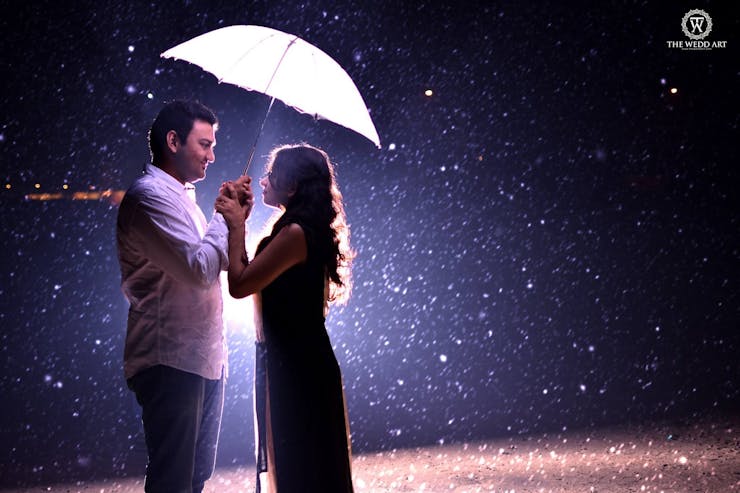 13. Silhouette Of A Great Love Story
What a beautiful way to create a dramatic wedding tale. Shadows of couples captured in a beautiful frame can add an eternal feel to your pre-wedding photos. The golden silhouette in the sunset is a kind of magical portrait that will leave a great impression on people's minds.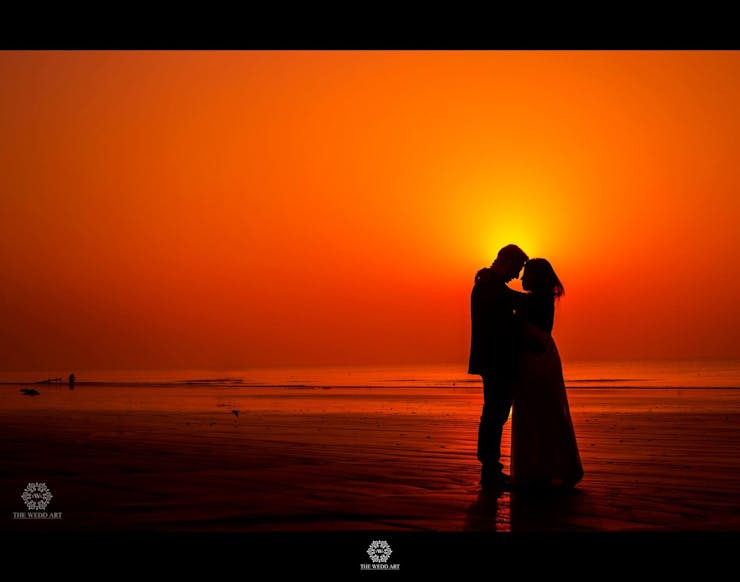 14. Reveal Your Playful Side
Look at this cute couple playing with the paper boat on the ghats of Ganga. We are impressed by their simplicity and playful way of expressing emotions through a vibrant pre-wedding photoshoot.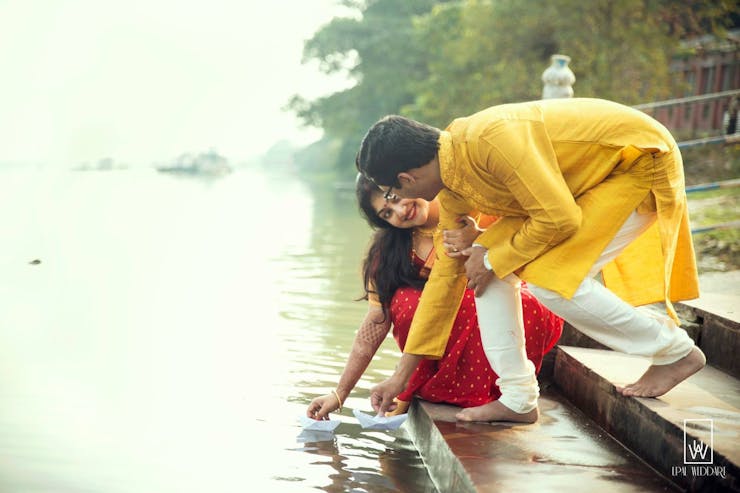 15. With A Great Cultural Backdrop Behind
This is one of the best pre-wedding shoots we would suggest you reflect your cultural side in your wedding tale. Choosing a popular or a heritage sight of your city creates a unique story that will come out to be phenomenal.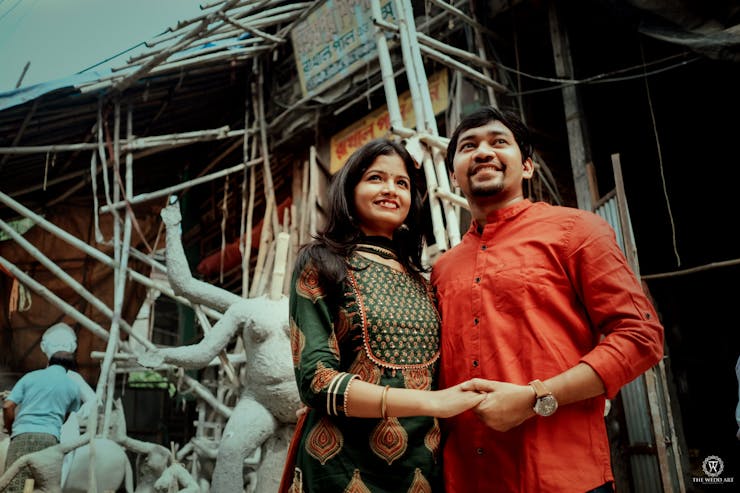 Now bookmark your favorite pre-wedding shoot idea from this amazing list and ask your wedding photographer to do the wonders.
More About Wedding Photography
Latest Blog Posts