7+ Best Sherwani Shops In Kolkata For Your Wedding
Are you looking for a wedding sherwani? Your search stops here with the list of best sherwani shop in kolkata. Hurry up and read this exclusive guide.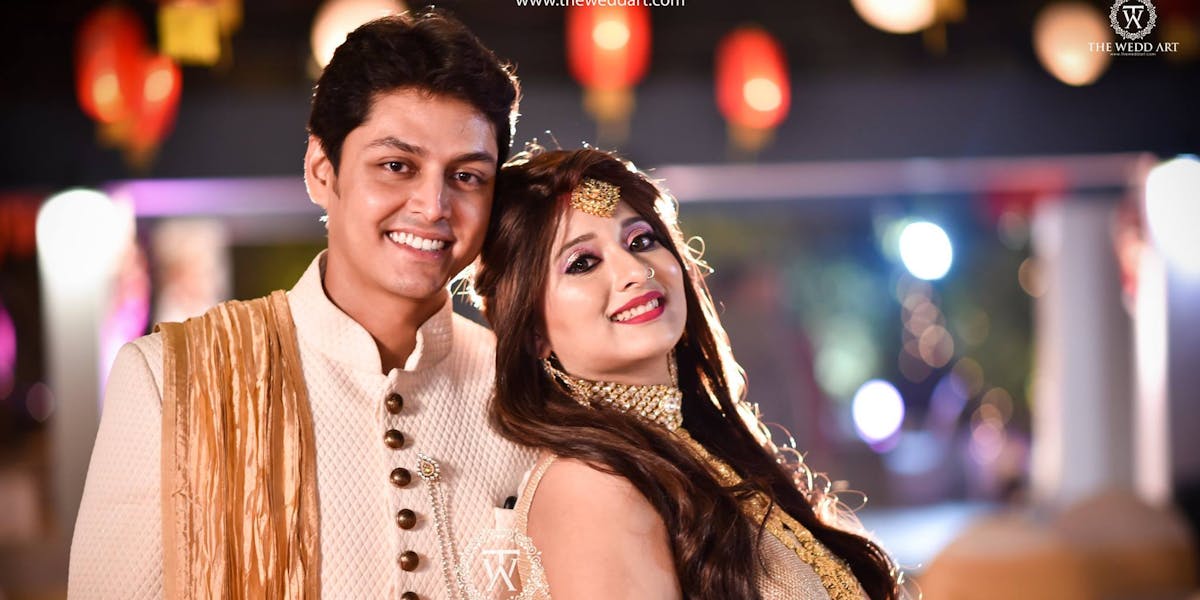 Sherwani is an Elite dress to wear on grand occasions such as marriages. This regal outfit originated in Central Asia. It came to India with Persian and Mughal rulers. At first, this regal dress was an outfit of the nobles of the Delhi sultanate. But over time, sherwani became a traditional attire of Indian men. People of North India are much fond of this embroidered outfit. It has now become a popular wedding outfit for an Indian groom. It is no longer an attire of the aristocratic class. Grooms from any society, region, or caste like to wear this wonderful outfit on their wedding day. They pair it with contrasting turbans, stole, and mojri to give their wedding look a classy touch. This amazing outfit can add style and grace to your personality.
So, if you have decided to wear a sherwani at your wedding events, you need to find a good shop in the city to buy it. After all, your wedding day is a golden opportunity to impress your bride and her friends. So, why leave this golden chance when you have got many sherwani shops in Kolkata to get your dream outfit. You will also need a well-known bengali wedding photographer who can capture your look in your wedding sherwani. Check this list of 7 sherwani shop in kolkata that can offer you the best sherwani under your budget.
Introducing the most popular sherwani stores in Kolkata.
1. Vedam
Vedam is the ideal store for a stylish and sophisticated groom. It has a collection of uber luxurious sherwanis that can give you a royal look. This is a popular sherwani showroom in kolkata that offers stylish and classic wedding attire. Here you will also get a wide range of exquisite bridal lehenga in an affordable range.
Address: 33 Shakespear Sarani Near Kala Mandir Kolkata 17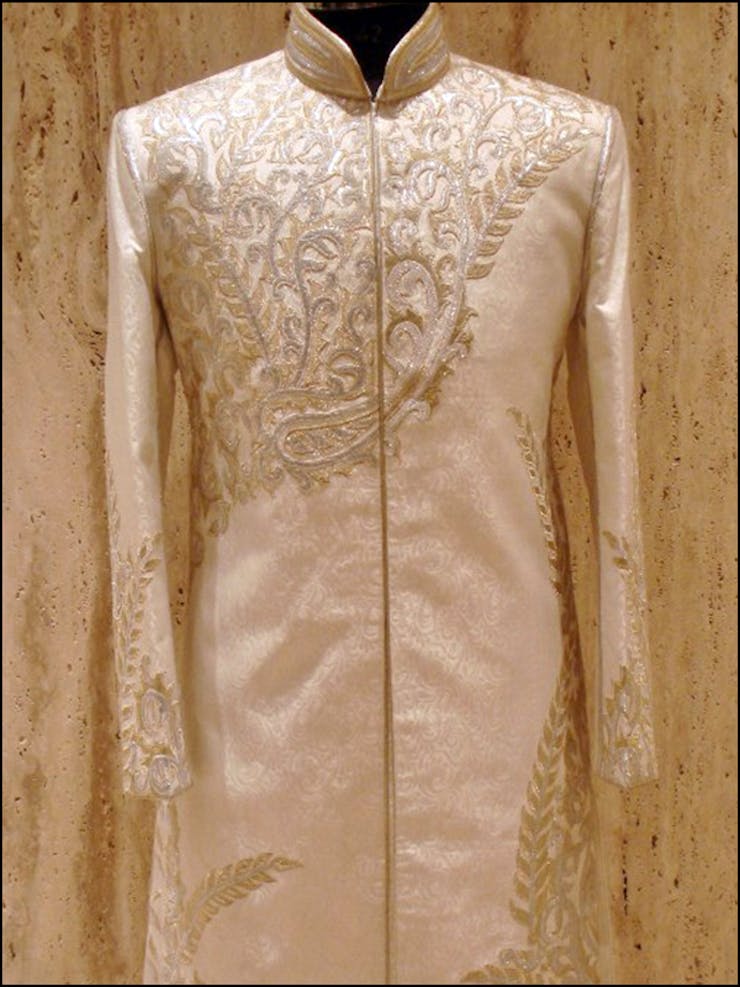 Recommended: Top 15 Fashionable Bengali Groom Reception Dress Ideas
2. Manyavar
Manyavar is a renowned name in groom's wedding wear. It is the best sherwani store in kolkata with many branches. They have everything for a groom that can give him a celebrity-like feel on his big day. Their sherwani design is marvelous and comes with rich embroidery on high-quality fabrics. Manyavar is a fashion brand in itself that has made a brand name in the fashion industry.
Address: 77, Park Street Near Natural Ice Cream, Tal Tala, Kolkata 16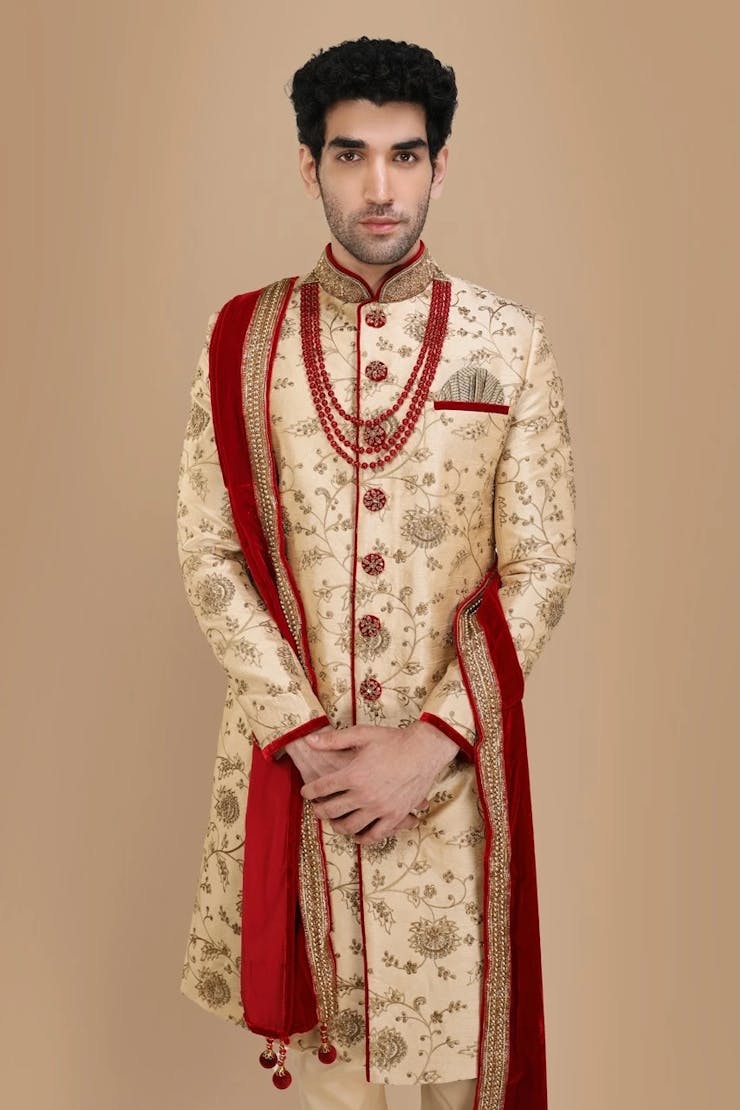 See More: 13 Latest Groom Dress Ideas For Haldi Ceremony
3. Surbhi Pansari
This Kolkata-based designer store is a must-visit to get the most stunning sherwani. Surbhi Pansari comes under the top sherwani stores in kolkata that offers a variety of groom's wear. You can get here pastels as well as vibrant sherwanis. Yet the prices of wedding sherwanis are a little bit higher. But their sherwani can make you the most fashionable guy. You can notice their designer sherwani in candid wedding photography in kolkata.
Address: Maruti Building, 12, Louden Street, Elgin, Kolkata 17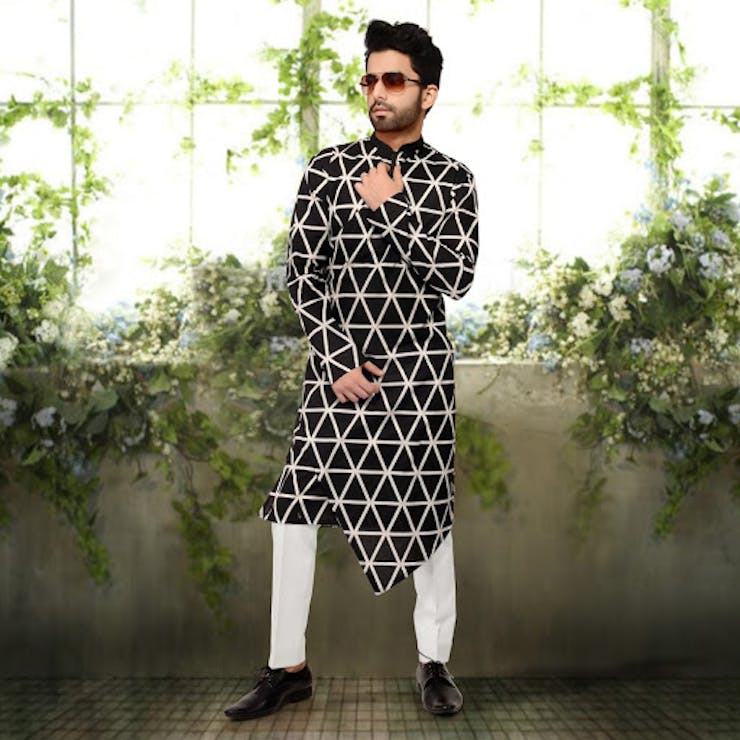 Also Check: Top 9 Bridal Lehenga Shops In Kolkata You Must Visit
4. Sirji Ethnic Wear
The timeless collection of this sherwani store can make you a trendsetter groom. It is an ideal place for a groom to find everything for his regal look. They have a wide range of latest sherwanis that are in trend today. They offer you the perfect fit and finest fabric at affordable prices. From rich embroidery designs to pastel sherwanis they can offer you everything to make your wedding the most memorable day. It is a famous sherwani shop in Burrabazar that has a vast range of designer sherwanis.
Address: 3rd Floor, 70, Rabindra Sarani, Barabazar Market, Kolkata 73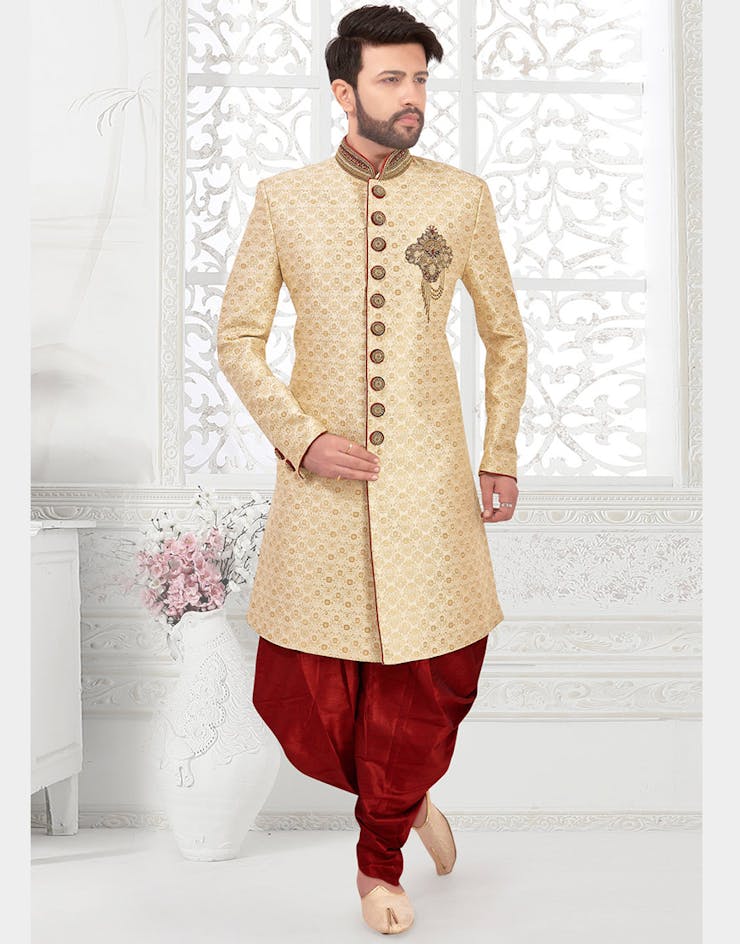 5. Komal Sood
Komal Sood wedding sherwani is popular among grooms for all right reasons. They are sheer class and stylish cuts can grab your attention at the first sight. They provide a luxurious finish to each wedding sherwani. Their wedding sherwanis can make you look like a million bucks on your D-day.
Address: Park Mansion, 43, 57A, Park Street, Tal Tala Kolkata 16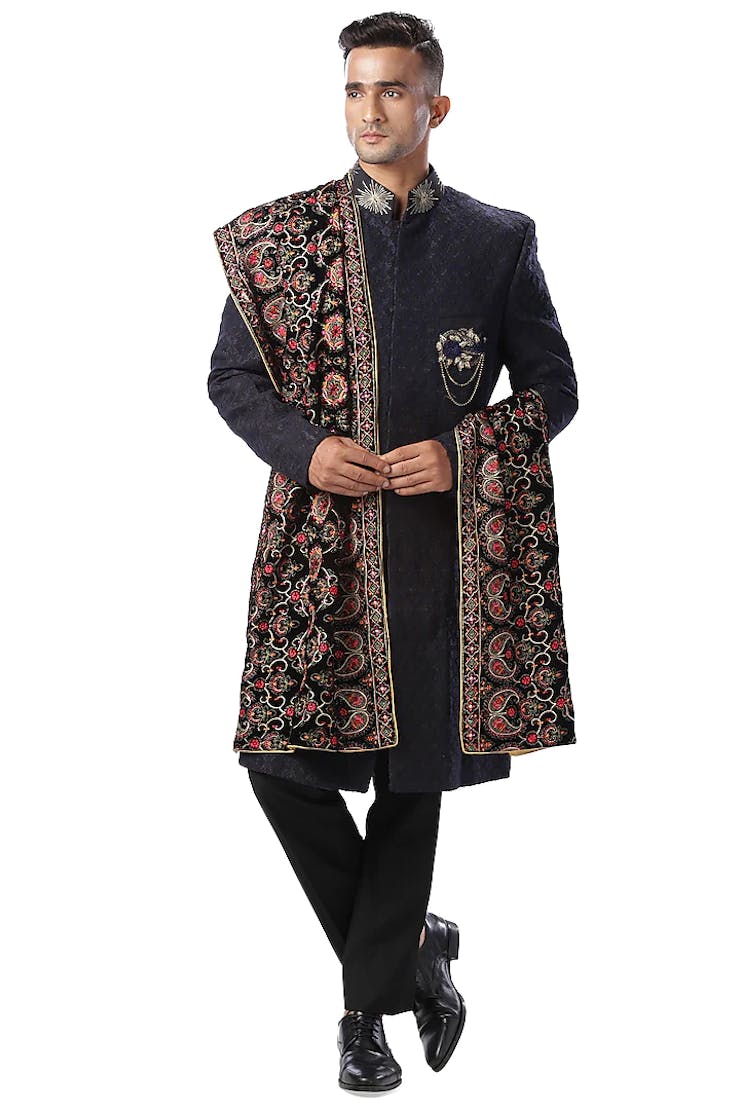 6. Dapper Menswear
Dapper Menswear is the ultimate solution for a classy sherwani. This is one of the famous wedding sherwani shops in kolkata that offers a collection of high end designers. They pay extra attention to the fine quality and intricate embroidery of the outfit. Their sherwani and suits will let you play the style game.
Address: 10A & B, Wood Burn Park Road Kolkata 20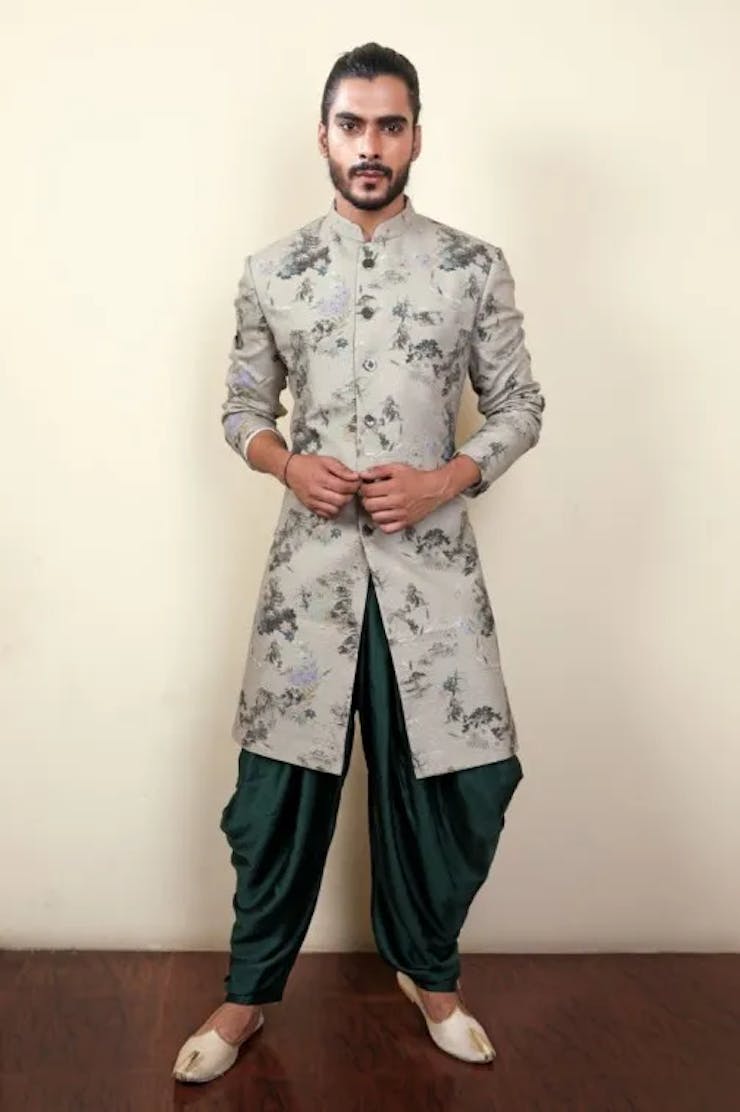 7. Barkat Ali
Are you looking for a customized sherwani? Visit the 95-year-old tailor shop in Kolkata. This is the best sherwani shop in kolkata for the groom who wants to get a customized. Their fine stitching and exquisite embroidery are something that they are praised for.
Address: 9A, Chowringhee PI, Near the Oberoi Grand, New Market Area Kolkata 13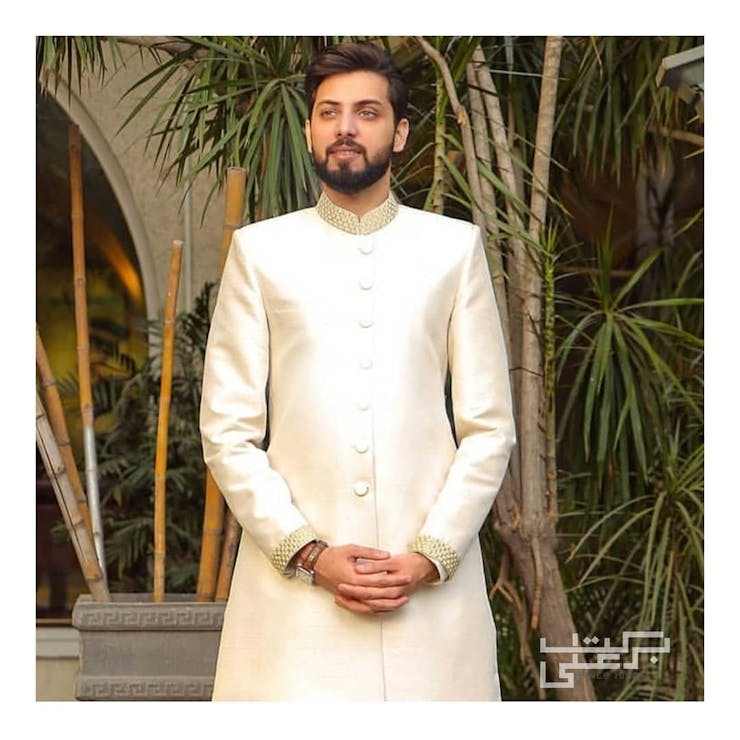 8. Sawariya
Sawariya is a one-stop solution for choosing a coordinating outfit for a wedding. They offer a wide range of wedding outfits for both the brides and grooms. Their ethnic wear comes at reasonable prices and outstanding designs. Their luxurious sherwani can make you the showstopper groom at wedding events.
Address: 13/F Russel Street, Corner Of, Park Street Area Kolkata 71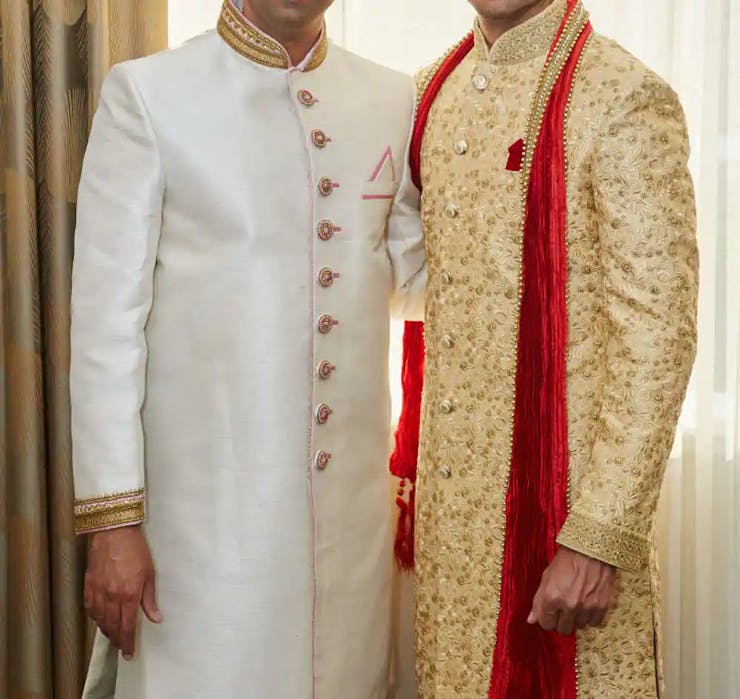 Some Useful Suggestion To Choose The Perfect Wedding Sherwani
i. Before heading towards the sherwani shop you must decide on your wedding look. Think about whether you want to look simple or royal on your wedding day. It will help you to choose a sherwani that matches your wedding look.
ii. These days contrasting outfits are a huge fashion trend at Indian weddings. If you also want to opt for a contrasting outfit then you must know what color your bride is going to wear on the wedding day.
iii. You will get a lot of options while buying a wedding sherwani. It's all up to you whether you want to choose a printed, embroidered, or embellished sherwani. Keep in mind the type of season you are going to celebrate the wedding.
iv. Don't hesitate to experiment with the new sherwani designs. It will help you to get a marvelous wedding look that will add glory in itself.

v. If you want to follow the fashion trend then you must welcome the idea of wearing pastel and ivory shades of sherwani.
vi. Along with buying a designer sherwani you also need to pay attention to the matching accessory. A statement brooch or necklace can make you stand out.
vii. Make sure to choose a contrasting stole with your wedding sherwani.

More About Wedding Photography
Latest Blog Posts