All About Traditional Bengali Wedding Jewellery Collection [2022]
Adorn yourself with bengali wedding jewellery to get an adorable bridal look on your wedding day. Keep reading to know how to be the stunning bride.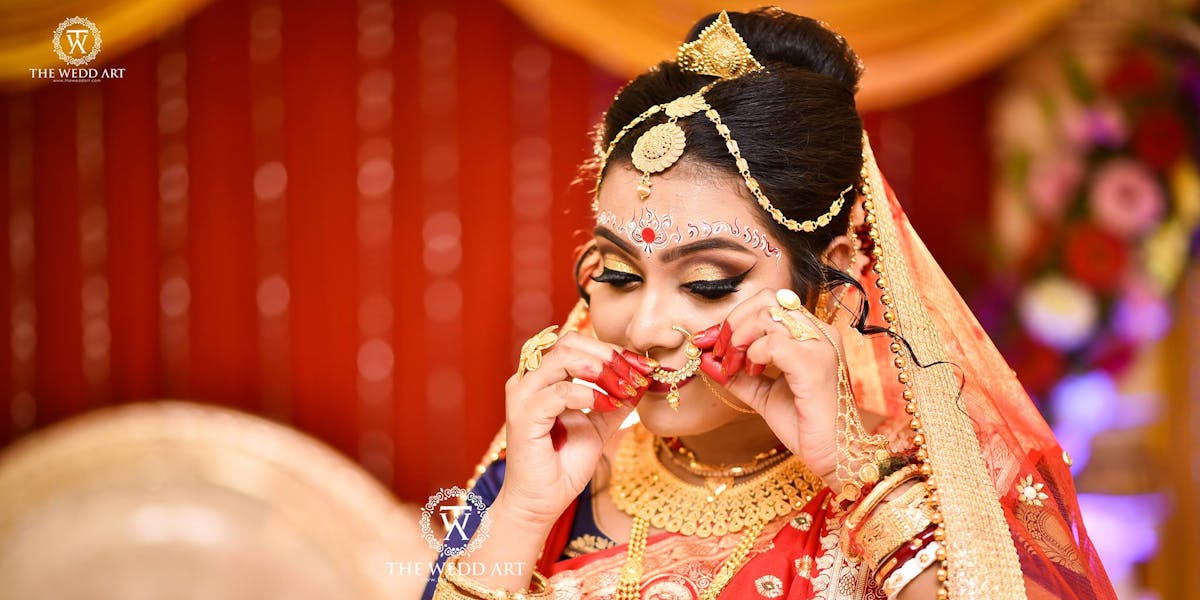 The fame of Indian jewelry is spread all over the world. The attractive designs and stunning collection of bridal jewelry enhance the beauty of every woman and young bride. Every Indian state differs in terms of its jewelry design. But all are unique land beautiful in their own terms. The cultural Bengal believes that jewelry brings prosperity and happiness in life. And that is why Bengali brides are always seen wearing gold jewelry on their wedding day. The beauty of traditional bengali wedding jewellery lies in its artistic design and the efforts of the workmanship. Right from the hair to the toe, there are numerous intricate jewelry designs to highlight the beauty of a gorgeous bride. As a team of passionate bengali wedding photographer, we luckily got the chance to experience the beauty of this splendid bridal jewelry. So, before starting the jewelry shopping for your D-day, have a look at this quick guide on wedding jewellery for bengali bride.
1. Angti
Adorning your fingers with a beautiful golden ring is a century-old tradition in India. Nowadays modern brides preferred to wear a diamond or precious stone ring but a gold ring also known as Angti leaves a mesmerizing impact on your bridal persona. A golden Angti carved intricately is supposed to be worn by brides after their engagement ceremony.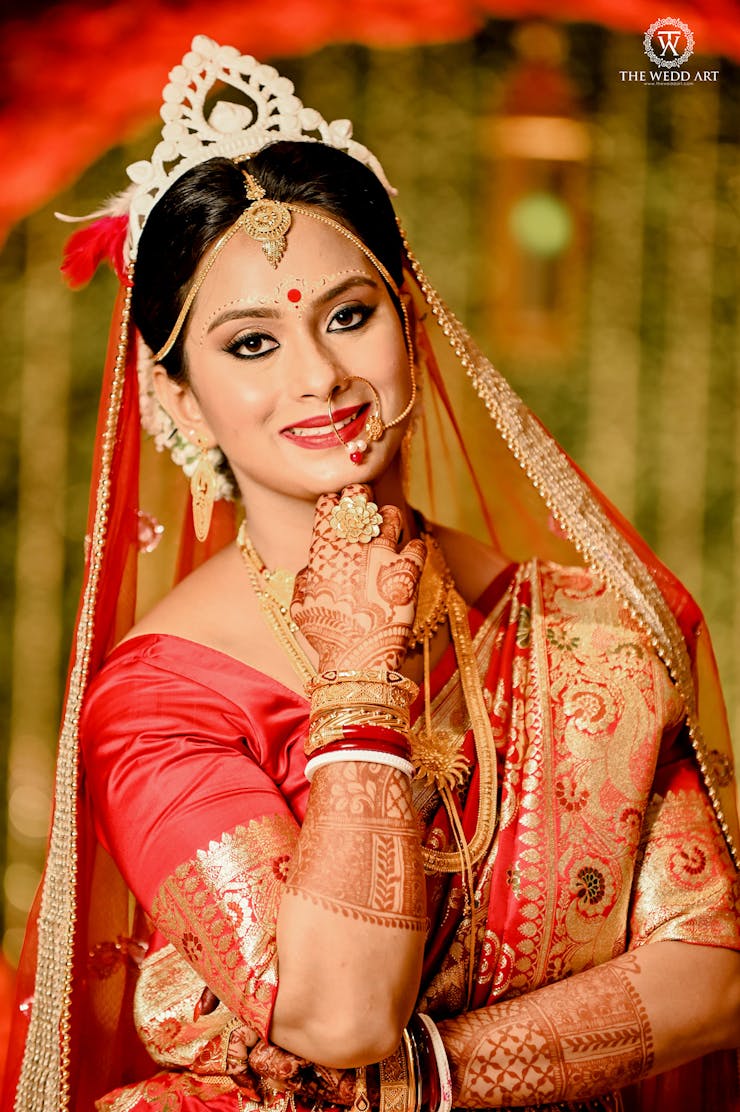 Recommended: 15 Gorgeous Bengali Haldi Ceremony Outfit Ideas
2. Tiara
Look at the simplistic charm of this golden tiara worn by this beautiful bride. The tiara is used to hold the bridal way in the olden days. This bengali bridal jewellery offers you an elegant look. Make sure to hire the best wedding photographers in kolkata to capture the absolute beauty of your bridal look in lenses.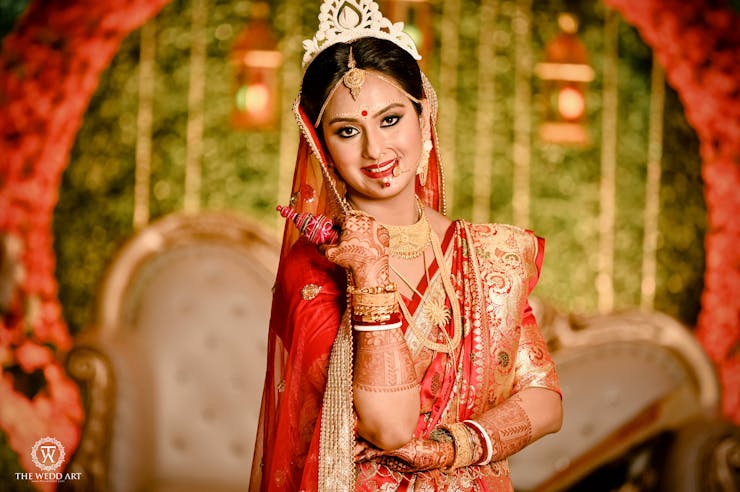 3. Kamarbandh
The love for Kamar bandh in Indian weddings can be judged from its presence in most of the bridal pictures. The Bengali Kamar bandh is a beautiful waist ornament often worn by Bengali brides over their Banarasi saree. This traditional Bengali wedding jewelry is designed of delicate chains and carved of pure gold.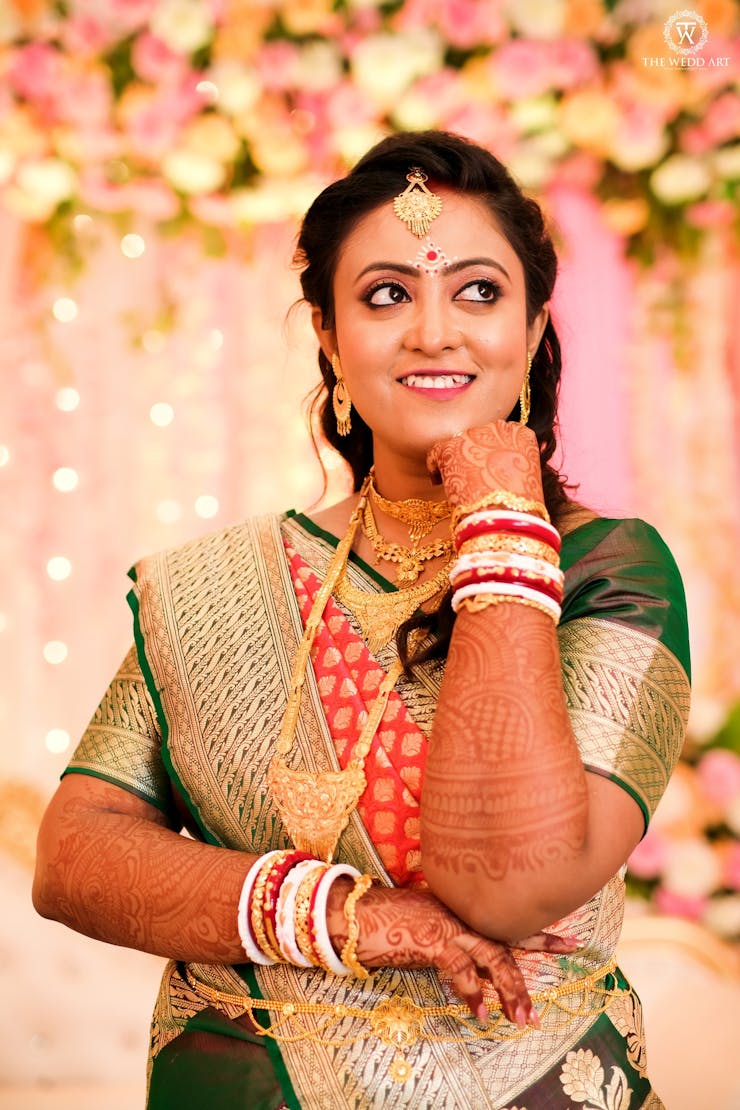 4. Sita Haar
The art of cutting and polishing gold for creating mesmerizing long necklaces like Sita haar has been practiced by Bengal artisans for ages. This bengali bridal necklace is a replica of the beautiful necklace worn by goddess Sita. The delicate golden chains attached with a large pendant offer a divine look to a new bride.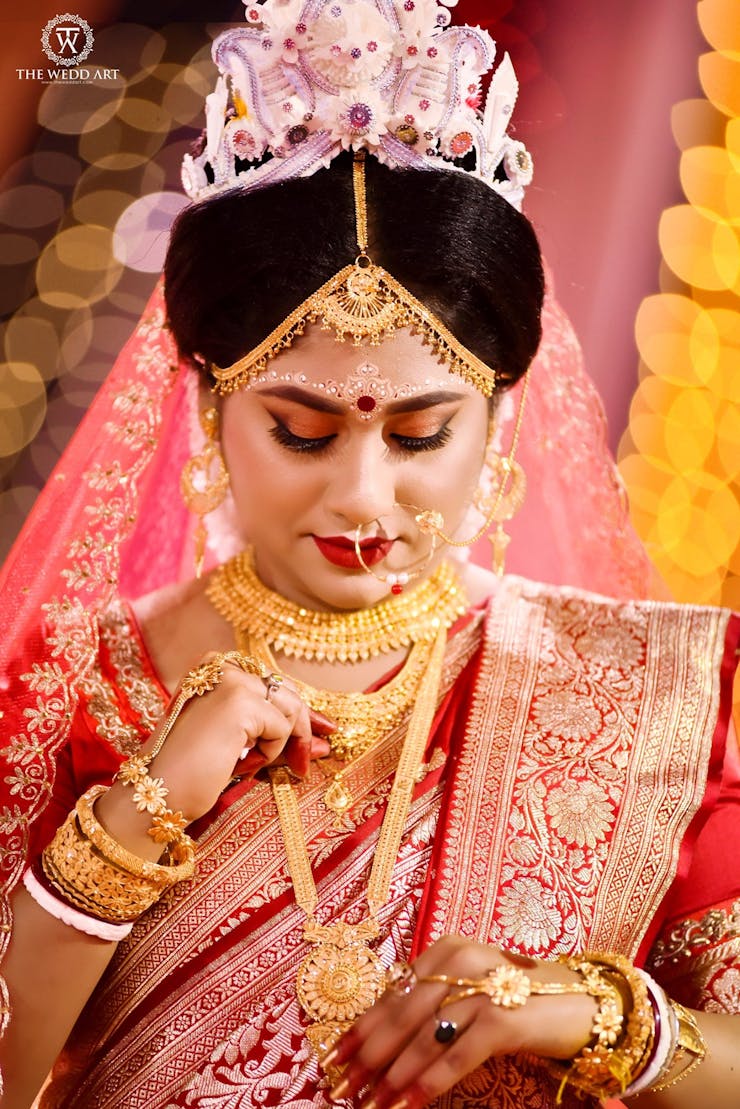 5. Saat Noli Haar
In the olden zamindari days of colonial Bengal, a Saat Noli haar was worn by the women of a royal and prestigious family. This classic bengali wedding jewellery is a family heirloom kind of jewelry piece that represents your wealth and class. The luxurious Saat Noli haar is made of five or seven layers of chains, joined with a big locket in the center.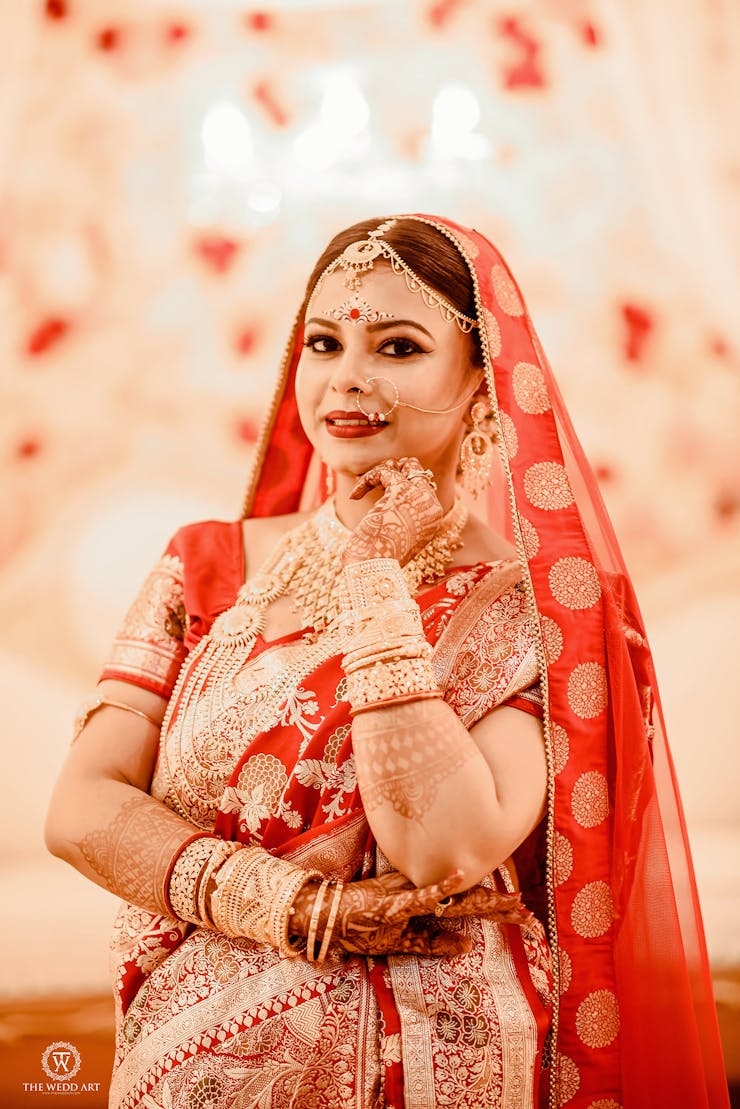 6. Choker
The bridal choker is a broad necklace that is made of pure gold. This gold necklace is also designed with precious stones and pearls to provide it with a super charming effect. The Bengali brides used to adorn their necks using this bengali bride gold jewellery. Wearing these elaborate ornamental collars on the neck can give you a queen-like feeling.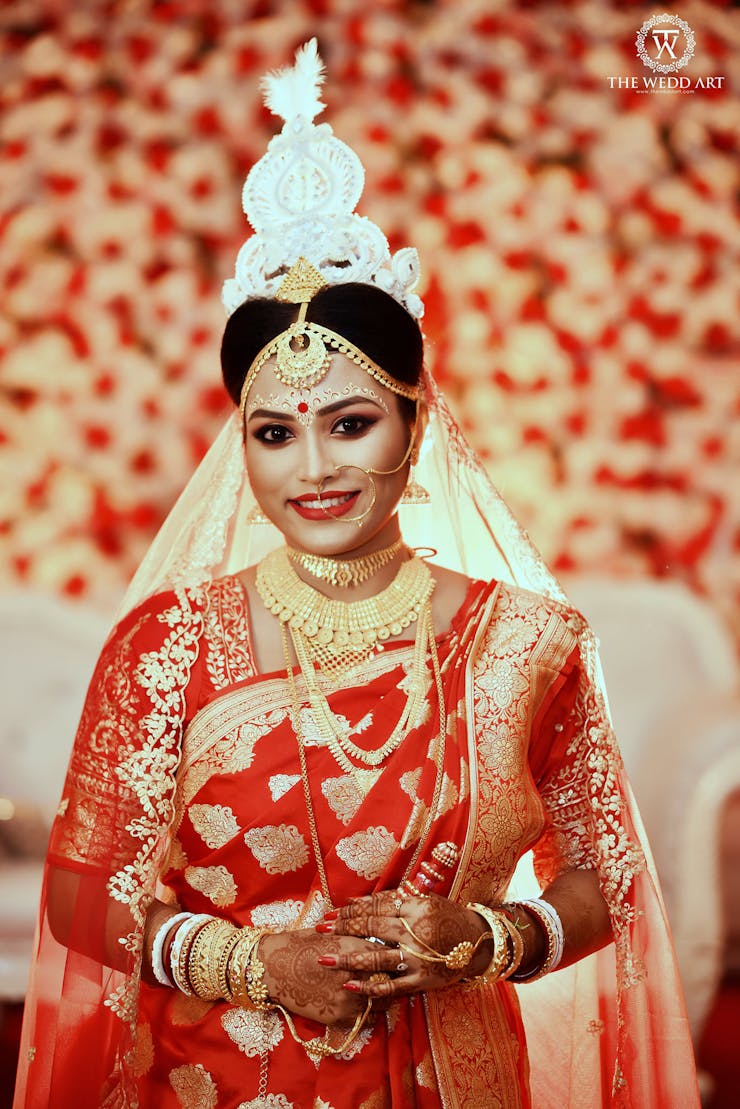 7. Ratanchur
Ratanchur is a true gem in bengali bridal jewellery collection. This five-finger ring is a memoir of the Mughal era. This hand jewelry is designed of five rings joined with individual chains. Usually, this beautiful hand trinket can be found in sun, moon, and lotus designs. The delicate chains of the Ratanchur are attached with a bracelet that is worn on the wrist.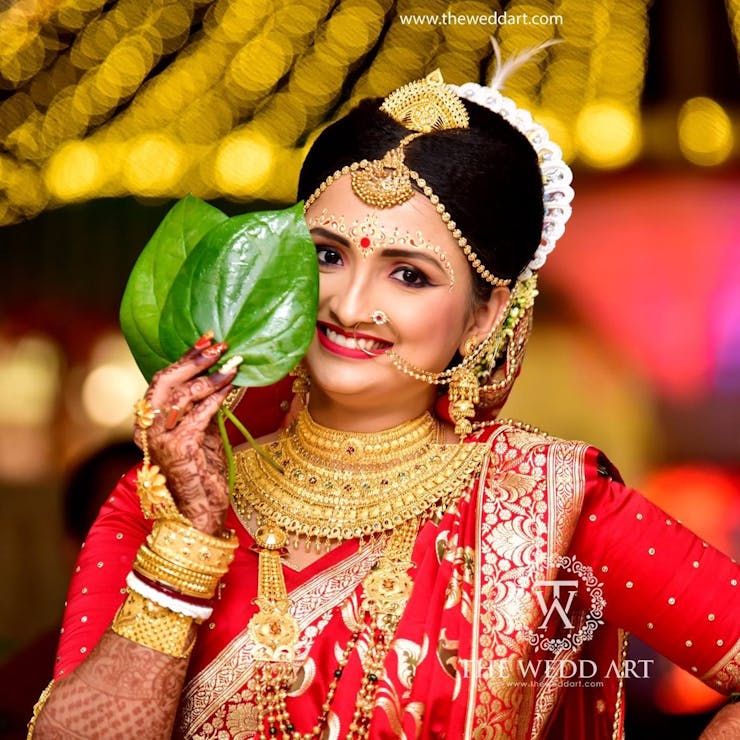 8. Mukut
What can be more beautiful than a beautiful bride wearing a golden crown on her head? It can provide you with a royal look. The golden mukut is a bridal headgear that resembles a queen's crown. This mini golden crown is a symbol of the wealth and prosperity of a Bengali bride. The bengali wedding mukut adds a regal touch to your wedding look.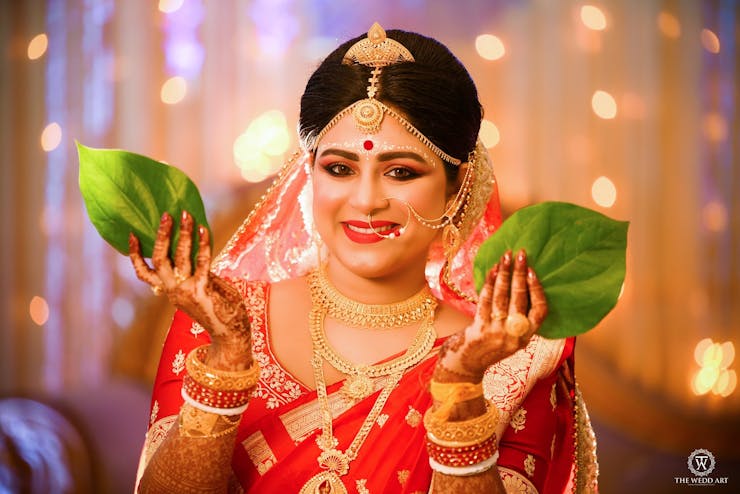 9. Nath
A Nath or a nose ring is a seductive piece of traditional jewellery for wedding. It provides a complete bridal look. The Bengali Nath are huge circular rings attached with a delicate chain that hooks on the hair. This significant wedding jewellery for bengali bride also contains pearls or small golden beads to make the ring more beautiful.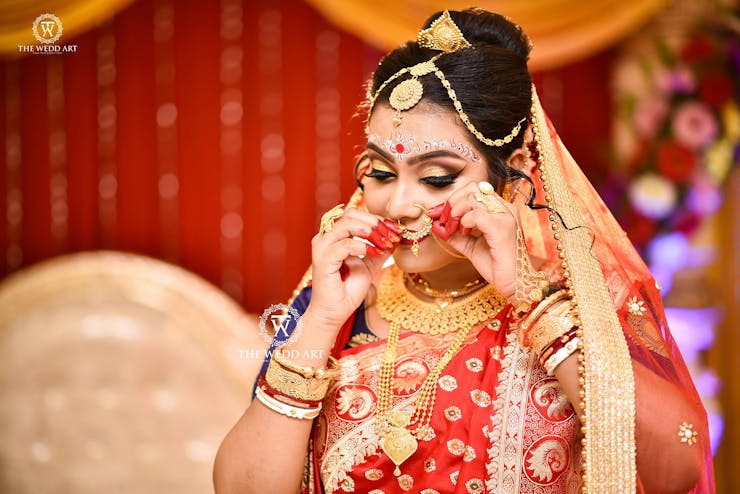 10. Shakha Paula
A Shakha Paula is a significant part of the Bengali bridal look. These white and red bangles are worn by the Bengali bride on the day of her wedding. These coral bangles are just like an Indian mangal sutra which represents the marriage status of a Bengali bride. This essential bridal jewelry is also designed with gold carvings upon it.
11. Bala
Bala is golden bangles which is the most fascinating jewelry piece worn by Bengali women. Available in various designs these attractive bangles offer your hands a charismatic look. This traditional Bengali wedding is often inherited from the mother or mother-in-law during the wedding ceremony. These thick gold bangles are adorned with floral motifs. The balas are single-piece bangle usually worn in pairs.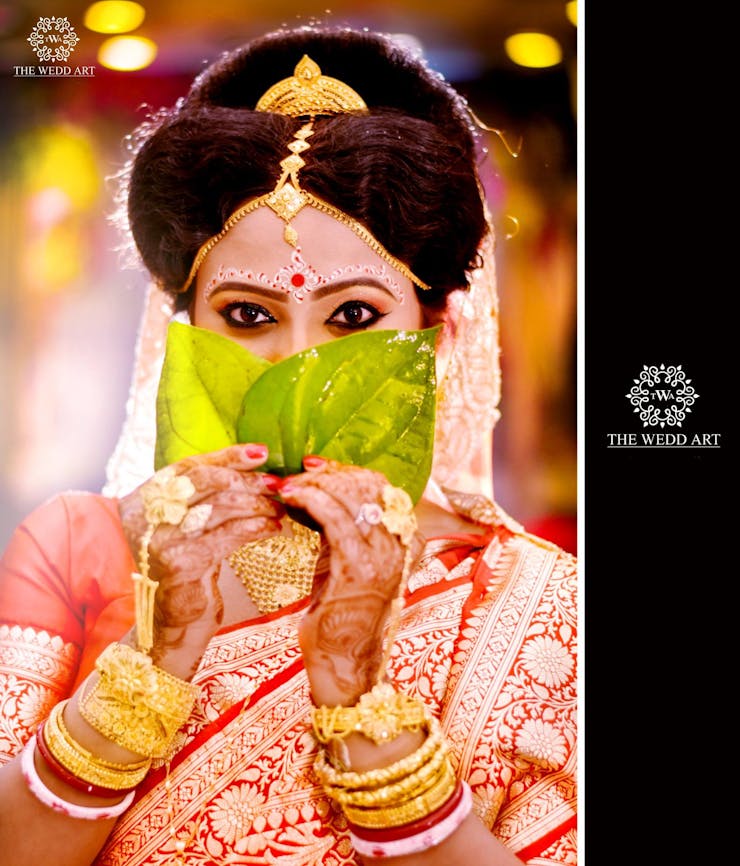 12. Jhumko
The Jhumko is a huge dramatic earring that a Bengali bride loves to wear. These are often designed in chandelier shape and cover with various intricate floral motifs. These statement gold earrings can offer you a gorgeous bridal look in your wedding pictures. This beautiful jewelry is presented by the mother of the bride as a streedhan at the time of marriage.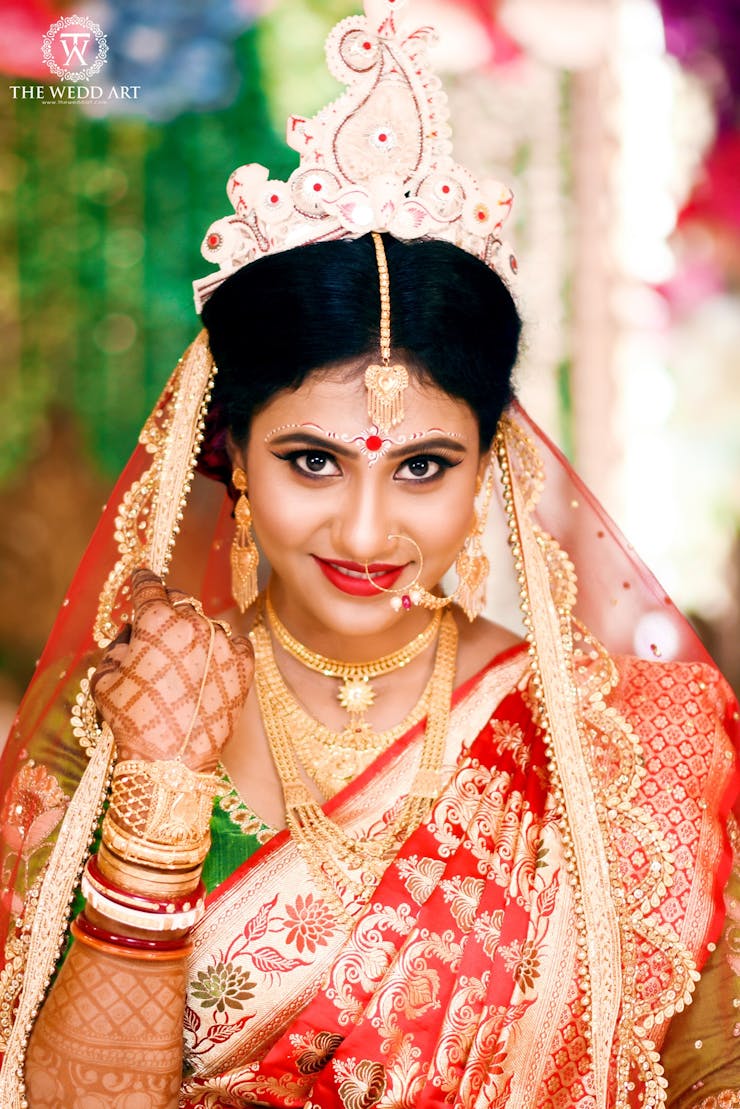 13. Chur
The chur is a broad single-piece bangle or bracelet made of gold. Its beautiful charm offers you an alluring look. This traditional bangle is a piece of ancestral jewelry that accentuates the bride's wrist with its beauty and richness.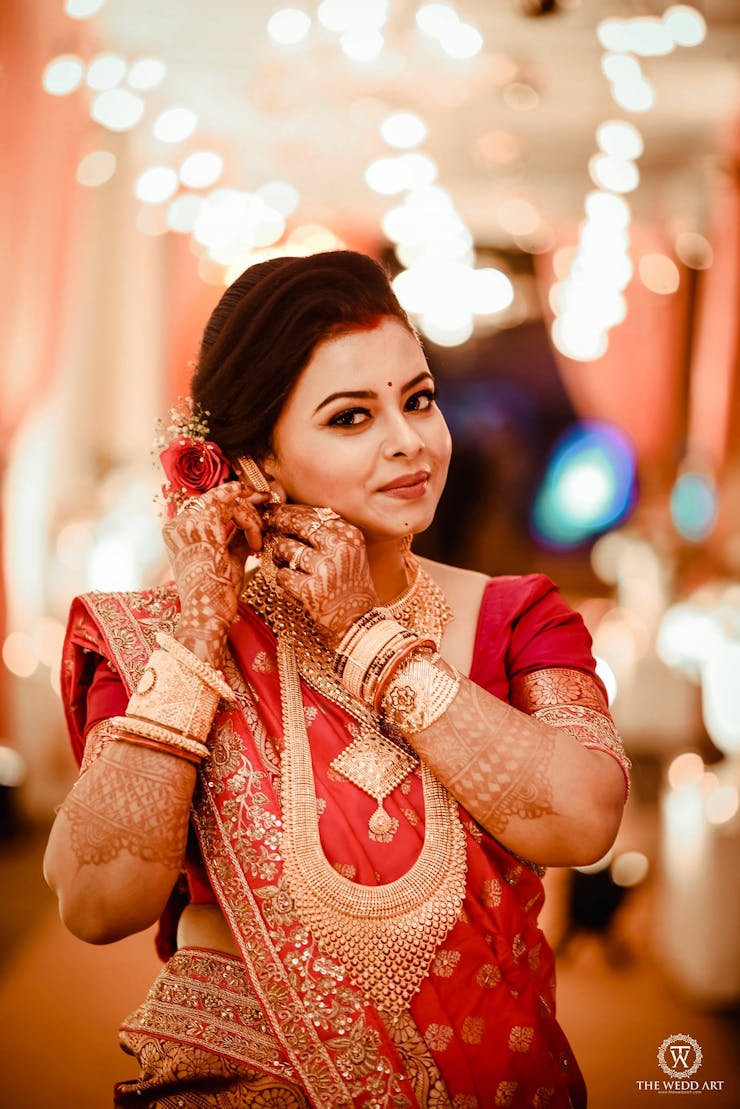 So, these are some exclusive traditional Bengali jewelry collections that you can try to achieve a divine look on your wedding day.
More About Wedding Photography
Latest Blog Posts