13+ Best Wedding Car Decoration Ideas For 2022
Look at these best wedding car decoration ideas to bring your lovely bride to her new home. Make your first ride a priceless moment with a great car décor.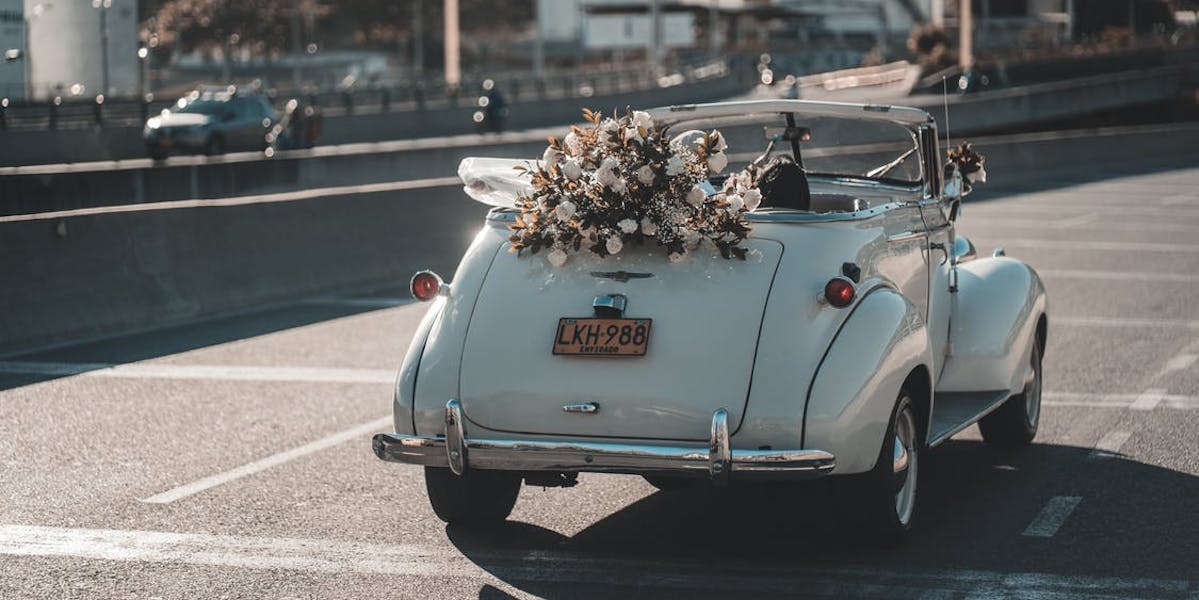 Indian weddings are luxurious event that consists of various wedding rituals. One such emotional moment is a wedding farewell or "Bridal Ceremony" of an Indian bride. After a splendid wedding ceremony comes the moment when the bride bids farewell to her loved ones and goes with her groom to her new home. In the olden days, the brides used to go in a palanquin to their husband's house. But with passing times, rituals get a little bit modernized. Instead of using a palanquin, the groom takes his bride in a wedding car. We all know how painful an Indian bidai ceremony is for all brides. But you can bring a little smile to her face by decorating the wedding car. You will see many pictures of wedding cars available online. Our experienced best wedding photographers in kolkata leave no chance to capture the beauty of a wedding car. Couples always focus on their wedding look, venue decoration, and wedding theme. They often forget about their wedding car décor. Yet, a wedding car plays a significant role in the farewell ceremony of brides. Take inspiration from these best wedding car decoration ideas to make some sweet memories.
1. Romantic Car Decoration with Roses
If you want to add a romantic feel to your first bride of wedding then you can opt for decorative elements like roses. Red roses are a symbol of love. It can add a romantic vibe to the atmosphere. Hence decorating your wedding car with beautiful flowers like roses is a perfect option to bring a smile to your bride's face.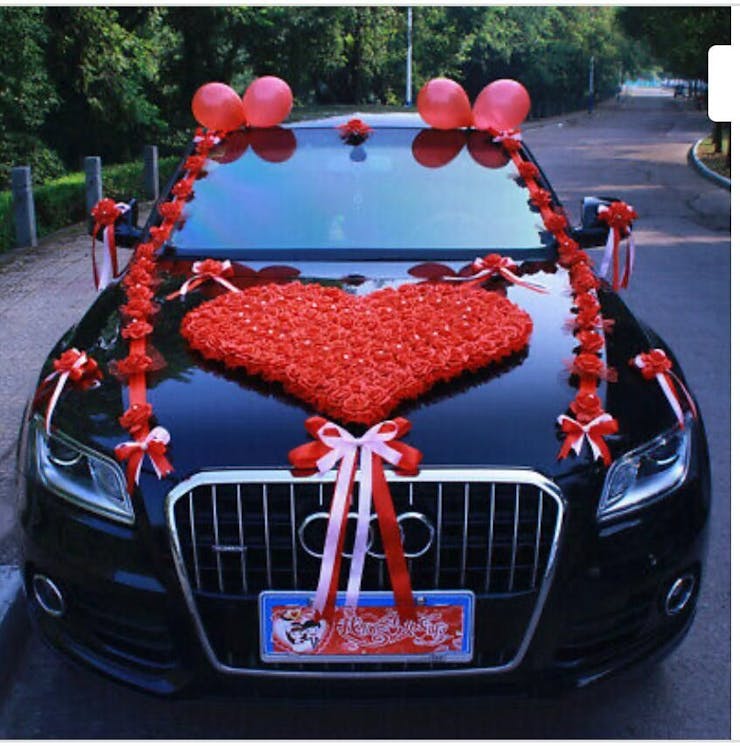 Recommended: All About Traditional Bengali Wedding Jewellery Collection [2022]
2. Elegant Wedding Car Décor Ideas
If you don't prefer an extravagant show of flowers on your wedding car then you can choose a wedding board. A just married tag can impress everyone with your simplicity. It's better to add this beautiful wedding board to the trunk of your car along with flowers of your choice.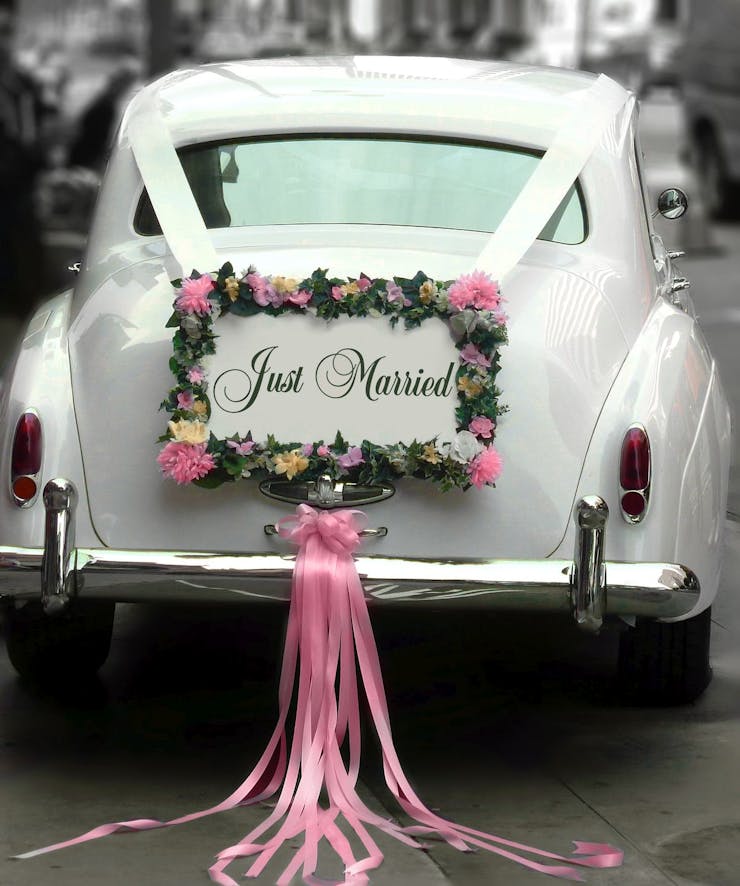 Also Check: 13 Latest Groom Dress Ideas For Haldi Ceremony
3. Best Wedding Car Decoration
The fusion of ribbons, figurines, and balloons creates a wonderful car decoration. These are the best wedding car decoration ideas that can make your event a memorable one. You can use contrasting ribbons and balloons to decorate the bonnet of your wedding car. This unique care decoration idea will catch all the eyeballs.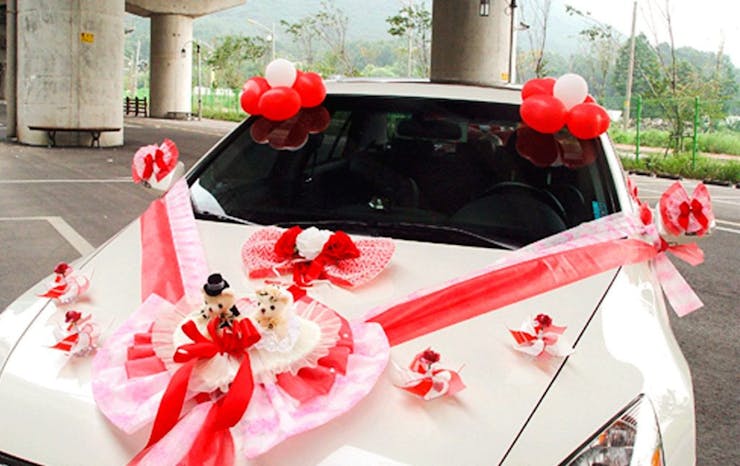 4. Simple Wedding Car Decoration
Floral wreath decoration is one of the best car flower decoration that you can try this wedding season. A floral wreath looks elegant and provides a glamorous look to your car. You can decorate your wedding car trunks with a floral wreath to give it a classy touch. Make the big announcement and start your new journey together.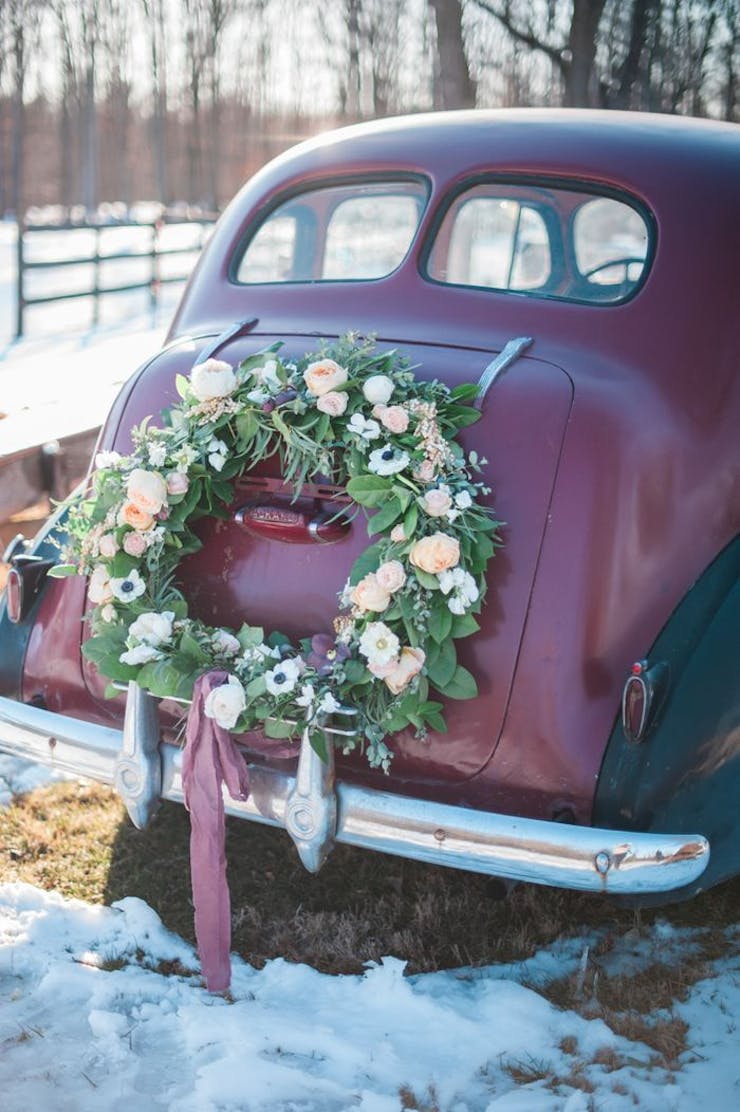 5. Car Decoration With Ribbons
Another beautiful and simple car decoration idea for the wedding day is ribbons décor. You can choose an oversized bow made of red ribbon or net to give your car an eye catchy look. Start your new journey with this beautiful wedding car décor to spread the love on your special day. This unique car decoration with ribbon is the perfect way to announce the good news.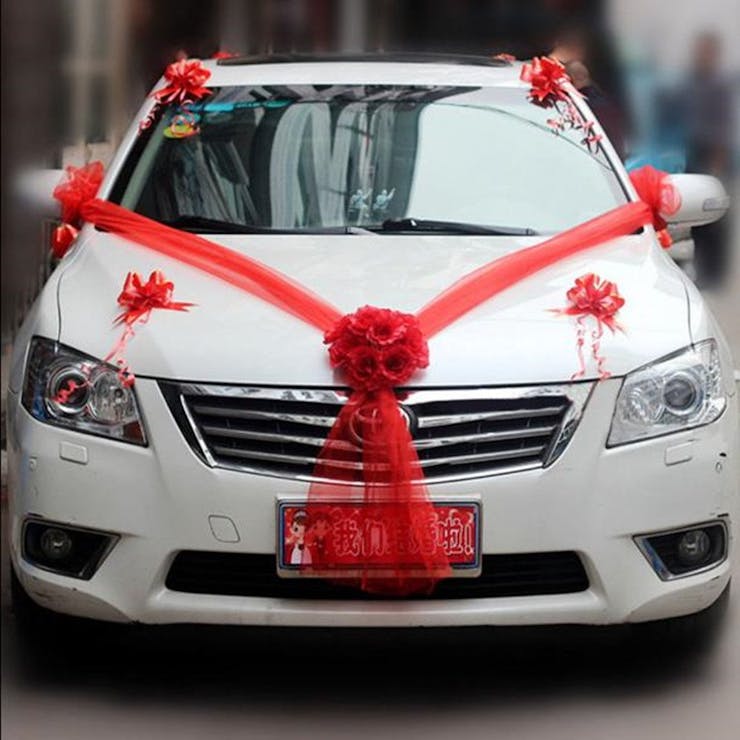 6. Marriage Car Decoration With Balloons
Balloons are a remarkable décor element that can mark the festivity of a grand event. Marriage car decoration done with balloons can never go wrong. You can choose pastel shades or dark shades like red to provide your bride with a happy feeling at her bidai ceremony.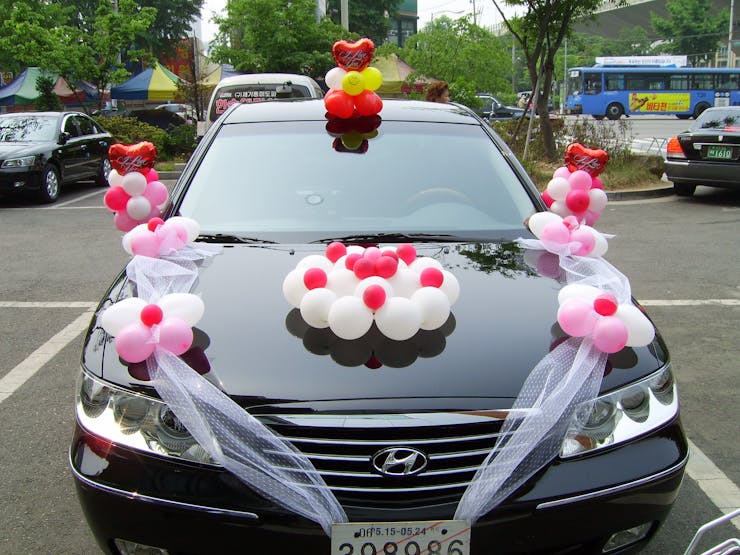 7. Floral Car Decoration Ideas
Celebrate the special day of your life by decorating your car with a floral extravaganza. If you are among those couples who don't hesitate to add something more to their car decoration then you can try this idea. A diagonal bunch of exotic flowers looks beautiful on the bonnet of your car. It adds grace and charm to the entire look of the wedding car.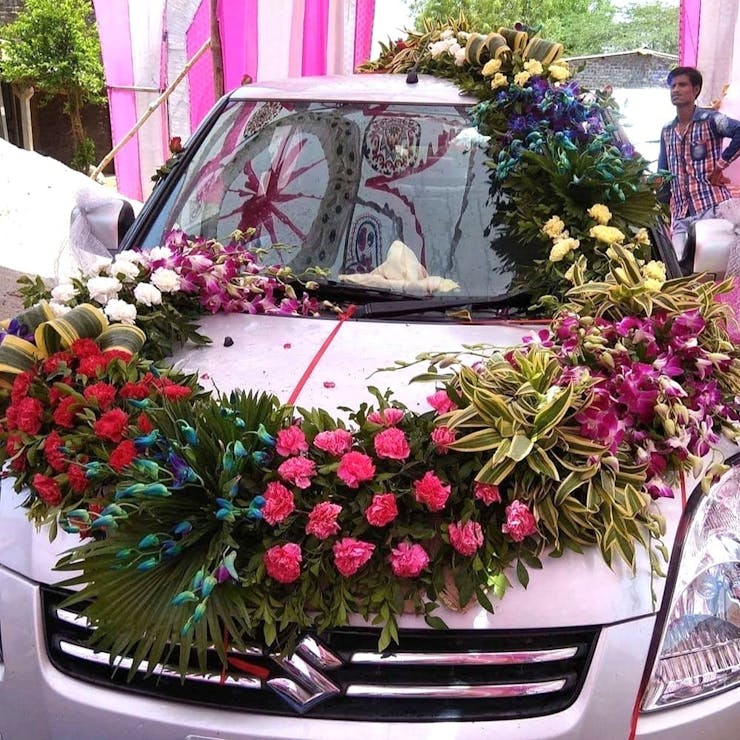 8. Wedding Car Décor With Adorable Figures
This adorable car decoration idea will win everyone's heart. The cutest elements like soft toys, love birds, or couple dolls are the best ones to decorate the wedding car. This unique decoration will definitely make your bride happy and it will also catch all the eyeballs at the farewell ceremony.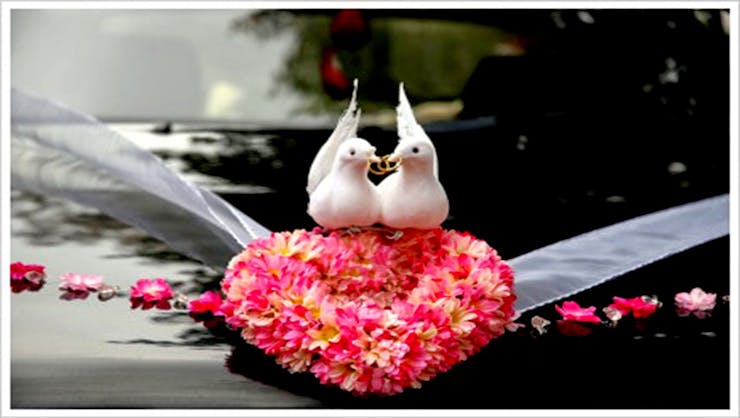 9. Wedding Car Trunk Decoration Ideas
The next one on this list is an elegant option for couples who love everything subtle. Decorating your car's trunk with some fresh and exotic flowers can add a beautiful twist to the goodbye ceremony. You can add ribbons and flowers to the trunk to give it an elegant and simplistic touch. This simple car decoration for marriage is a perfect idea to preserve some beautiful memories of your special day.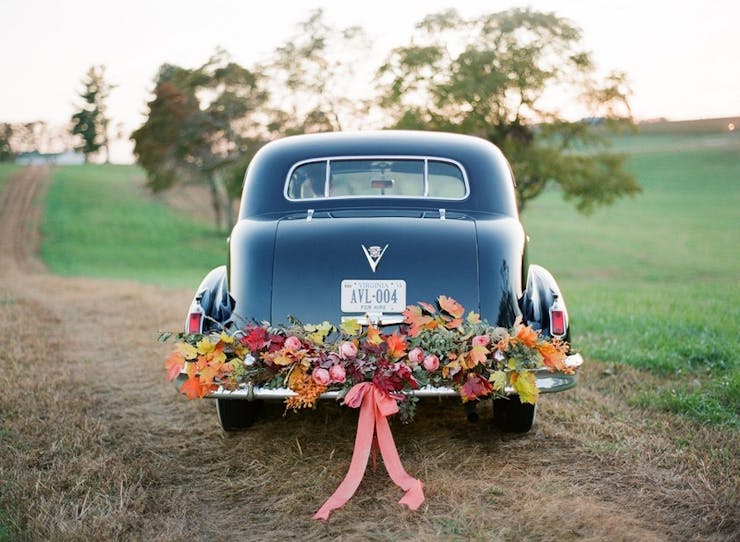 10. Groom Car Decoration With Floral Heart
Want to express your love to your gorgeous bride? What can be a better option than a floral heart décor? Express your love to this floral heart on your special day to celebrate the time of togetherness. A floral heart made of red roses looks more beautiful on a wedding car. If you want to give it add a touch of beauty then try to add satin ribbons and balloons of contrasting shades.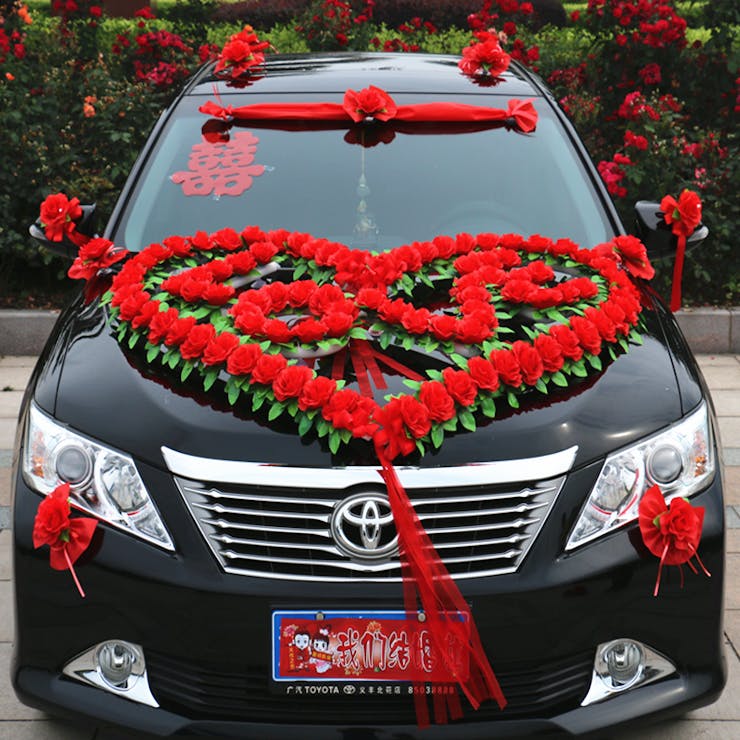 11. Wedding Car Decoration With Exotic Flowers
Adding exotic flowers to your wedding car is a wonderful décor idea. You can choose flowers like orchids and baby breath as your car décor to leave everyone awestruck. You can also add a hint of green foliage if you are planning an eco-friendly wedding theme.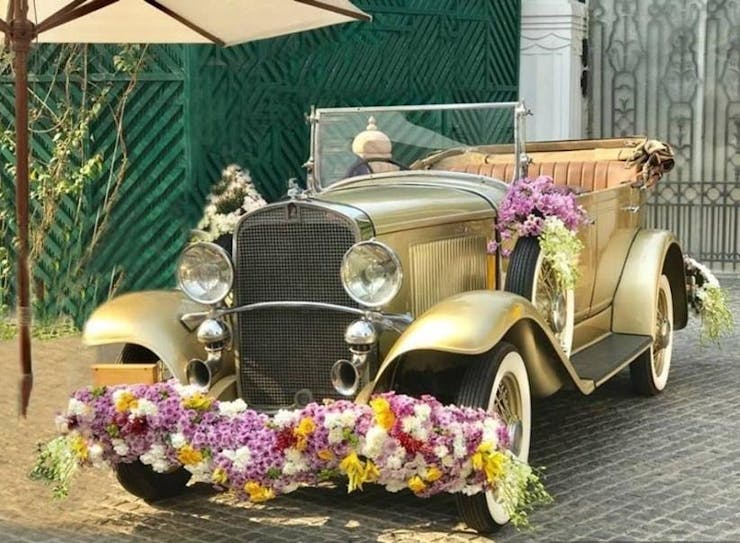 12. Love Tag On Wedding Car Bonnet
If you want to announce your love feelings to the world then you must choose a love tag to decorate your wedding car. You can use rubber balloons or helium balloons to show your bride your romantic side.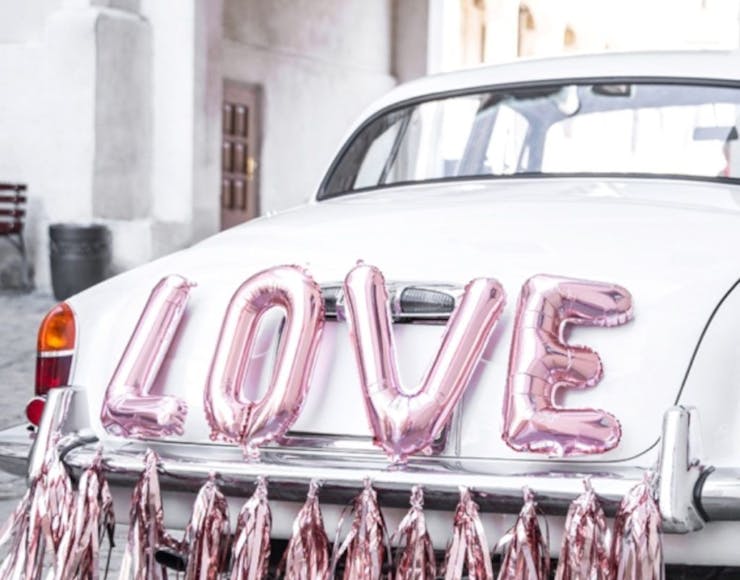 13. Beautiful Wedding Car Décor Ideas
This wedding car décor is the most popular decoration idea in Indian weddings. A floral net made of fragrant flowers like roses and jasmine can add a traditional vibe to your bidai ceremony. This kind of flower decoration is one of the best car decorations to win everyone's heart.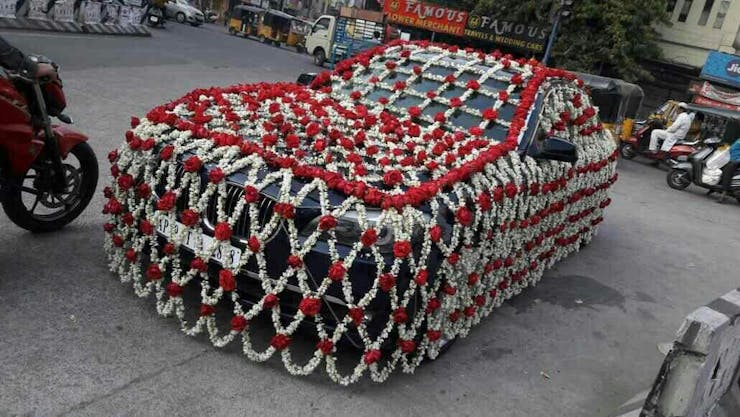 More About Wedding Photography
Latest Blog Posts