Top 13 Latest & Trendy Sherwani Designs For Groom
Sherwani is a popular regal outfit when it comes to a groom's wedding wear. Here are some latest sherwani designs for groom to choose for their D-day.
We have seen various outfits of the groom in Indian weddings. But sherwani is an exquisite wedding outfit for the groom to wear on his wedding day. The intricate designs and colors of these regal outfits add a luxurious vibe to the groom's look. Over the years the popularity of this royal dress has spread all across India. This wedding wear was usually a popular choice in north Indian weddings. But nowadays it has become a star of Bengali weddings. A bengali wedding photographer plays a significant role in making a wedding day story. We make sure to capture every moment of your wedding to give you the most delightful memories of your life. Capturing the picture of the Bengali groom has become an important part of the wedding. A Bengali groom looks more stylish and handsome in a designer sherwani. In simple words, it can make you look like a dapper groom when paired with statement jewelry. We have enlisted here the latest sherwani designs for groom that can provide a maharaja-like feel. So, if you are a groom-to-be, then keep scrolling down to find the best wedding sherwani for you.
1. This Dapper Groom Has Caught Our Attention In Dark Blue Patterned Sherwani
We all know that women are fascinated by the pink color. Likewise, men love the blue color as it represents their masculine fervor. Our charming groom has chosen a patterned blue sherwani to rock his wedding night look. He has paired this exquisite sherwani design with a golden stole and stone studded brooch. We must say that this is the most amazing groom sherwani for wedding ceremony.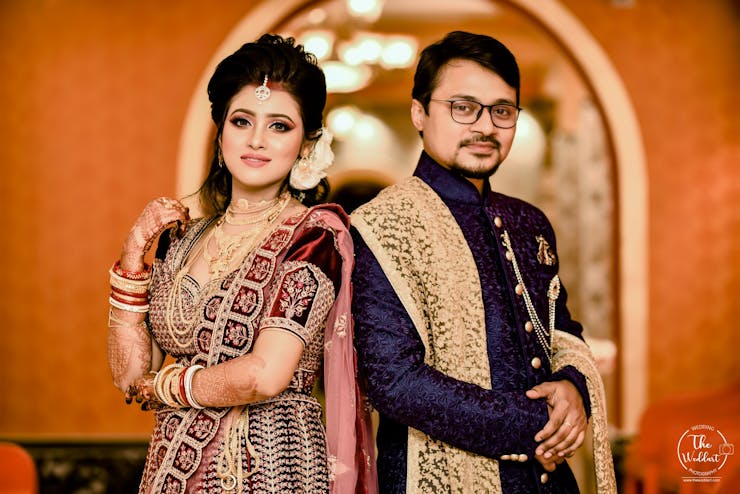 Recommended: Top 15 Fashionable Bengali Groom Reception Dress Ideas
2. An Ivory Sherwani With Red Churidar Is Going To Give You A Royal Feel
Have you spotted a celebrity like Ranveer Kapoor in a subtle ivory-hued sherwani? Ivory is no more related color of bridal outfits. Modern grooms are experimenting with ivory sherwani to make a statement. This groom has paired his ivory sherwani with a bejeweled stole, and red churidar to complement the stunning dress of his bride.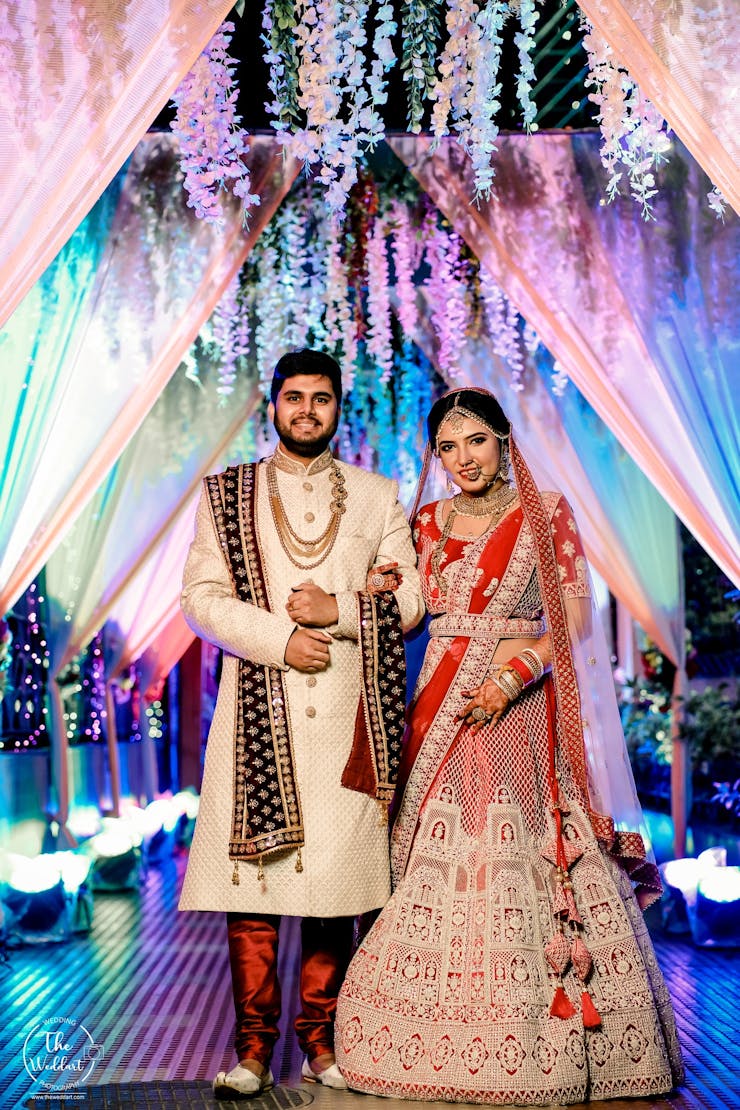 Also Read: Trending Pre-wedding Shoot Dresses Ideas For Couples In 2022
3. This Marble Textured Sherwani Is The Latest Sherwani Design For Groom
A marble blue sherwani can also make an apt choice for the groom's dress for his reception party. This dapper groom has a very nice taste in colors. He has combined his marble blue sherwani with a metallic dhoti. This kind of designer cloth can make you look exceptional on your big day. Book an appointment with a team of the best wedding photographers in kolkata today to plan a memorable wedding story.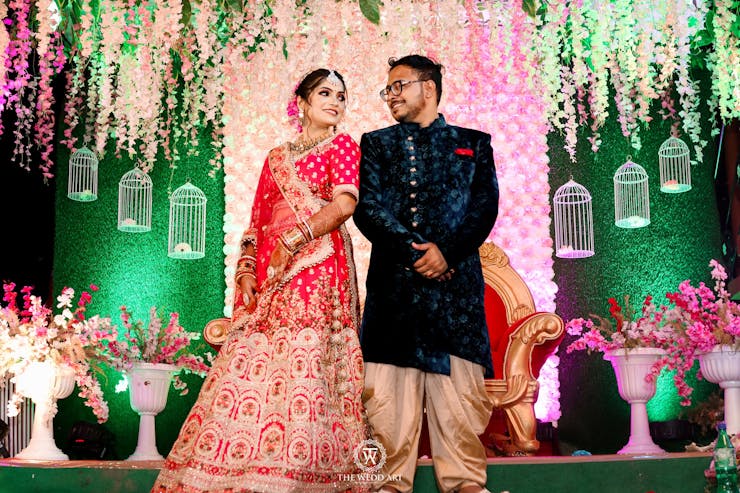 See More: Top 13 Charming Reception Look For Bengali Bride
4. A Black Velvet Sherwani Will Give You A Stunning Post-Wedding Look
The alluring shade of black can give you an aristocratic look. A black velvet sherwani with golden buttons is something you need to pick for your special event. This wonderful outfit can give you a true gentlemen's look. Pair it with a beige churidar to stand out from the crowd.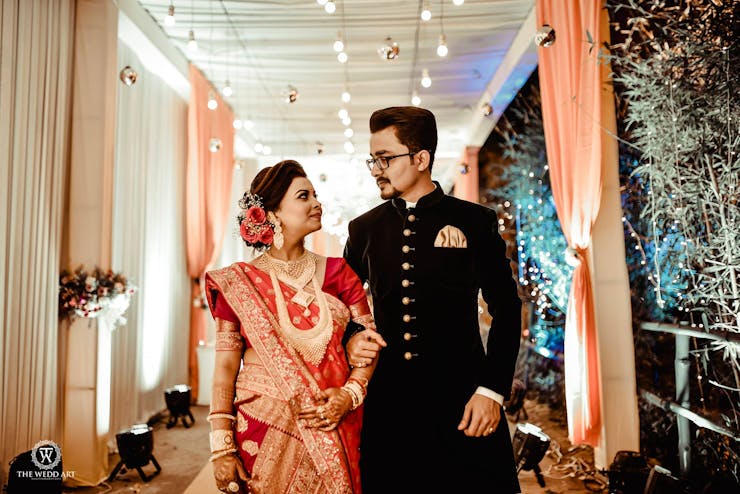 5. How Handsome This Groom Is Looking In His White Sherwani!
A white sherwani can offer you a breathtaking groom's look. Our cute groom has mesmerized everyone with his sophisticated charm. This ultra classy piece of sherwani is complementing the pastel shade of the bride's outfit. Taking a golden stole and statement brooch with this sherwani can give you a look that your lady will love.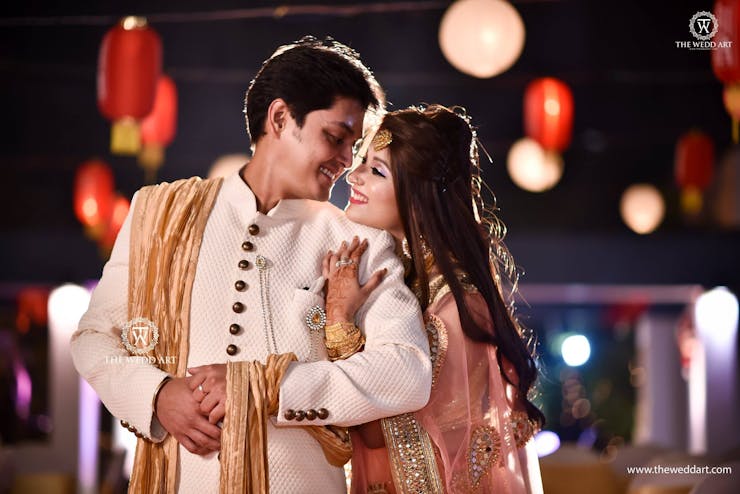 6. A Beige-Hued Sherwani Is The Best Wedding Sherwani For Groom
Look at this cutest groom looking lovely in his red and beige color sherwani. The asymmetrical design of this beige sherwani is giving him a captivating look. This fancy sherwani can give you a classic feel on your big day. This wonderful sherwani is one of the best wedding sherwani for the wedding.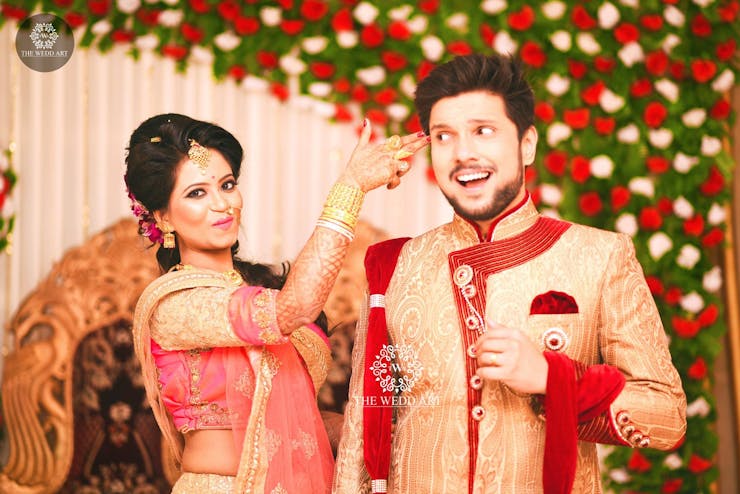 7. We can't Take Off Our Eyes From This Electric Blue Sherwani
The wonderful paisley motifs of this blue sherwani have caught our attention. This can be a best sherwani for engagement event celebrated with grandiose. He has paired this eye catchy sherwani with a bejeweled stole that is giving him a maharaja-like look.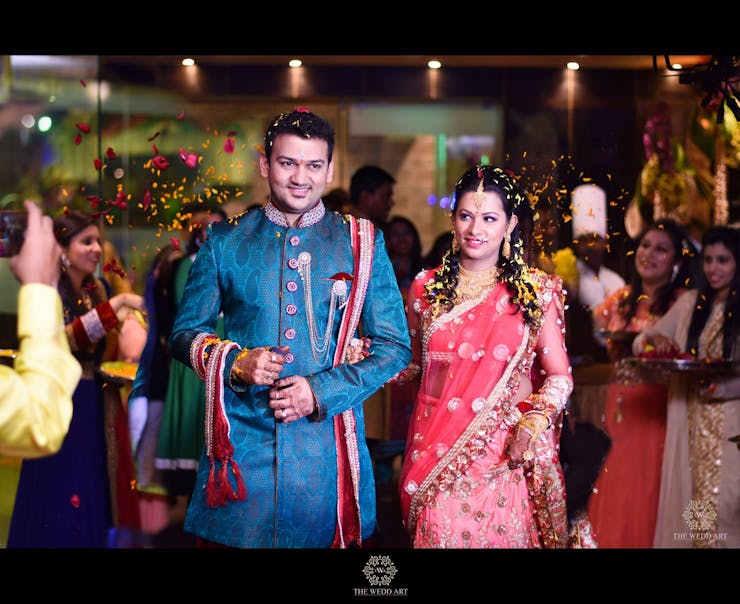 8. Impress Your Gorgeous Bride By Wearing A Wedding Sherwani In Pastel Hue
And how about this champagne pink sherwani design? This stylish groom has marked a style statement with a pastel-hued sherwani. The groom has color coordinated with the gorgeous pastel lehenga of his bride. This embroidered pastel sherwani right now is the most trending and best wedding suits for groom in India.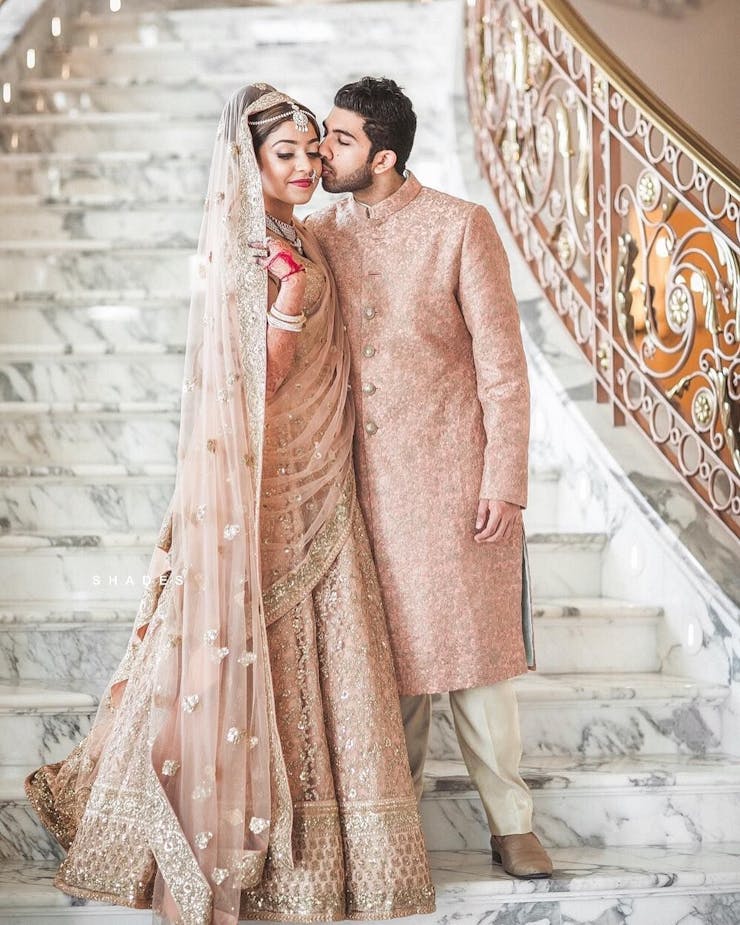 9. Floral Sherwanis Are Another Latest Sherwani Designs For Groom To Steal The Limelight
Take inspiration from this handsome groom who has chosen to wear a floral print sherwani. Pairing this sherwani with a contrasting shade turban and pearl necklace is the best decision taken ever.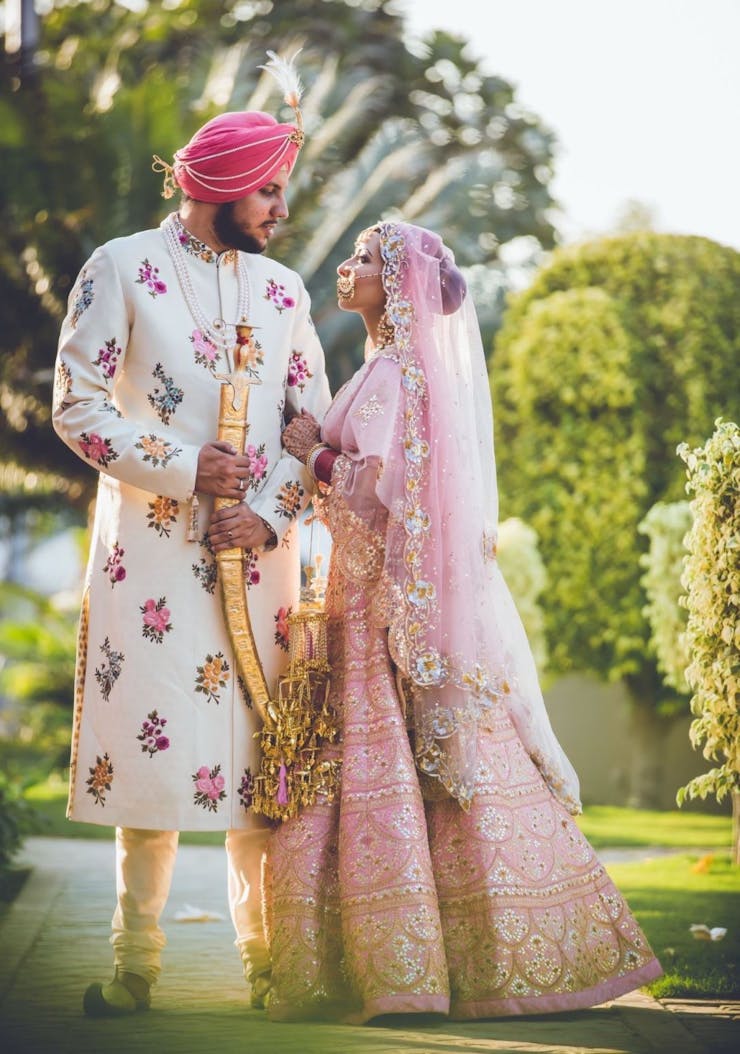 10. What Can Be A Better Option Than A Zardosi Sherwani To Celebrate A Grand Event
And here comes another Punjabi groom in breathtaking attire. He is all set to embers his lovely bride by wearing a zardosi sherwani. This Indian wedding sherwani for groom is a classy choice that can ignite your magnificent royal side. He has worn a red turban and white mojri to complement the stunning red & white lehenga of his bride.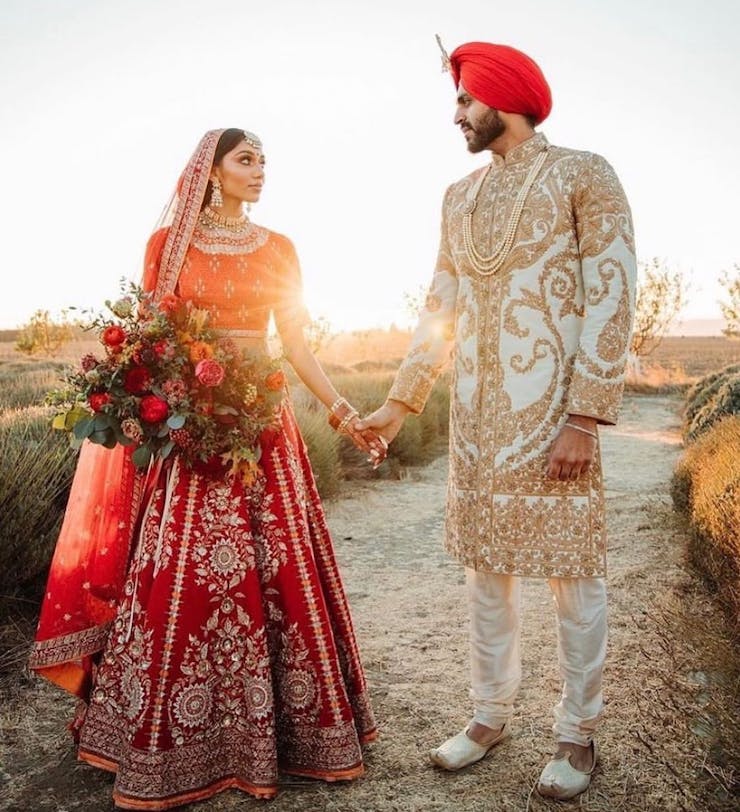 11. This Stylish Groom Has Decided To Wear Coordinated Sherwani For An Offbeat Look
Matching your wedding look is the latest trend happening in Indian marriages. This lovely couple has chosen to wear blush pink outfits to enjoy the festivity of a wear wedding event. The pastel pink hue in wedding sherwani is adding a special charm to the groom's look. He has also put a pink turban on his head which is making him look more spectacular.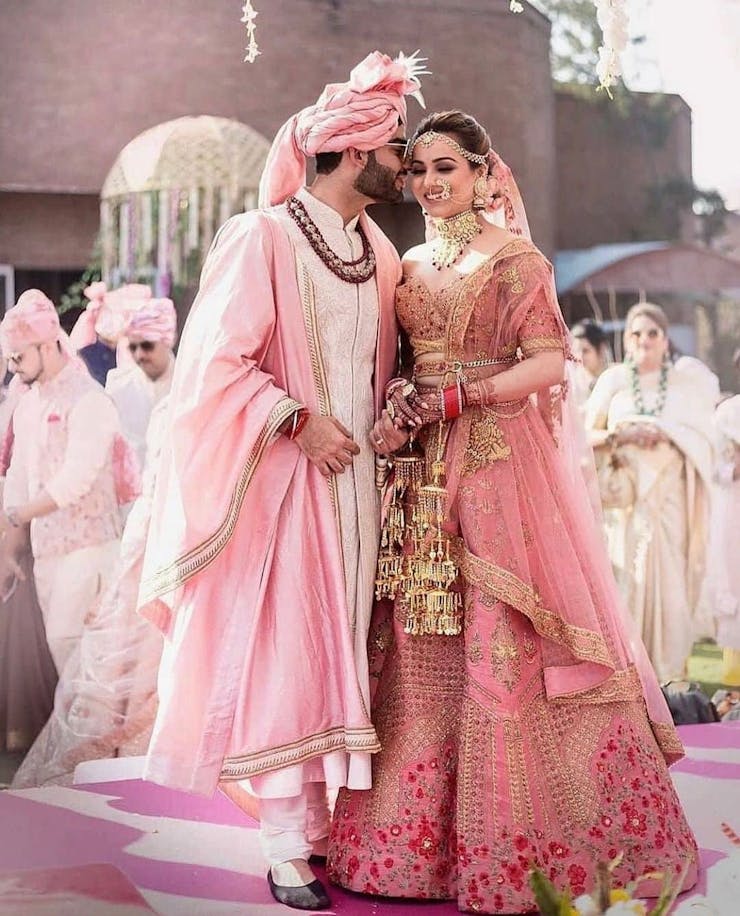 12. A Booti Print Sherwani Is the Best Choice For Sophisticated Grooms
This sophisticated dulhe raja has chosen to wear a booti print sherwani in subtle hues. This groom wedding sherwani is a nice choice for an intimate summer wedding. His monotone looks in the ivory sherwani is adding an elegant appeal to his wedding look.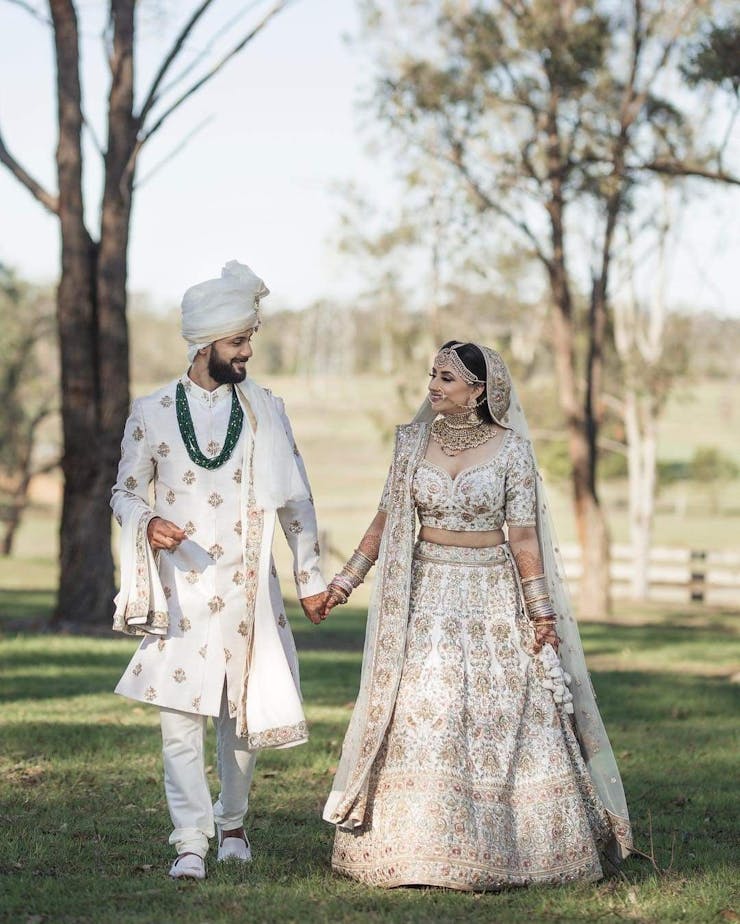 13. Take Your Style Game To Another Level With A Turquoise Sherwani
How mesmerizing does this charming groom look in his turquoise sherwani! This tall handsome groom has further accentuated his wedding look by putting on a dual shade stole on his neck. His statement jewelry is enough to stun the world. A turquoise groom marriage wedding sherwani is a unique option to look exceptional.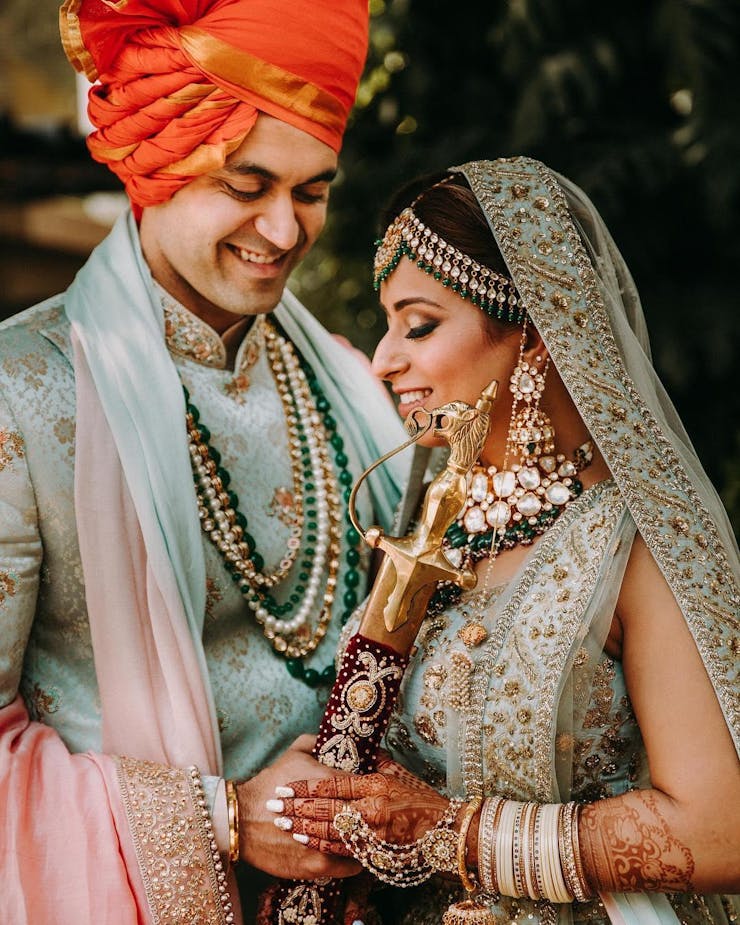 More About Wedding Photography
Latest Blog Posts