Trending Pre-wedding Shoot Dresses Ideas For Couples In 2022
If you're trying to figure out what are the most trendy outfits to wear on a pre-wedding shoot? Read this helpful guide on pre wedding shoot dress ideas.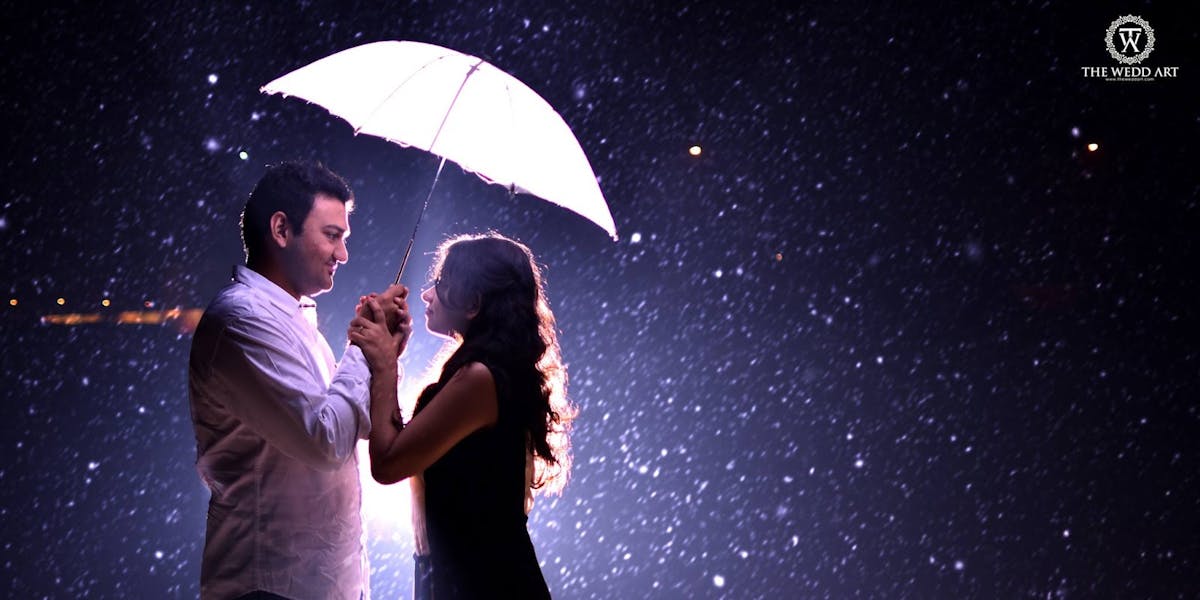 For a memorable pre-wedding shoot, you can hire the best pre wedding photographer in kolkata and choose the most stunning location, but without achieving a charming look you can not bring the romantic vibes in the photoshoot session. Hence, you need to do proper planning for a gorgeous pre-wedding shoot dress that matches the theme of your pre-wedding some couples might feel that choosing a perfect pre-wedding dress is a daunting task. But believe us, in this advanced digital age, it is no more a cause of worry. Yet, there are multiple options available on various online resources, but you need to choose the best one so that these stunning outfits can provide you with the most beautiful pre-wedding pictures. 
Let's make this task easier for you by suggesting to you the best and trendy pre wedding shoot dress ideas that will not only make you look good but feel good too.
1. Wear A Cultural Outfit
A classic saree and a regal Punjabi give a stunning ethnic effect in a bengali pre wedding photoshoot. These traditional attires beautifully represent your cultural views. This adorable couple has chosen a gold and black outfit which is perfectly matching with this regal-themed background. The shiny metallic black saree is making this pre-wedding picture more graceful.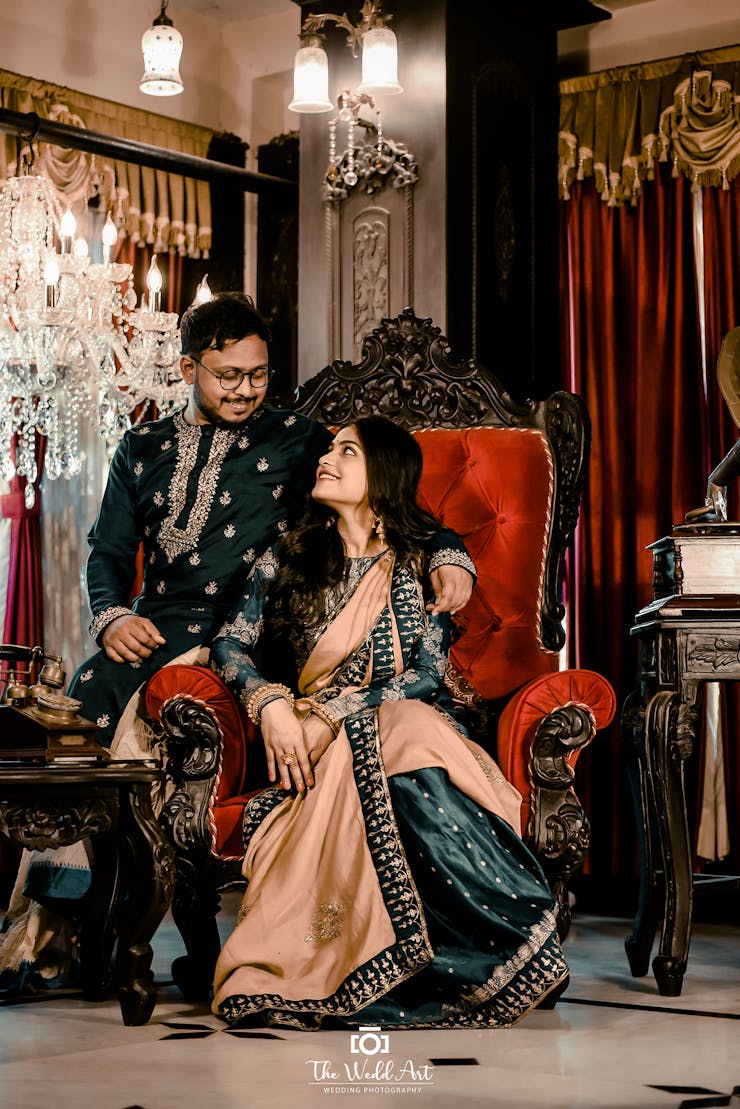 Recommended: Top 10 Traditional Bengali Mehndi Designs For Weddings
2. A Classy Combination Of Saree And Nehru Jacket
A bride-to-be in a gorgeous saree walking in the lanes of Kolkata with her soulmate, tells a beautiful tale of Bengali romance sarees with beautiful embroidery bringing the shine in the pre-wedding pictures. silk or embroidered saree for pre wedding shoot is a huge hit. So, what can be an appropriate outfit for her gentleman? Of course, a silk Punjabi kurta and stylish gala bandh.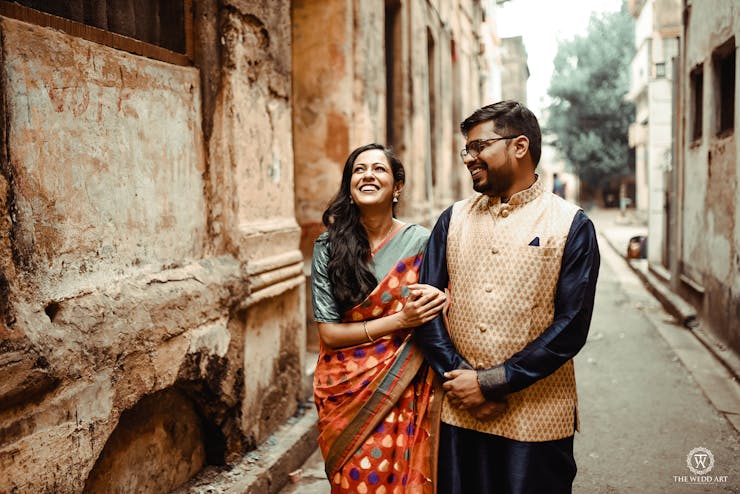 Must Read: 15 Gorgeous Bengali Haldi Ceremony Outfit Ideas
3. Go For A Matching Jacket
Look at this bubbly bride in the arms of her prince charming. This cheerful bride-to-be looks super stylish in her nude makeup and floral gown with a sky blue denim jacket. The super stylish groom is matching her beauty by wearing a formal suit in the same color. This made for each other couple are looking simply elegant in their pre-wedding pics. Matching couple dress for photoshoot is trending these days.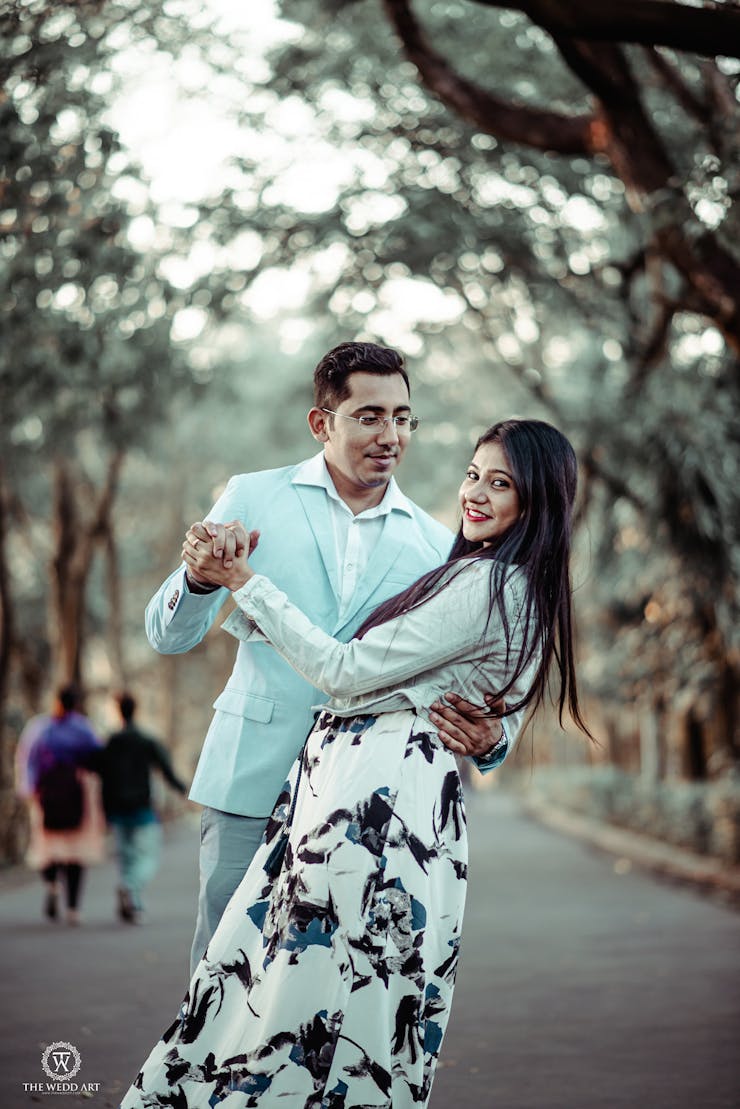 4. Absolutely Gorgeous Designer Gown & Tuxedo
A designer gown in grey and a stylish red tuxedo together make a style statement. A pre wedding shoot in gown can simply add some dramatic features to your photoshoot. You can never go wrong with these Indian gowns to flaunt your ethnic look. A groom-to-be in stylish formals and sunglasses perfectly complements the amazing look of the bride.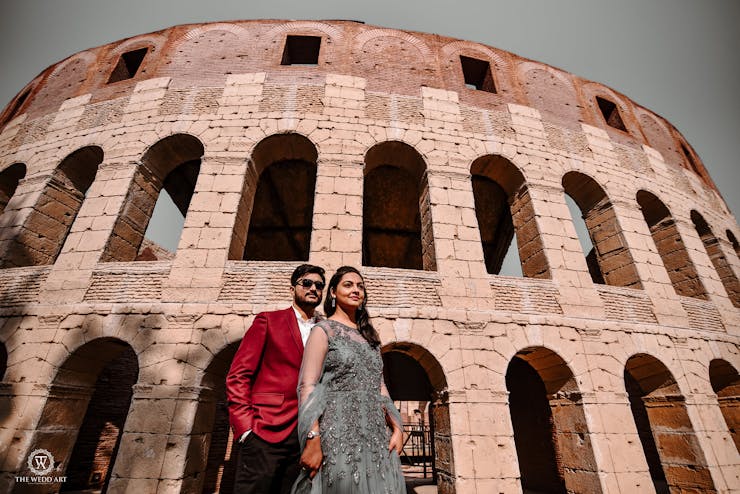 5. The Magic Of Pink
Trail gowns are the most beautiful outfit for a pre-wedding photoshoot. This is the most preferred dress for a romantic pre wedding photoshoot in kolkata. Inspired from the Bollywood movies this free-flowing gown can add a magical vibe to your photoshoot. This adorable couple has opted for a lighter shade of light pink to create a romantic pre-wedding story.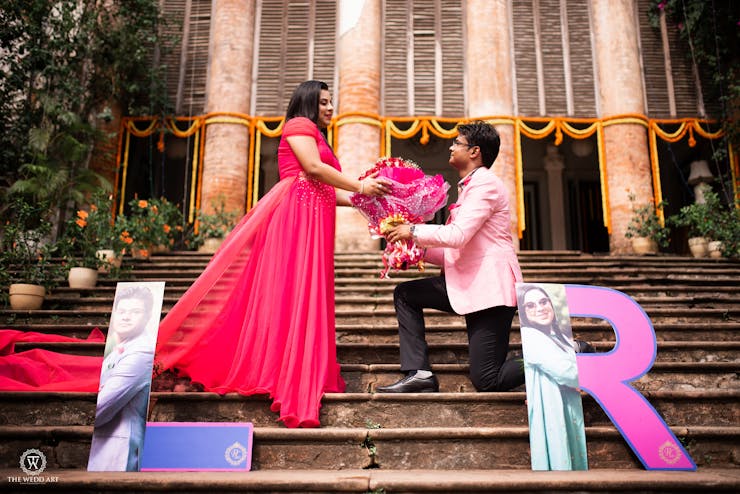 6. The Floral Saga In Ethnic Wear
You can not ignore the stunning beauty of floral print ethnic wear. This adorable couple has opted for a floral print kurta in pastel shade and a beautiful saree in a bright color. This is a very trendy couple outfit ideas for pre wedding shoot.
7. Comfort Of Casuals
If you are looking for a comfortable outfit for your pre wedding photography in kolkata then you must choose casual like jeans and a breezy off-shoulder gown. This light shade gown and denim jeans with a leather jacket will never let you down. These playful casuals are very popular pre wedding outfit ideas that will make you stress-free about your poses.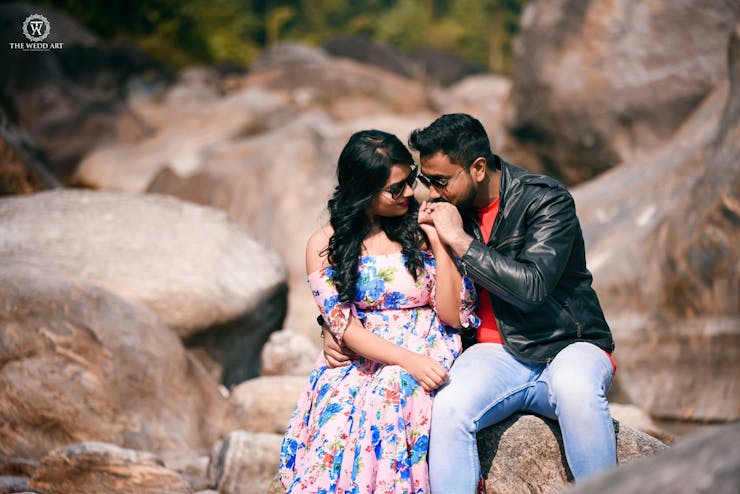 8. A Dreamy Red Gown 
There is nothing more beautiful than a red dress. A fiery red long gown for pre wedding adds romantic vibes to your pre-wedding shoot. Accessorize this free-flowing gown with diamond jewelry to compliment your groom perfectly.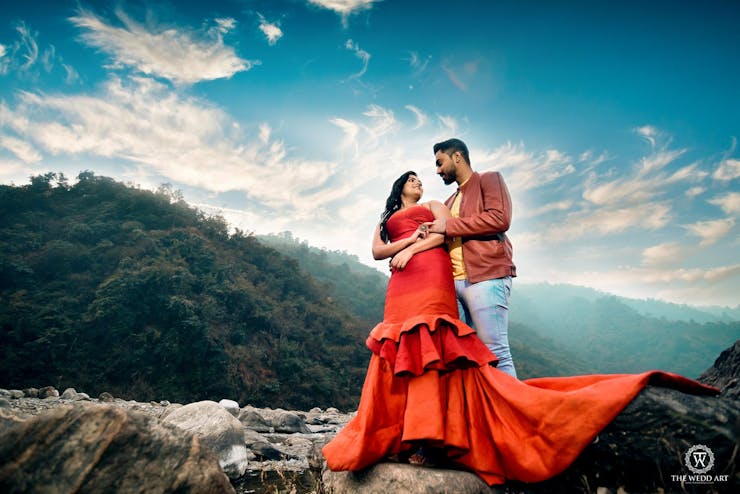 9. Serene White Gown With Black Suit
This eye-catchy combination of a black formal and white wedding gown is another beautiful pre wedding shoot dresses for couples. This is one of the most easily available pre-wedding outfits that you can try to look super charming in front of the camera.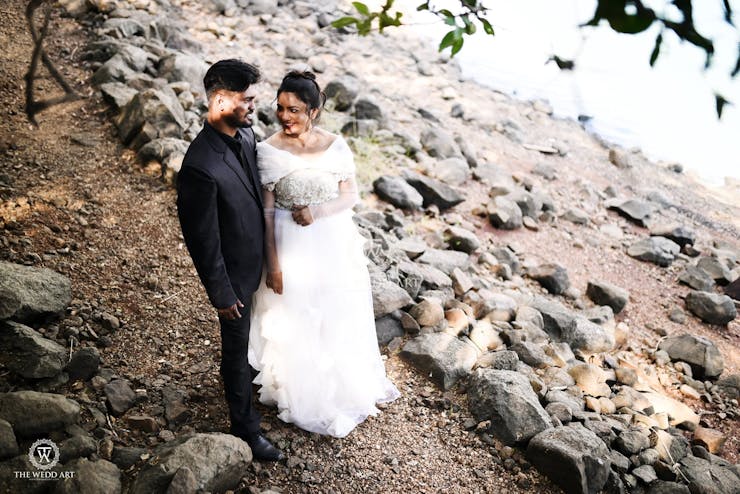 10. Anarkali & Nehru Jacket A Worth Match
A stunning designer gown like Anarkali is a great option for adorable pre wedding photoshoot poses. Available in various colors and designs these Indian suits always give a tuff competition to the evening gowns. To match the beauty of this traditional outfit, the men should wear a Nehru jacket over the formals for a memorable pre-wedding shoot.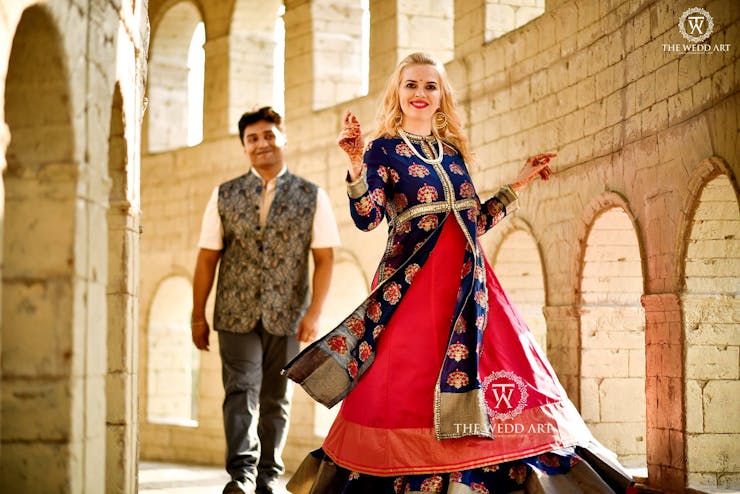 11. Stylish Midi Dress And Casual Jeans
Another great idea for casual pre wedding shoot dresses is a gorgeous midi dress and a stylish blazer and jeans. This pretty bride has opted for a black and red floral print midi dress while the groom has gone for a stylish blazer and blue jeans which is perfectly presenting their casual look.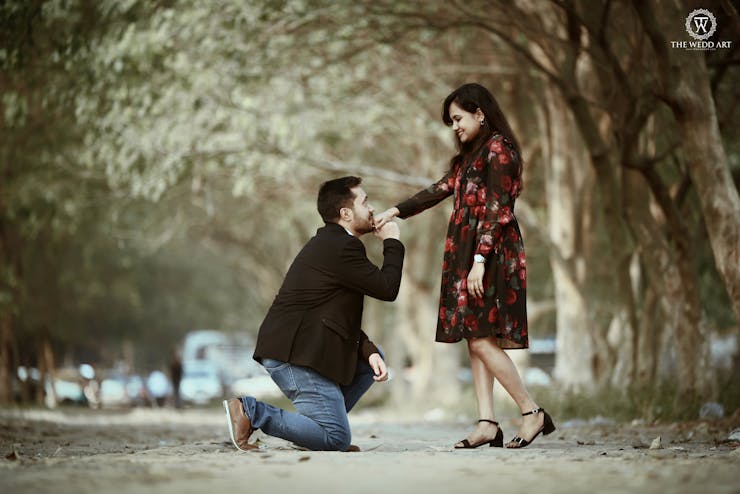 12. The Game Of Coordination
Wearing a short dress for pre wedding photoshoot in summer is a nice option. This pretty couple has smartly twined their pre-wedding outfit to express their love and respect for each other. The lighter shade like creamy yellow then combine with blue jeans or a short jacket represents a beautiful love story in the picture frames.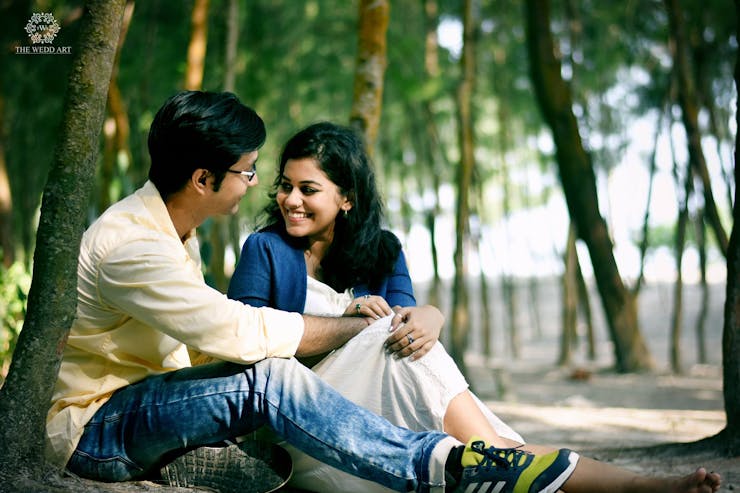 13. A Dual Tone Dress With Alluring Black Suit
A stylish suit always complements a traditional gown or a designer outfit. This dual-tone dress of a bride in black and mustard yellow shade perfectly blends with the groom's formal wear. This graceful outfit is a better option for outdoor pre wedding photoshoot dresses.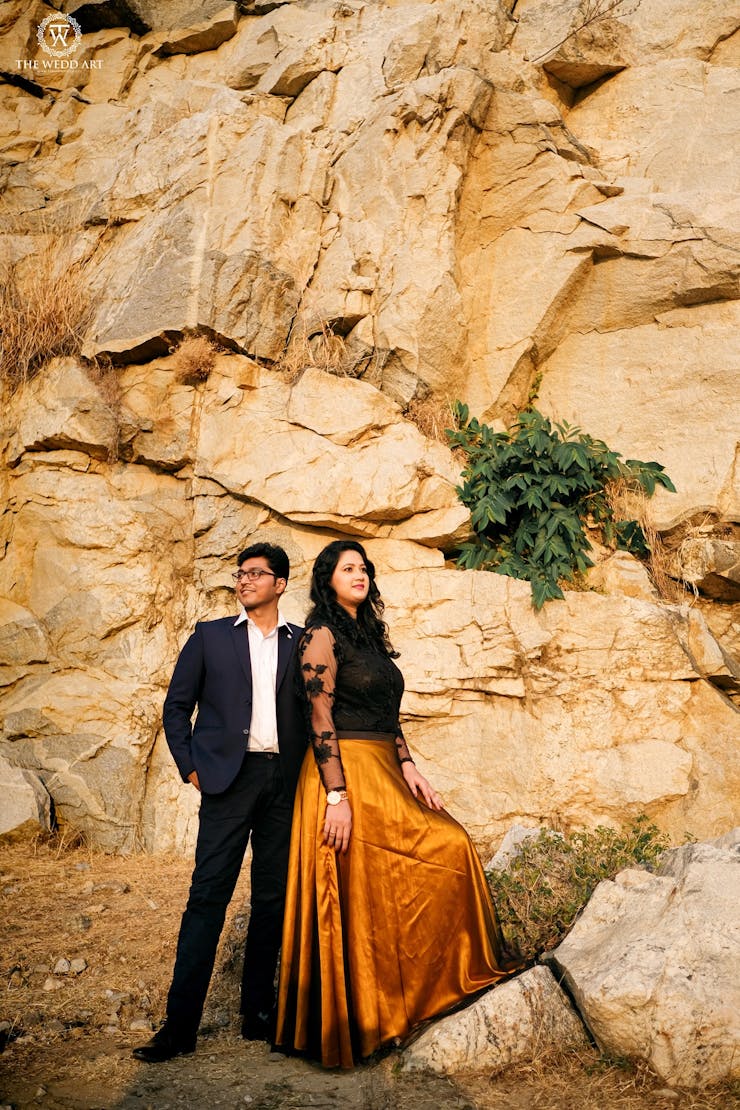 14. The Stunning Combo Of Lehenga And Kurta
Wearing a traditional dress for pre wedding shoot makes a stunning pre-wedding story. A silk lehenga and an embroidered kurta with a Galabandh suit offer you a mesmerizing look in your pre-wedding pictures.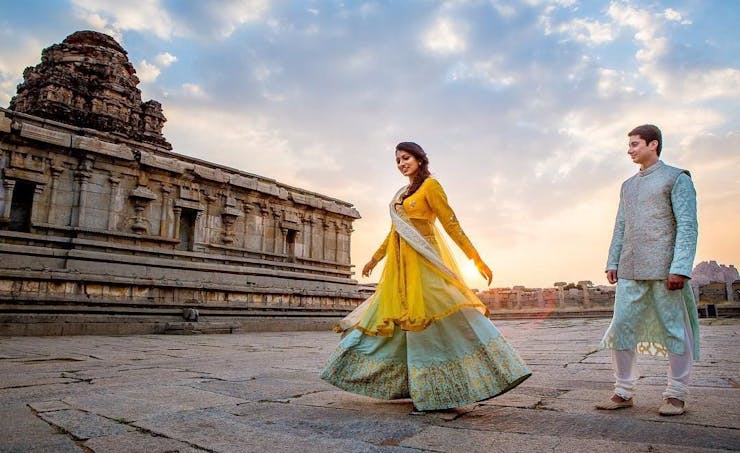 Shared above are some of the best and most amazing pre wedding shoot dress ideas that you must try to make a memorable and beautiful pre-wedding album. Hope these pre-wedding dress ideas will assist you in selecting the ideal attire for your pre-wedding photos.
More About Wedding Photography
Latest Blog Posts