Best Bengali Bridal Bindi Designs For A Captivating Look
To grab the attention of your guests with your glamorous look, try these latest bengali bridal bindi designs. Continue reading to explore latest designs.
A bindi is the most beautiful element of a bridal look. It not only enhances the bridal makeup but is also considered a symbol of marriage in India. A red bindi on a bride's forehead is a traditional look on her wedding day. Yet, there are various kinds of bindi worn by Indian brides depending upon their region and custom, but the prettiest bindi design of them all is the beautiful Kalka design of a Bengali bride. Designed of kumkum and sandalwood paste this wonderful form of body art keeps the bride stress free and also enhances her bridal makeup. These Chandan & kumkum bindi designs perfectly complement the white mukut and banarasi saree of Bengali brides. Known as the best wedding photographer in Kolkata, we have gathered some finest examples of bengali bridal bindi designs that we have captured in lenses. Scroll down to explore all the latest designs. 
1. Obsessed With Its Delightful Charm
A lotus shape chandan art design in the middle of the forehead is simply divine. The hint of red kumkum blended perfectly with the Chandan design looks lovely and mesmerizing on a bong bride. This kind of white and red Kalka design looks amazingly beautiful with a red banarasi saree.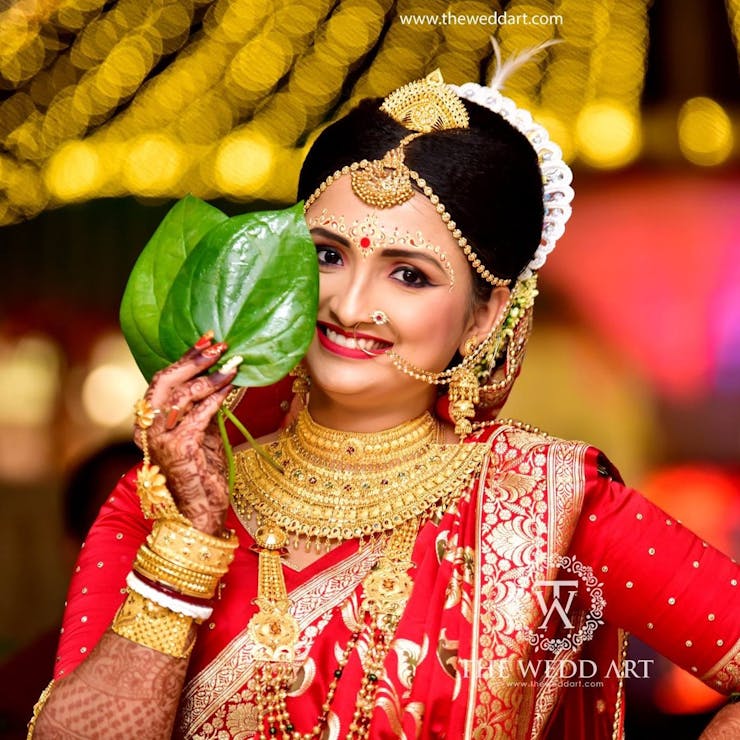 Recommended: All About Traditional Bengali Wedding Jewellery Collection [2022]
2. This Kalka Design Is Adding Drama To The Show
Such intricate details designed on a bride's forehead are truly a work of art. These wonderful designs spreading till the end of the brow line can be easily found in the portfolio of bengali wedding photography kolkata.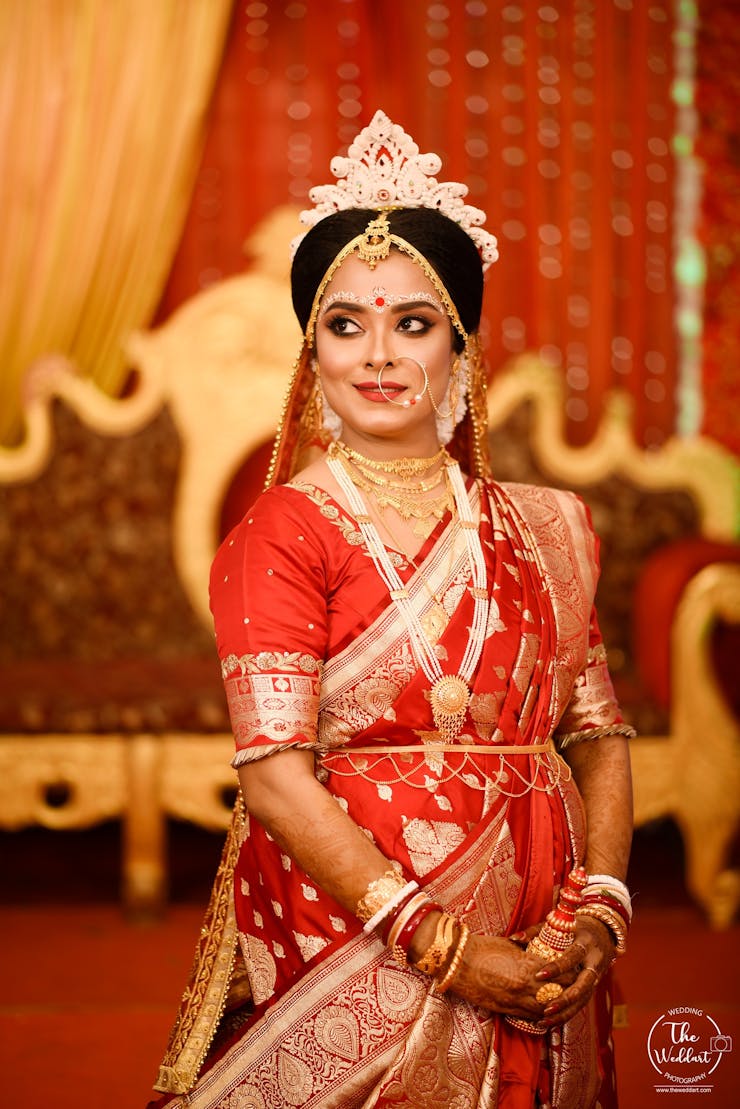 Also Read: 15 Gorgeous Bengali Haldi Ceremony Outfit Ideas
3. Simplistic Charm Of This Dotted Line Bindi Is Just Wow
Dots and lines are the simplest forms of bengali bridal chandan design. The neat bindi design with a single red dot in the center is the safest to play with. This simplistic design took less than an hour to get completed and provides you with an elegant bridal look on your D-day.
4. The Latest Kalka Designs Are Truly Remarkable
The intricate details of this flawless bengali wedding bindi design provide a smooth touch to your smoothie eye makeup. The little paisley motifs on the tip of her eyebrows are the main attraction of this wonderful body art.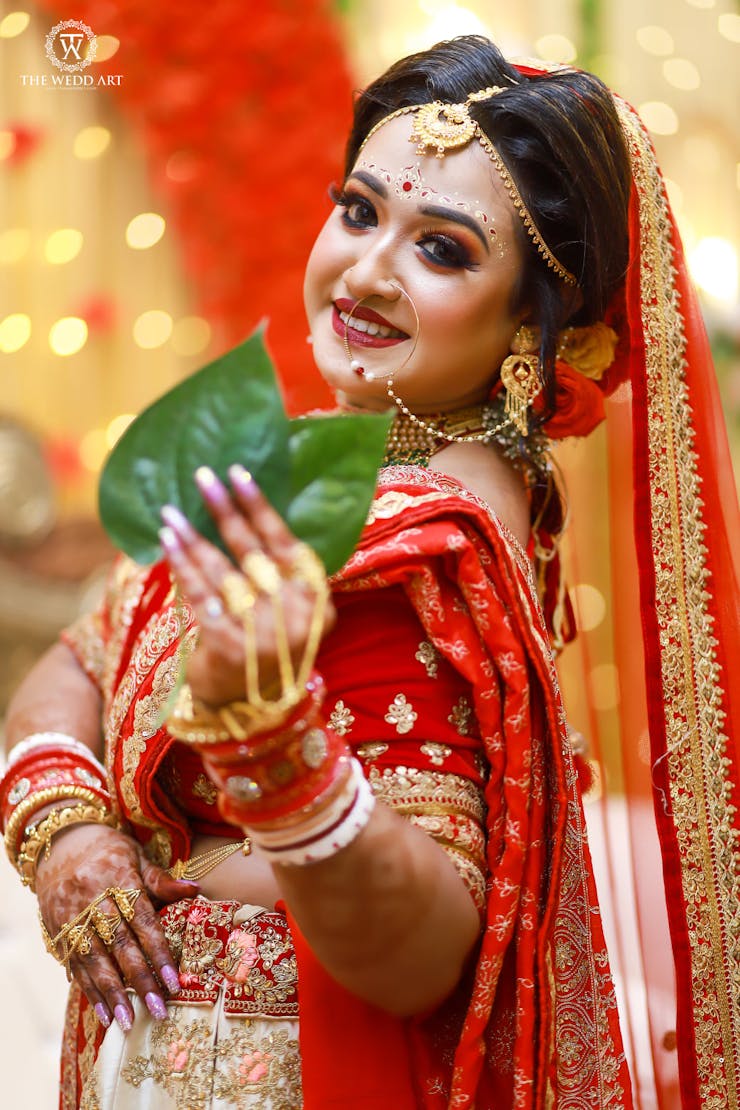 5. How Stunning Is This Crown Shape Bridal Bindi
This Bengali bindi style resembles the morning Sunrise or a queen's crown. The beautiful contrast of the white and red Kalka design is complementing the traditional look of this gorgeous bong bride. All the bridal element of our pretty bride, be it her red and golden banarasi saree or statement gold jewelry matches the beauty of her stunning look.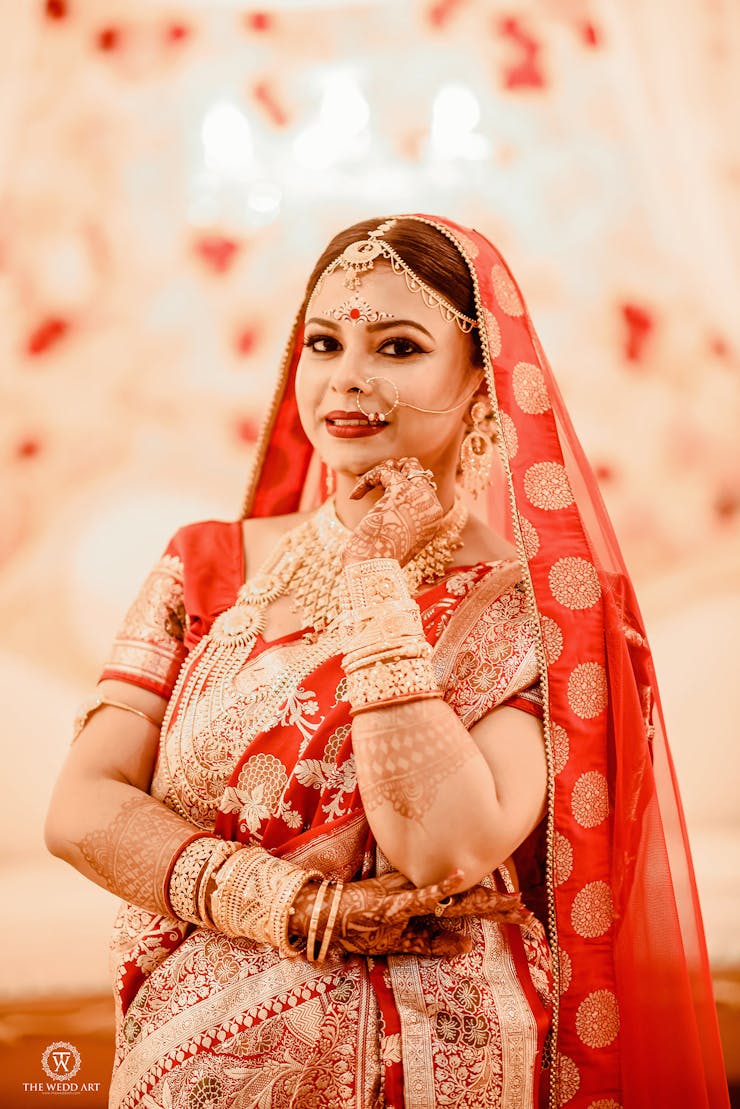 6. The Over Dramatic Design For Glamorous Brides
This adorable bride has nailed her look with her over-dramatic bindi design. The fanciness of this bengali bindi style has left us awestruck. This wonderful extended design up to the tip of the eye is one of the best options for a captivating bridal look. 
7. We Are Drooling Over Intricately Designed Chandan Art
Look at the glamorous look of this pretty Bengali bride. The detailing of her elongated bindi design is truly amazing which is perfectly captured into the lenses by our talented photographers. A little touch of kumkum in the middle of white designs are perfectly complementing the exquisite red and white mukut of this bride.
8. Can't Take Our Eyes Off This Magic Of Tiny Details
Another beautiful bridal chandan design is here in front of your eyes. The tiny vines and dots of this intricate Kalka design is offering an eye catchy look to this happy bride. All white and center red bridal bindi design is complementing her white and red wedding saree and exquisite gold and Kundan jewelry perfectly.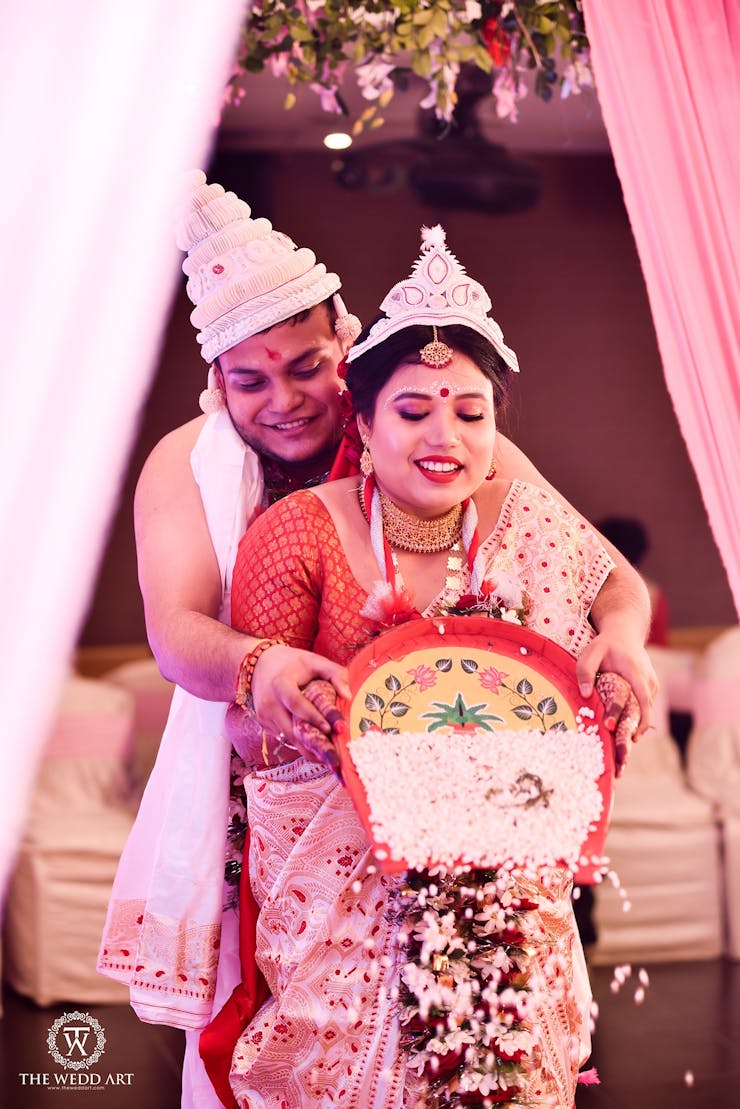 9. The Marvellous Blend Of Chandan & Kumkum Is Truly Fabulous
A small red bindi and intricate Chandan design like leafy wines and small dots look lovely in wedding pictures. This kind of pretty kumkum design when paired with old jewelry offers you the most regal look.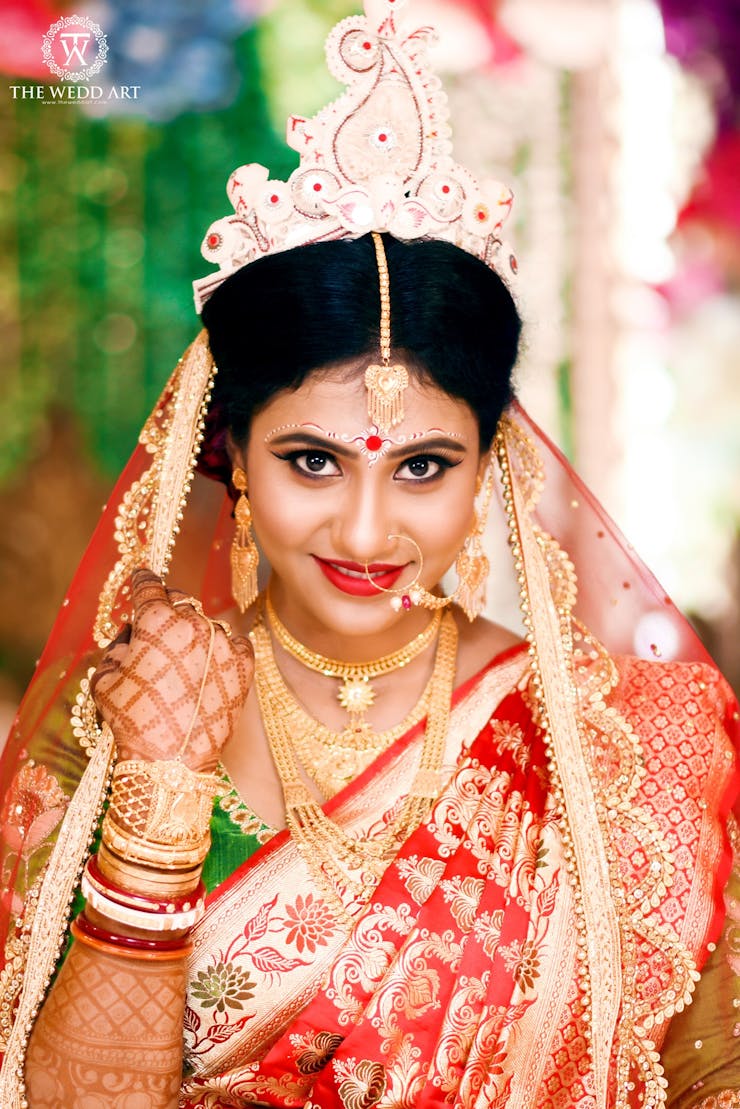 10. A Dreamier One For A Grand Affair
The beautiful curves in this bridal bindi can easily grab the attention of everyone around. A hint of golden touch in her Kalka design is the perfect match for her exquisite gold jewelry. This wonderful combination of triangular mukut traditional gold jewelry and mesmerizing Kalka designs is one of the most popular and dreamy bridal look in bengali weddings.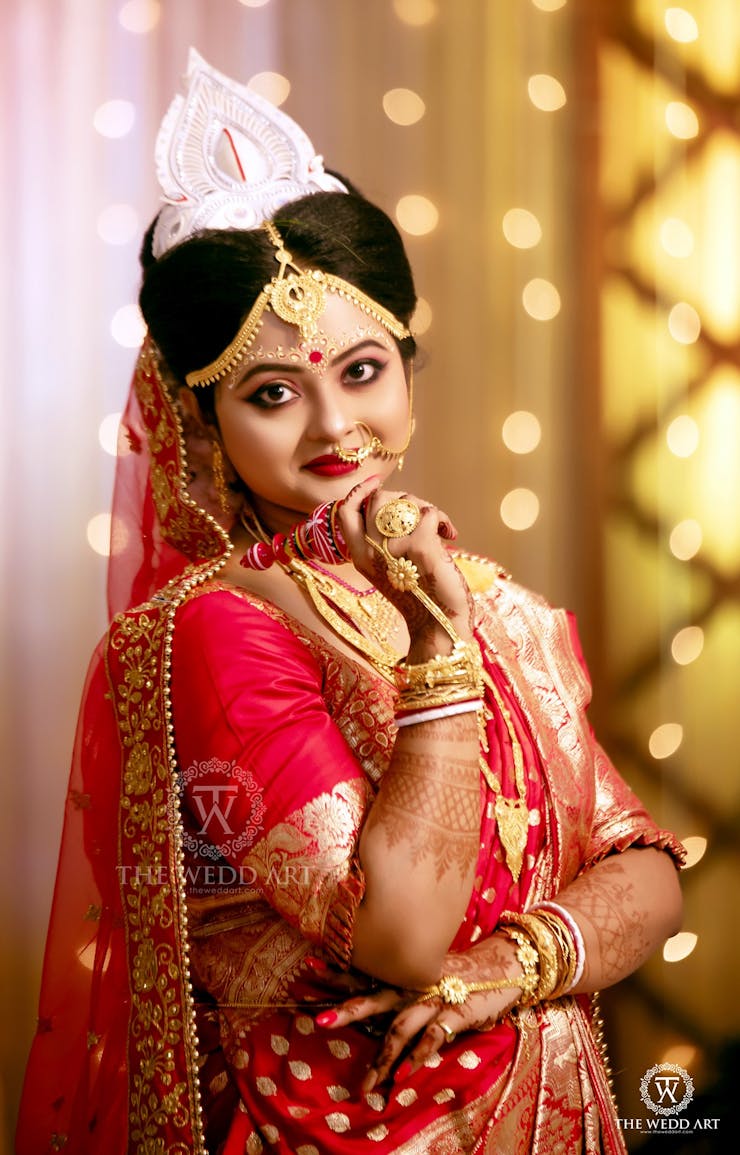 11. The Floral Design Is A True Artwork
Here we are presenting another charming bengali bride wedding look that is stunningly beautiful. Aren't this stunning bindi design adding glam and drama to her alluring bridal look? This type of Bengali bindi design can make you an epitome of beauty in the bridal portrait.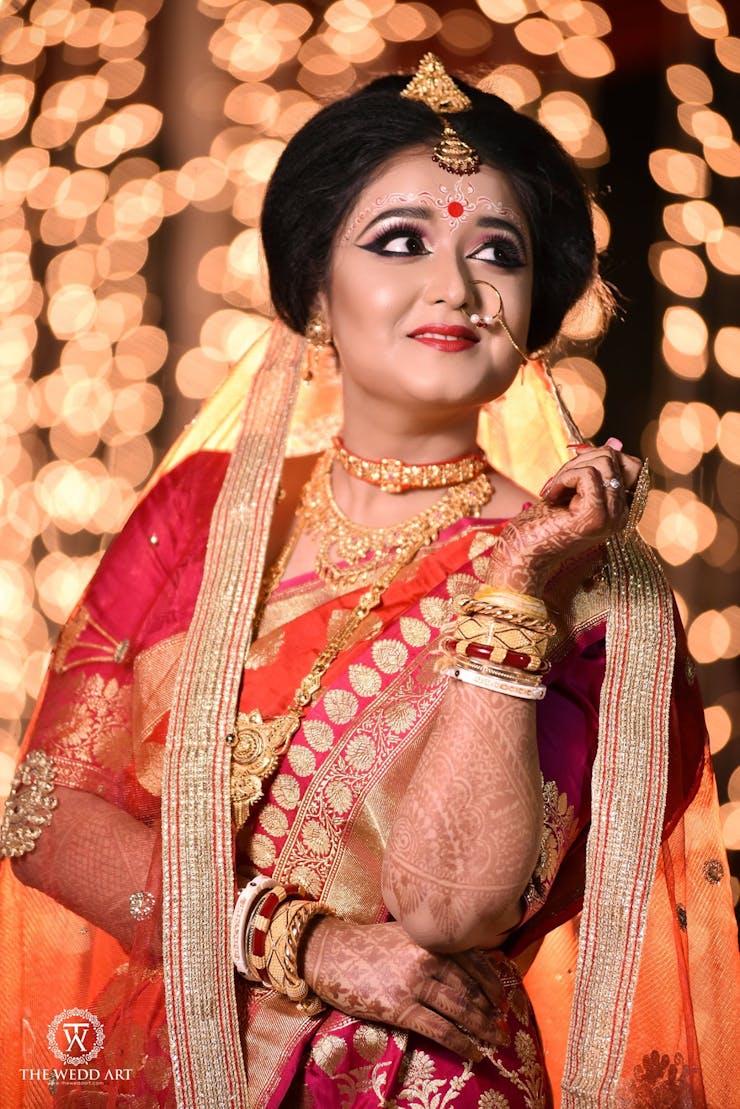 12. The Subtle Charm Of This Chandan Bindi Is Worth Praising
Love the way this bride has kept everything minimal in her bridal look. Her dotted bindi design is a brilliant example of fabulous Kalka art. Her red and white bindi with glittery eyes and chiseled chicks makes her a glamorous bride. This simple bengali bindi design is worth trying.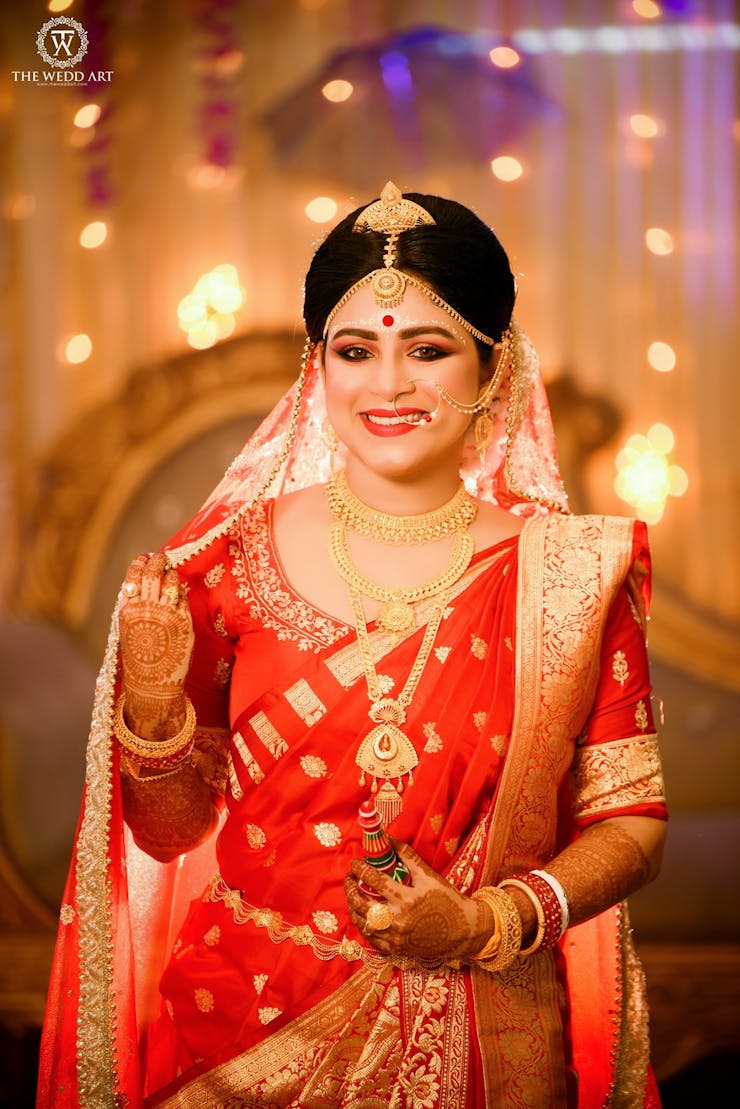 13. Fall In Love With This Long Bindi Design
Who says that only red bindi can provide you with an attractive look? Take inspiration from our lovely bride who has opted for a darker shade of red – maroon to design her bridal bindi. The amazing contrast of maroon between white Chandan art is a remarkable choice if you are wearing a maroon saree on your wedding day.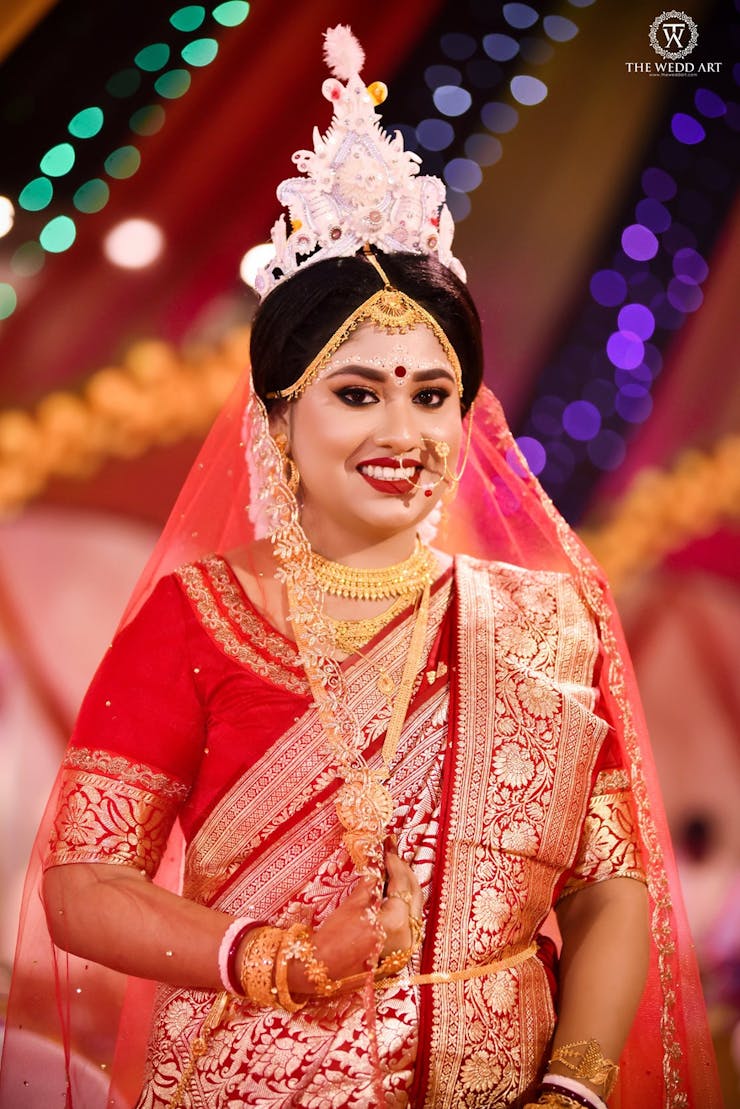 14. Stick To The Minimal For Natural Beauty 
This simple forehead design for bengali bride is a perfect one for those who want to keep it minimal. The subtle and simple floral art can offer you a breathtaking look in your bridal portraits. It can leave a glorious shine on your pretty face.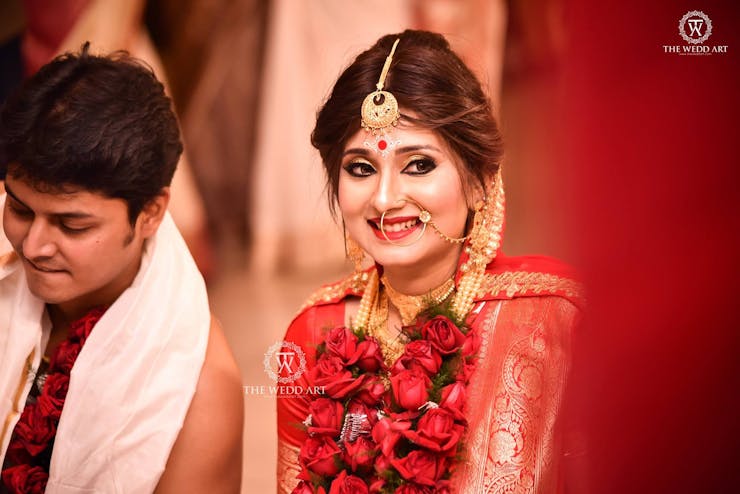 So, these are some beautiful Bengali bridal bindi designs that will surely help you to find a perfect bindi design for your big day.
More About Wedding Photography
Latest Blog Posts