Stylish & Trendy Bridal Haldi Poses – The Weddart Photography
Looking for stylish poses to preserve the joyful memory of your Haldi ceremony? Take inspiration from these bridal haldi poses to get the best pictures.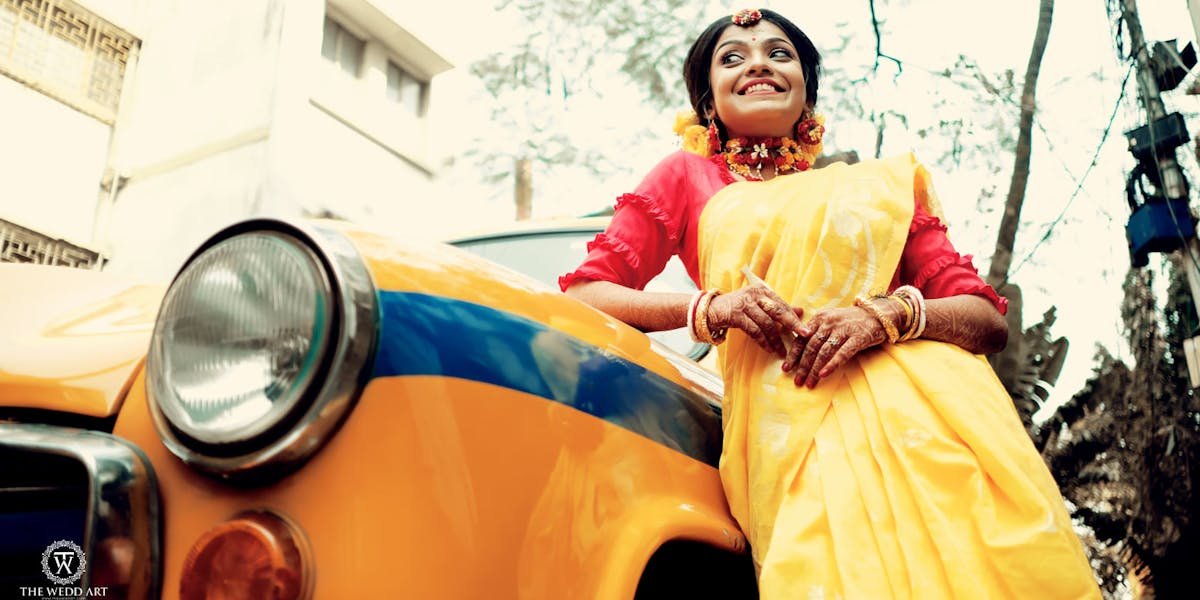 India is a land of beautiful rituals that makes our culture the most unique in this world. The most beautiful example of our vibrant culture is Indian marriage. An Indian wedding contains many significant rituals that are a visual treat for the eyes. The Haldi ceremony is one such beautiful ritual in an Indian wedding. This lively ceremony begins on the morning of the wedding day. Both the bride and the groom are applied with a paste of turmeric, sandalwood, and oil. Following this auspicious ritual, a ceremonial bath takes place. This age-old wedding ritual is the most joyful wedding ceremony in our country.
In the olden days, brides used to wear yellow outfits to celebrate their Haldi event. But modern brides have upgraded their style and fashion to a great extent. A bengali wedding photographer loves clicking the jovial moments of the Haldi ceremony. To know the latest bridal Haldi poses used at Indian weddings keep reading this blog.
1. Opt For A Haldi Couple Pose
Gone are those days when a bride needs to wait for the turmeric paste from the groom's side. Nowadays both the bride and groom celebrate their Haldi function together. Hence, the lovely moment of the adorable couple provided with a ceremonial bath is worth clicking.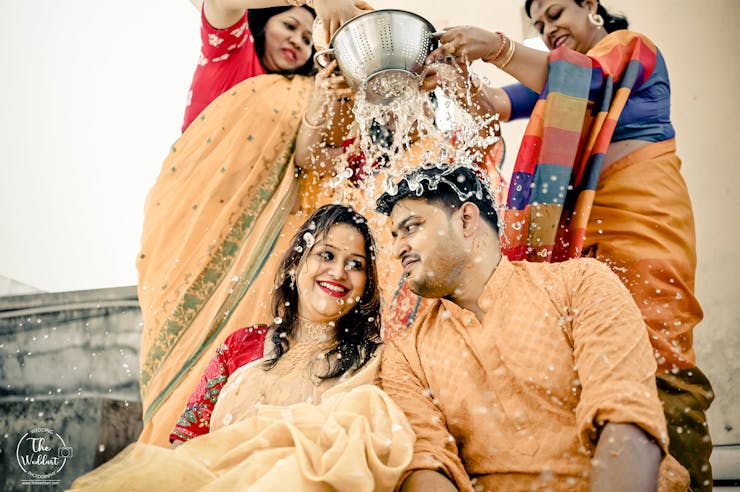 Recommended: 15 Gorgeous Bengali Haldi Ceremony Outfit Ideas
2. Loved This Back Pose Of The Pretty Bride
Everyone loves to add a pinch of drama to their wedding pictures. This gorgeous bride has stunned everyone with her turning-back pose. We must also appreciate her choice of hiring the best wedding photographers in kolkata to make the wedding portraits look natural.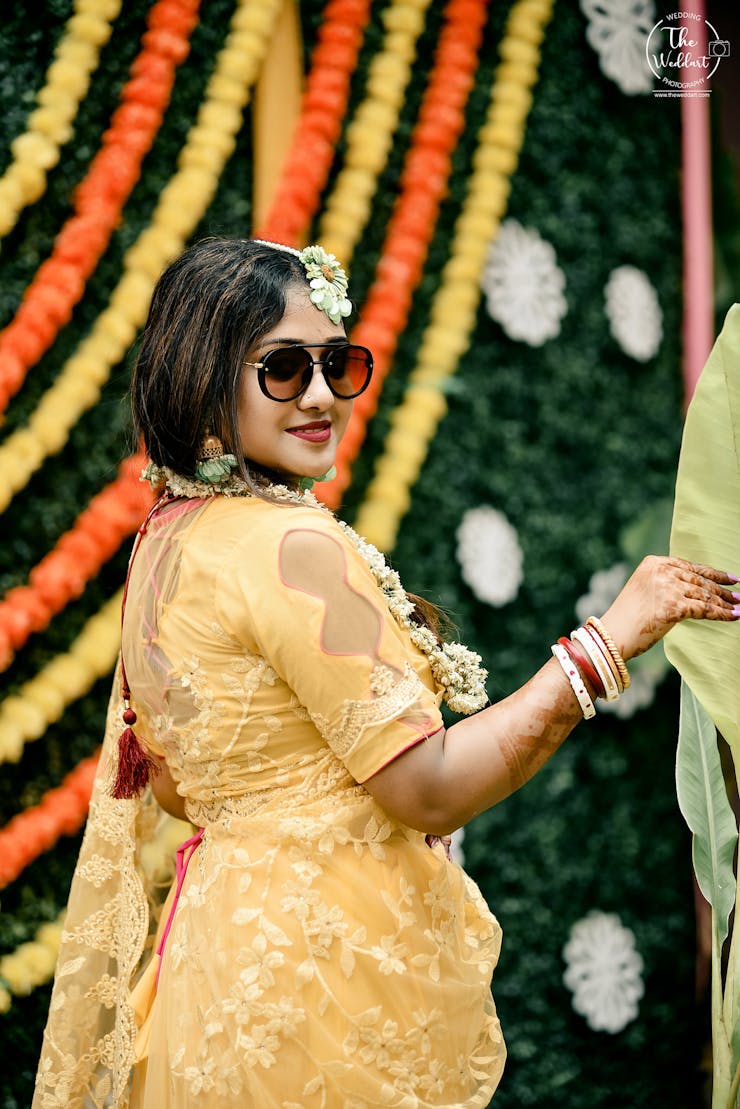 See More: Top 10 Traditional Bengali Mehndi Designs For Weddings
3. Traditional Haldi Rituals Looks Beautiful in Pictures
A bride standing on the mortar and pestle to click her Haldi portrait is another artistic pose that you can try at your wedding. Posing with these ritual props in the picture will keep reminding you about these beautiful moments years after marriage. Isn't this haldi photo pose an exceptional one?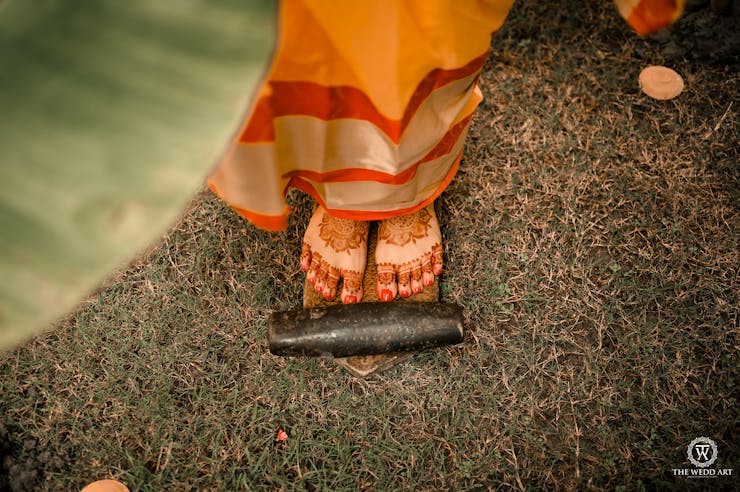 4. A Dramatic Pose With The Bridal Crown
Get a beautiful photo with your stylish bridal crown that will add an extra charm to your wedding album. This bride's ultimate choice of wearing a peacock-designed crown with a beautiful cotton saree is an amazing choice. Such a pretty bridal look needs to get clicked to create sweet wedding memories.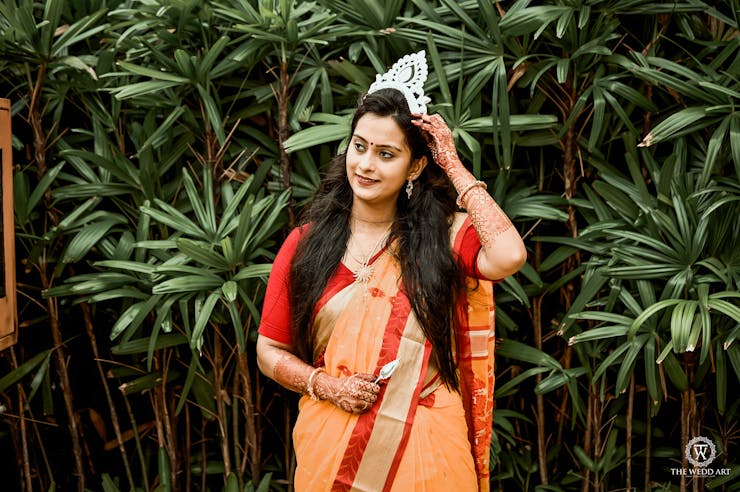 5. Our Beautiful Bride Posing With Flower
A beautiful bridal shoot pose like this is a unique option to try at your Haldi ceremony. The bride holding a beautiful flower blooming on the branch of a tree is depicting her natural beauty in pictures.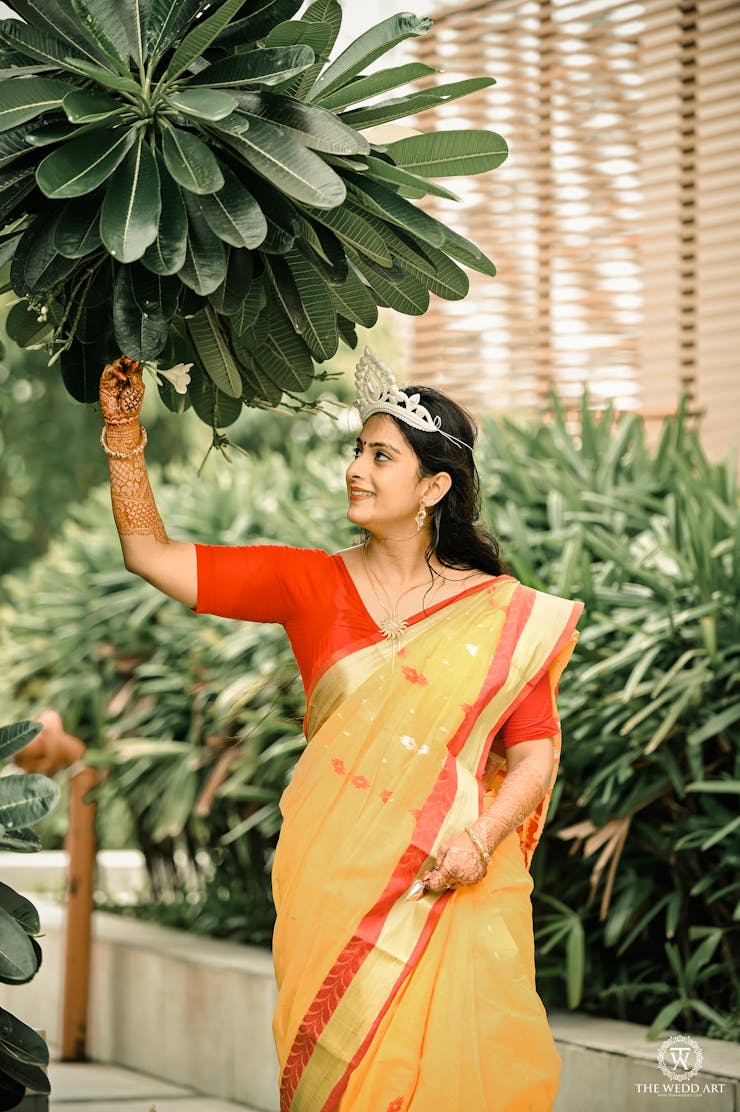 6. A Group Pose of Haldi is a Must One
Women play a significant role in the Haldi ceremony. Capturing the moment when all women of the family are blessing the bride is a deserving haldi photoshoot ideas for a perfect wedding album.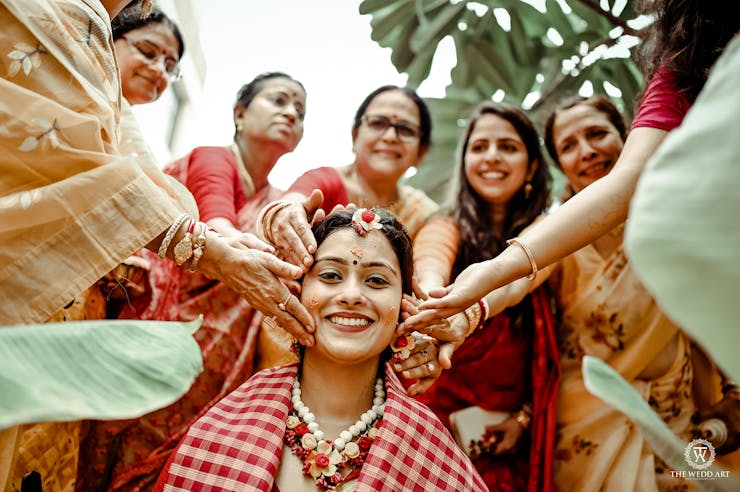 7. Something Like This Can Add Beauty to Wedding Album
A close-up shot of auspicious haldi paste in the bride's hands enhances the beauty of her Haldi ceremony photography. This beautiful haldi portrait is a true delight to watch later which will bring a smile to your face.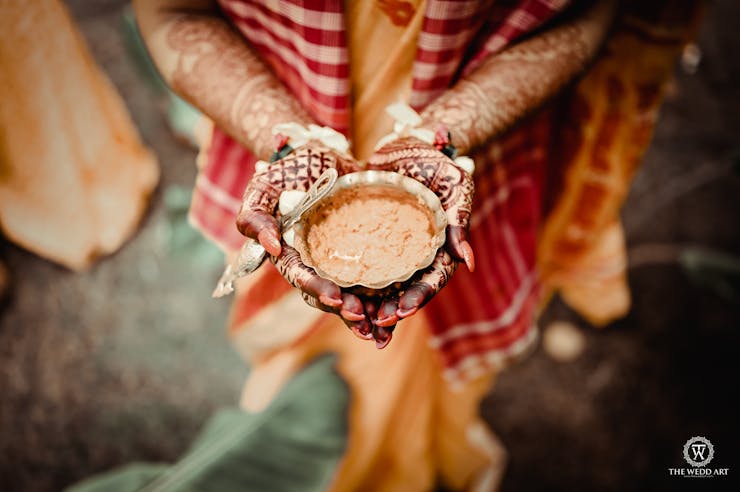 8. A Perfect Click Of a Sharmili Dulhan
How about faking such a shy bride wedding haldi ceremony pose in your Haldi ceremony? Most Indian brides get shy while posing for their wedding portraits. And clicking such a wonderful pose through cameras can offer you some delightful bridal pictures.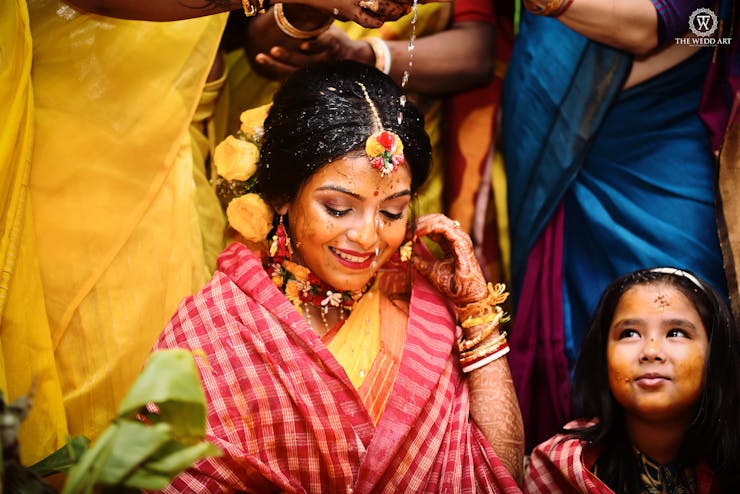 9. Cheerful Bride Posing with Her Friends
Friends are the ones who will turn any simple event into a fun-filled and interesting one. So, why not include your friends with you in your haldi portraits? They can make you giggle or smile for your best haldi pose.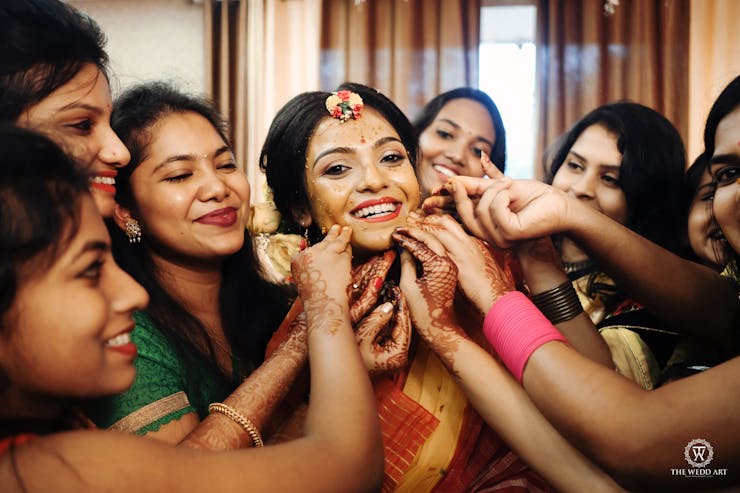 10. The Traditional Ritual Captured Perfectly
The charm of capturing the Haldi ritual can offer you a heart-melting experience. Such beautiful shots are usually a part of candid wedding photography in kolkata. The memories of these wedding rituals will let you relive the special events of your life in the future.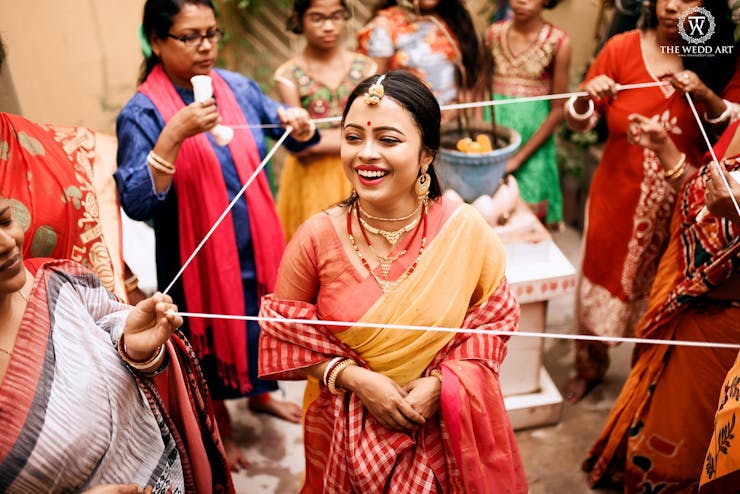 11. Floral Shower is Indeed The Most Dramatic Pose
A flower shower is a beautiful shot that makes a Haldi ceremony portrait appealing to eyes. This is one of the most popular bridal poses for haldi that looks like a dreamy wedding tale. Ask your loved ones to help you by showering flowers upon you to get a dreamy Haldi portrait.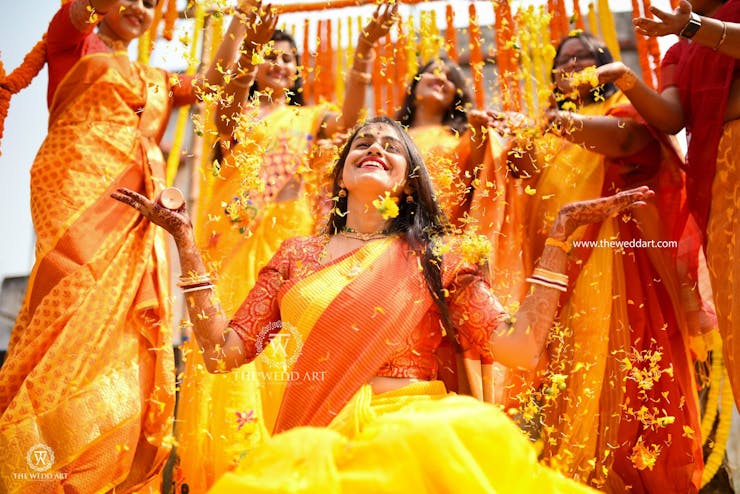 12. Just Look at This Unique Pose of The Bride
Here is a fabulous haldi picture captured by our talented photographers. The bride blowing a trumpet at her wedding is expressing her inner joy in pictures. Isn't this lovely bride setting some major goals for all brides-to-be there?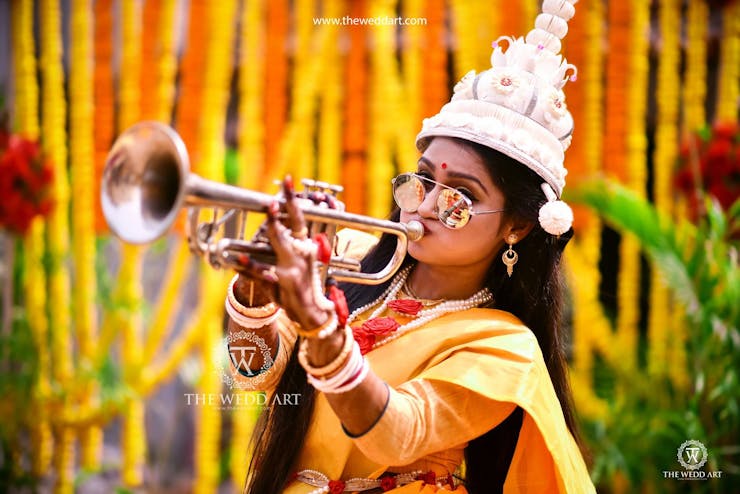 13. The Coolest Bridal Pose of This Wedding Season
 It's time to bring your attention to the coolest haldi poses for bride. Posing with a chilling coconut juice is the latest example of bridal haldi poses. You can also attempt this chilly pose at your wedding. This drinking shot has gained popularity to get some funny wedding pictures.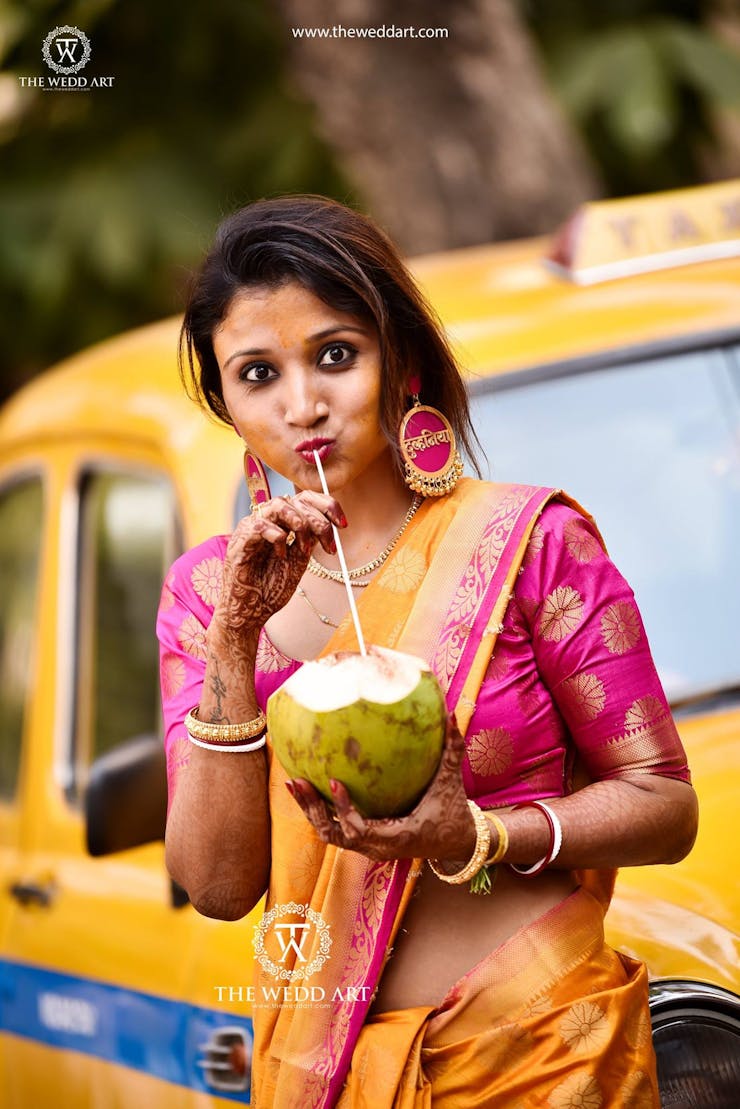 14. Gorgeous Brides Posing with Child is the Most Adorable One
Clicking a Haldi pose with little kids can make your pictures delightful to look at. Adding the smallest member of your family to your haldi photoshoot has its fun side. They can add a fun element to your wedding pictures with their cute and naughty expressions.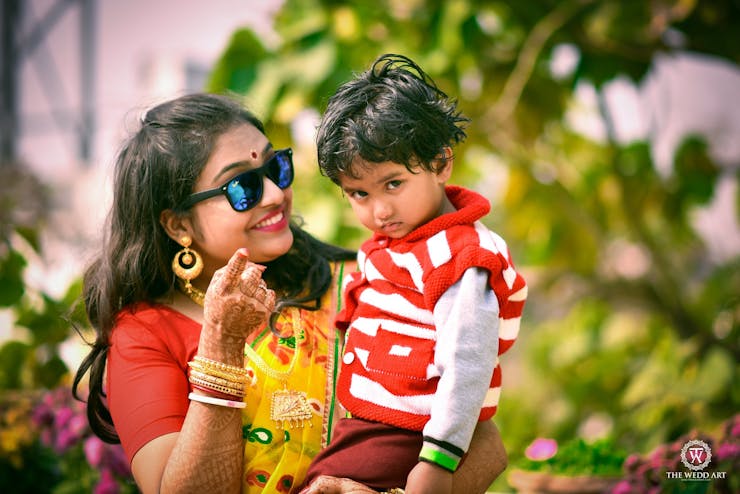 15. A Funky Bride Pose with Dear Brothers
Brothers are the first ones to get emotional at the time of the bride's farewell. They share a great love bond with their sisters. Hence, clicking a Haldi picture with your loving brother is a must to get some cheerful memories.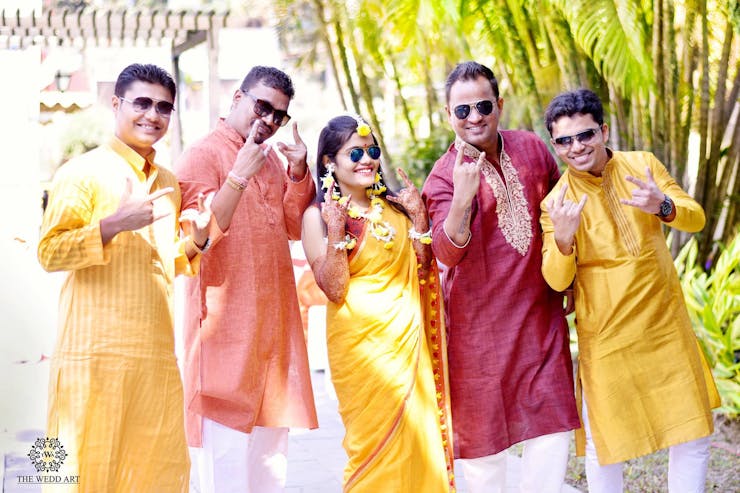 So, what are you waiting for? Contact a well-known wedding photographer to capture the best haldi look for bride in frames.
More About Wedding Photography
Latest Blog Posts