Traditional Bengali Bridal Mukut Design Ideas In 2022
The timeless look of a bong bride is known for her alluring mukut on her head. Bookmark this mukut design for bengali bride to set a style statement.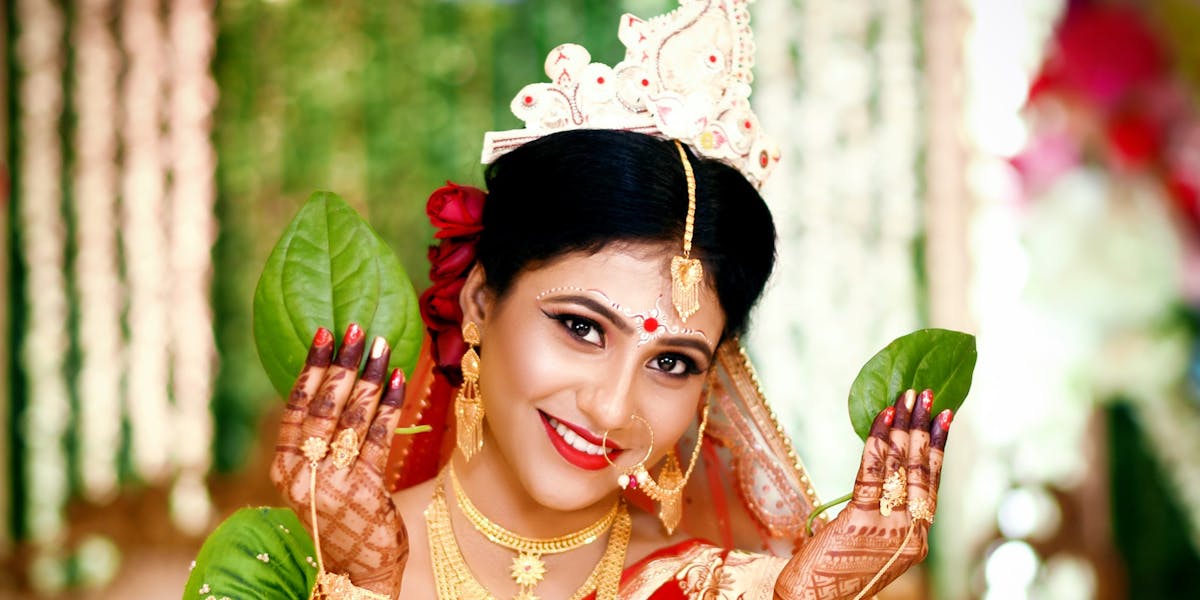 A gorgeous bridal mukut can enhance the overall look of a bride. Every Indian bride adorns her head with crown-like headgear on her big day. Be it a Mundavalya of Maratha bride or Kalpurush of Kashmiri all of these head accessories can add a special charm to a bridal look. But out of them is the most appealing Bengali bridal mukut. This bridal headgear is a compulsory part of Bengali bridal attire. These traditional mukuts look gorgeous on a Banarasi saree and gold jewelry. This mukut is considered a symbol of good luck and prosperity. These fancy bridal headgears are usually made of dried milky-white spongey matter of a plant known as Indian cork. Bengali wedding photographer never misses a chance to capture this stunning mukut in lenses.
If you are looking for a spectacular mukut design, then check out this amazing list of mukut design for bengali bride.
1. A Pure White Mukut For An Elegant Look
White mukuts is a very pretty one that is easily attainable and looks wonderful on a red Banarasi. Our gorgeous bride has tuned her white mukut perfectly with her white pearl necklaces that look ravishing on her. You will easily get many spectacular designs in a white mukut to adorn your head.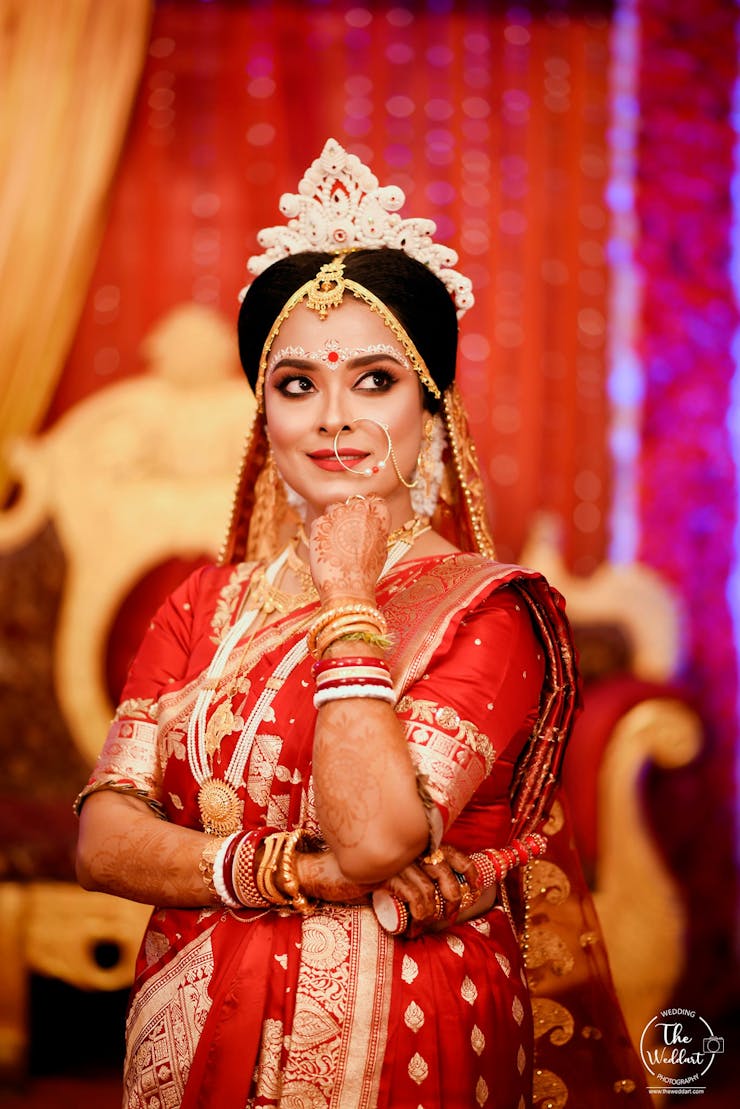 Recommended: Top 10 Traditional Bengali Mehndi Designs For Weddings
2. A Petite Mukut With Feather On The Top
This artistic small mukut with a white base is another beautiful design. The most beautiful part of this petite mukut is a lovely white feather on the top. This creative bridal mukut on the head of this simplistic bride is the true example of minimalism that we totally adorn.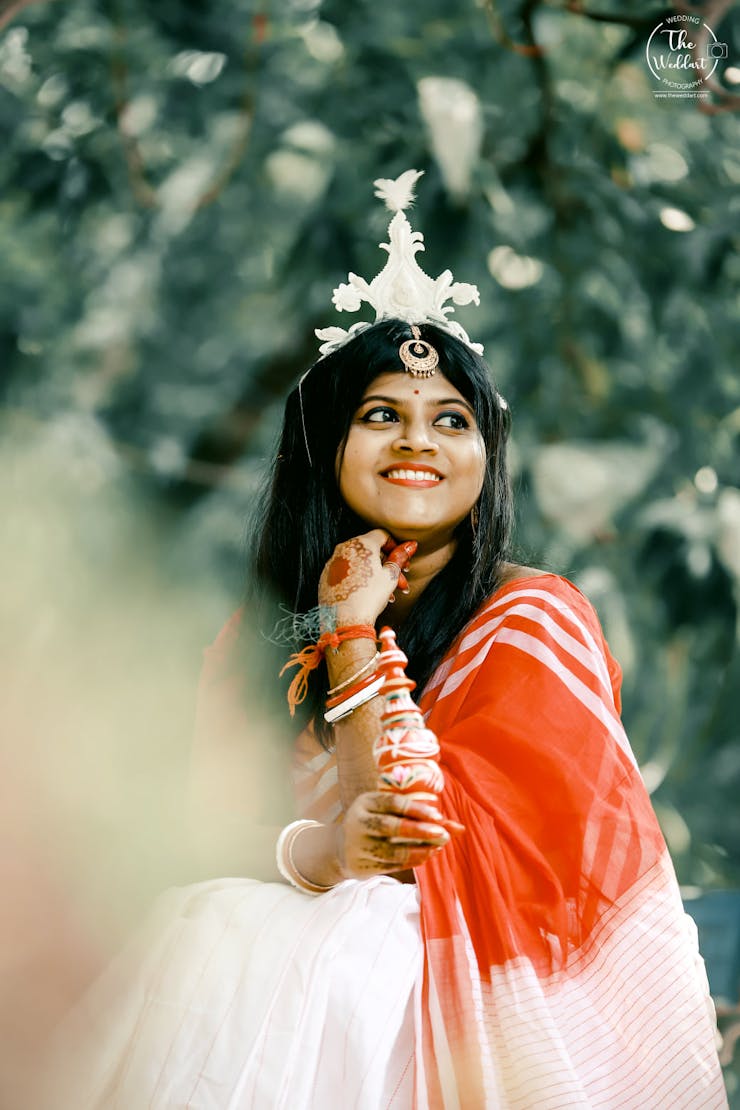 3. The Lovely Combination Of Red & White Mukut Design
Nothing can match the beauty of red and white bridal mukut. The intricate detailing of red embroidery on the white base of this bridal mukut is a very popular design for many years. The simplistic gold mang tika of this beautiful bride is adding wonder to her bridal face. The creative Kalka design in red and white paint is perfectly complementing her mukut design. You can hire the best wedding photographers in kolkata to capture this ethereal look of your wedding day to create some everlasting memories.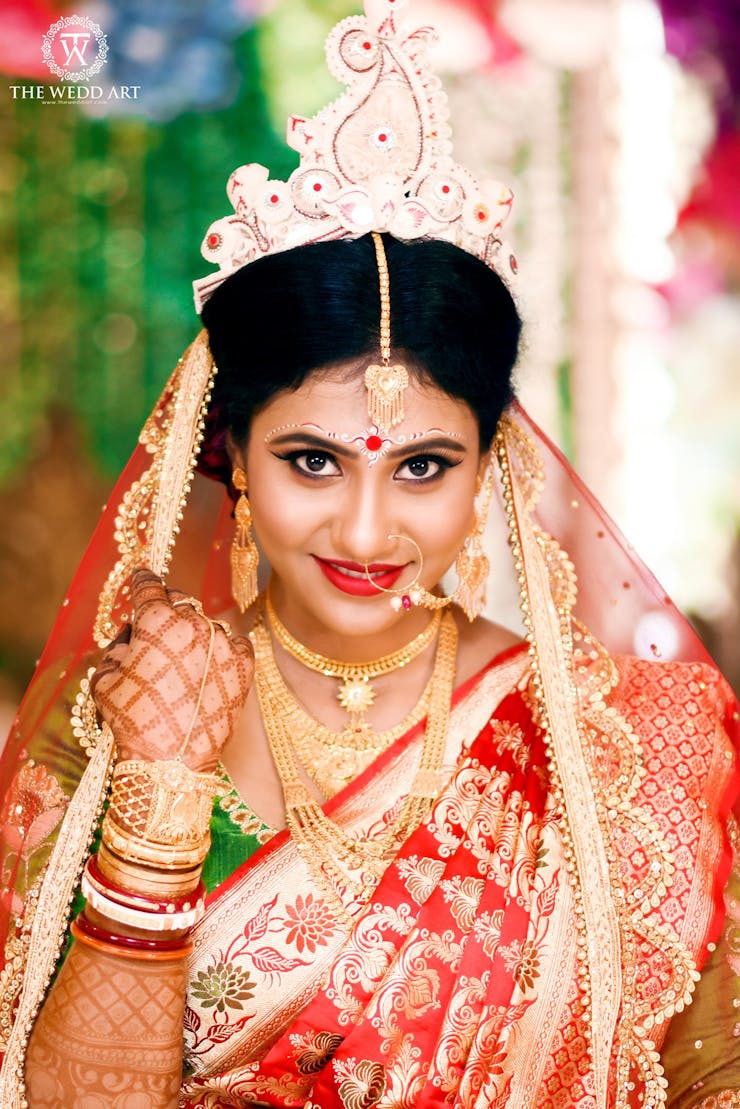 Must Read: 15 Gorgeous Bengali Haldi Ceremony Outfit Ideas
4. An Elaborate Mukut With Stone Work
If you are a big fan of stone jewelry then you will love this stone-studded bridal mukut. The beauty of the colorful stone on your white crown will add a special charm to your bridal persona. This bong bridal look is further accentuated with a white floral wreath in the hair bun.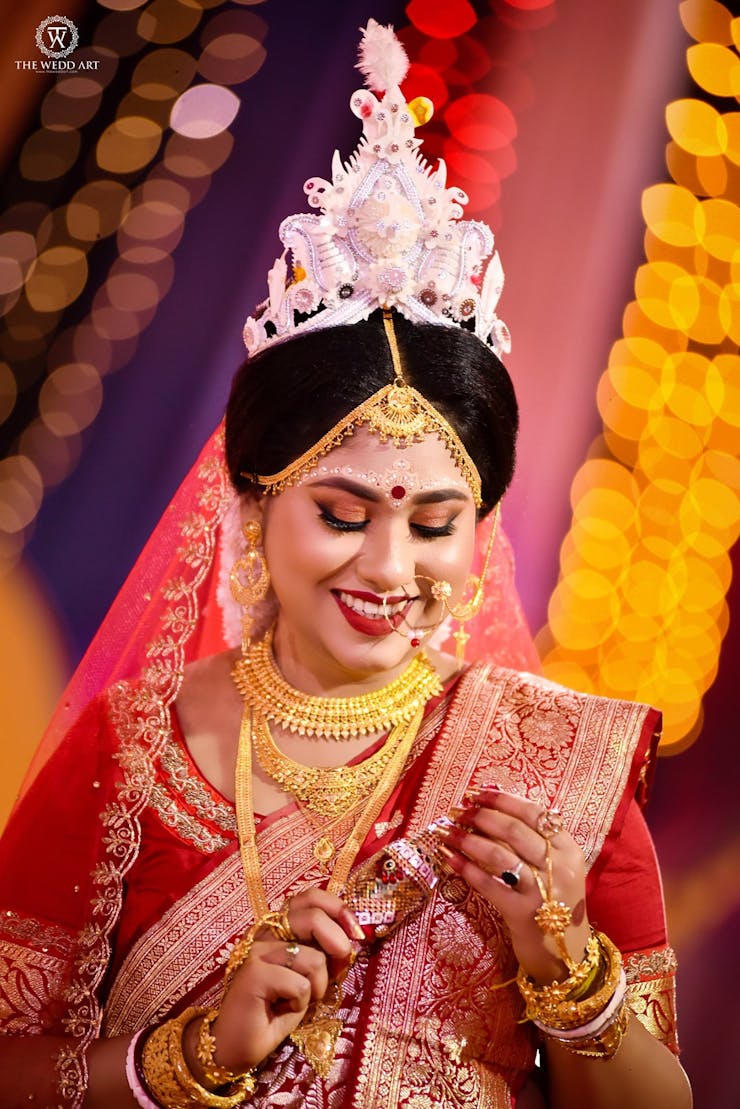 5. Unique Design For An OTT Bride
Such unique and intricate detailing on the bridal mukut honestly is to die for. This exceptional bridal gear of this pretty bride is simply outstanding. This bengali wedding mukut design shows the brilliant craftsmanship of Bengal artisans. This beautiful and creative mukut is highlighting the bridal look of this stunning bride.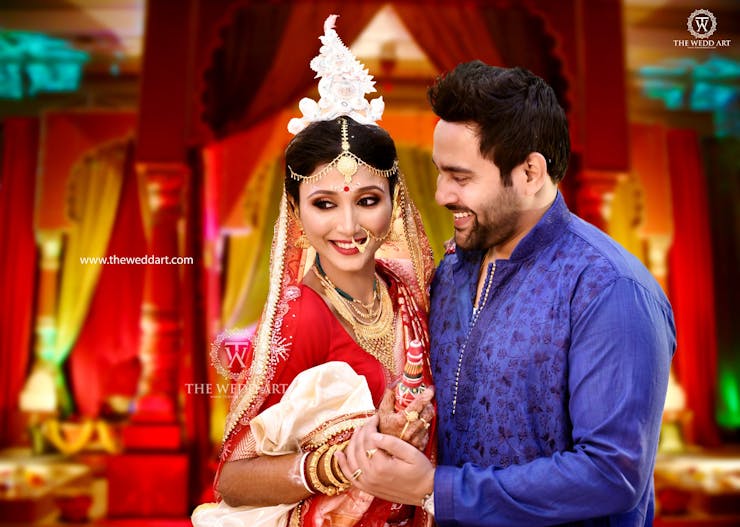 6. Lovely Swan Figure Mukut For Pretty Brides
Ditch the traditional design of bridal mukut and opt for a unique one like this gorgeous bride has chosen. The little and cute swan on a white and red base is truly adorable to try. The macro size of this bengali mukut design is like the cherry on the cake.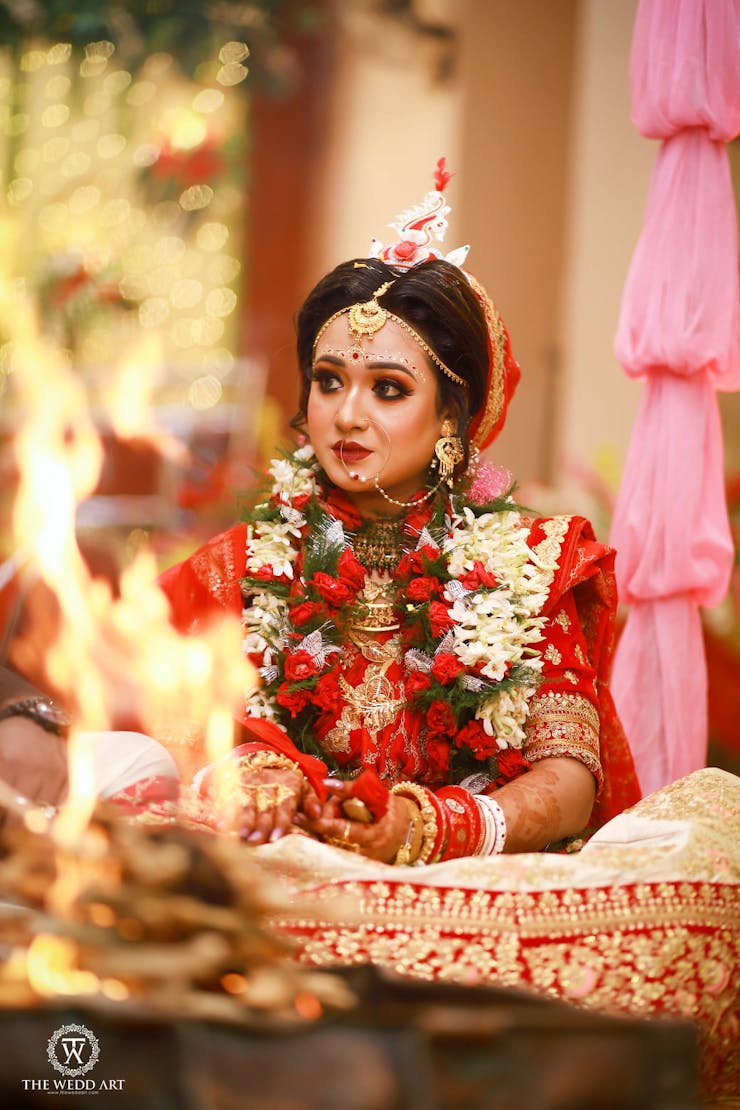 7. Try This Classic Design Of White & Silver Mukut
Silverwork on a white base is another wonderful mukut design for a Bengali bride. This classic mukut design is extremely presentable with traditional gold jewelry and red Banarasi. The conical shape and small stone element on the mukut are built with great creativity.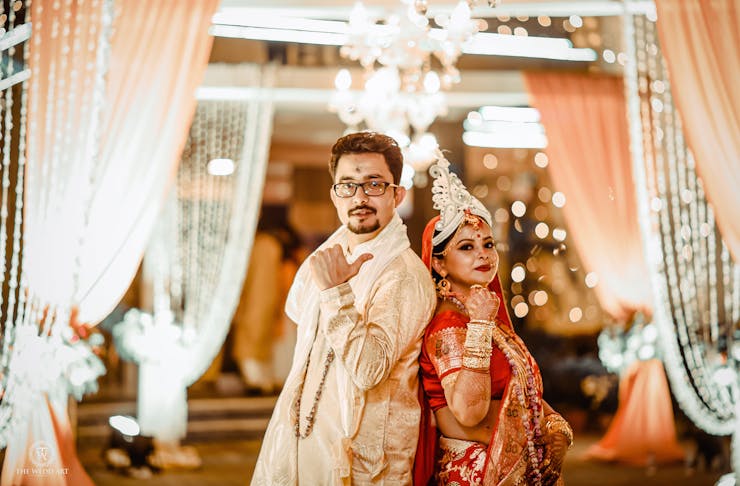 8. The Goddess Like Look Of A Round Mukut
This pretty bride is spreading the divine vibes with her wonderful mukut designs. The outstanding look of her round mukut is complementing her statement jewelry collection. We must admire her choice of wearing a gold crown and white bridal mukut together which is offering her a graceful and divine look together.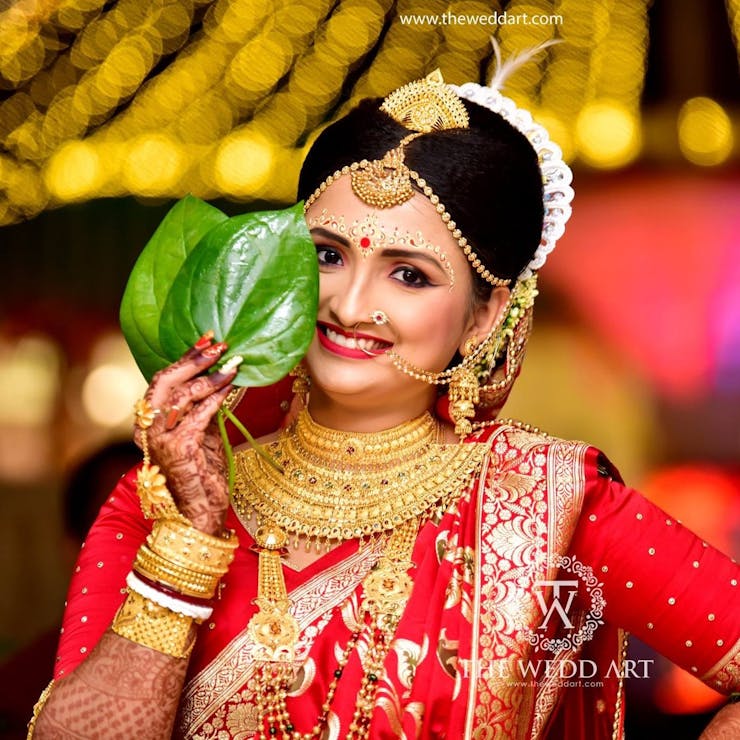 9. Take Inspiration From This Lotus Like Bridal Mukut
You must take inspiration from this extremely beautiful bride who has amazed us with her exceptional bengali bridal look. A lotus shape mukut design will never disappoint you interims of a fabulous bridal look. The intricate carving of this bridal mukut is another example of sophisticated bridal attire.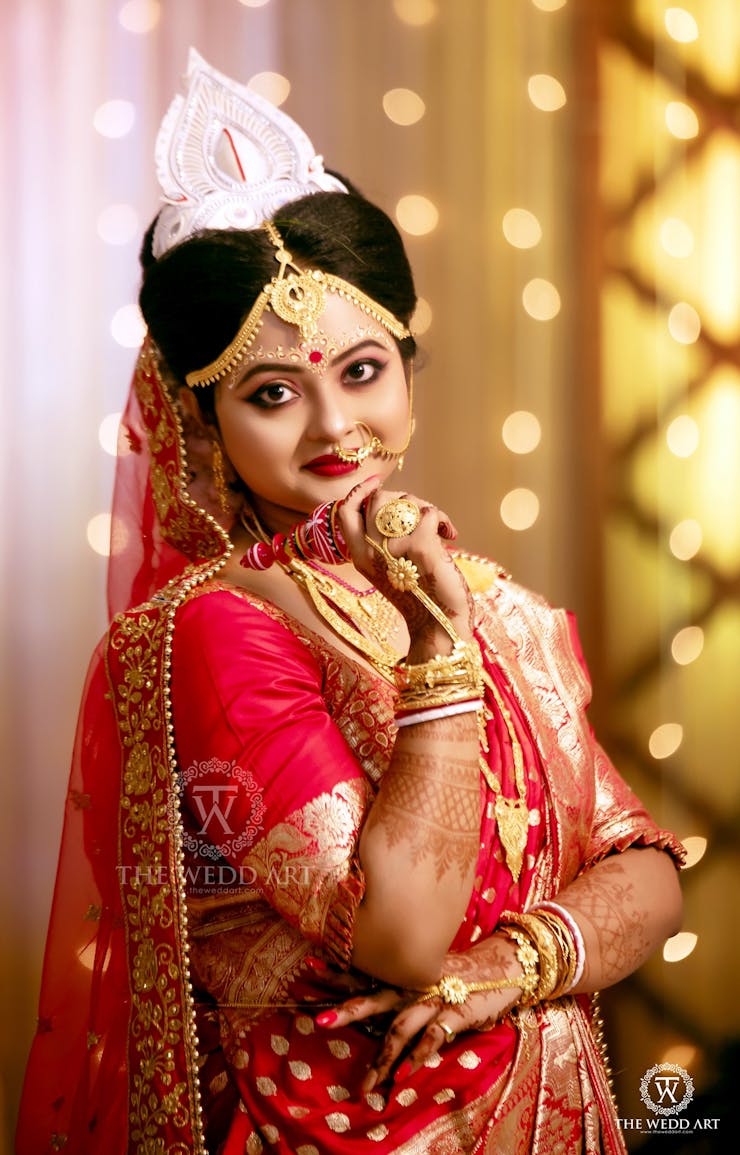 10. Give A Twist To Your Bridal Look With Swan Shape Mukut
Another glorifying bridal wear India is a swan shape mukut design for bong brides. The wonderful shape of this bridal gear resembles a swan bird. You can't avoid the elegance and beauty of this bride's smile which is enhanced by her gorgeous mukut design.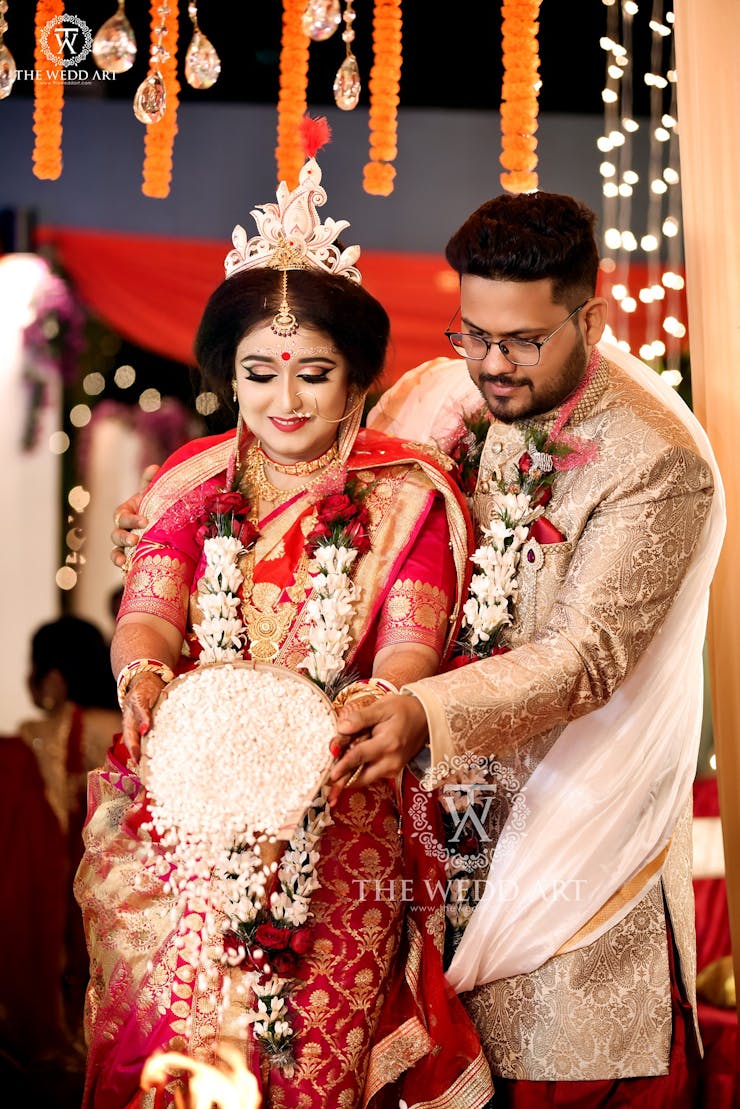 11. A Golden Mukut For Regal Bride
Who doesn't love the glorious shine of gold ornaments? Adding a hint of a traditional gold ornament on your head makes you feel like a real queen. Take a cue from this gold bridal mukut design that adds a magical vibe to your overall look.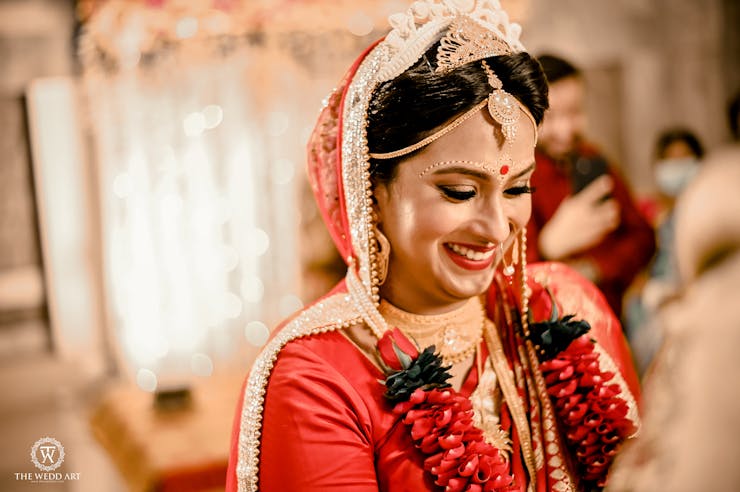 12. The Divine Mukut For Stunning Brides
Needless to say, the divine shape of this bridal mukut is simply outstanding. We highly recommended trying this tremendously beautiful mukut design with your Banarasi saree to get that conventional bride look. Ask your wedding photographer to capture the extravagant charm of this bridal mukut design in a dramatic pose just like this bride.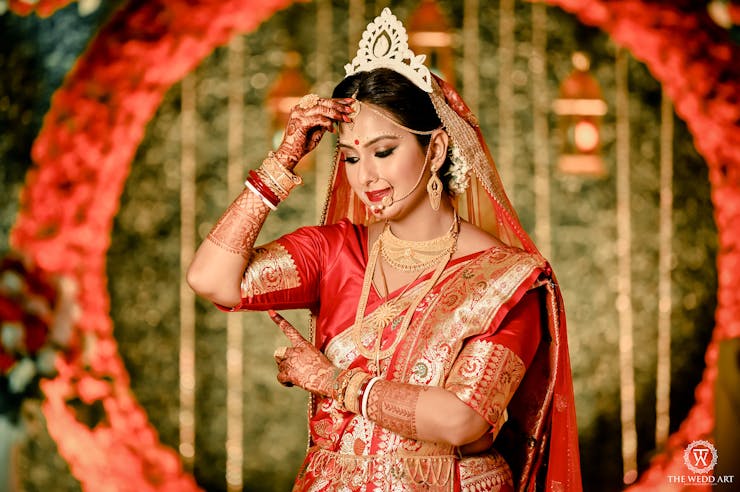 13. A Triangular Long Shape Mukut For Bubbly Brides
Look at this happy and excited joyful bride sweetness. Her temple-like triangular shape mukut design is definitely one of our favorites. The entire mukut is in the form of a lovely triangle that is complementing her hair jewelry perfectly.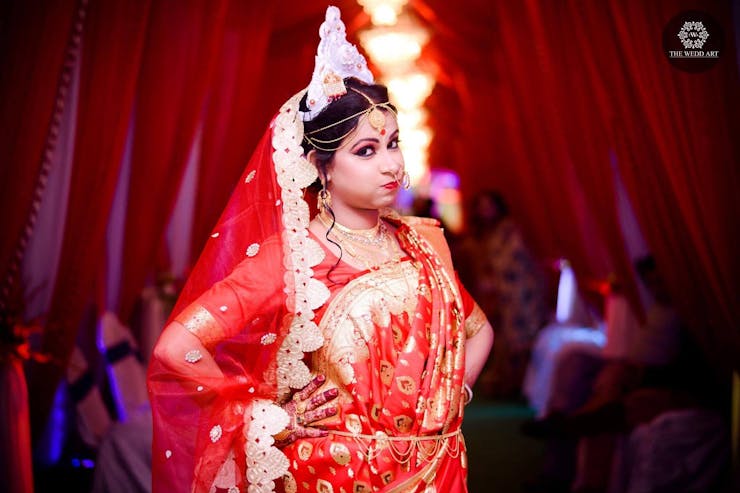 As a Bengali bride, you need to know the beauty and religious significance of this bridal gear. Hopefully, we have provided you with all the necessary information regarding this creative and beautiful bridal crown. Bookmark your favorite one to get the classic bong bride look on your D-day.
More About Wedding Photography
Latest Blog Posts