Cute Candid Wedding Poses For Couples That Have To Be Bookmarked!
This candid wedding couple poses list can make your wedding album a vibrant affair. Here's a throwback to all the beautiful candid moments. Say cheese!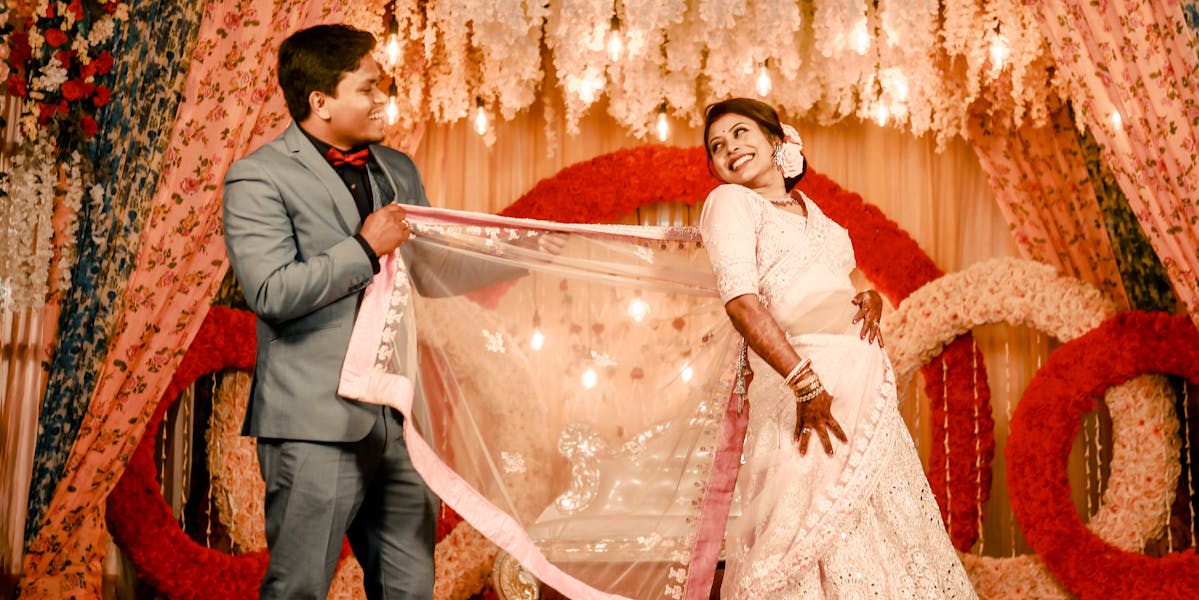 Wedding poses are always beautiful. But they become even more beautiful when you're trying to capture the candid and natural feel of a wedding. That's why many couples choose to go with candid poses. A professional photographer in Kolkata for wedding can capture all the natural expressions of the couple. There are lots of options in candid wedding couple poses. You can go with the classic or the neo conventional style as per your preference. Every candid pose clicked by the photographer carries different emotions and tells a beautiful story. Such wonderful couple poses can add a playful and fun element to your wedding album. You should consider choosing poses that capture your personality in a natural way. But don't be afraid to be creative and enjoy your wedding photoshoot. Here is a list of some adorable candid wedding couple poses to get you started.
1. The Romantic Sight
This is a stunning wedding picture that focuses on the first romantic look of the couple. The Shubho Drishti moment is the choice for an eye-pleasing candid Bengali wedding photography. The first look of the couple during the wedding hours unfolds beautiful emotions. Hence this pose must be added to the wedding frames to create a wonderful love story.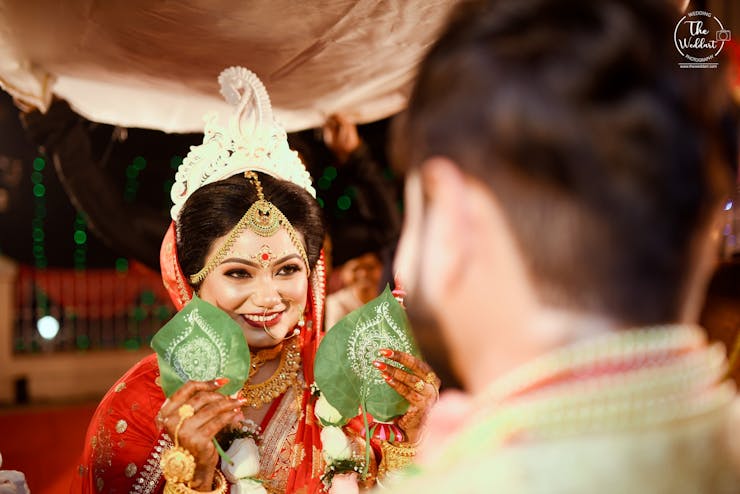 Recommended: 12+ Amazing Destination Wedding Places In Kolkata
2. The Candid Laughter
Happy couples are the cutest ones. Their hearty laughter can narrate a thousand words about their love story. Such candid wedding couple photos will be a great way to tell a few funny wedding stories. These candid laugh poses can let you remember those good times shared in the later years of marriage.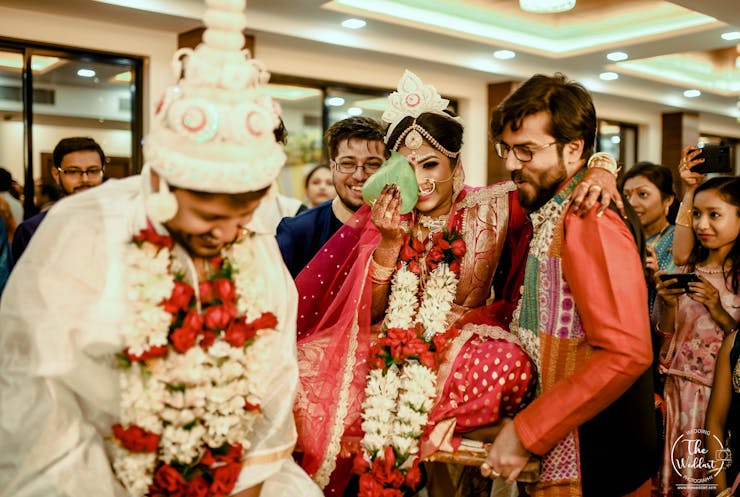 Must Read: Top 13 Charming Reception Look For Bengali Bride
3. Beautiful Smiling Poses For Wedding Album
Now, this is a beautiful wedding picture that you want to save in your album. Sharing a beautiful smile can capture the pure emotion and essence of the special moment. This lovely couple drenched in love is creating a timeless memory through their candid couple photography.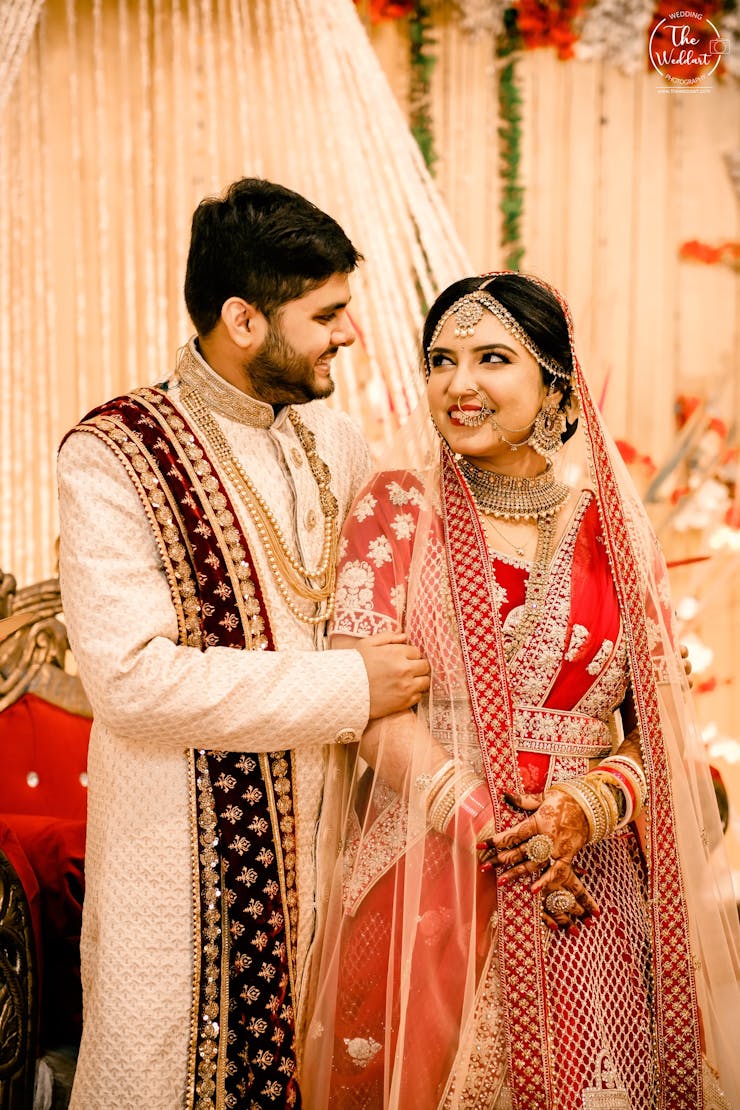 See More: The Ultimate Guide To Pre Wedding Shoot Ideas In Kolkata
4. A Magical Moment Captured Perfectly
Your wedding mandap is the most important place where all the magic happens. A Sindur Daan ceremony is one such magical moment that deserves to be captured in its true essence. This moment carries all the beautiful emotions that can make your wedding album vibrant and colorful.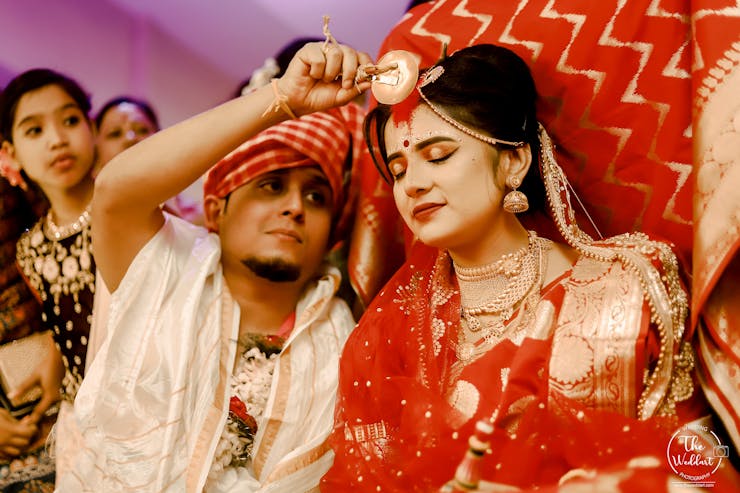 5. Cute Candid Wedding Couple Poses
If you are looking to add a little humor to your wedding tale, then this cute pose might inspire you. This adorable couple pose is one of the simplest ones to try for wedding candid photography. Try to be as creative as possible to get a perfect candid shot.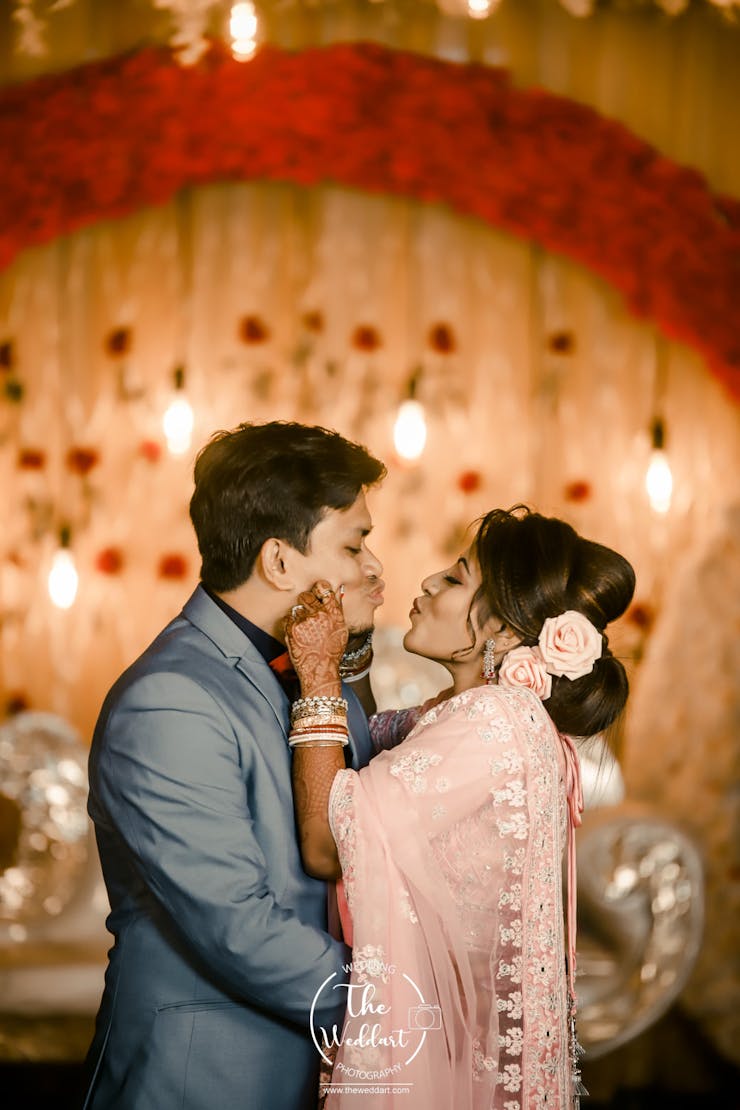 6. The First Couple Dance
The first dance of the couple is a big moment to preserve in wedding frames. Capturing those jazzy dance performances in the camera can highlight your couple chemistry. It can be the most romantic part of a wedding couple candid photography. We just love how this couple's dance moves add a colorful charm to this wedding portrait.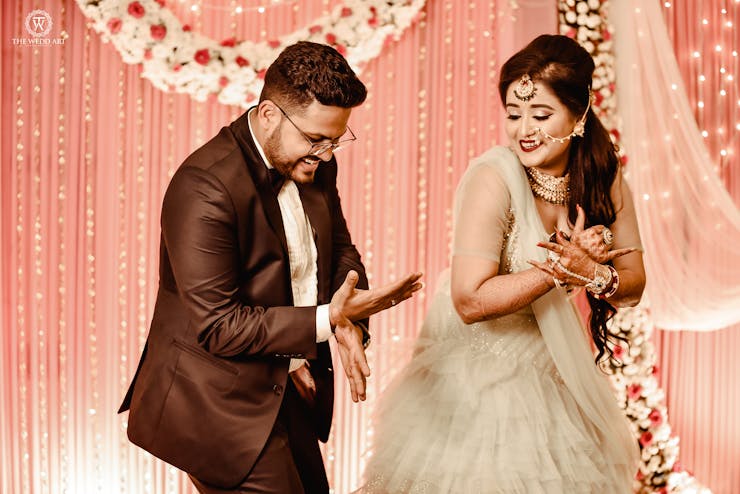 7. Express Your Feelings Through Candid Photography Poses
This is a great couple pose that will help you express your real emotions through pictures. The groom singing a romantic song or telling a poem to his bride is a lovely moment to praise. Because these natural moments will always bring a smile to your face when you look back at them.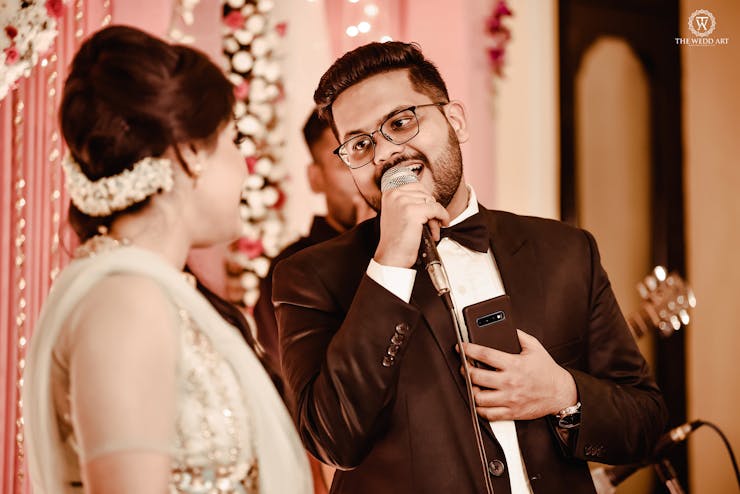 8. Lift Your Soulmate
Nothing is sweeter than clicking the emotional bond between the couples. Have a look at this wedding couple candid photography pose. This groom can't handle the excitement and happiness to lift her gorgeous bride in his arms. This romantic gesture deserves to be clicked in a stunning picture to get framed on your house walls.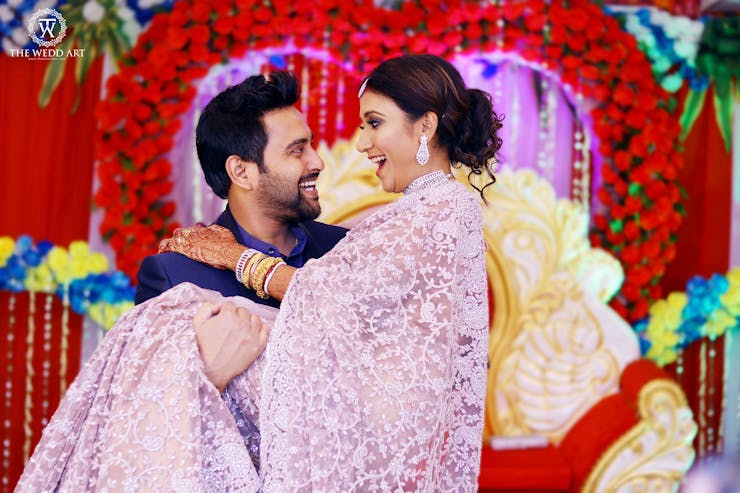 9. The Serene Wedding Vows Poses
The key to a great wedding photo shoot is being able to capture the beauty of wedding nuptials. Every path becomes beautiful and magical when you have got your partner by your side. Letting your bride take the lead during the wedding vows is such a fantastic moment. This eye-pleasing wedding pose is something that you will cherish forever.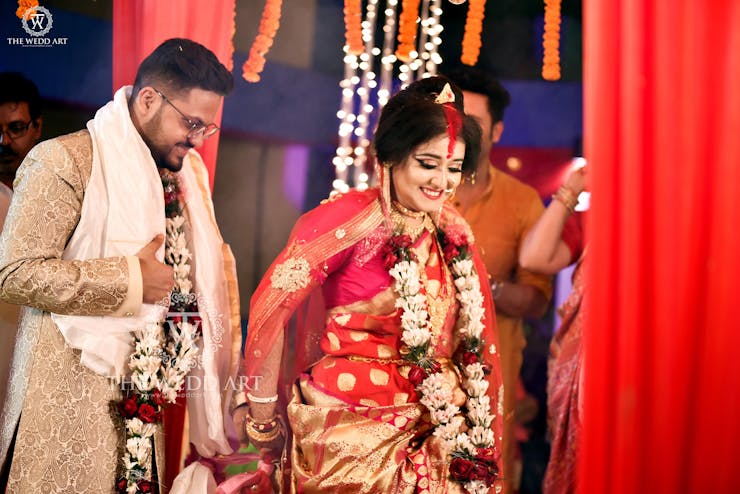 10. The Romantic Kiss
A tender kiss on the bride's forehead is a beautiful way to show your love and affection to her. Such beautiful pictures hold the true meaning of love. A forehead kiss pose results in a beautiful picture that narrates a wonderful love story.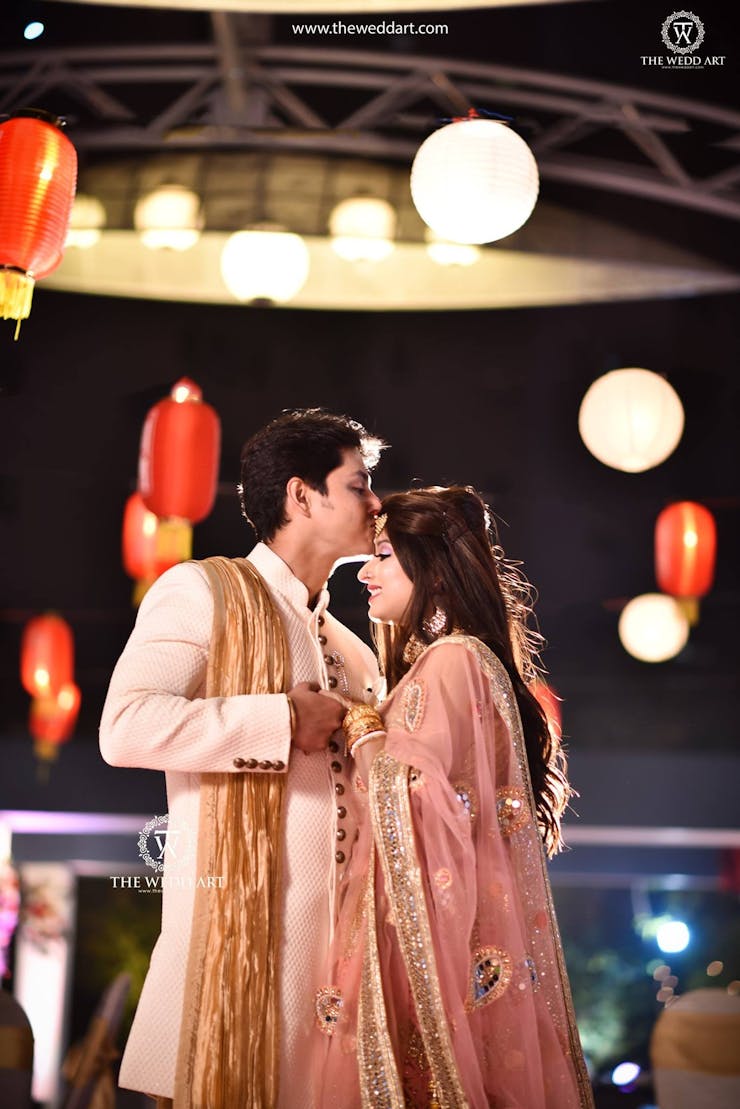 11. A Simple Back Hug
This couple's candid pose depicts the simplicity and beauty of true love. Such adorable couple portraits celebrate the new journey of your life in a colorful way. A simple back hug can also give you some great wedding photographs.
12. A Quirky Wedding Pose
Being playful around the camera can give you some funny memories of your special day. Capturing the playful pose can reveal the jolly side of your personality. Let your inner child out to add comedic flair to the stressful wedding hours. Adding a little sense of humor is one of the best photography candid wedding couple poses ideas.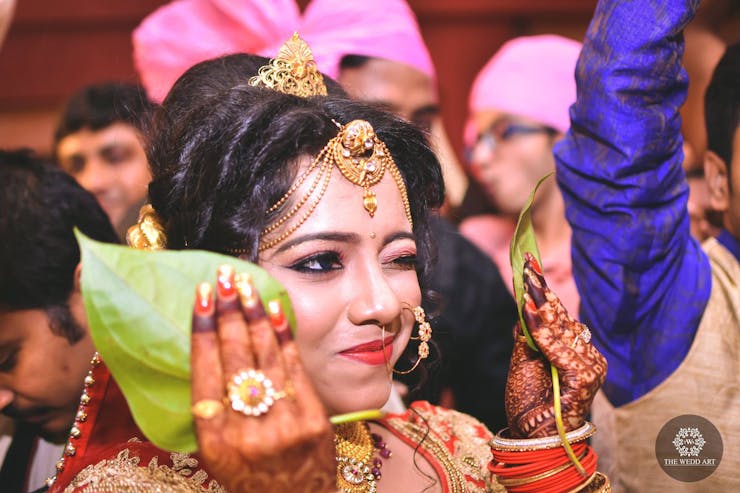 13. The Blissful Moments
This is the most classic pose of the couple captured on the camera. Every couple loves to recreate a romantic scene from a Bollywood movie. You can also try this stunning dance move to make your wedding album a memoir of your grand affair. Such wonderful pictures define the chemistry of a couple perfectly.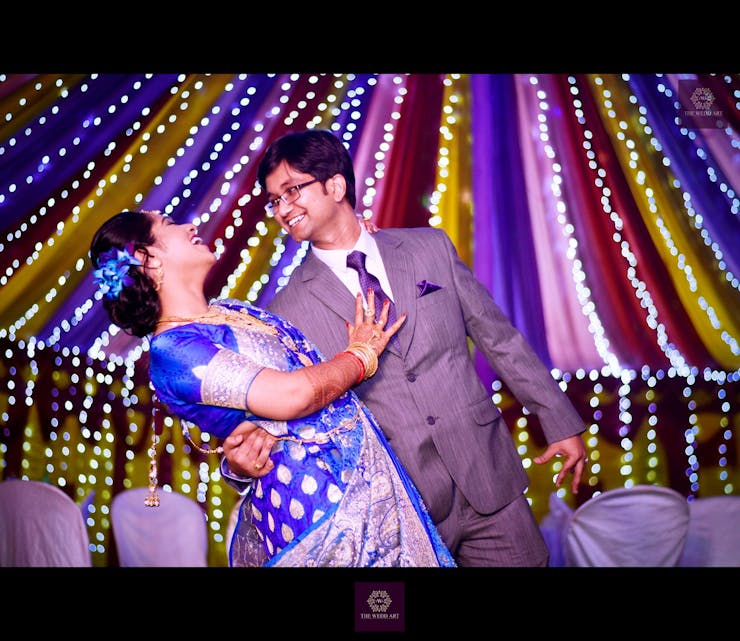 14. A Lovely Chitchat
This lovely talk in the post-wedding hours is one of the honest expressions captured by the wedding photographer. The hearty laughter of the couple is the soul of this wedding photograph. You can also try similar and easy-to-pose ideas for your reception night. Preserving these happiest moments in pictures will give you some magical wedding portraits.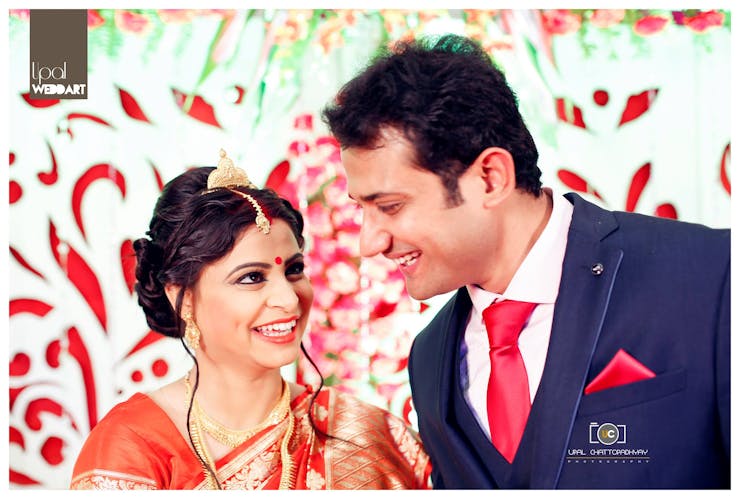 15. The Happy Couple Hours
This candid couple pose is one of the all-time hit wedding portrait ideas. Portraying your love story through black and white wedding photographs can add a magical vibe to your wedding album. This couple's pose comes with a beautiful message of the loving bond and trust in a new relationship. This kind of romantic pose requires the skills of a talented wedding photographer who can turn your picture into a lively moment.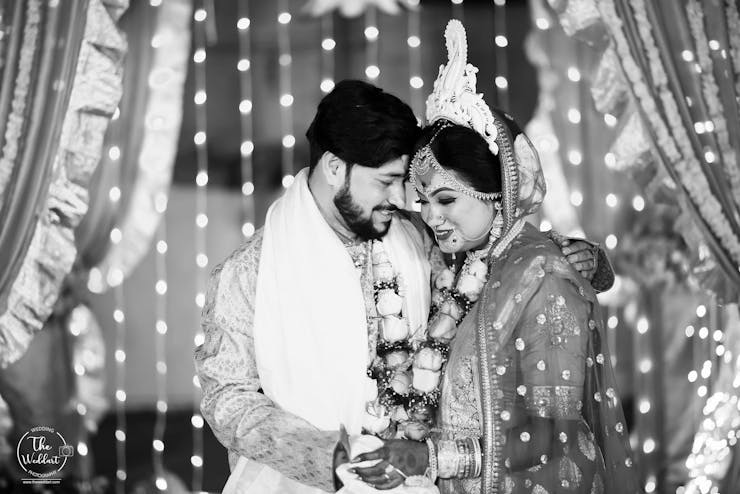 More About Wedding Photography
Latest Blog Posts