The Most Creative Chadar Bridal Entry Ideas You'll Ever See!
Want to make a fairy tale bridal entry at your wedding? Check these stunning chadar bridal entry ideas to make it a memorable moment.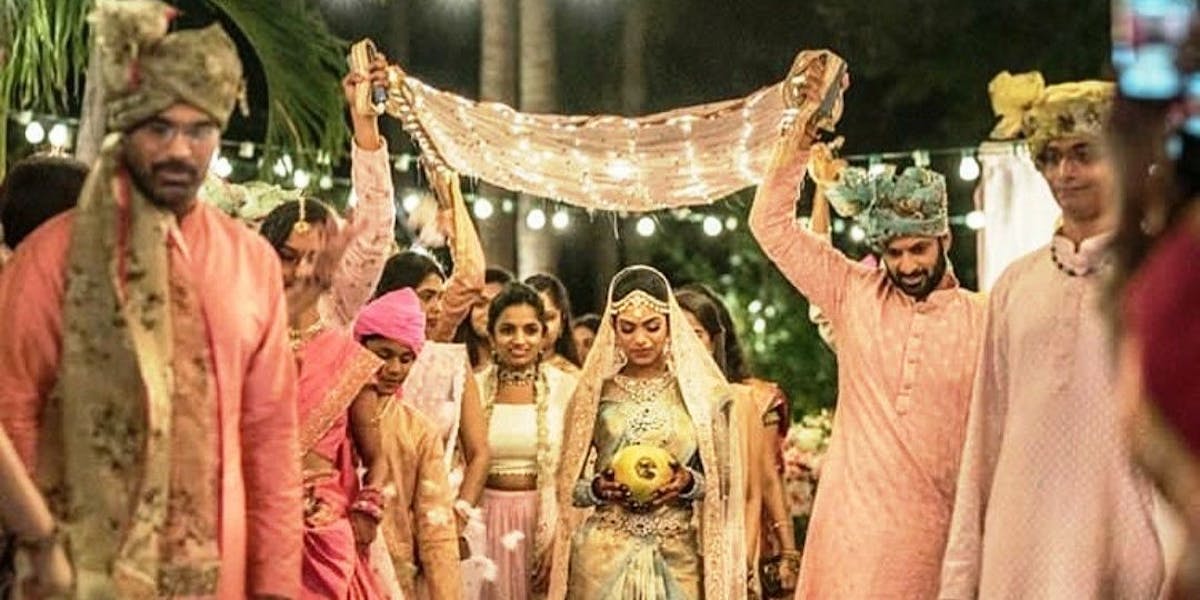 Have you ever dreamed of the most magical moment of your life when you will walk down to your wedding mandap? In an Indian wedding, as soon as the bride enters, all eyes get fixed on her. She is wearing the most beautiful dress that anyone has ever seen and she looks stunning. All the wedding guests start cheering as she makes her way to the mandap. Her prince charming is also amazed by seeing such a dreamy bridal entry.
All these things seem to be a fairy tale for you. But this can happen with a unique phoolon ki chadar for wedding. Making a bridal entry with phoolon ki chadar adds a royal aura to the wedding event. A kolkata wedding photographer knows well how to capture such surreal wedding moments. You can hire them to get the most amazing wedding pictures. So, dear brides-to-be get ready to explore some most wonderful chadar bridal entry ideas for your D-day. Continue reading to find a true bridal chadar entry inspiration.
1. Criss-Cross Phoolon Ki Chadar For Bride
A criss-cross pattern flower chadar for bride entry is one of the most budget-friendly options. The combination of scented tube roses and red roses adds a touch of glamour to your dreamy bridal entry. This kind of gorgeous bridal entry always grabs the attention of a Bengali wedding photographer. They love to click some insta-worthy photos out of these special moments.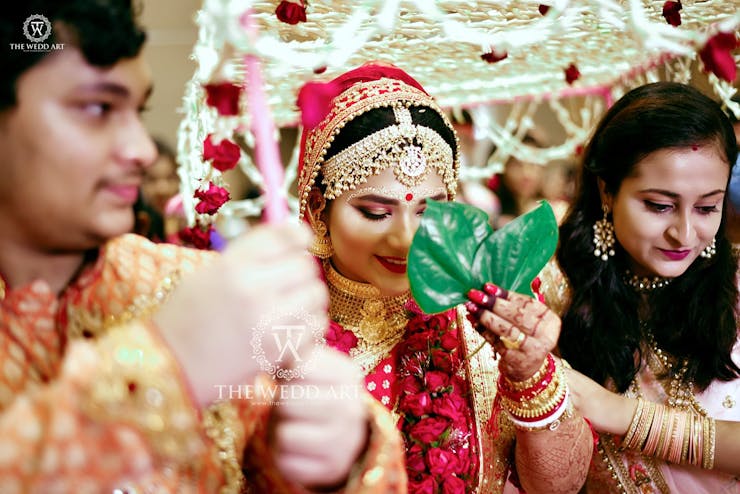 Recommended: The Most Beautiful Bengali Wedding Dress Ever!
2. Bridal Chadar Design With Golden Kaleeras
Why choose a regular chadar when you can customize it with the gorgeous kaleera? The shiny elements hanging from the wedding entry chadar complement your wedding attire and adds a royal feel. The bridal entry with such a regal element catches everyone's attention. Adding a firework during the entry will make the moment fully magical.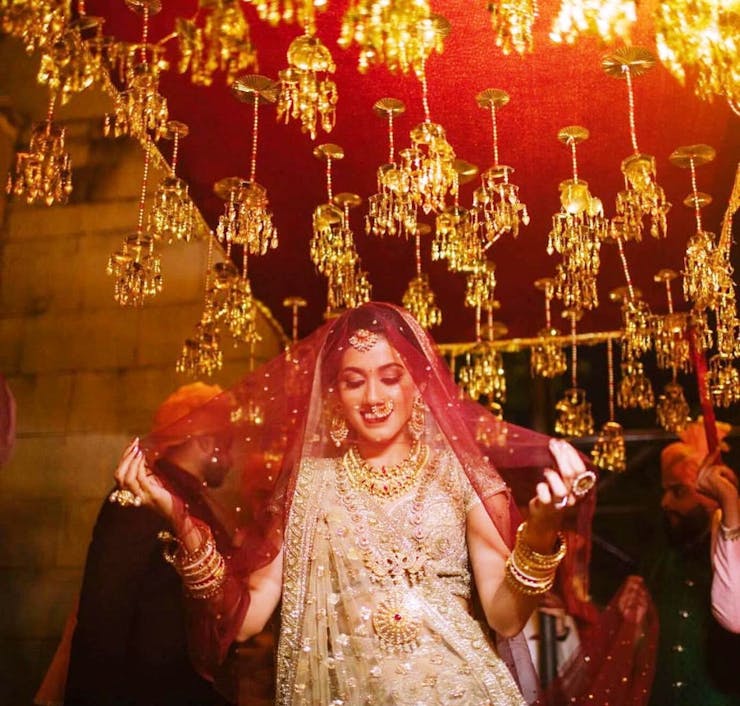 Must Read: Mesmerizing Engagement Couple Entry Ideas
3. Pristine White Wedding Chadar For Bride
Another beautiful idea for your bridal entry is using a white bridal entry chadar. The delicate hangings and pristine white flowers in the chadar would simply add oodles of dreaminess to your whole outlook. This kind of simple phoolon ki chadar can also add a fresh charm to your pastel wedding outfit.
See More: Cute Candid Wedding Poses For Couples That Have To Be Bookmarked!
4. Traditional Bridal Chadar Design
Take cues from this beautiful dulhan entry chadar decorated with vibrant marigold flowers. This could be an ideal option for a traditional theme wedding event. The marigold strands add beauty to your wedding chadar as well as your pre-wedding look. It can be a cost-effective option to walk down your wedding aisle.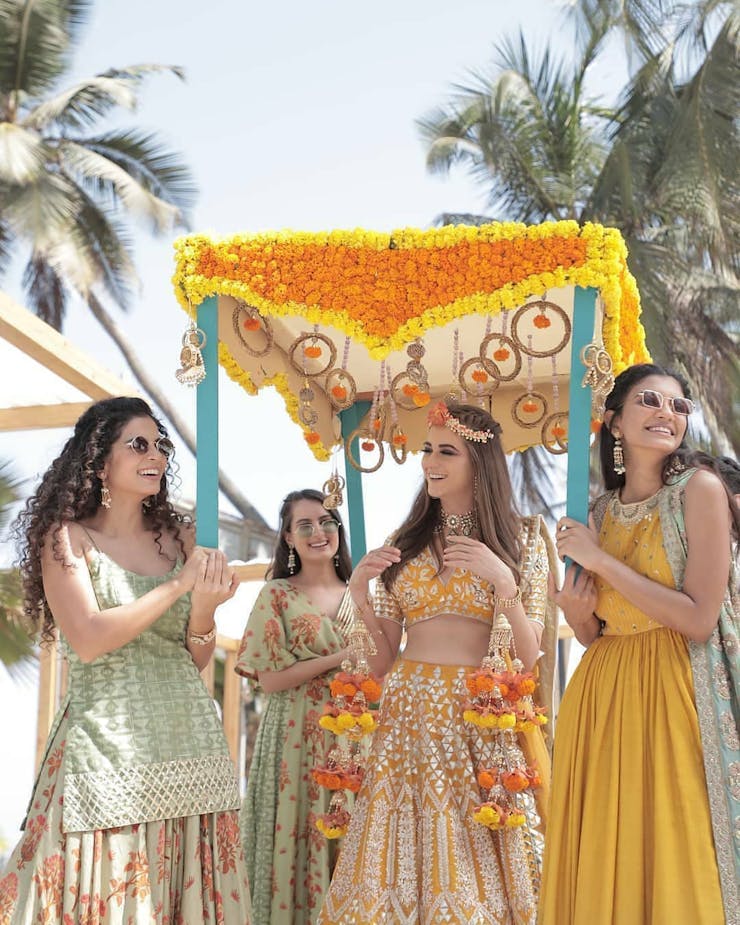 5. A Floral Umbrella Chadar For Bride Entry
Who thought an umbrella could look so beautiful when designed with flowers? This is the most unique phoolon ki chadar for bride that can give you a princess-like feel on your wedding day. The surreal charm of pastel flowers on the umbrella would add a dreamy vibe to your special event. This kind of bridal flower chadar is an ideal option for a daytime event.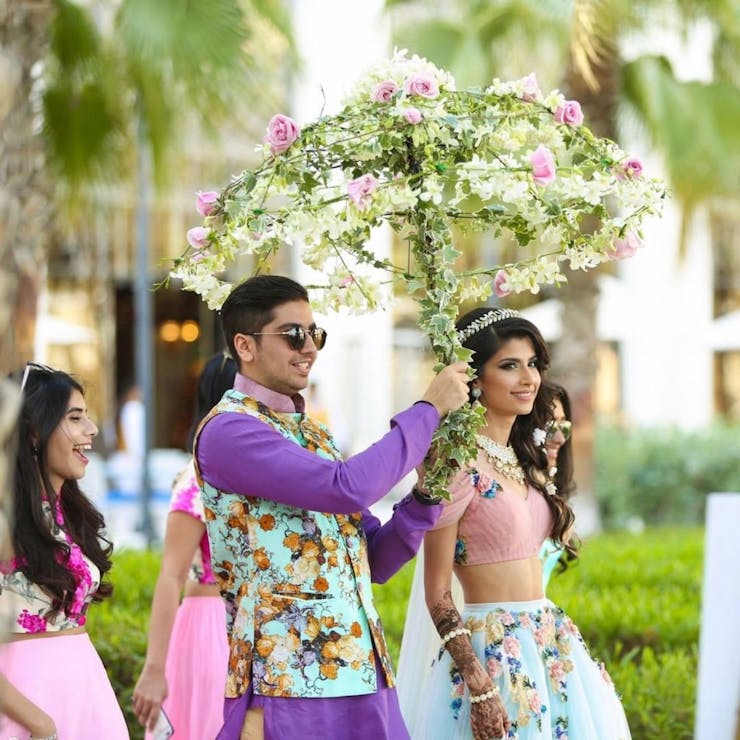 6. Fabric Chadar Bridal Entry Ideas
How can we not include this magical and elegant bridal chadar design? You can decorate a net fabric using fairy lights to add a special charm to your bridal entry. Jazz up the edges of the fabric with dainty lights to walk down your wedding aisle like a royal queen.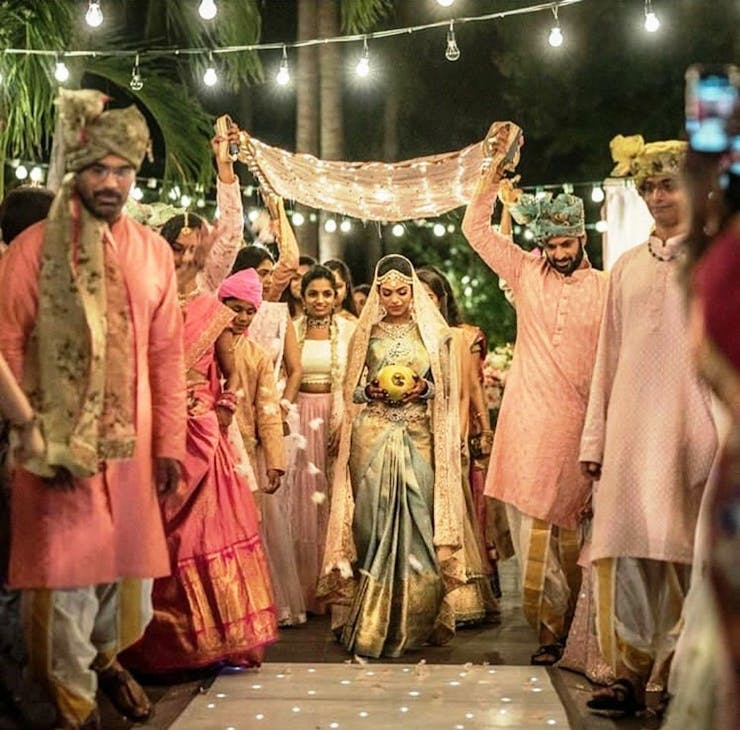 More About Wedding Photography
Latest Blog Posts