The Most Beautiful Bengali Wedding Dress Ever!
Puzzled about wedding outfit options? Browse through the ideas of the most beautiful Bengali wedding dress to nail your wedding pictures.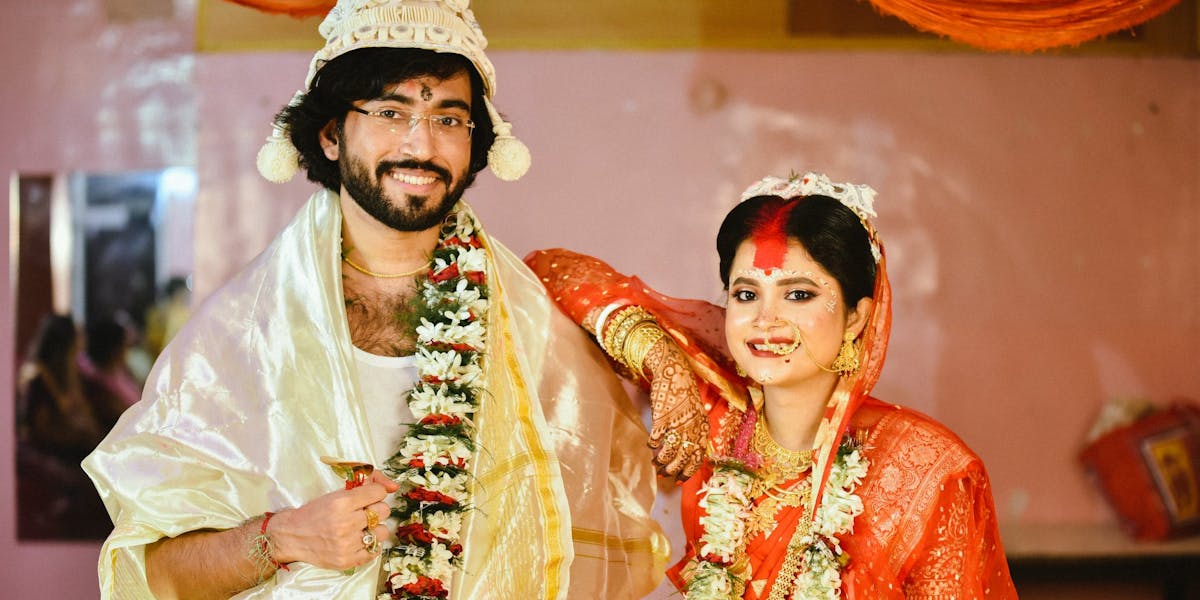 You might feel confused while deciding on your wedding day outfit. The outfit that you pick for your wedding must be stylish enough to represent your personality and culture. Ethnic wedding outfits look beautiful, no matter what your wedding theme is. There is something special about the traditional Bengali wedding dress that makes it alluring. From the luxurious Banarasi saree to the elegant dhoti kurta, there is beauty in every ethnic wedding dress. A dazzling Banarasi saree can really set the mood for a dreamy wedding event. The beauty of your outfit also helps your Bengali wedding photographer to click some wonderful couple shots. Whether it's the intricate design or the way the Bengali bridal wear accentuates the natural curves of a woman, they are always a sight to behold. Scroll down below to check out some of the most amazing Bengali wedding dress ideas for your wedding day.
1. A Stunning Zardosi Lehenga
Lift up your Bengali bridal look with this stunning zardozi lehenga outfit. The exquisite work on this dark brownish bridal lehenga is a perfect pick for a confident bride. Wearing golden jewelry with this Bengali bridal lehenga will be the cherry on top.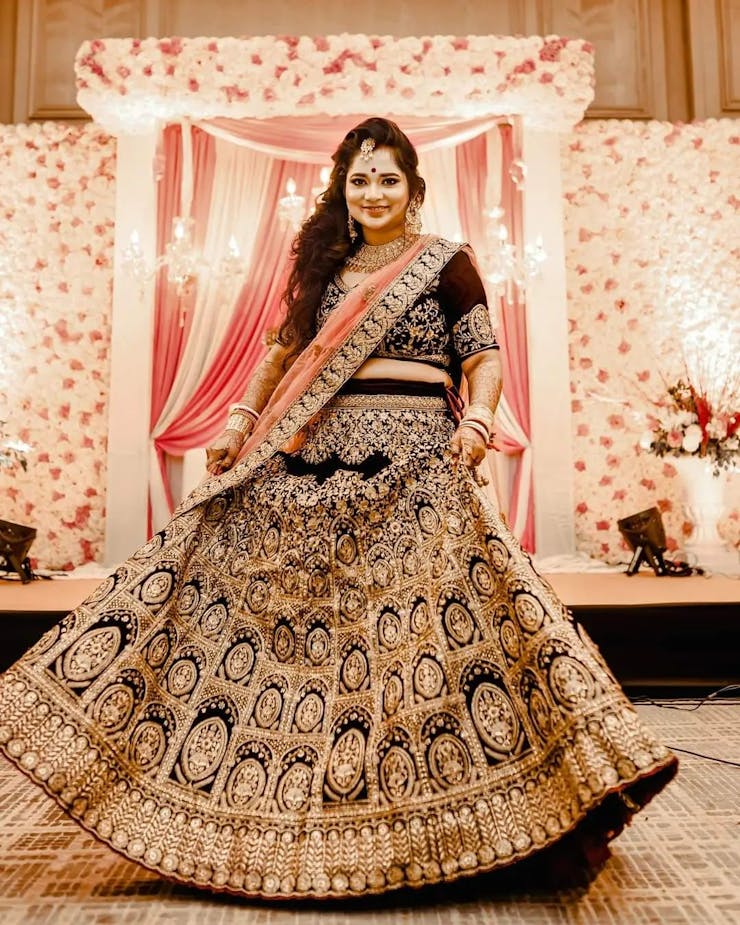 Recommended: Best Song For A Wedding Video You Should Know
2. Bengali Traditional Wedding Dress For Couple
The gorgeous lady decided to complement her charming groom by wearing a traditional Bengali dress. A pair of red Banarasi and an orange kurta is a perfect outfit for a Bengali wedding couple photography.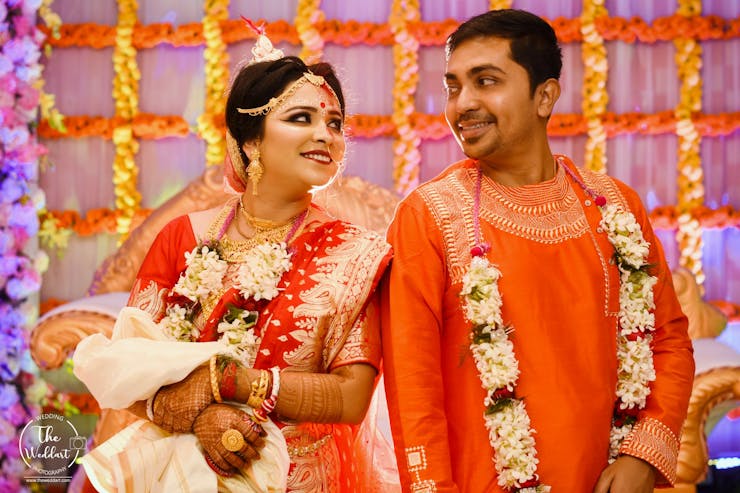 Must Read: Mesmerizing Engagement Couple Entry Ideas
3. Vibrant Cotton Saree In Yellow Shade
A vibrant-colored cotton saree is a perfect choice for your Haldi ceremony. Yellow is the traditional color to be worn in a Bengali Haldi ceremony. A yellow saree with a red colored blouse can provide you with a beautiful bridal image.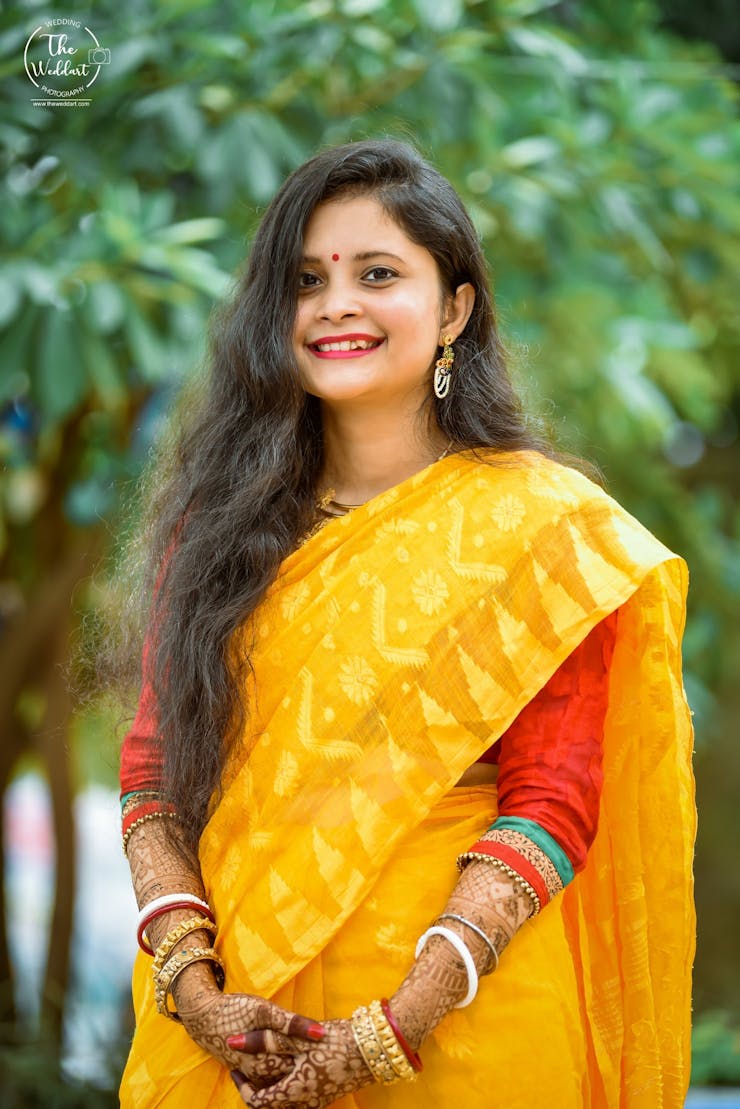 See More: 12+ Amazing Destination Wedding Places In Kolkata
4. A Mesmerizing Pastel Lehenga With Floral Prints
This intricately designed piece of pastel-hued lehenga can give you the most charming bridal look. The blush pink color adds a special charm to your bridal persona. You can complement this beautiful Bengali reception lehenga with a gorgeous floral bun.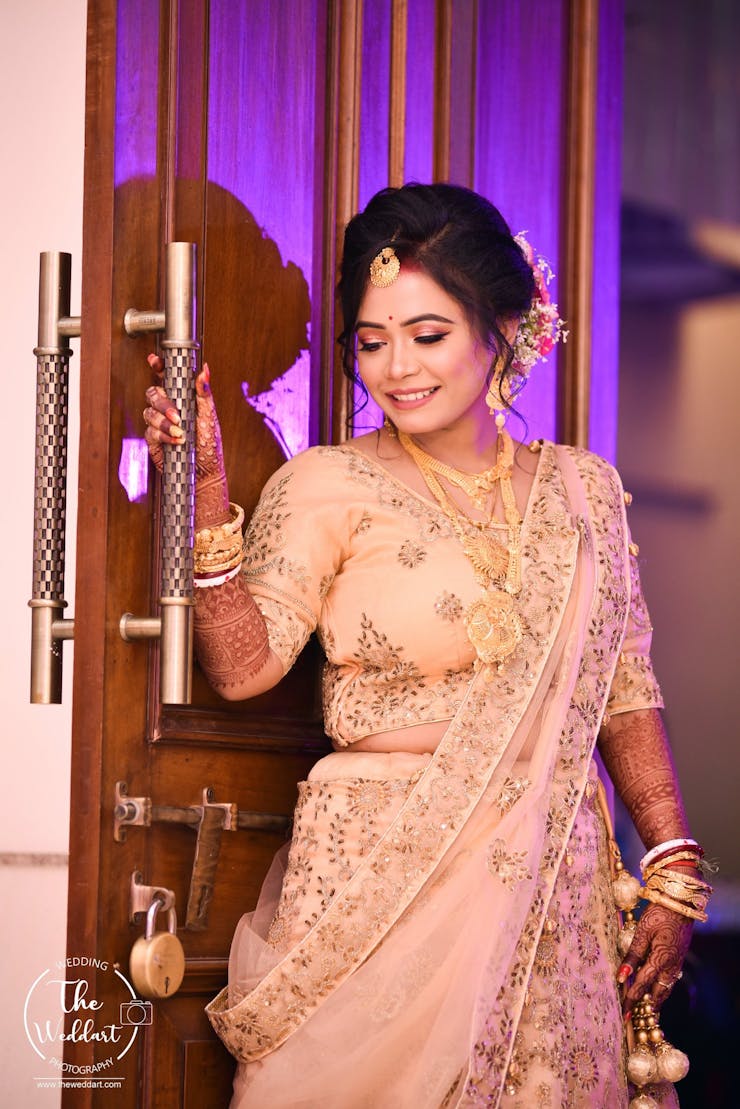 5. Beautiful Red Lehenga with Gold Embroidery
The classic red shade lehenga is the latest Bengali wedding dress for bride. The intricately carved golden motifs are a classic example of our Indian ethnicity. The meshwork border of the blouse complements the wonderful mehndi design of this Bengali bride.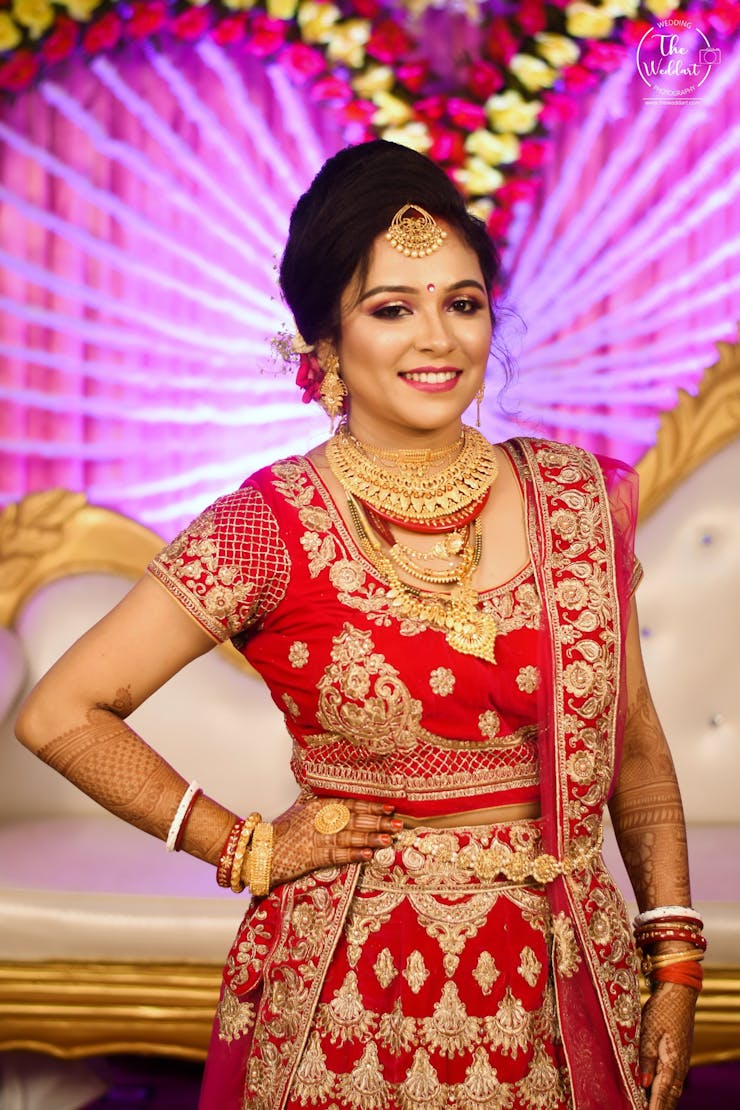 6. The Perfect Combo Of Silk Dhoti & Red Banarasi
This adorable Bengali couple has opted for traditional Bengali wedding attire. A classic combination of red Banarasi and silk dhoti in an off-white shade looks beautiful in wedding pictures.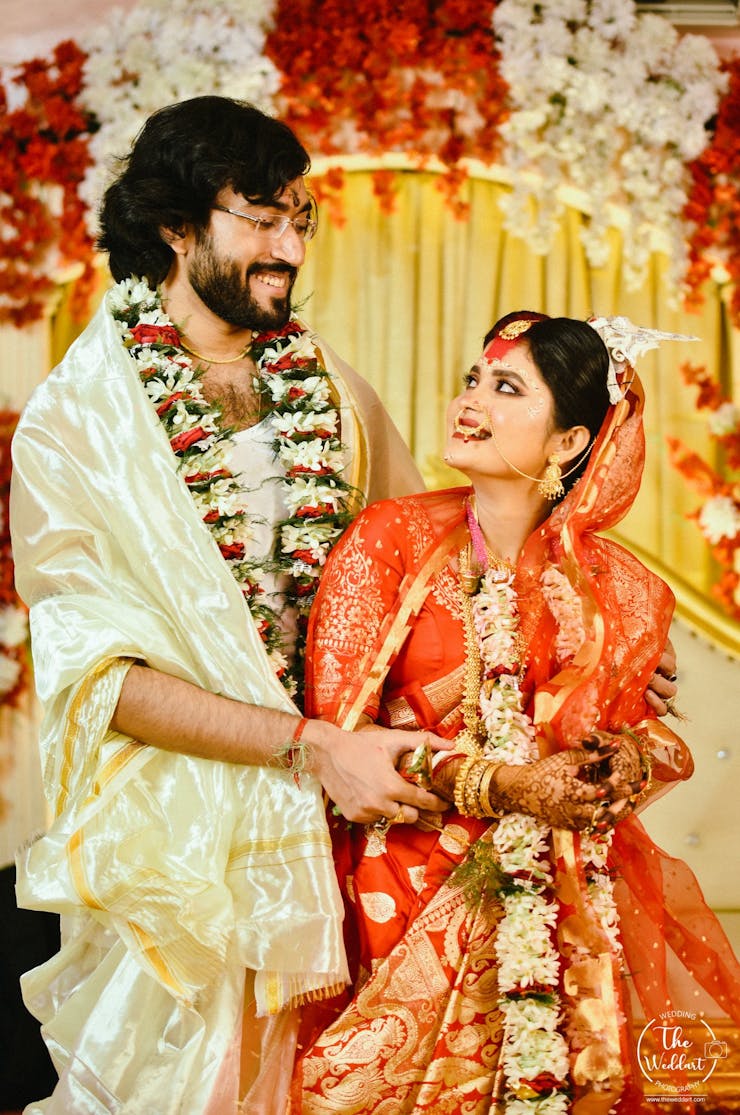 7. The Eye-Charming Pair Of Maroon Lehenga And Blue Sherwani
Another fresh take on the Bengali marriage dress is this classy and royal wedding outfit. The combination of a maroon lehenga and royal blue sherwani adds a royal vibe to your wedding look. The grooms can complement their sherwani with a contrasting stole to make it look classy.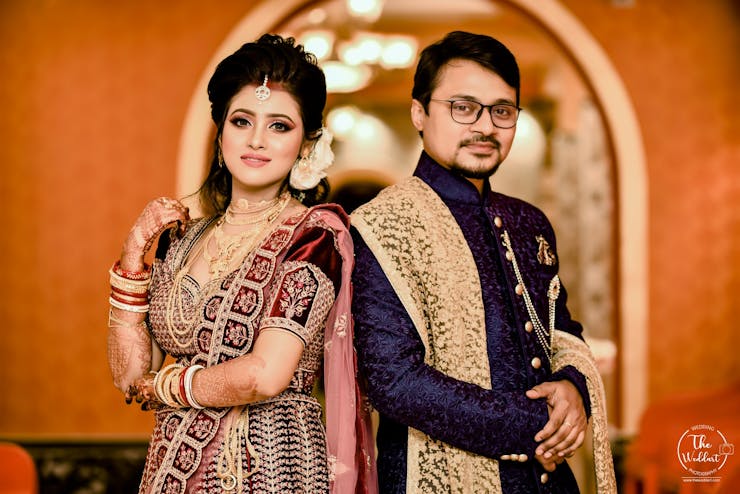 8. Elegant Bengali Wedding Clothes For Couples
Wearing an off-white dress is the latest wedding trend. It is the most elegant Bengali wedding dress for bride and groom. Such a beautiful wedding outfit will look great at a fairy-tale Bengali wedding. Brides can wear mesmerizing floral jewelry to complement their elegant off-white lehenga.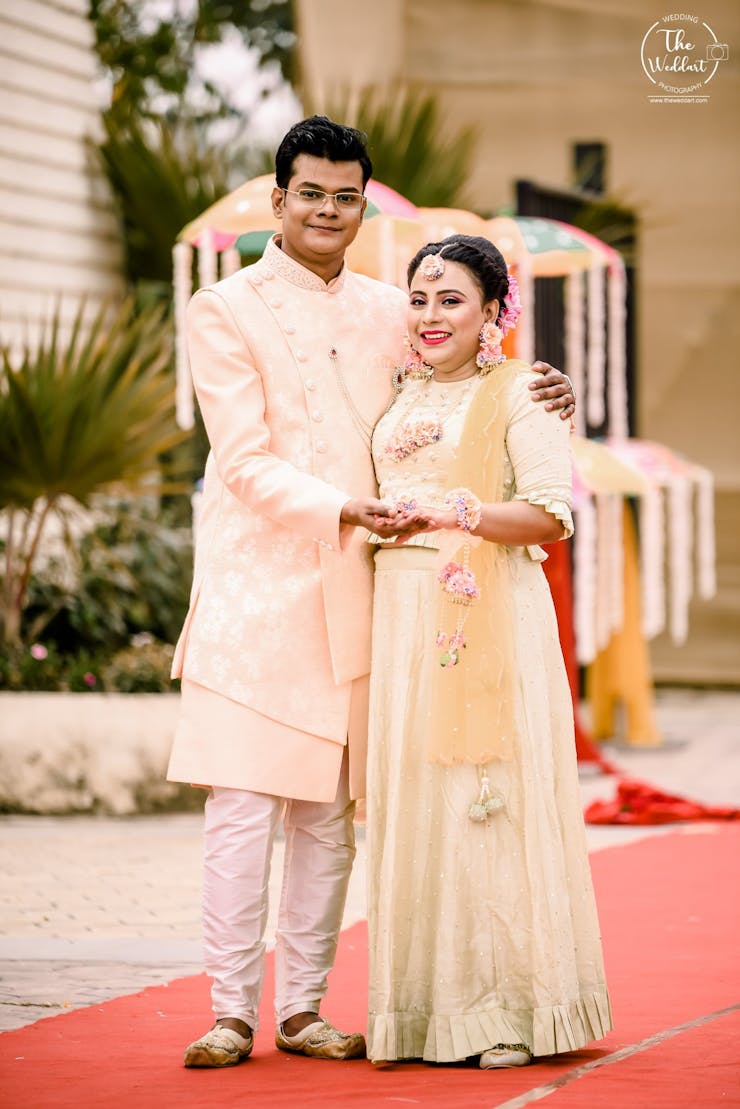 9. A Beautiful Chiffon Saree With Cut Sleeve Blouse
A gorgeous cream chiffon saree can give you a totally chic bridal look. You can pair this beautiful bridal saree with a multi-colored blouse. Adding a belt around your waist can give you a stylish look.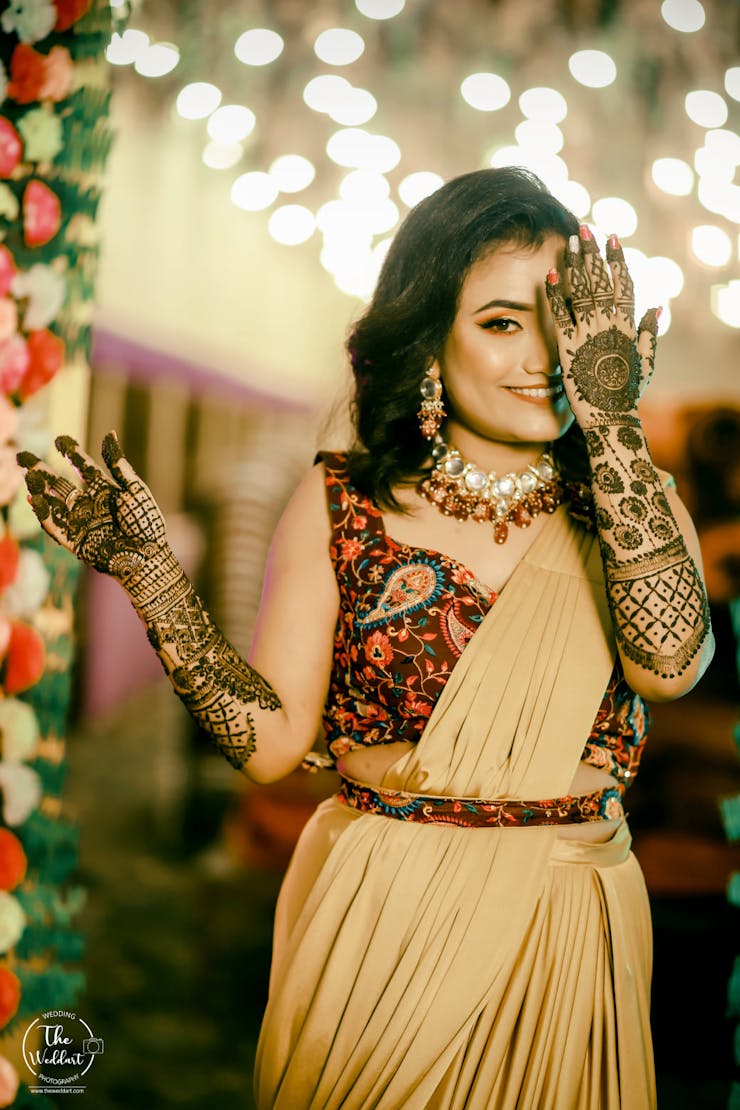 10. A Mesmerizing Red & White Bengali Bridal Saree
A white saree with red borders is an evergreen favorite choice of the Bengali bride. Nothing can beat the beauty and elegance of the bridal look in this wonderful saree. Wearing an exquisite white mukut with the saree will enhance your bridal beauty.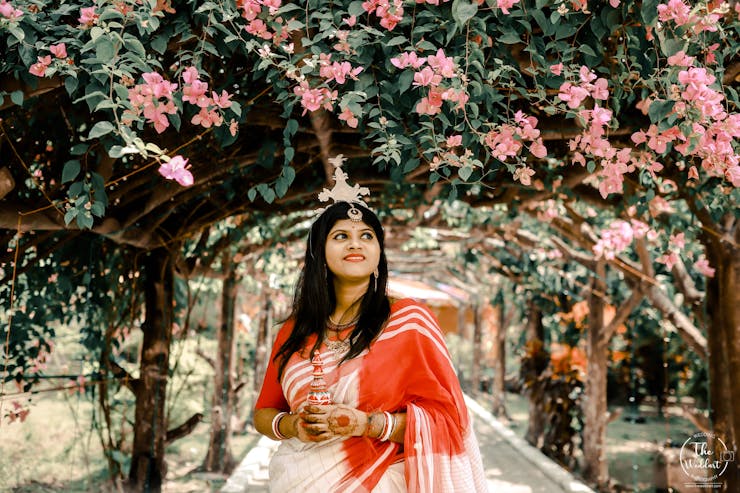 11. Floral Lehenga And Three-Piece Suit
Floral lehengas are the most beautiful outfit for a millennial bride. This Bengali bride wearing lehenga in white shade looks gorgeous at her reception event. The grooms can complement their brides by wearing a three-piece suit in grey color.
12. A Coordinating Bengali Wedding Outfit
The magical combination of black and golden beige shades adds a royal vibe to your wedding event. This romantic couple has coordinated their outfits for a wonderful pre-wedding look. You can also opt for matching dresses to pose like a royal couple in your wedding shoot.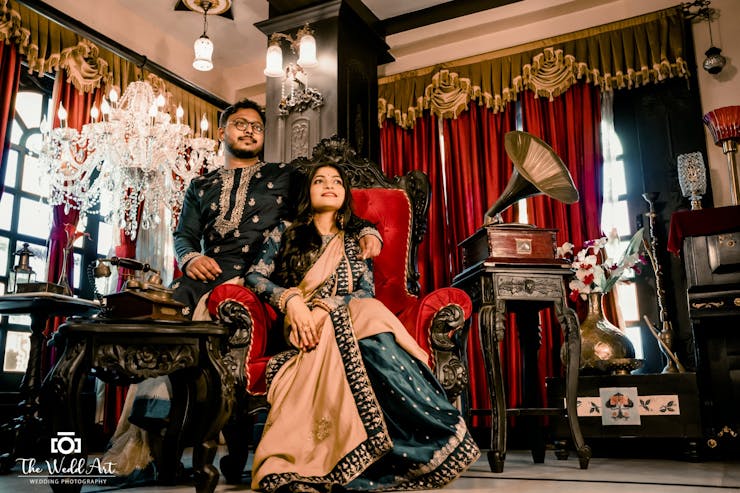 13. Bengali Groom Attire In Pastel Shade
Not all grooms are big fans of bold and heavily embellished wedding outfits. Take inspiration from this charming groom who decided to wear a pastel Nehru jacket. This is an outstanding Bengali groom outfit that always leaves a big impression..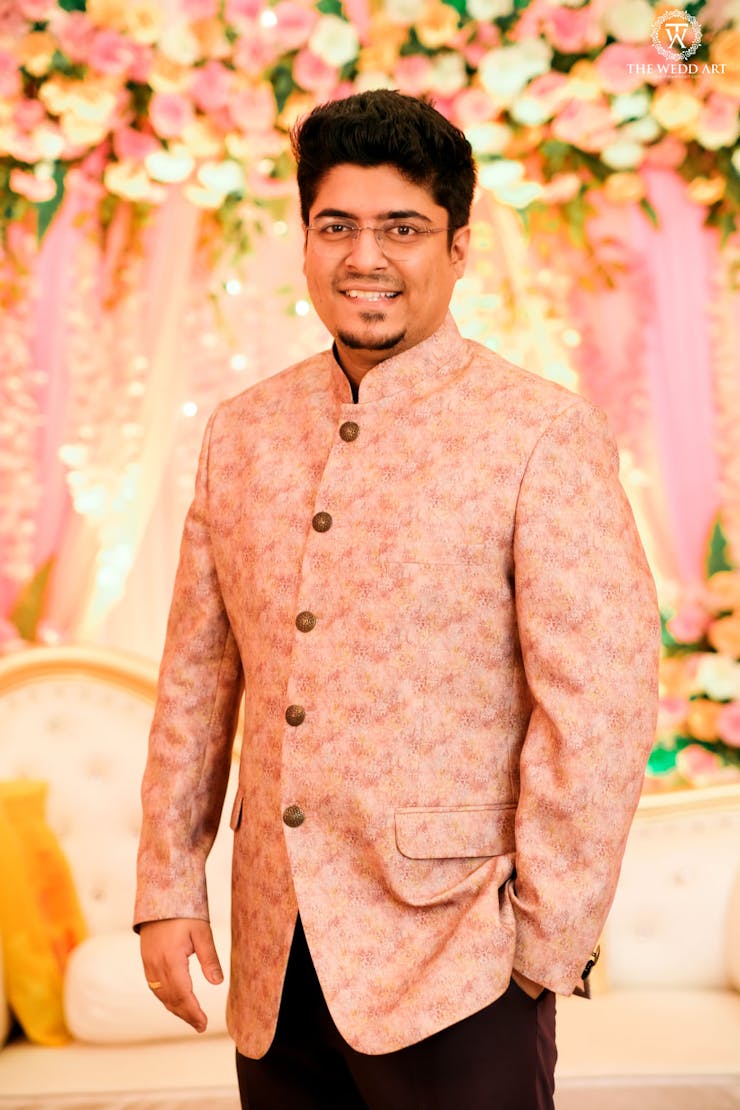 14. A Black Velvet Suit For A Charming Groom
Wearing a velvet outfit to your wedding event adds a classy and luxurious vibe. Our stylish groom has chosen to wear a black velvet achkan to complement his gorgeous lady in a red Banarasi saree. Wearing a classy watch and a pair of shoes can add a sense of sophistication to your reception look.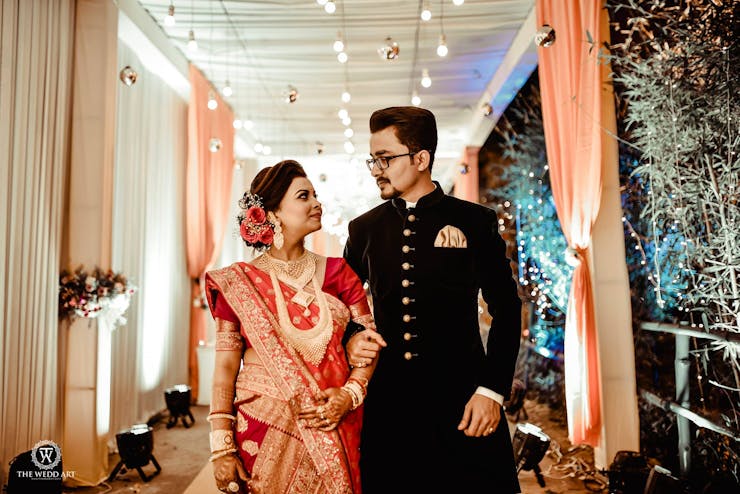 15. An Enchanting Piece Of Lavender Saree
This is the most glamorous Bengali wedding saree for a reception night. The dainty shimmery details on this glamorous outfit make look an eternal beauty. A stunning diamond necklace would be a perfect fit to complement this graceful wedding saree.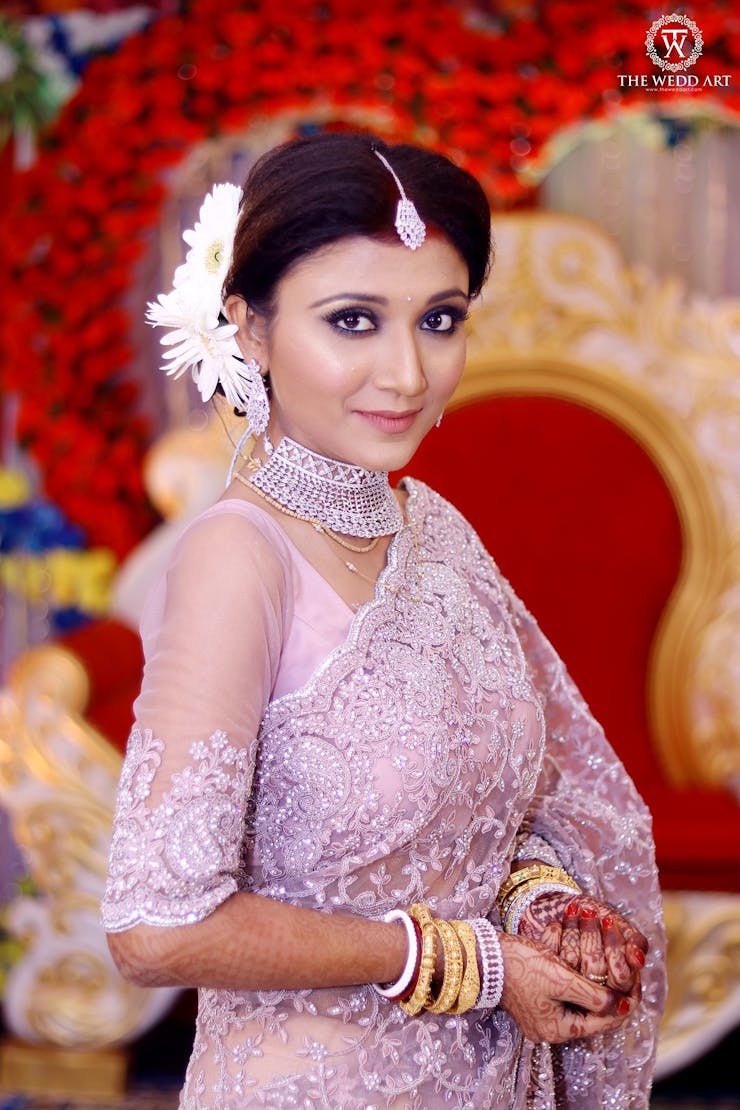 16. Bengali Bridal Banarasi Saree In Mustard Yellow Shade
A bride dressed in a Banarasi saree and gold jewelry is a Bengali traditional wedding look. The mustard yellow shade of this saree looks gorgeous on this pretty bride. Her dramatic bridal pose adds a special charm to the picture.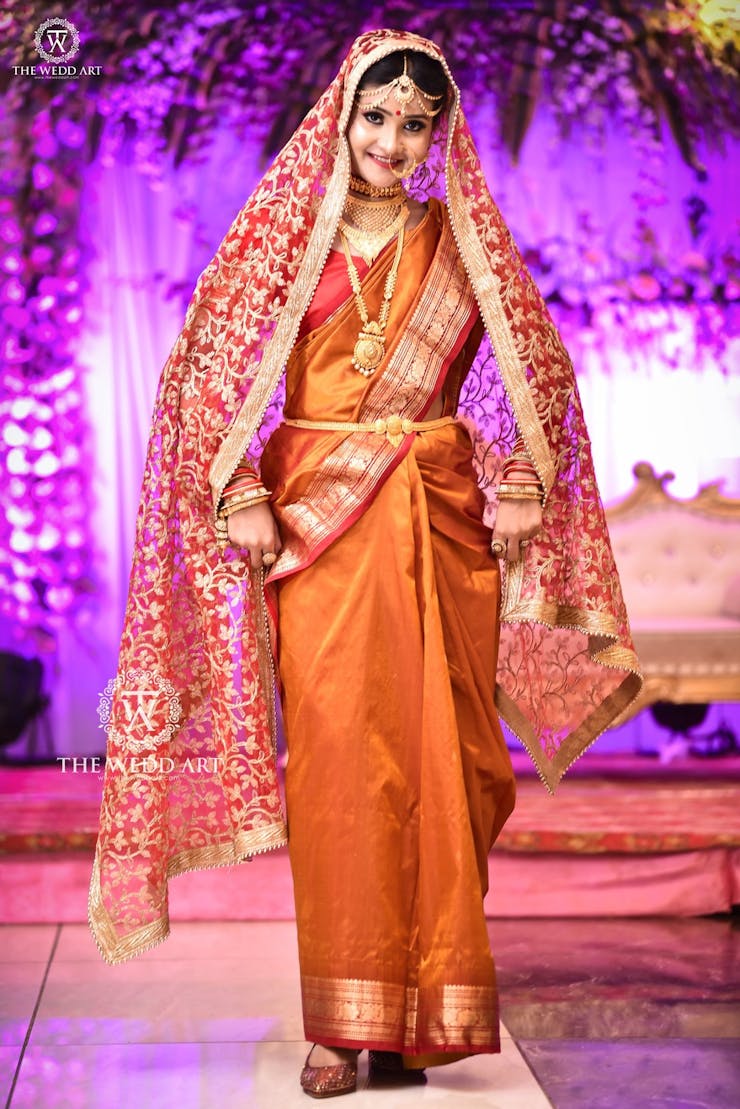 17. The Creamy And Conventional Hue Of The Groom Sherwani
If you are looking for a traditional groom dress then this outfit will help you make a style statement. The combination of golden beige and red sherwani is an elegant choice for your wedding night. You can add a stunning brooch to your sherwani to make it look decent in every aspect.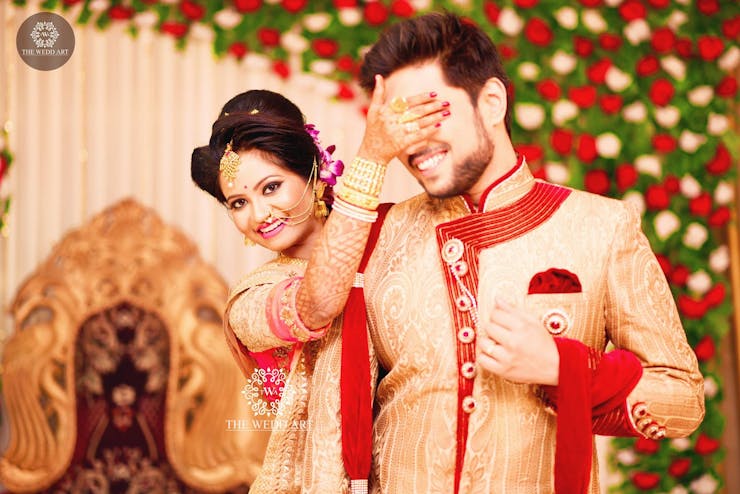 More About Wedding Photography
Latest Blog Posts