Best Flower Jewellery Ideas For Your Wedding
Floral jewelry can provide you with an elegant touch and fresh feel. Look at these flower jewelry for wedding to make your pre-wedding look more special.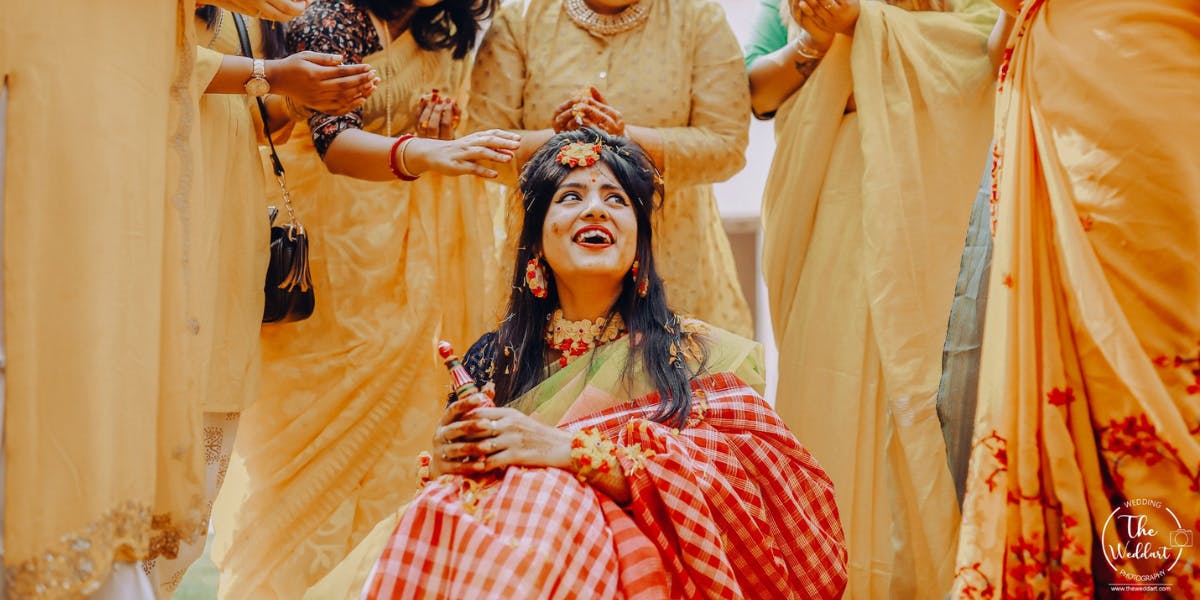 The beauty of flowers can make your lifetime events memorable. The fragrance of flowers and their vibrant colors can bring life to any decoration. The trend of wearing flower jewelry has begun in ancient India. The aromatic smell of flowers attracted women in India. As a result, it become a part of women's or brides' jewelry. Nowadays, floral jewelry has become the latest fashion fad for modern brides. Today you will get floral jewelry in different patterns and designs. Every floral jewelry looks charming and exudes a sense of unique style. Being a professional bengali wedding photographer we have seen various kinds of floral jewelry. We've enlisted below some of the most enchanting flower jewellery for wedding. Read this guide and choose which is your favorite one.
1. A floral Kamarbandh Adds A Unique Charm
A Kamar bandh is a piece of classic bridal jewelry tied upon the waist of brides. Inspired by the classic Kamar bandh design a floral Kamar bandh is made of delicate flowers. A floral Kamar bandh uplifts your gorgeous bridal look in the best way possible. This pretty bride has hired the best wedding photographers in kolkata to get beautiful pictures of her bridal look.
Recommended: Best Bengali Wedding Gift Ideas For Couples
2. Pretty Floral Earrings Are The Best Flower Jewellery For Wedding Functions
Floral jhumka is another gorgeous floral jewelry that you can choose to adorn your ear lobes. This wonderful bride has worn a beautiful yellow saree with pink earrings to celebrate her haldi ceremony. The light green hue and tassel of her earrings is adding a special charm to her haldi look.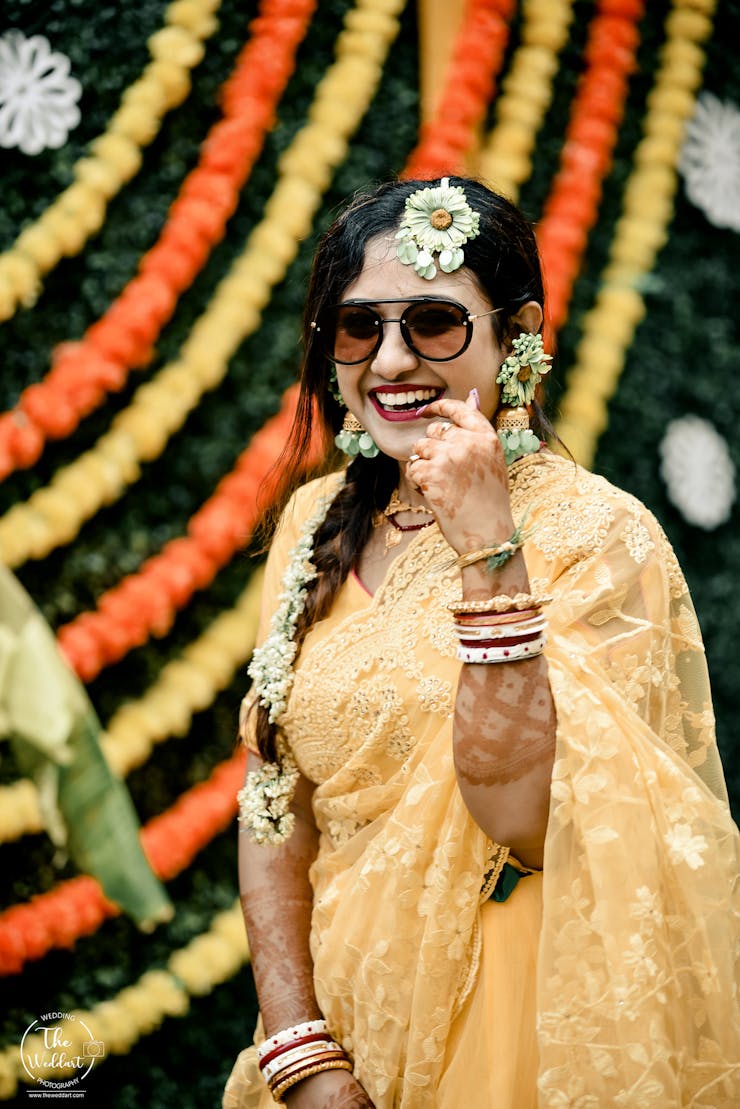 Check This: Best Bengali Bridal Bindi Designs For A Captivating Look
3. Floral Bangles Enhances The Beauty Of Your Mehendi Laden Hands
A combination of red and white flowers looks more attractive on an Indian bride. Nothing beats the splendor of floral bangles on Mehendi-laden hands. Bangles made of fragrant flowers can spread a beautiful aura all around. Picking such beautiful floral jewelry can make your haldi look more enchanting.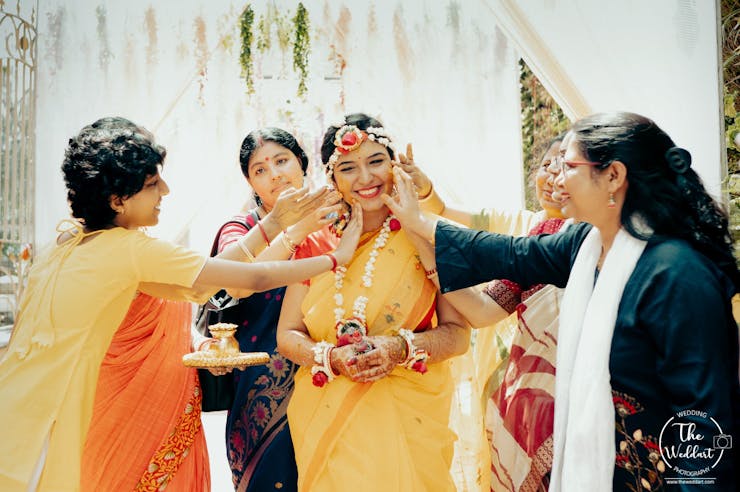 Must Read: Top 9 Bridal Lehenga Shops In Kolkata You Must Visit
4. Colorful Floral Tiara Is The Best Pick For Your Mehendi Event
Every bride deserves to feel like a princess at her pre-wedding events. A floral tiara made of multicolor flowers can add an amazing twist to your wedding look. You can choose flowers like roses, orchids, or baby breath to get an exotic and sophisticated feel.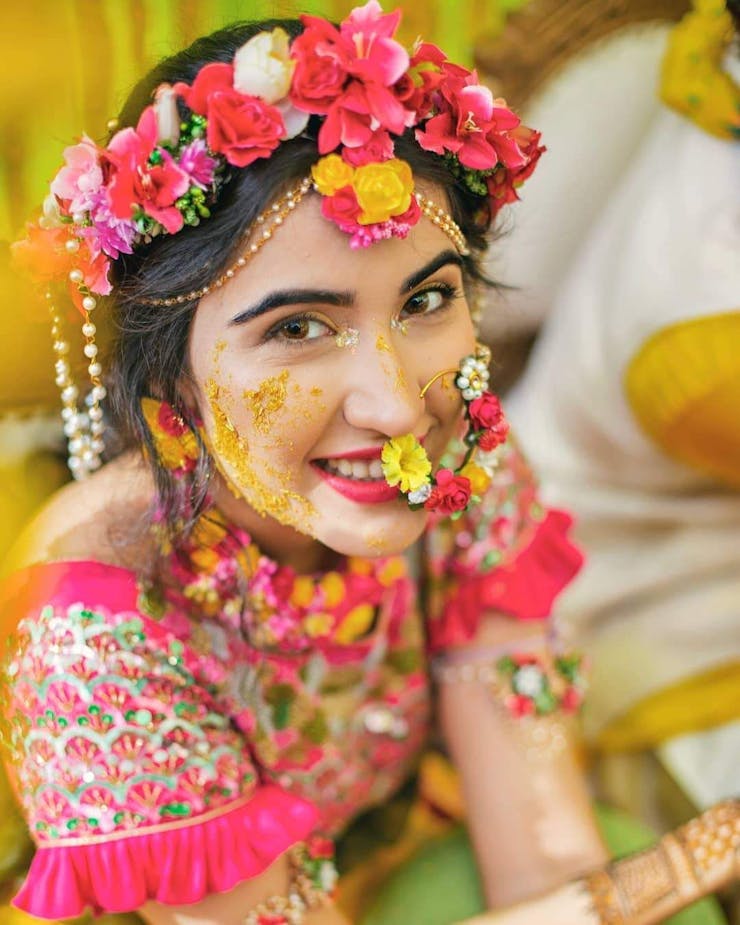 5. A Floral Mathapatti Is The Most Amazing Wedding Flower Jewellery
Wearing a mathapatti on a wedding day is a classic trend among Indian brides. Nowadays floral mathapatti designs are gaining attention for all the right reasons. Completely in awe of this charming bride who has worn a floral mathapatti on her haldi day. The delicate flower attached with small beads is the main attraction of her haldi look.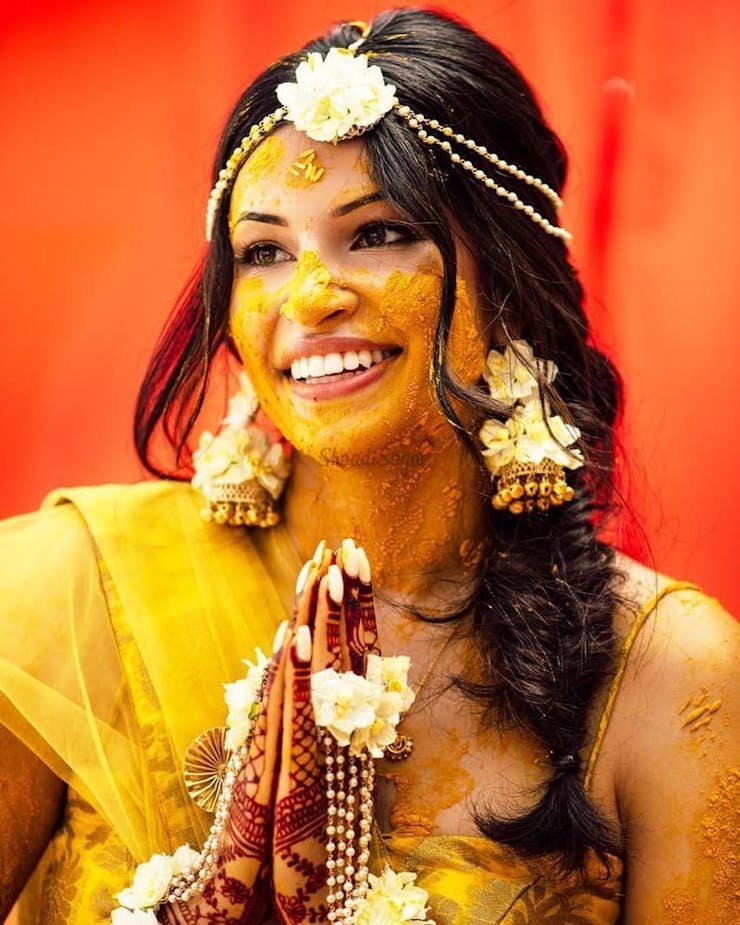 6. An Elegant Floral Maangtika Suits The Haldi Brides
Can't stop gushing over this beautiful maang tikka design made of yellow and white flowers. The mesmerizing combination of white and yellow flower is making her gorgeous bride. Don't you love her Haldi day look?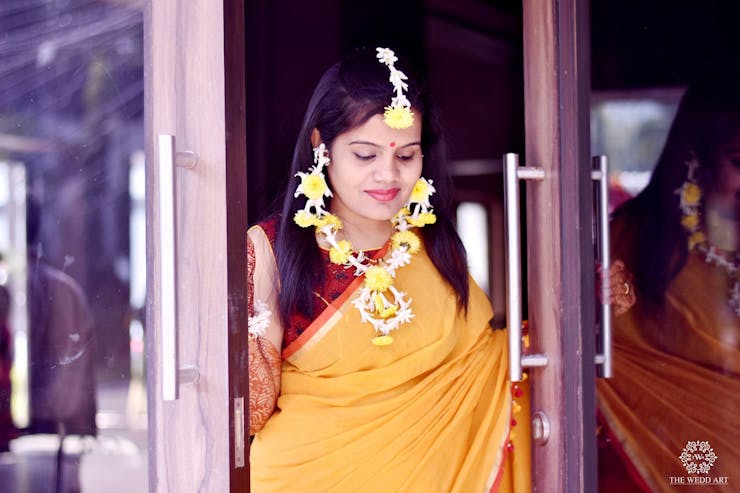 7. Take your Bridal Look A Notch Higher With A Floral Nath
A nose ring is the most stunning flower ornaments for weddings. Flower nose rings are beautiful bridal jewelry to wear during pre-wedding ceremonies. A floral nath made of dainty flowers makes your bridal look more beautiful. This type of gorgeous nose ring allows you to rock the stunning bridal look.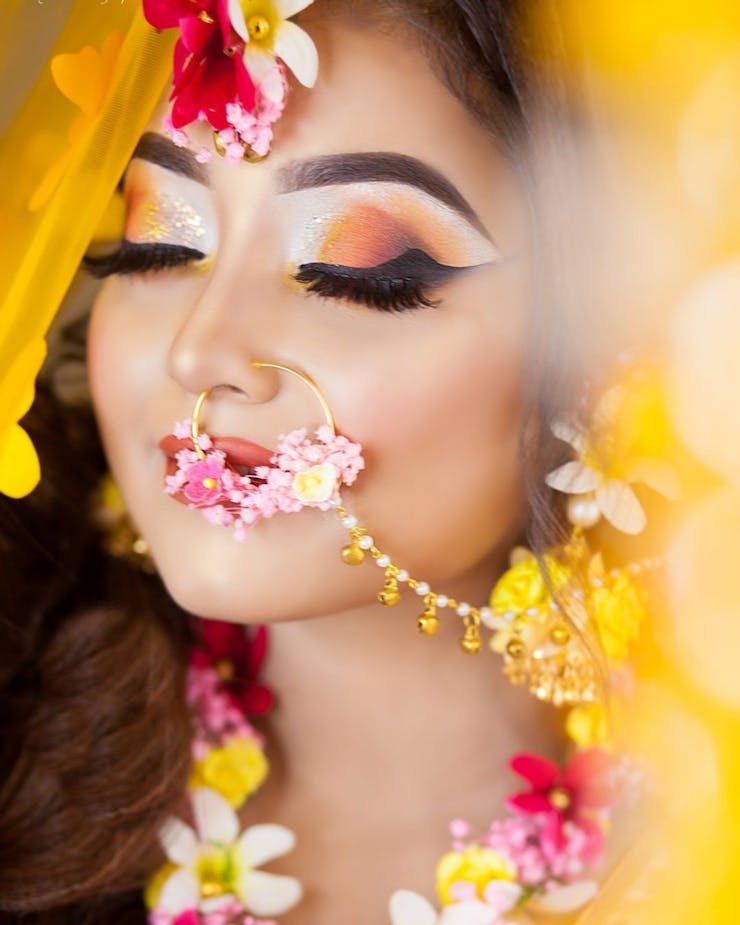 8. A Yellow Shade Floral Necklace Is The Best Flower Jewelry For Haldi
A floral necklace is the most gorgeous flower jewellery for bride. A floral necklace enhances your bridal glow and gives you a soothing effect. This gorgeous bride has contrasted her floral necklace with her pale yellow saree.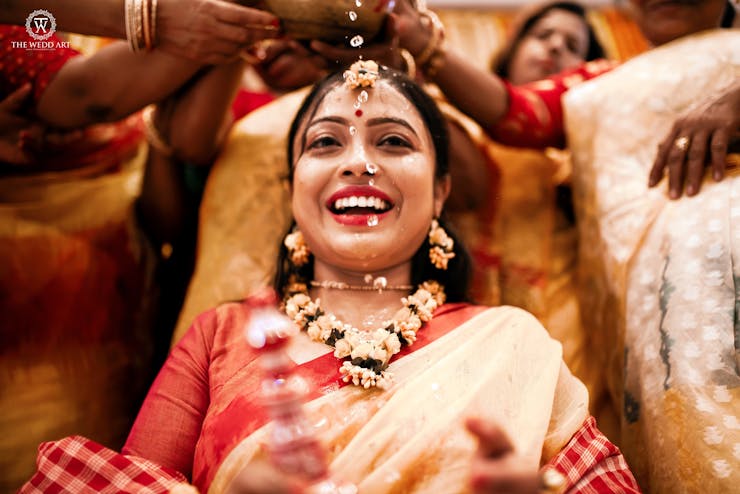 9. Stunning Floral Hairpiece Deserve Your Attention
You might have many options available to decorate your hair. But a floral hairpiece is the most beautiful one intended for hairstyling. This bridal floral hair accessory will make heads turn. This is perfect flower jewellery for engagement to increase the charm of your stylish hair bun.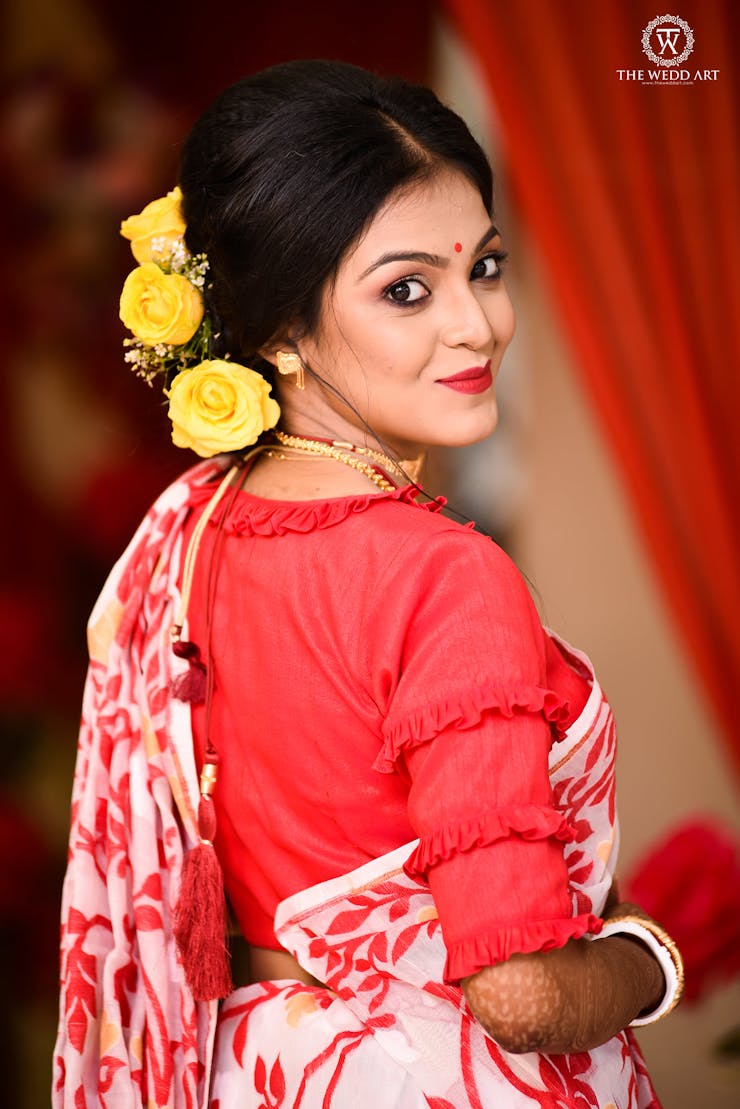 10. Pretty And Delicate Floral Anklets Are The Most Charming Jewellery For Wedding Function
A floral anklet adds a certain amount of glamour to your pre-wedding look. It adds a magical vibe to your beautiful feet. A floral anklet made of fresh flowers and pearls looks very charming. To complement the beauty of such a beautiful anklet you can adorn your nails with stunning bridal nail art.
11. Team Up Your Conventional Attire With A Floral Dupatta
Her bridal glow and smiling face speak volumes about her happiness. This bubbly bride has chosen to wear a floral dupatta at her pre-wedding events. A floral dupatta made of fresh flowers is the most unique flower jewellery for bridal look.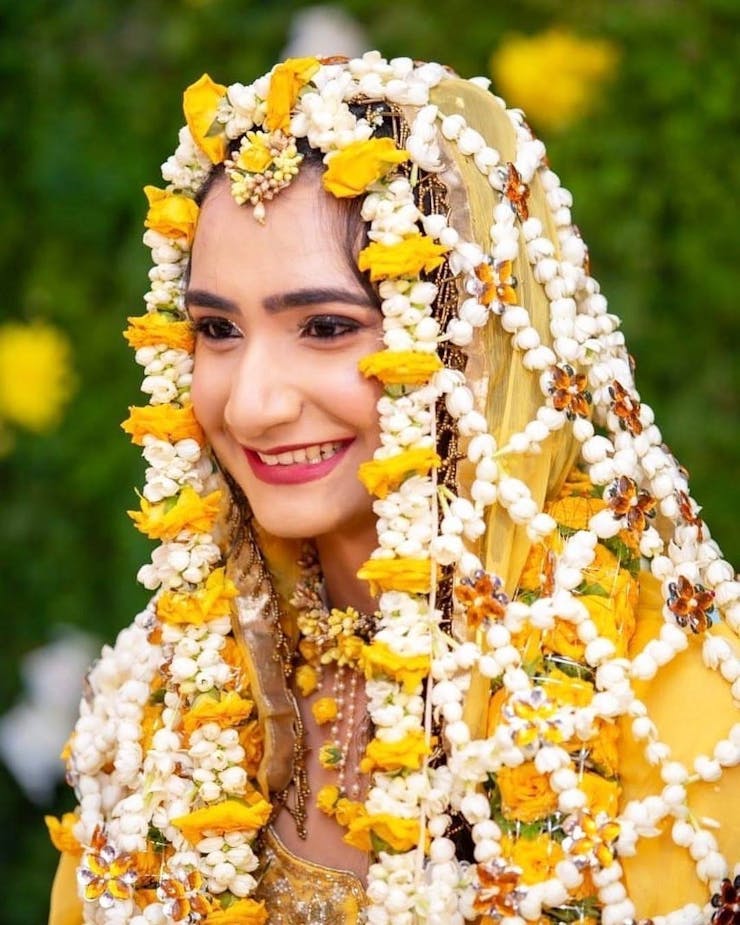 12. Opt For A Floral Passa To Steal The Limelight Of Your Wedding Function
A floral passa has gained a lot of attention for its beauty in recent Indian weddings. These are the most wonderful wedding jewelry ideas for bride that can provide the bride with a regal and classy look. This floral passa looks more gorgeous with stunning designer bridal lehengas.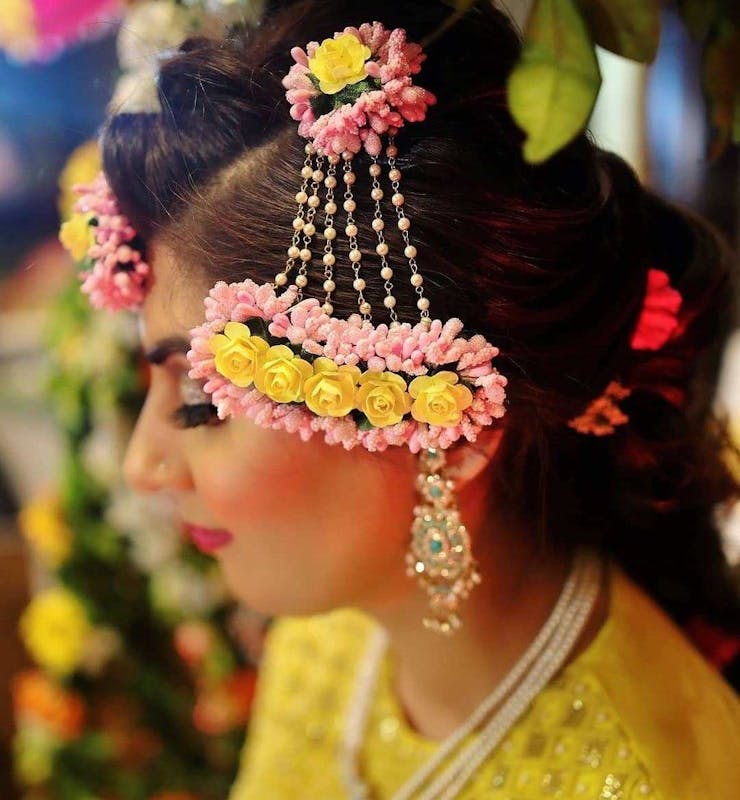 13. A Floral Choker Is The Most Beautiful Flower jewelry For Wedding
Another beautiful flower ornament that you can pick for your pre-wedding bridal look is a floral choker. A floral choker made of dainty flowers and ferns adds a touch of class to your bridal look. It looks wonderful on blouses with a broad neck.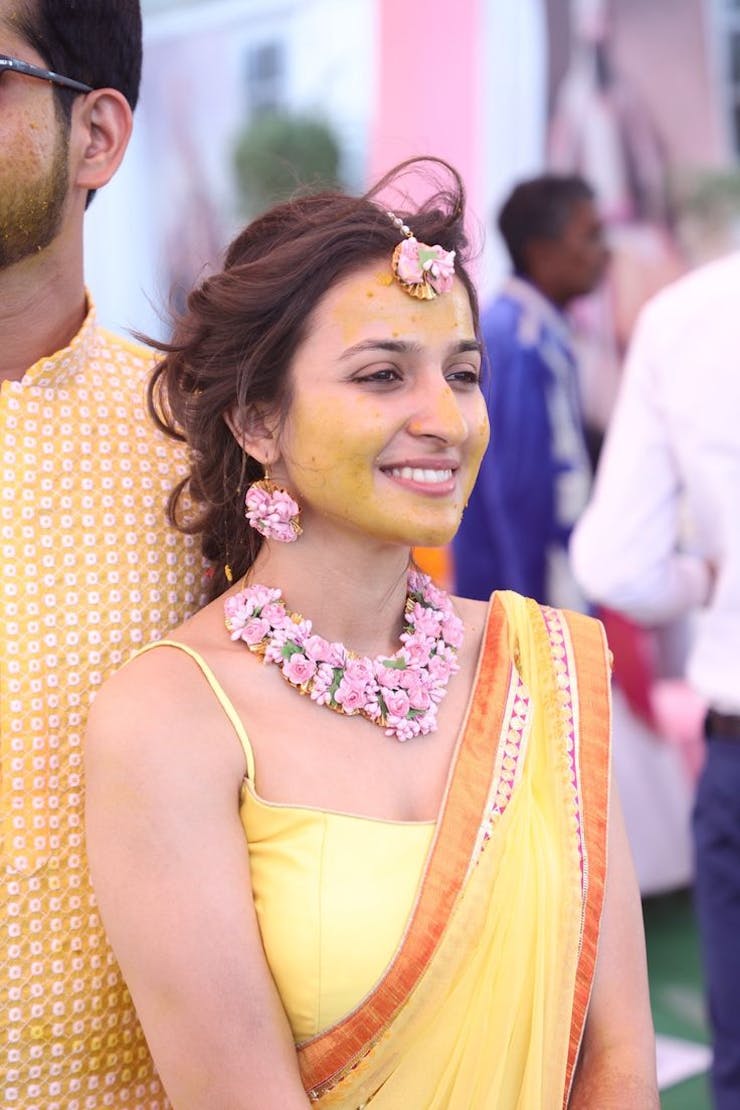 14. Captivating Charm Of Floral Haathphool Will Make You The Prettiest Bride
Wearing a floral haathphool at your wedding events is another great idea. The wonderful charm of haathphool in pastel shades with pearls can give you a more elegant and vibrant look. This splendid jewelry is best suited with an ethnic lehenga.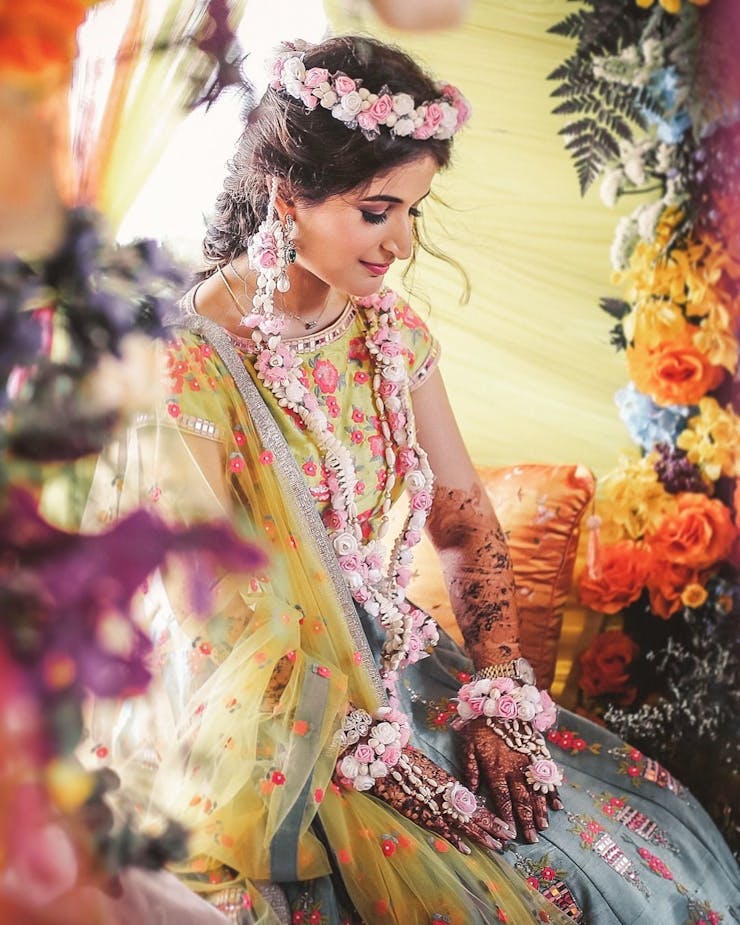 More About Wedding Photography
Latest Blog Posts