Top 13 Beautiful Payal Designs For Bride In 2022
Highlight your beautiful foot mehndi design by wearing a designer Payal? Check here top 13 payal design for bride that adds a luxurious vibe to feet.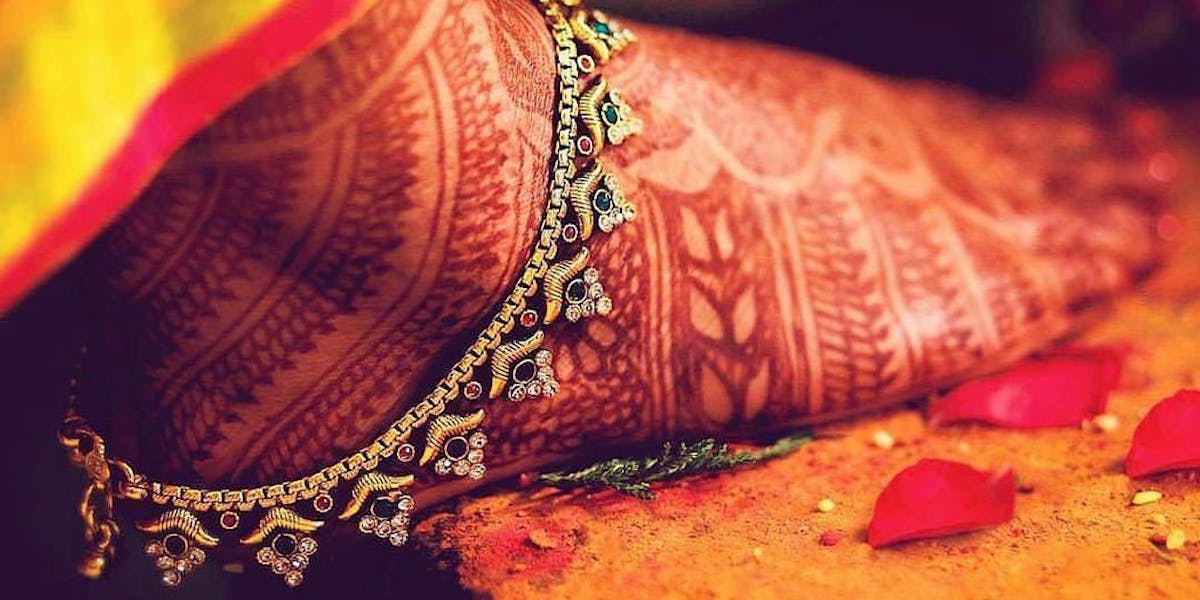 Payals are one of the most beautiful pieces of jewelry that adorns the feet of women or brides. It is a piece of traditional jewelry that is an integral part of bridal ensembles. The tinkling bells attached to the Payal produce a pleasant and melodious sound. Payal is flexible chain-like jewelry that is often decorated with precious stones, beads, pearls, and bells. The jingling sound of such a beautiful ornament on the bride's feet lures everyone's mind. Centuries ago, these beautiful anklets was worn by Indian women. The most lovely part of the payal is the way it has made the women's presence known. Do you want to mark your presence at your wedding with the melodious sound of a beautiful Payal? Then continue reading this guide. Here are some most stunning images of Payal designs captured by the best wedding photographers in kolkata. Scroll this guide and save the one you find best for your bridal look.
1. A Radiant Bridal Procession
What an excellent example of Indian craftsmanship is this doli payal! These exquisite Payal designs are taking the internet by storm. It is a wonderful choice to complement your embroidered lehenga on your D-day. These latest payal designs for bride look so royal and exudes an elegant charm. To match the glory of this Indian anklet design you can pair it with a doli blouse.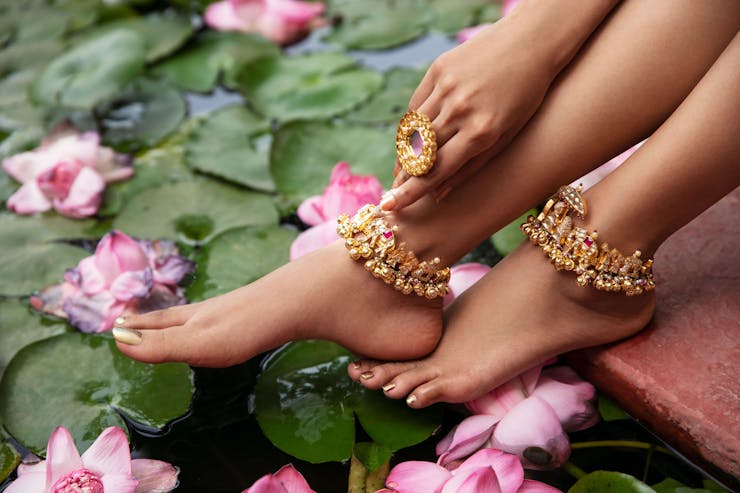 Check This: Top 13 Charming Reception Look For Bengali Bride
2. Layers Of Traditional Touch
A multilayer Payal is a great option to match with your stone-studded jutti. A combination of precious stones and pearls looks attractive on a bride's feet. The silver ghungroo attached with this Payal design spreads a positive vibe. Ask your bengali wedding photographer to take an angular shot of your feet to capture the beauty of such a marvelous bridal payal.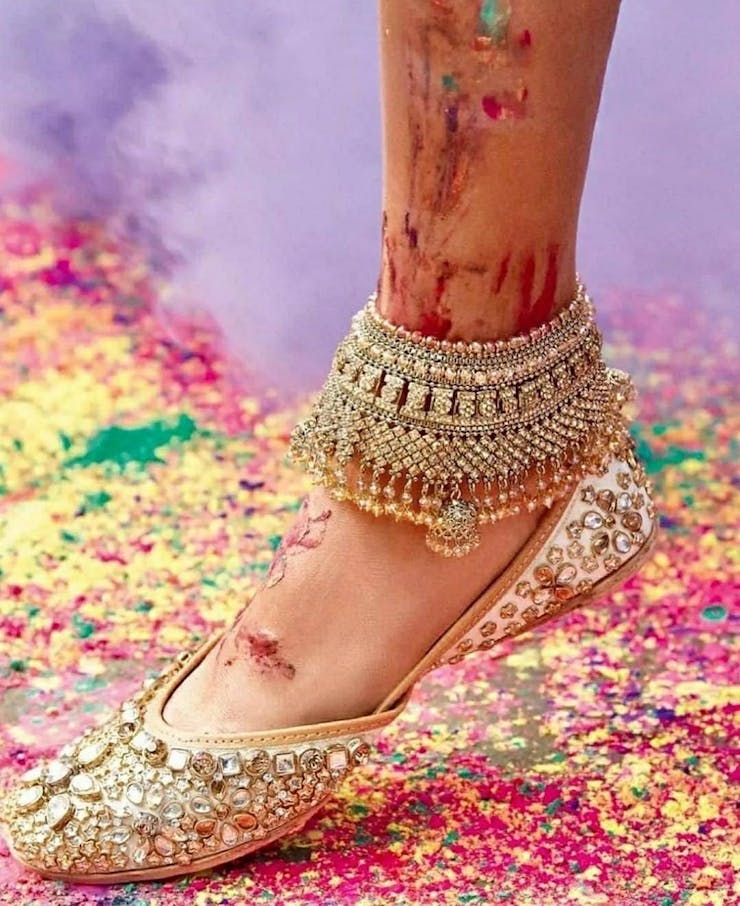 Recommended: Traditional Bengali Bridal Mukut Design Ideas In 2022
3. Magical Charm Of Kundan
Kundan is the most luxurious jewel that can blend in with almost any type of bridal ensemble. A Kundan Payal gives your mehndi design feet a stunning look. Their bling effect makes it more attractive. You can pair a Kundan pearl with any traditional bridal outfit. It looks more pretty when you are wearing Kundan jewelry from top to toe.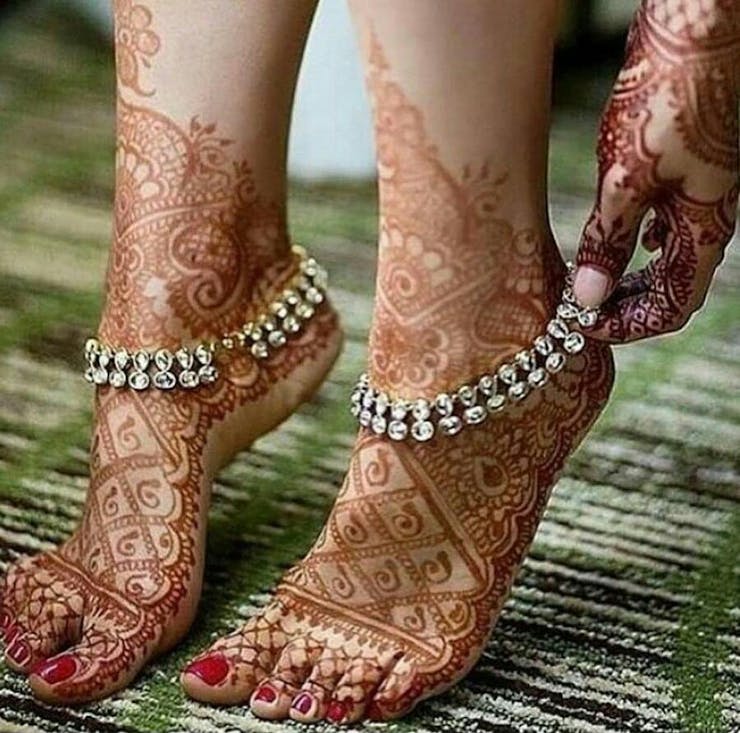 4. Delicate Beauty Of Flowers
A floral payal design for bride enhance the beauty of her entire look. Nowadays wearing Payal jewelry at pre-wedding events has become the latest trend. You can choose a dainty floral anklet to make a statement at your wedding event. The delicate flower anklet paired with pearl strings can enhance the beauty of your bengali mehndi design.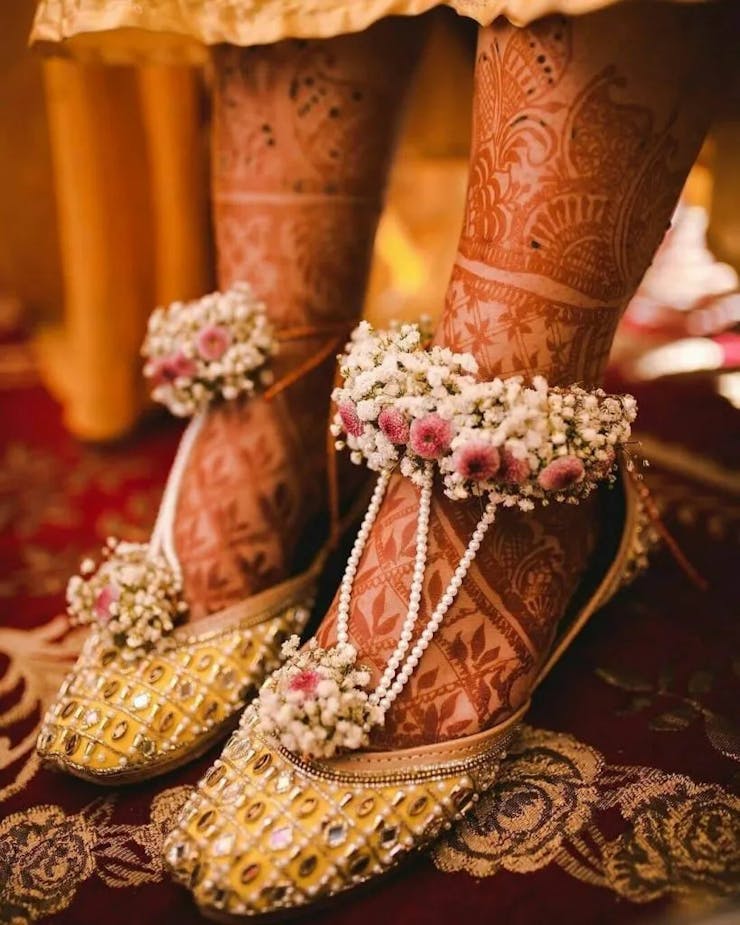 5. Grandeur Of A Peacock Payal
Adding a pop of colors to your traditional silver jewelry can help you to make an impression on everyone's mind. A peacock payal design for wedding is a great choice to wear with your fancy lehenga. The peacock motif Payal design is the right mix of fashion and tradition. This Payal design is a great option to try on wedding and reception events.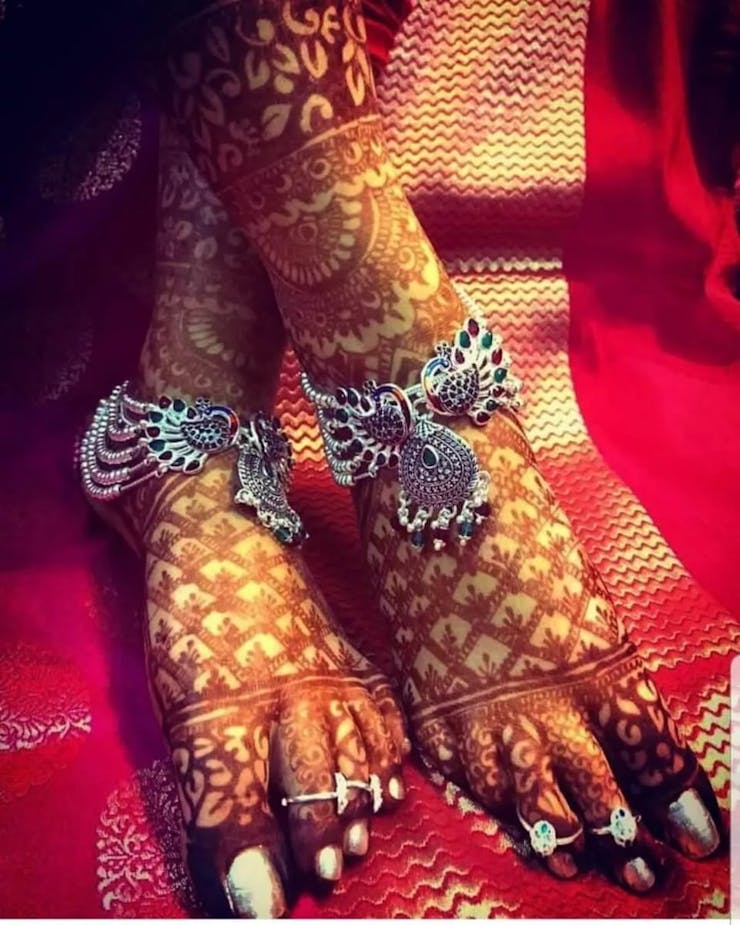 6. Whimsical Beauty Of Pearl & Kundan
Tying a pearl Payal around your ankle can add a special elegance to your bridal look. Embrace the beauty of an unique and luxurious payal design for bridal look. The fusion of Kundan stones and white pearls is a beautiful blend of luxury and grace.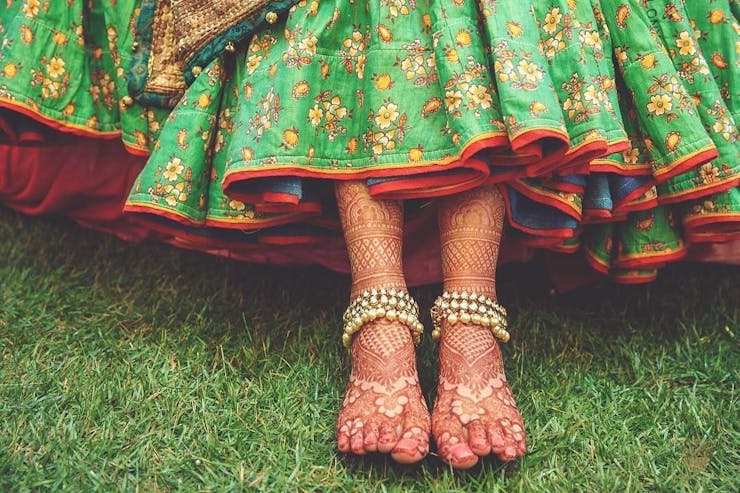 7. Musical Vibes Of Ghungroo Payal
If you want to add a playful vibe to your wedding day look then raise the bar with a golden ghungroo payal design. Shining bright and beautiful this bride payal design looks gorgeous on her feet. Made of pure gold this cluster of chiming bells is the fanciest of all. This fancy Payal will add more beauty to your banarasi silk saree.
8. Fusion Of Style And Elegance
Chandbali Payal is heritage jewelry that came from Hyderabad. Its attractive look and moon shape make it one of the most beautiful and exclusive payal designs. This traditional jewelry is attached with pretty pearls that gives it a classy look. A bride's feet adorned with glittery Alta or mehndi design makes this Payal looks stunning.
9. A Glimpse Of Tradition
Looking for a traditional but unusual design? This exquisite design of silver Payal is an ideal choice for you. This silver payal design for bride is so pretty that you would not wish to take it off your feet. This oxidized silver Payal adds a whimsical beauty to your henna design. Layers of silver anklets leave a mesmerizing effect in your wedding pictures.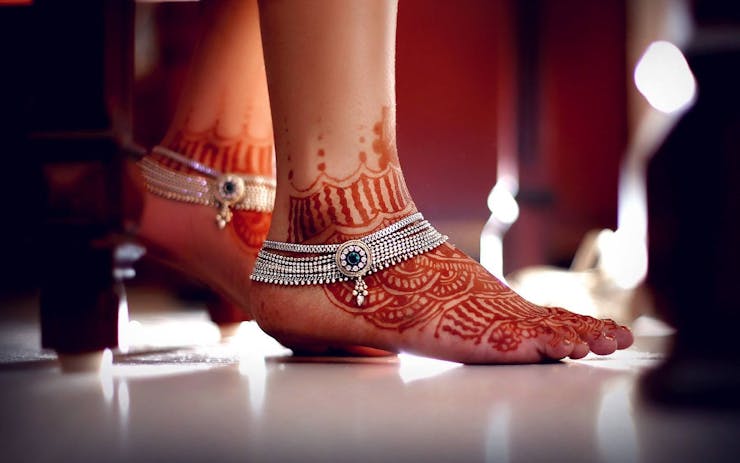 10. Most Graceful Ornament Of Modern Bride
Not a big fan of silver? Then opt for a glided gold payal design. This gold Payal design is an old-world charm that goes well with contemporary attire. This light weighted gold Payal comes with dainty ghungroos that produce a melodious rhythm as the bride walks down the aisle.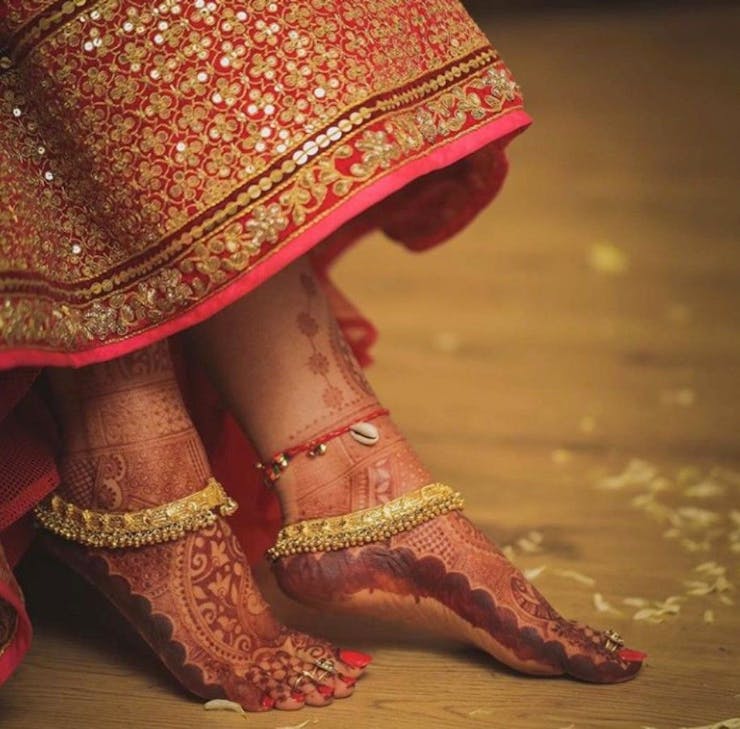 11. Clusters Of Precious Gems
Navratna Payal has become a popular choice among modern brides. This chandi payal designs for bride made with nine gems looks glamorous on the bride's feet. Adding a big drop of colors to your pretty Payal will help you to make a bold statement in your traditional attire. This precious jewelry looks more classy and unusual with a designer wedding outfit.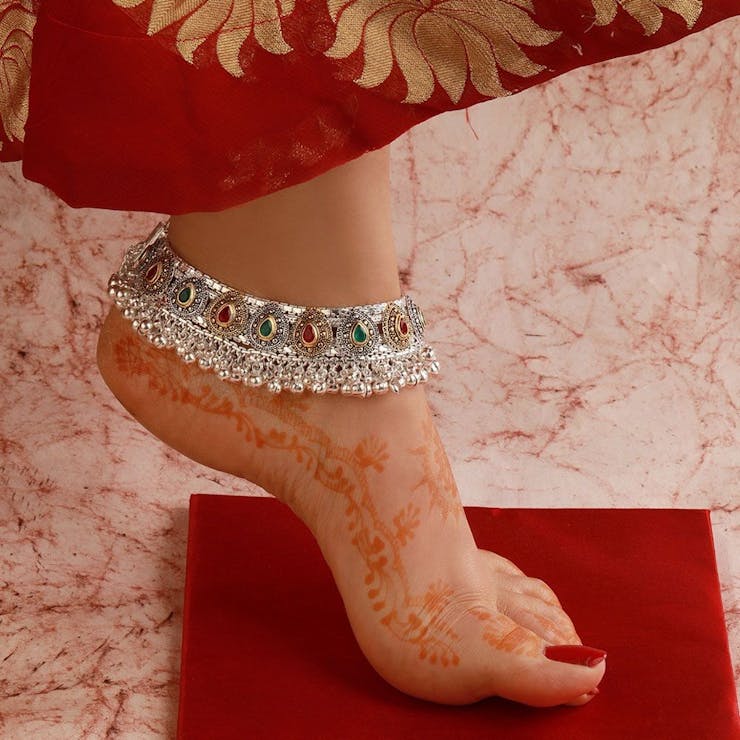 12. Sparkling Shine Of Precious Stones
Diamond payals are the most luxurious piece of bridal jewelry. It is an ideal choice for a regal theme wedding. It can add a bling factor to your entire look. A delicate chain of sparkling diamonds is an ideal way to dress your feet in a glamorous wedding outfit.
13. Eternal Beauty On Bride's Feet
Last but not least is an unique payal design for the bride. The unique blend of gold, diamond, and Kundan Payal design is something extravagant and ethereal. Such a marvelous bridal anklet will leave your guest awestruck. The royalty of this unusual Payal design can turn you into the most fashionable bride.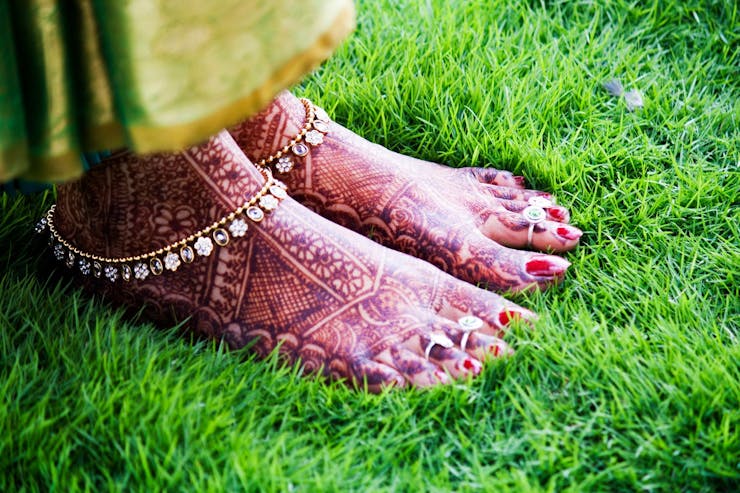 More About Wedding Photography
Latest Blog Posts