Everything You Need To Know About Funny Wedding Contract Trend
Wondering how to add humor to your wedding event? Scroll down to find the latest ideas to make your wedding contracts funny.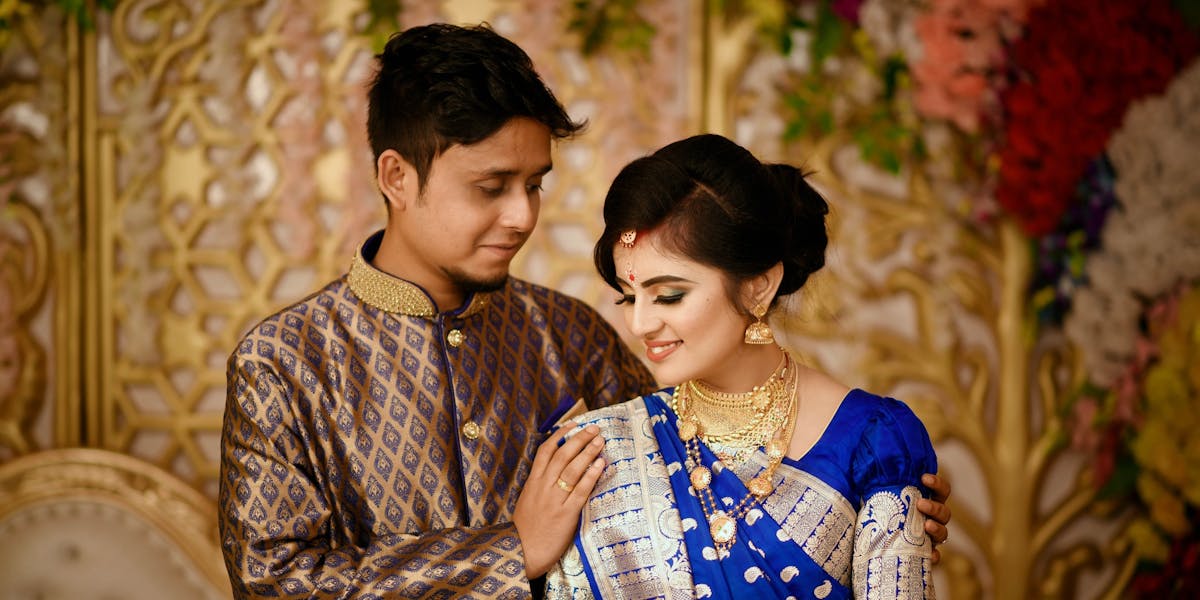 Funny marriage contracts have been popular in recent years. Couples seek to add an element of humor to their wedding ceremonies. Some couples find the contract funny while others find it whimsical. It can add a unique twist to your wedding event. A wedding contract can be as silly or as serious as the couple desires. But some couples prefer to go with a humorous marriage contract, to lighten the mood and make the wedding more memorable. Funny marriage contracts have been a part of candid wedding photography in Kolkata that adds laughter to the memories.
So, let's find out the details of this wedding contract funny trend to make the sacred event more enjoyable.
All you must know about a wedding contract trend
What Is A Funny Marriage Contract?
A funny wedding contract can be a fun and creative way to add a touch of humor to your wedding. It is usually written in a very formal way and contains a lot of humor. It can be anything from a small joke to cute things that the couple expects from each other. There are so many ways that you and your spouse can agree in a fun way.
Recently, the video of an Assumes couple went viral on social media sites. Till now it has gained more than 38.8 million views and 1.8 million likes for its unique concept. Both the bride and groom have signatures on the large sheet of their wedding contract. The wedding contract was based on certain funny conditions like "Only one pizza a month" and so on. Such humorous wedding contracts bring a smile to your face. It can be preserved as the most cherished memory of life. You can hire the best wedding photographers in kolkata to click candid pictures of those funny moments.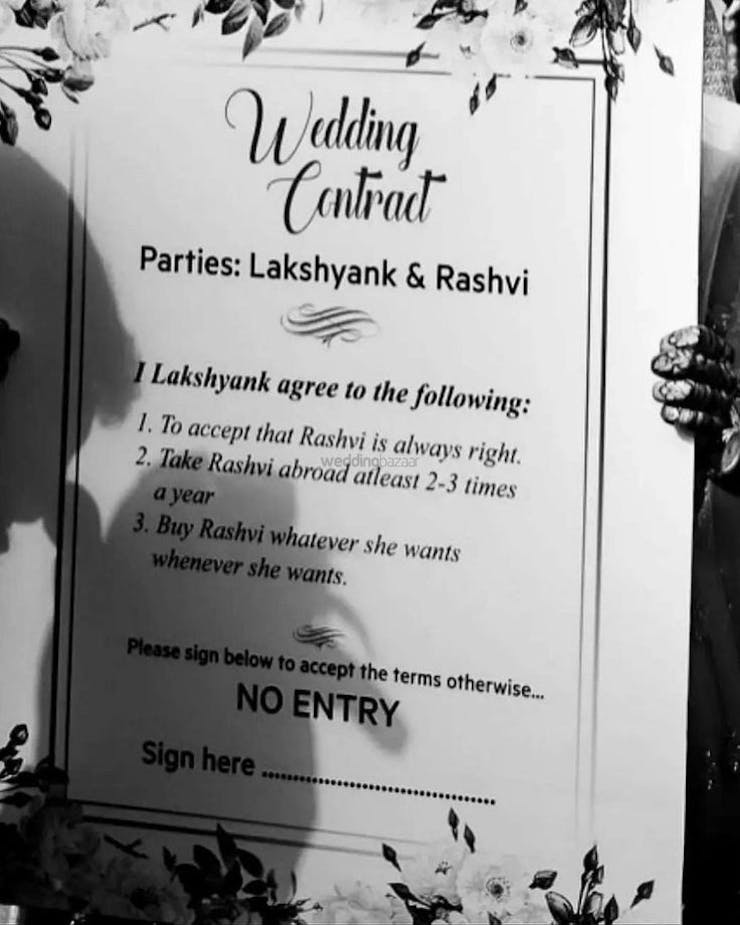 Recommended: Mesmerizing Engagement Couple Entry Ideas
Marriage Contract From The Bride's Side
Following this popular wedding trend can be a fun way to make your wedding more interesting. A dreamy bridal entry with the team of bridesmaids would be a nice moment to perform this funny ritual. You can make use of a cardboard contract with the top terms and conditions to celebrate this wonderful moment of life. Make sure to keep your bridal contract funny enough to infuse the humorous element in serious wedding hours.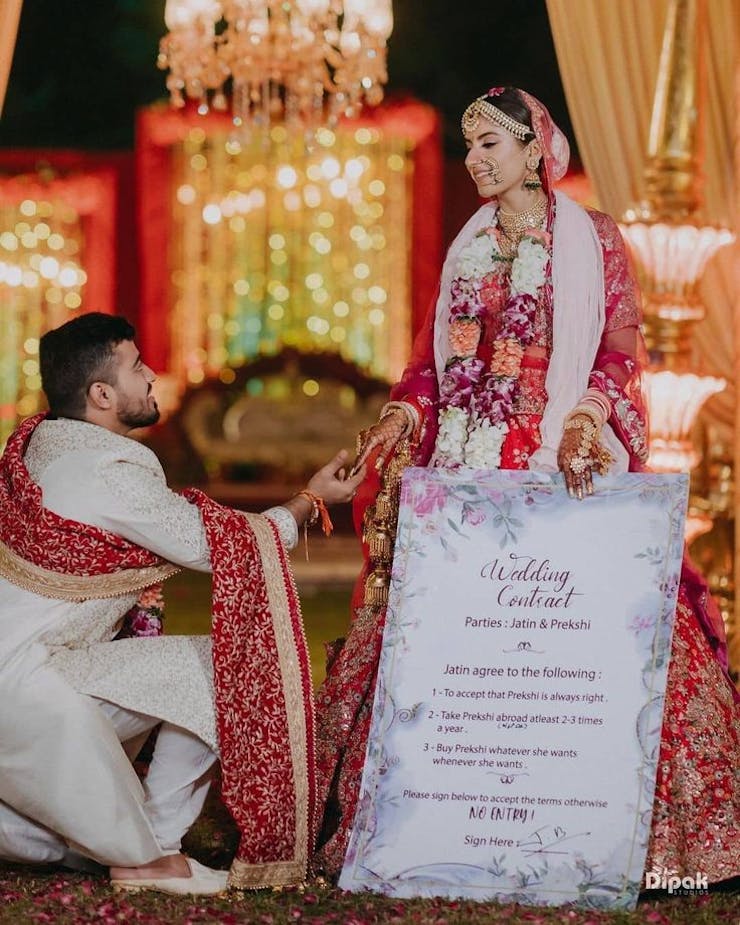 Must Check: Cute Candid Wedding Poses For Couples That Have To Be Bookmarked!
Marriage Contract From The Groom's Side
Likewise, the groom can ask his close friends to bring out the funny marriage contract before the wedding ceremony begins. As soon as the bride enters the wedding mandap you can keep your funny terms and conditions in front of her.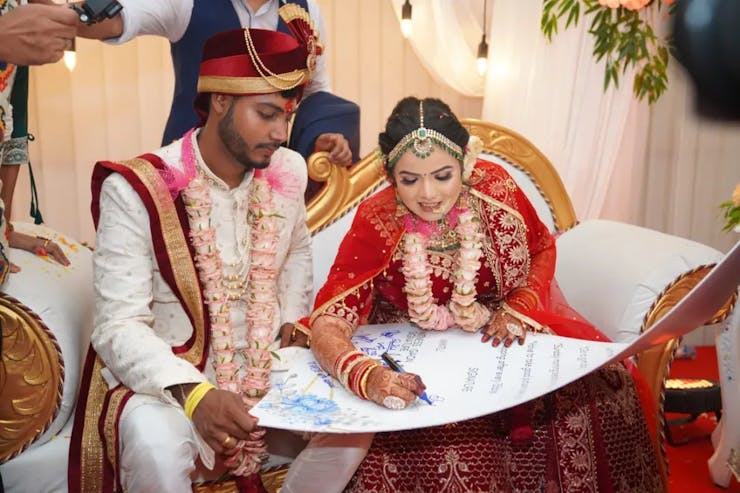 See More: 12+ Amazing Destination Wedding Places In Kolkata
Few Important Tips To Remember For The Funny Wedding Contract
1. You can present the wedding contract to your better half on a well-decorated cardboard sheet. It is better to hire a professional wedding photographer to capture these candid moments of your fun-filled wedding.
2. Always remember to make your wedding contract unique and hilarious. You can make your marriage contract funny by adding some short and crisp points to it. It must contain a humorous tone that will make your better half laugh at it.
3. As we told earlier, the beauty of the wedding contract is an important point to keep in mind. Hence, you must follow the trend of using pastel colors and floral patterns on the card. It will appear pretty and also attract maximum attention at the wedding.
4. After deciding on the color and pointers for the wedding card, you must proofread the content. It will let you avoid any kind of spelling mistakes or senseless words in your marriage contract.
5. The most important thing to keep in mind is to carry a pen or marker along with you. Ask your friends or siblings to carry the pen and card to mark the signature on the wedding contract.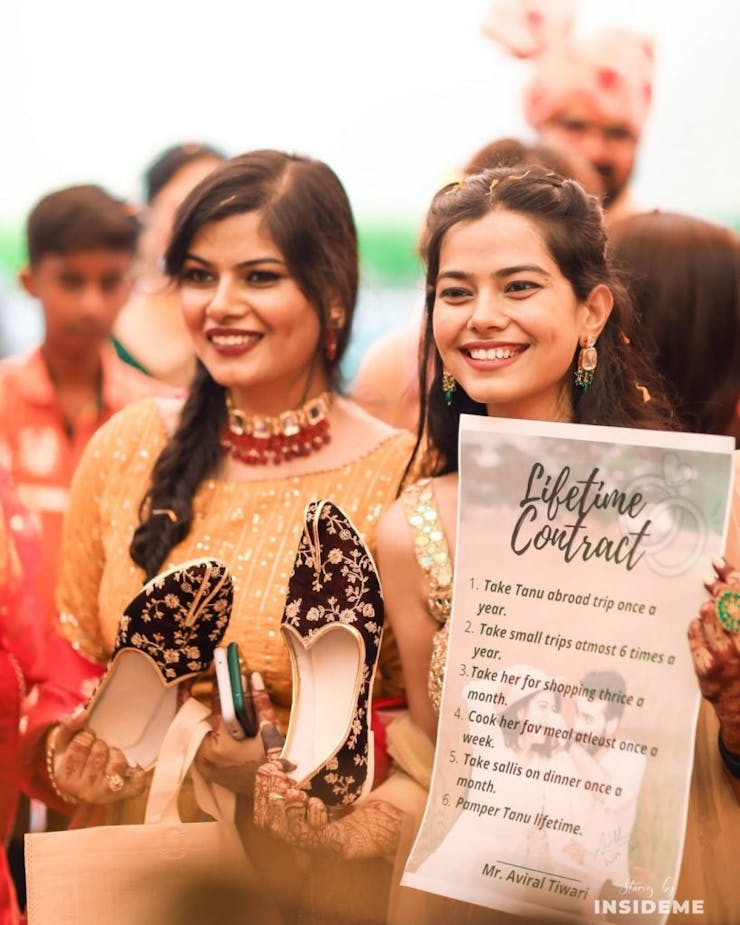 Points To Be Included In A Funny Wedding Contract For Groom
1. You can ask your groom to take you on a long drive at least once a week.
2. The groom has to say sorry every time even when he is innocent.
3. The groom must have to dedicate or sing a song daily for the bride to tell her how beautiful and talented she is.
4. Ask the groom to take you out shopping every week.
5. The groom should not watch any movie or television series without the bride.
6. He needs to make sure to click Instagram-worthy photos of the bride every time.
7. The groom must complement his bride every single day for her looks and her actions.
8. Make sure to ask the groom to help you get rid of all the spiders and insects even though he is more afraid than you.
9. The groom needs to sleep on the sofa at night time if he snores loudly.
10. He needs to help the bride with all the household chores and in the kitchen.
Points To Be Included In The Funny Wedding Contract For Bride
1. The bride must take an interest in the favorite sport of the groom after getting married.
2. The bride must make a promise not to switch off the television when the groom plays a PlayStation.
3. The bride must make a promise to become the personal navigator and always bring snacks during road trips throughout her lifetime.
4. She should make a promise to compliment you on all your hairstyles.
5. The bride must respect the groom's choice of music at all times.
6. She should make a nice and tasty sandwich for the groom whenever he is hungry.
7. She must make a promise to lose occasionally during a fair argument.
8. She must pause her favorite TV series when the groom is talking to her.
9. She must set a shopping budget every month and make a promise to spend not a single rupee more than the budget.
10. The bride should support the groom to have fun with his friends at least thrice a month.
So, these are some funny contract points that you can include in your marriage contract for fun and entertainment.
More About Wedding Photography
Latest Blog Posts