Benarasi Blouse Design For Bengali Wedding - The Weddart
Take a look at these gorgeous Benarasi blouse design for Bengali wedding. Bookmark your favorite design right away!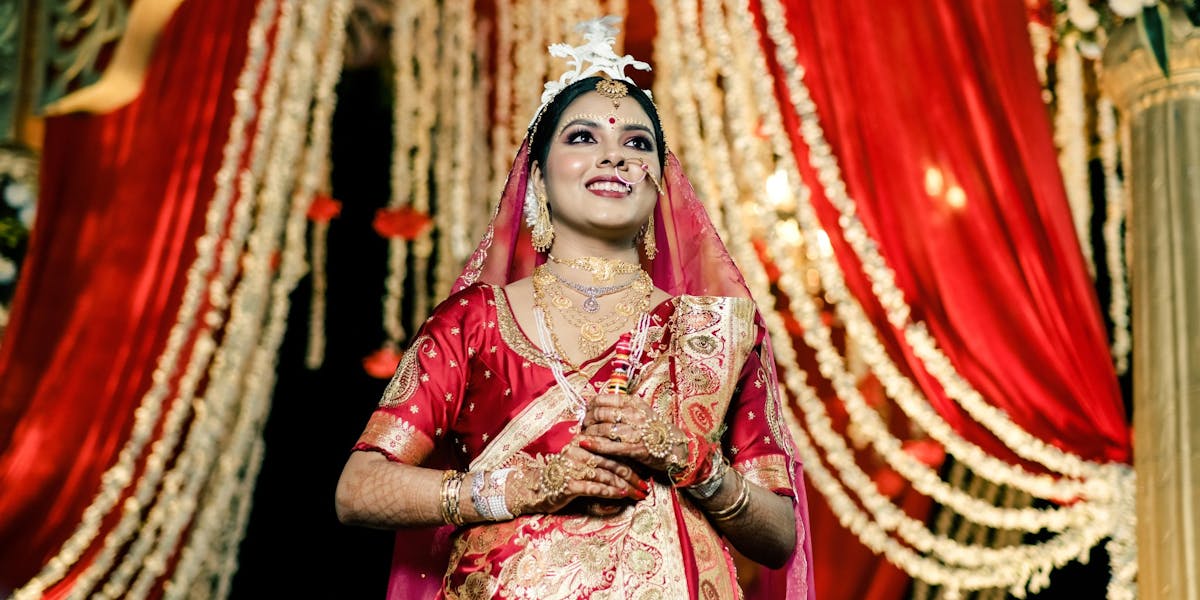 Brides of Bengal have a special fascination for pure silk Banarasi sarees. A Banarasi saree is without doubt a classy part of your wedding wardrobe. But you have to find a stunning blouse design to complement this classic outfit. A unique blouse design can turn your Banarasi saree into the most elegant attire. The Banarasi blouse design is a perfect option to wear a rich Banarasi saree on the wedding day. This silk makes bridal blouse is heavily embroidered with gold or silver patterns. These are the most elegant and divine ensembles to modify a bride's beauty. Their intricate threadwork design adds a special charm to the wedding outfit. Capturing brides in their Banarasi saree look has been the interest of a creative Kolkata wedding photographer. And why not? After all the luxurious silk-crafted Banarasi blouse is the highlight of Bengali bridal attire. So, here we have shortlisted some amazing Banarasi blouse design for Bengali wedding. Read this fashion guide to draw inspiration from the most unique blouse designs.
1. Blue Banarasi Saree Blouse Designs
This is one of the most beautiful Bengali benarasi blouse design that any bride would die to wear. The intricate silver embroidery is what makes this blouse more unique. Wearing this bridal blouse with a gorgeous blue Banarasi saree can add an oomph factor to your bridal personality.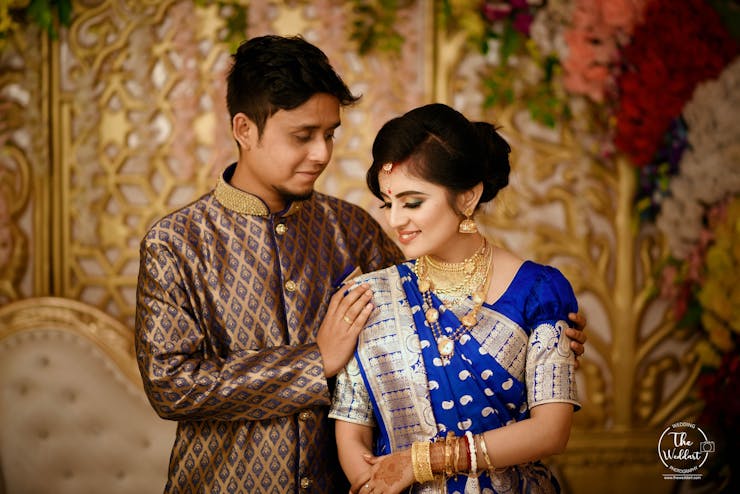 Recommended: Everything You Need To Know About Funny Wedding Contract Trend
2. Bottle Green Bengali Blouse Design With Red Border
Pick a contrasting color to your saree for an appealing wedding look on your big day. This would make your Banarasi saree stand out and also adds a glamorous vibe to your bridal look. You can pick a bottle green blouse design with zardozi embroidery to complement the darker red hue of your Banarasi for wedding.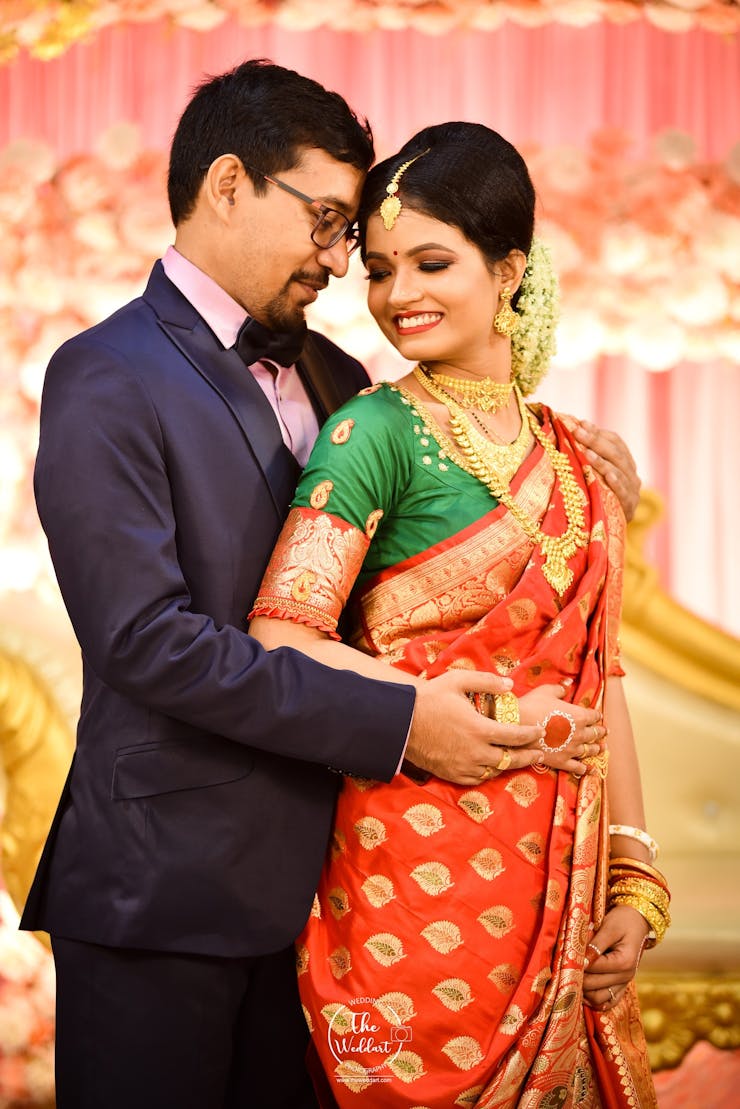 Must Read: Traditional Bengali Bridal Mukut Design Ideas In 2022
3. Red Banarasi Saree Blouse With Golden Motifs
You can also pick a similar shade blouse with golden motifs. A red bridal Banarasi saree is the most beautiful option to wear on the wedding day. This is the most popular traditional bridal outfit which is paired with statement gold jewelry. This kind of Bengali bridal look has been often seen in candid wedding photography in Kolkata.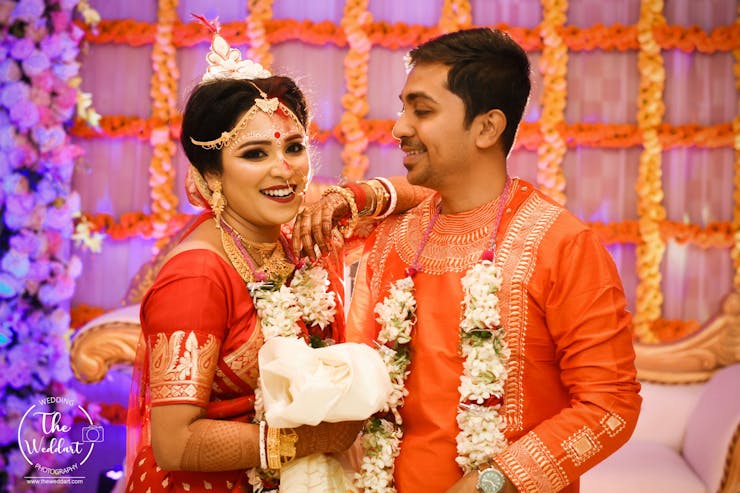 Check More: Top 15 Fashionable Bengali Groom Reception Dress Ideas
4. Pale Yellow Silk Blouse Designs For Benarasi Saree
There is something special about the pale yellow Banarasi blouse that gives it a very elegant and feminine feel. The shiny appeal of this silk blouse complements your bridal accessories. The delicate hand embroidery on the end of the sleeves adds a wow factor to your wedding outfit.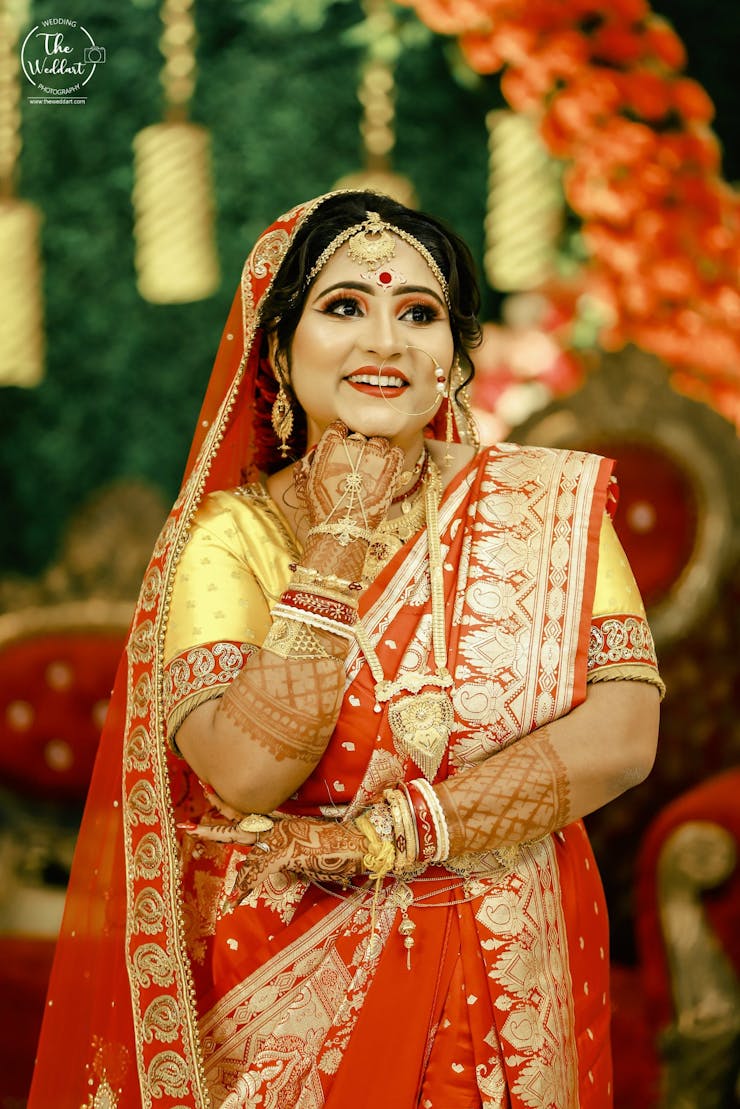 5. Hot Pink Benarasi Blouse Design
A gorgeous pink saree is a show stealer of the wedding event. The hot pink shade of this Banarasi saree goes well with a contrasting blouse design. The golden embroidery designed on the sleeves of this hot pink blouse makes it appear classy.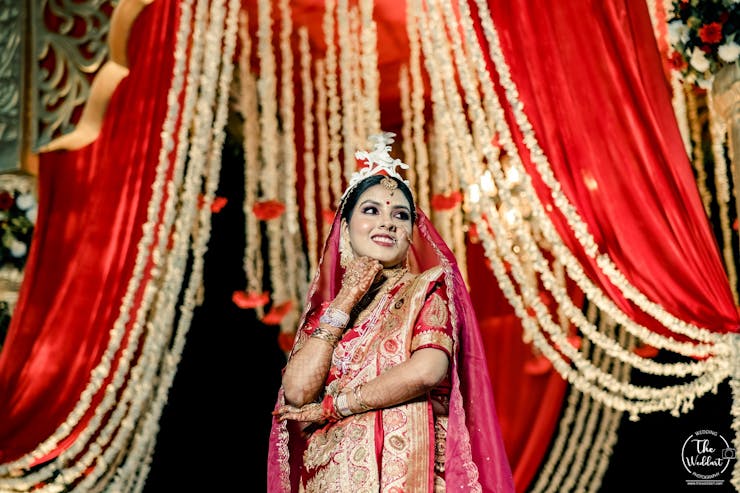 6. Heavily Embroidered Blouse Design For Benarasi
A designer blouse with Banarasi saree is the best choice for brides to look ravishing on their D-day. The luxurious appeal of this red brocade Banarasi blouse gives you an iconic look. The romantic red hue enhances your bridal glow and the golden motifs add a rich vibe to your personality.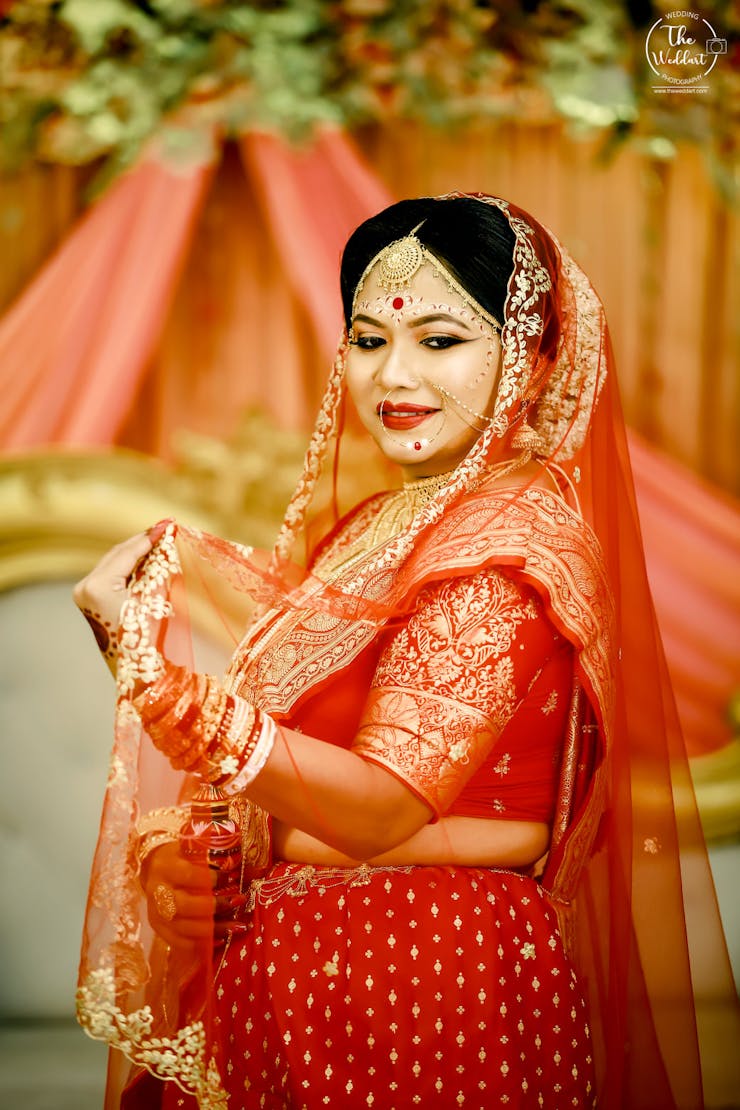 7. Emerald Green Banarasi Blouse
How about choosing an emerald green blouse for your wedding reception? This is one of the most traditional Banarasi silk saree blouse designs that complement the artwork of the silk saree. This dark shade of the blouse looks so beautiful if you have a red shade pallu in your Banarasi saree.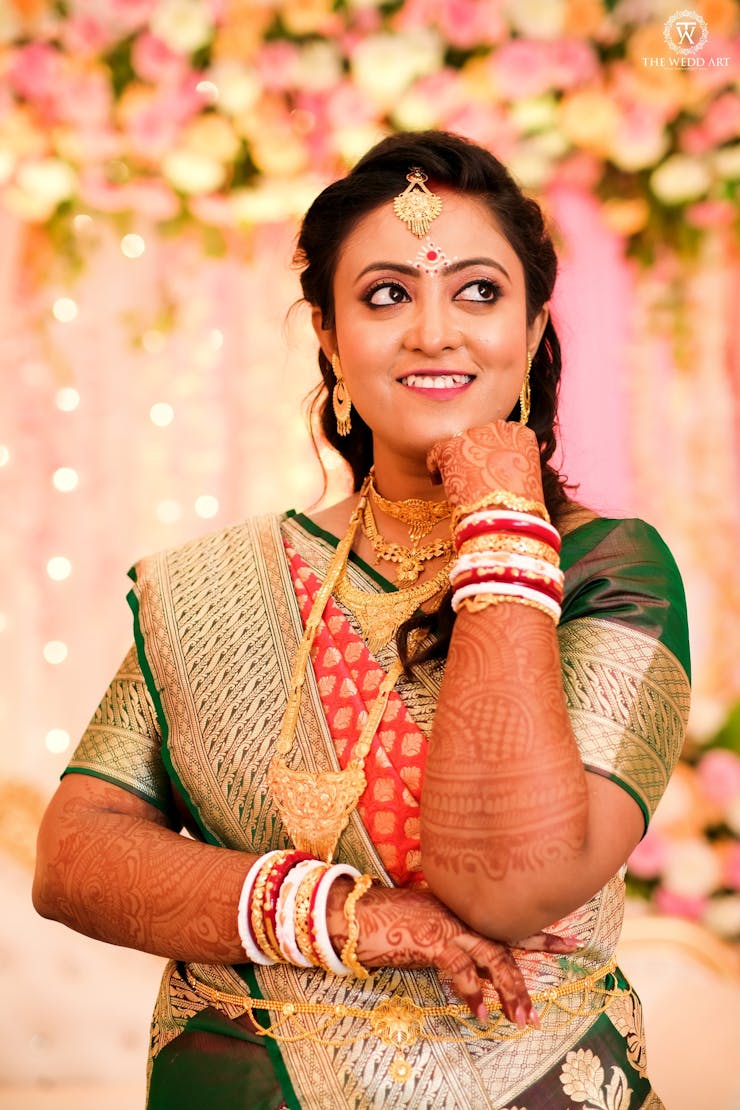 8. Floral Motif Bridal Benarasi Blouse Designs
Say hello to this elegant yet simple wedding blouse designs with floral motifs. The golden motifs of this red blouse complement the off-white shade of the saree. It looks aesthetically pleasing when paired with a stunning mehndi design. The gorgeous white and red mukut worn by this bride is a great choice for such a surreal wedding outfit.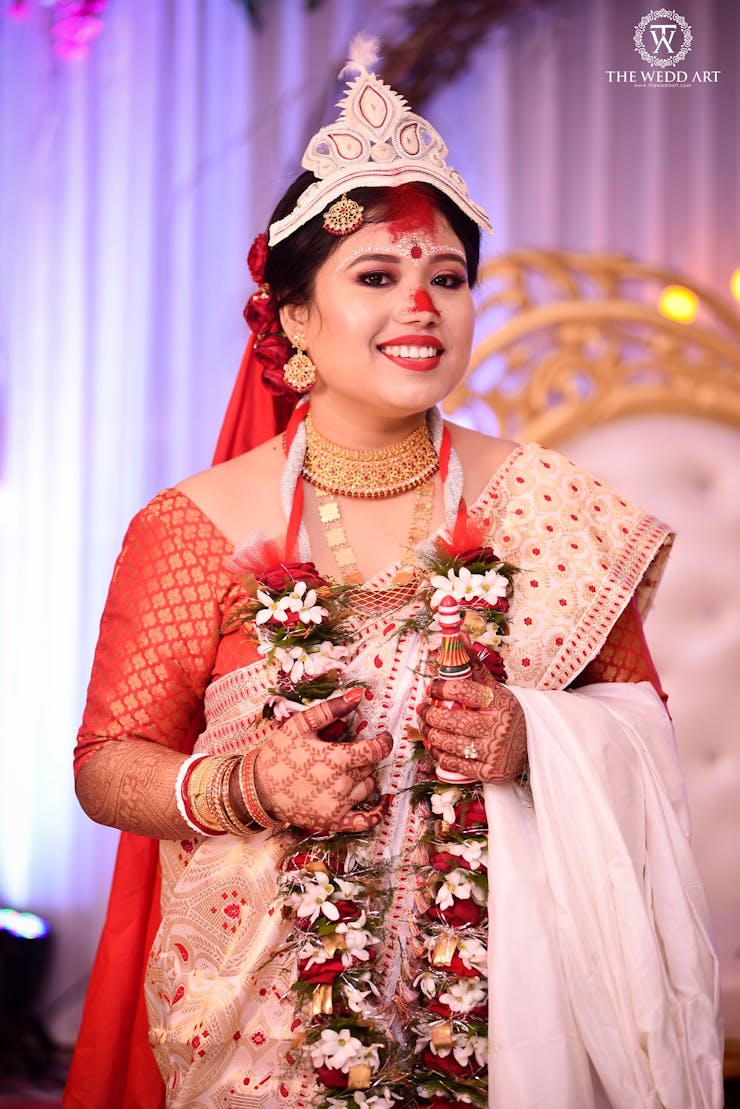 9. Latest Blouse Patterns With Enchanting Portraits
Add a little creativity to your silk wedding outfit by choosing a portrait blouse design. This is one of the best design of blouse for saree to show off your unique saree. The Madhubani paintings crafted on the silk blouse look truly captivating.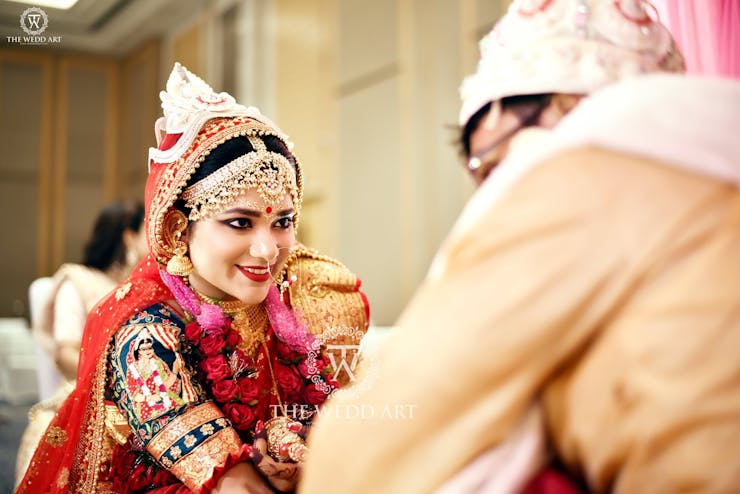 10. Red Benarasi Blouse With Round Neck
Bengali wedding Banarasi blouse design usually focuses on a round neck and eye-catchy embroidery. But that doesn't mean you can't add an extra element to the wedding blouse for giving it a fancy appearance. Take inspiration from this round-neck blouse embroider with saree designs. The brocade work on the end of the sleeves complements her saree very well.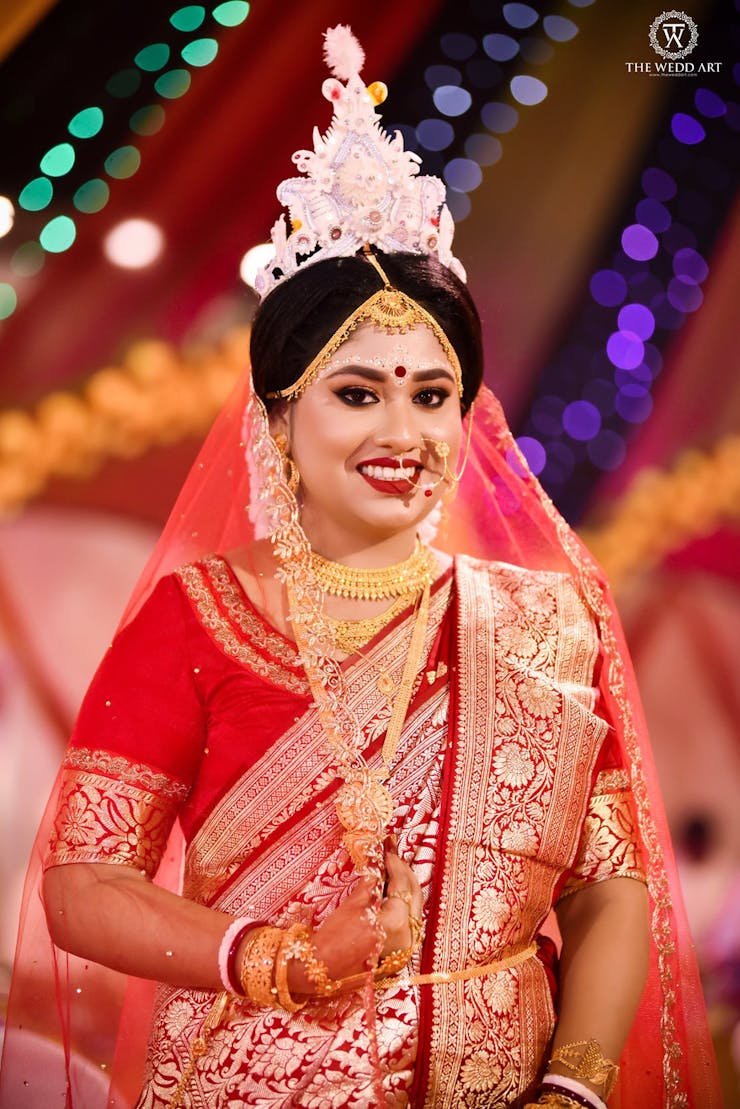 11. Sequins Embroidery Benarasi Blouse Design For Wedding
Would you like to take your reception look a notch higher by wearing a super gorgeous Banarasi saree? Take inspiration from this lovely bride. She has complimented her designer silk saree with a sequent embroidered bridal blouse. The maroon shade of her saree and her stylish hairstyle look all stunning in the picture.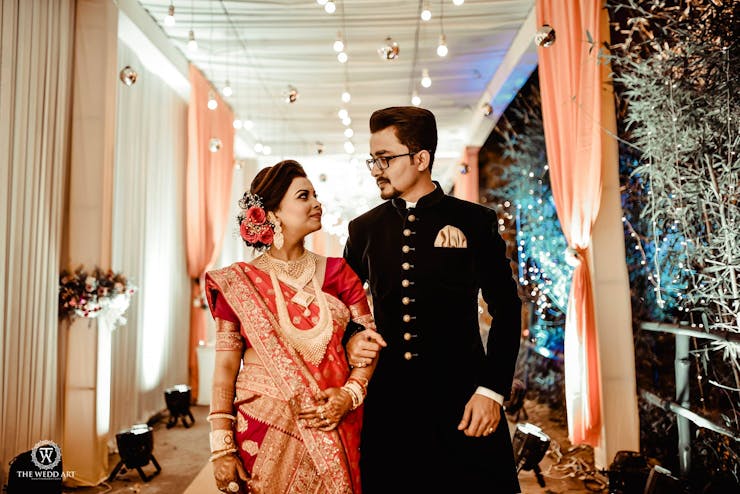 12. Thread Work Blouse Designs
Next on this bridal blouse list is a different kind of bridal blouse. It allows you to flaunt your beautiful silk lehenga and bridal jewelry. This threadwork blouse designed is perfect to complement your pre-wedding lehenga. Such kind of blouse designs will surely grab glances.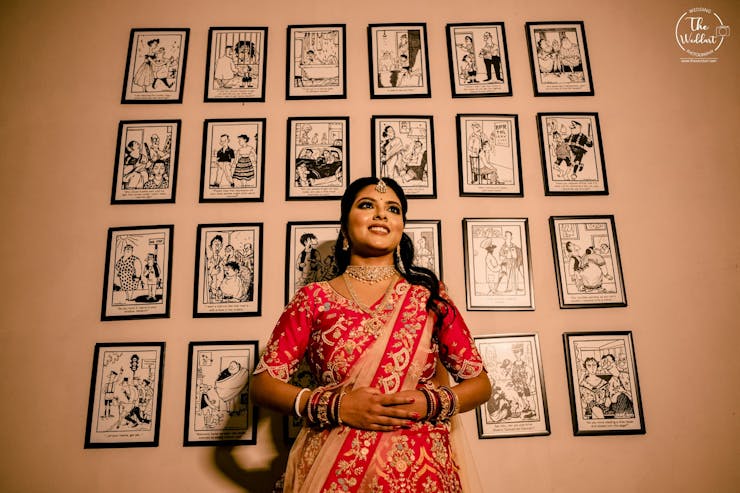 13. Brocade Work Blouse Designs
A brocade work blouse with a deep back neck is a good choice for a pre-wedding Banarasi saree. You can choose any vibrant color blouse with an intricate neck design for your Haldi event. This kind of wedding blouse goes well with heavy jewelry.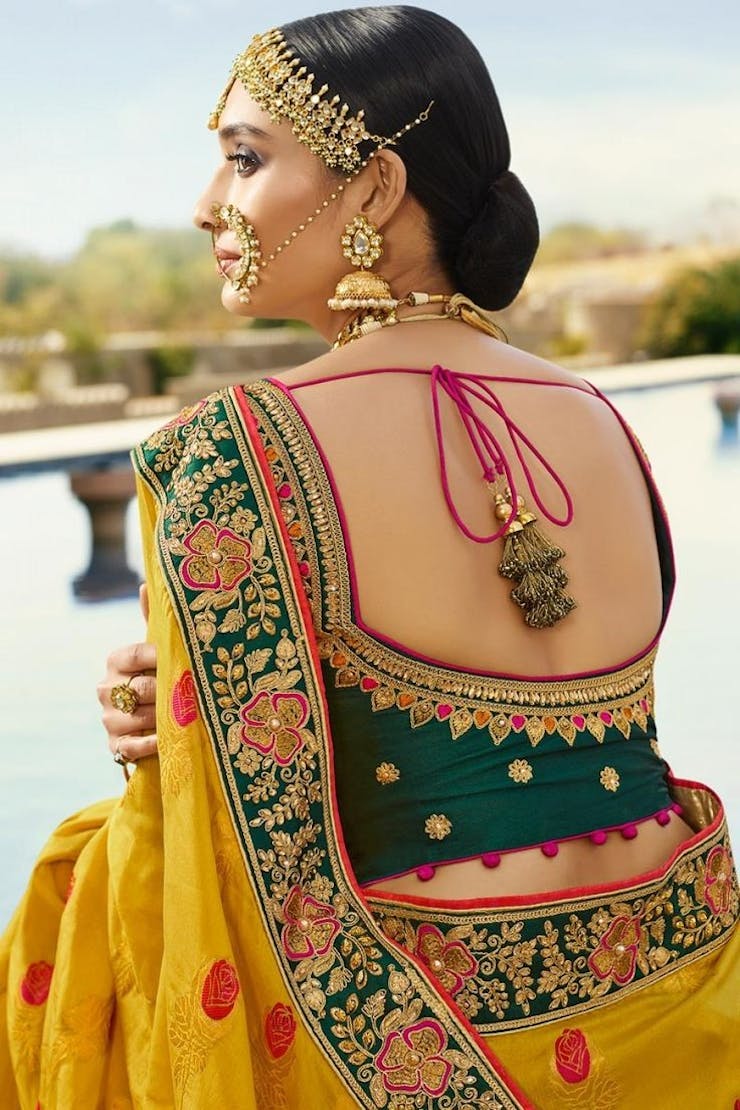 14. Peach Embroidery Bengali Benarasi Blouse Design
Ending this list with a light-shaded Banarasi blouse design. This peach-shaded blouse can be a great choice to flaunt your saree with style and glamour. This kind of offbeat combination is truly remarkable and attention-grabbing. The bride has maintained her elegance by keeping her bridal look simple yet classy.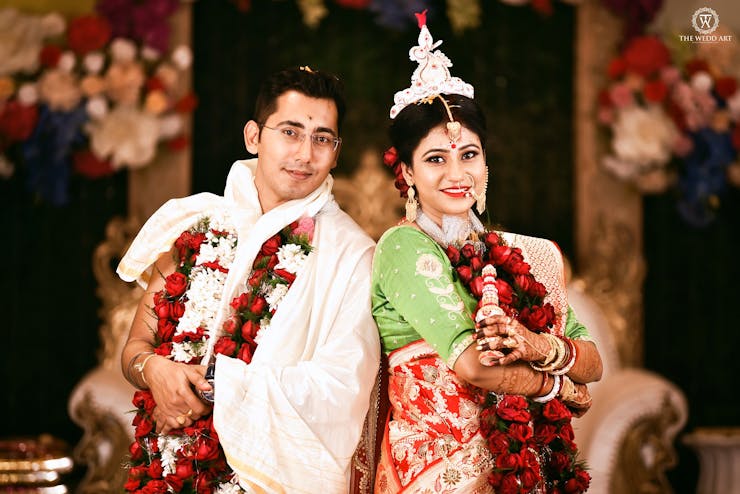 More About Wedding Photography
Latest Blog Posts