We Love These Amazing Groom Getting Ready Shots!
Wedding pictures are the most precious memories of life. So, why not make an incredible wedding album with the latest groom getting ready shots ideas?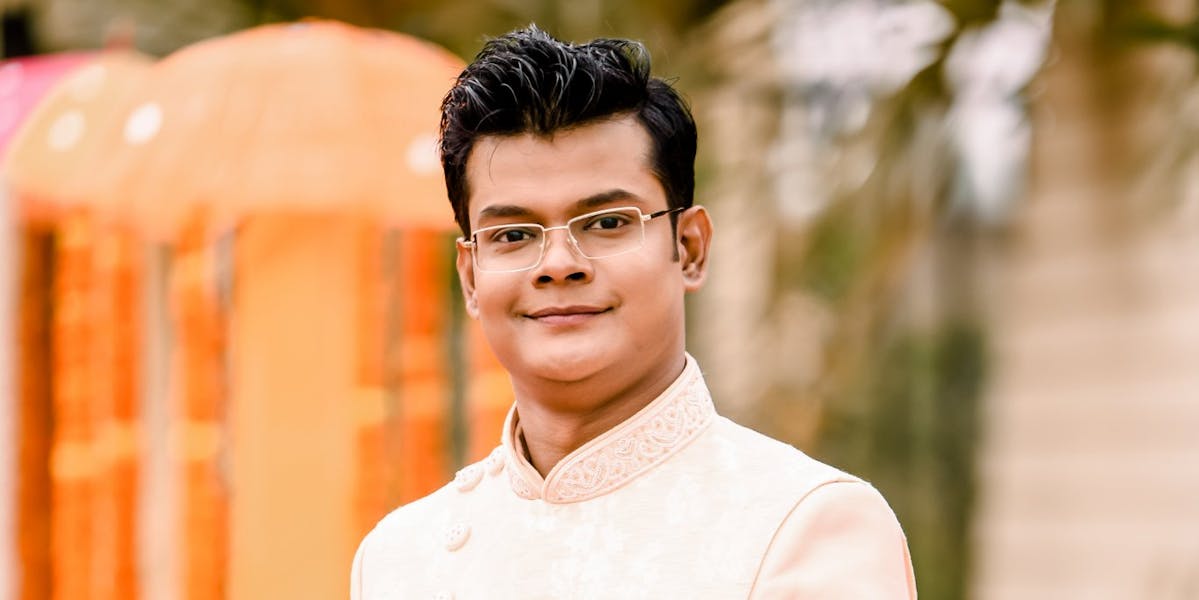 A big fat Indian wedding is incomplete about the candid poses of both the bride and groom. Before the big day, the groom is usually a bundle of nerves. Brides spent months preparing for their wedding day. While the groom and his buddies will likely wait until the last minute to get started. These candid shots can be some of the amazing and fun-filled moments of the wedding day.
Being the team of best wedding photographers in Kolkata, we love to capture the groom's emotions on camera. As the groom prepares with his groomsmen we try to document all the candid laughter, nerves, and tears. Capturing these moments is important because it will allow you to look back on the day and relive all your wedding emotions. We have found some perfect groom getting ready shots that might inspire you for a perfect shot.
1. The Stunning Mirror Reflection
Mirrors are the most used elements in a wedding photo shoot to click dramatic portraits. You can also add a creative twist to your groom getting ready shots by including a mirror in the photo shoot. Decorative mirrors with stunning designs will add a dreamy touch to the pictures.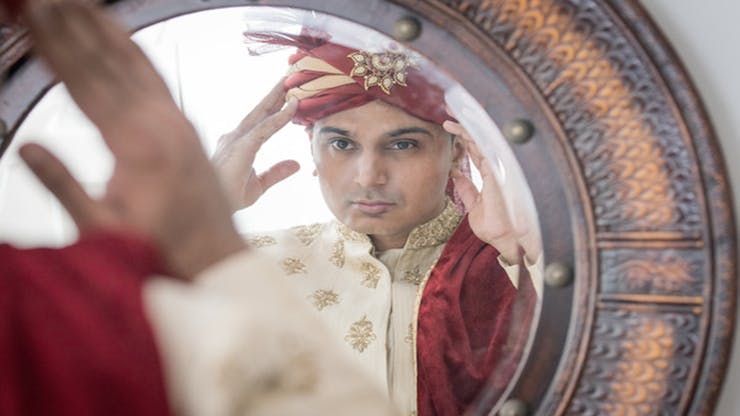 Recommended: Cute Candid Wedding Poses For Couples That Have To Be Bookmarked!
2. Captured While Giving The Final Touch
The final touch is very important before heading off to the ceremony. You can play with your sherwani sleeves or comb your hair to complete your first look. This single photograph will be one of the best memories of your biggest day.
See More: 7+ Best Sherwani Shops In Kolkata For Your Wedding
3. Showcase The Wedding Ring
The specialty of a professional Bengali wedding photographer is they can catch all the details of a wedding. One such idea is clicking your wedding ring while getting ready. Make sure to capture this getting ready groom photo by looking away from the camera.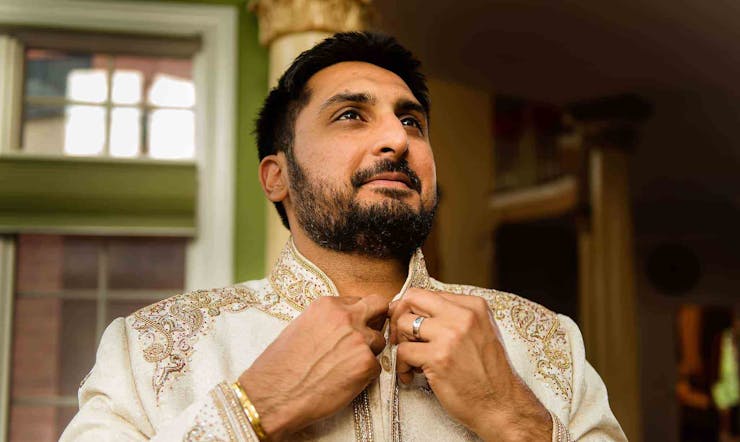 Also Check: Top 15 Fashionable Bengali Groom Reception Dress Ideas
4. Leaving For The Grand Wedding
The moment when you leave for the wedding venue is the most precious moment of your life. It is filled with various emotions that must be captured beautifully. You can hire a Kolkata wedding photographer to capture some priceless moments of the beautiful phase of life.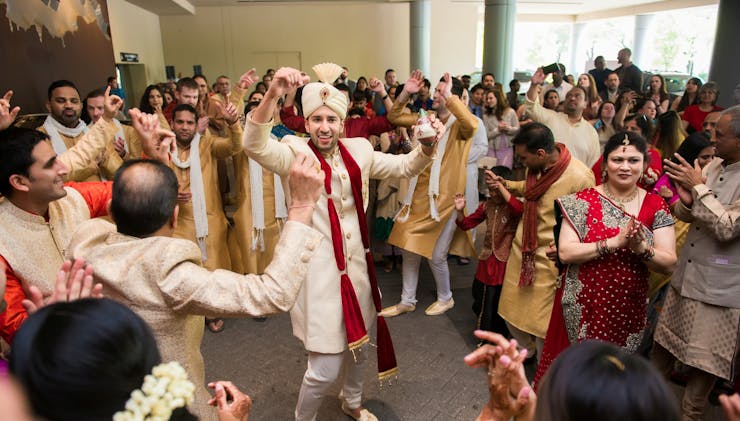 5. While Tying The Safa
Although you will have various pictures of your wedding look, but make sure to capture a photo of your stunning safa. This is one of the best groom getting ready photos that you can try to make some lifetime memories.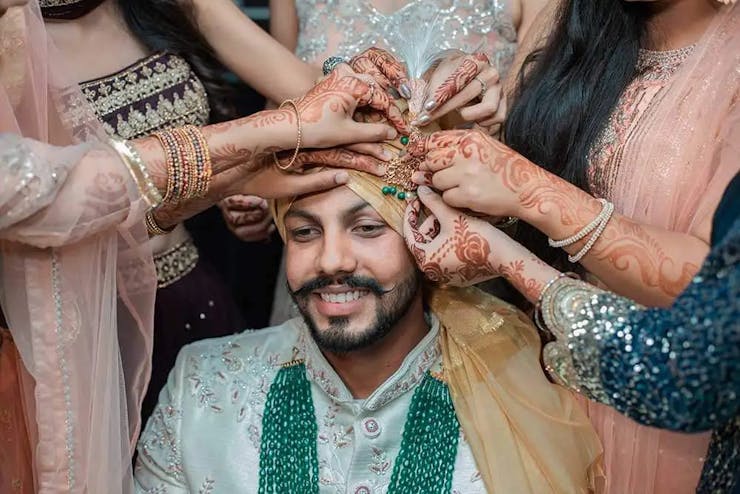 6. Got Clicked While Putting On Stole
Another splendid moment that you must include in your Indian groom getting ready photos is a shot with a captivating stole. This is the most captivating shot that defines your charm and personality.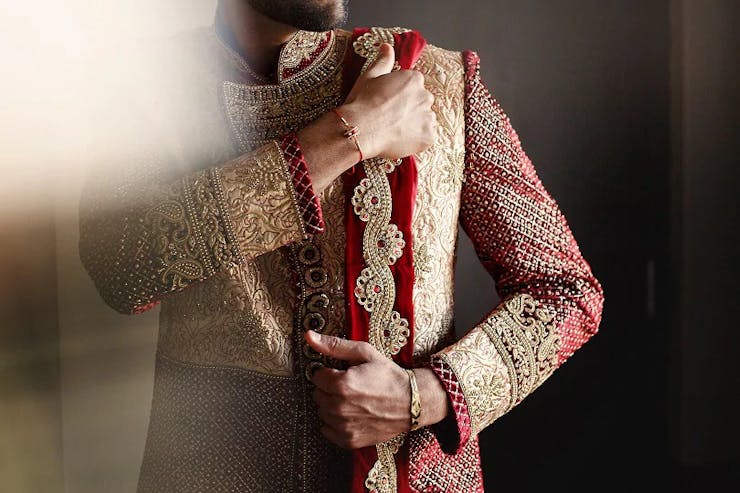 7. The Shoe Wearing Shot
Groom getting ready for marriage by wearing shoes can be a nice pose if captured perfectly. Such unique pose documents the beautiful transformation of your wedding look. This kind of simple pose is perfect for a camera-shy groom.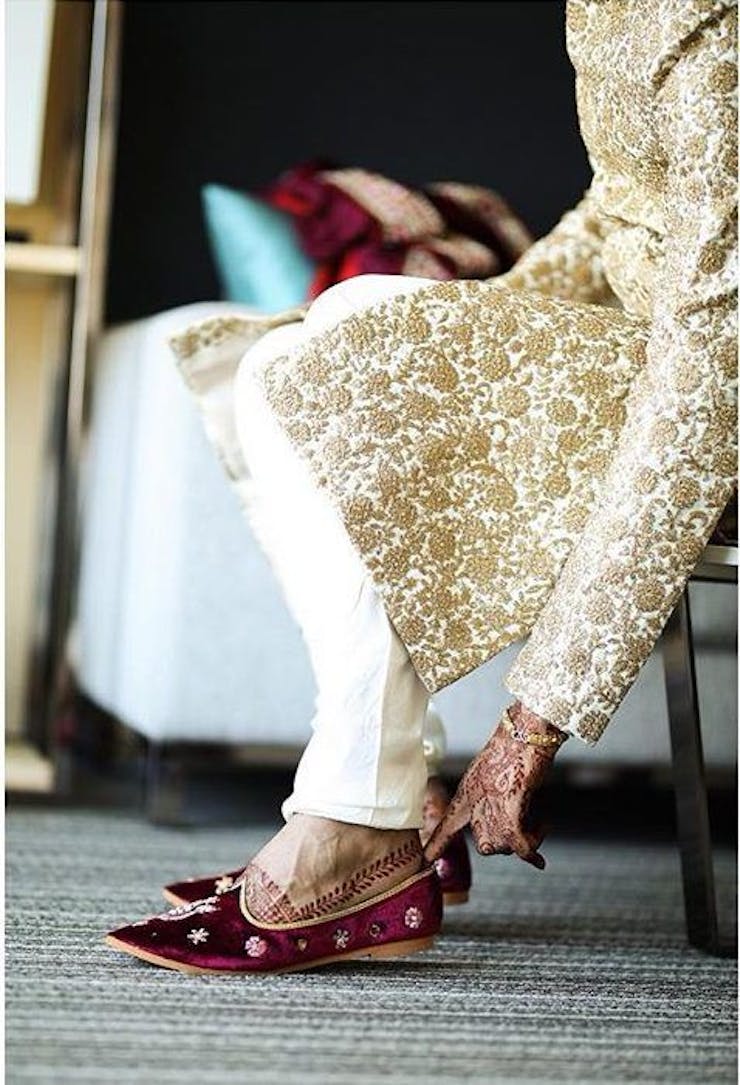 8. Putting On The Royal Sherwani Is A Must One
Capturing your gorgeous sherwani is a very important step to make a fascinating wedding story. Such photos of groom getting ready in his wedding outfit always leave a big impression on people's minds. Flaunting your designer suit can be a great idea for preserving the precious moment of life.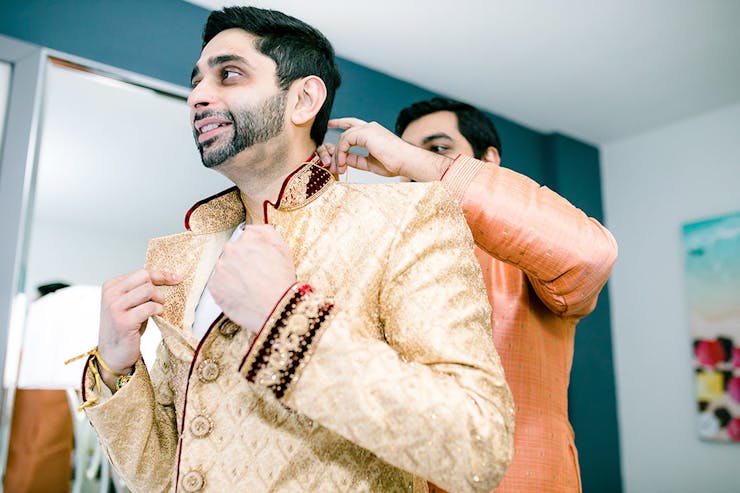 9. When The Stylish Watch Is The Main Focus
Wearing a watch is one of the last few steps while getting ready that must be captured in a beautiful shot. Highlighting your wedding watch in the picture will not only reflects its style but also make a memory of that beautiful hour.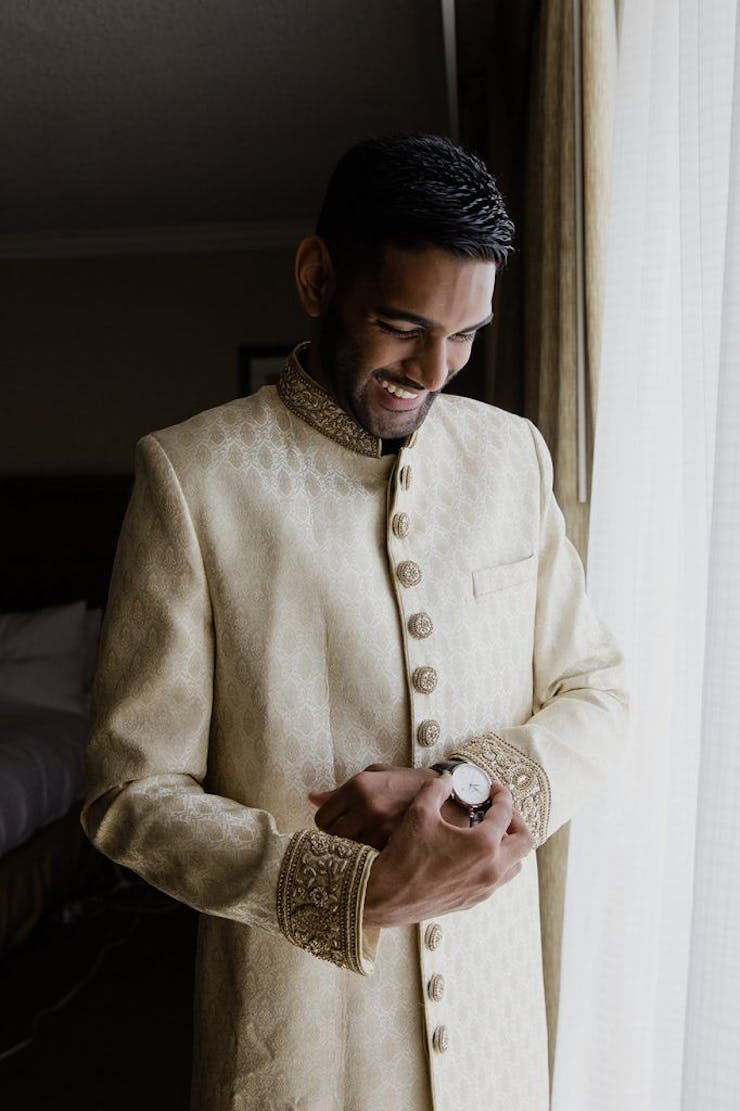 10. A Candid Shot With Best Buddies
Pictures of groom and grooms men getting ready are very popular as it adds a cute angle to your wedding story. These candid shots capture all the natural expressions and interactions very well. Posing with your best buddies will add a new dimension to the wedding album. It is the best idea to make memories of your wonderful friendship.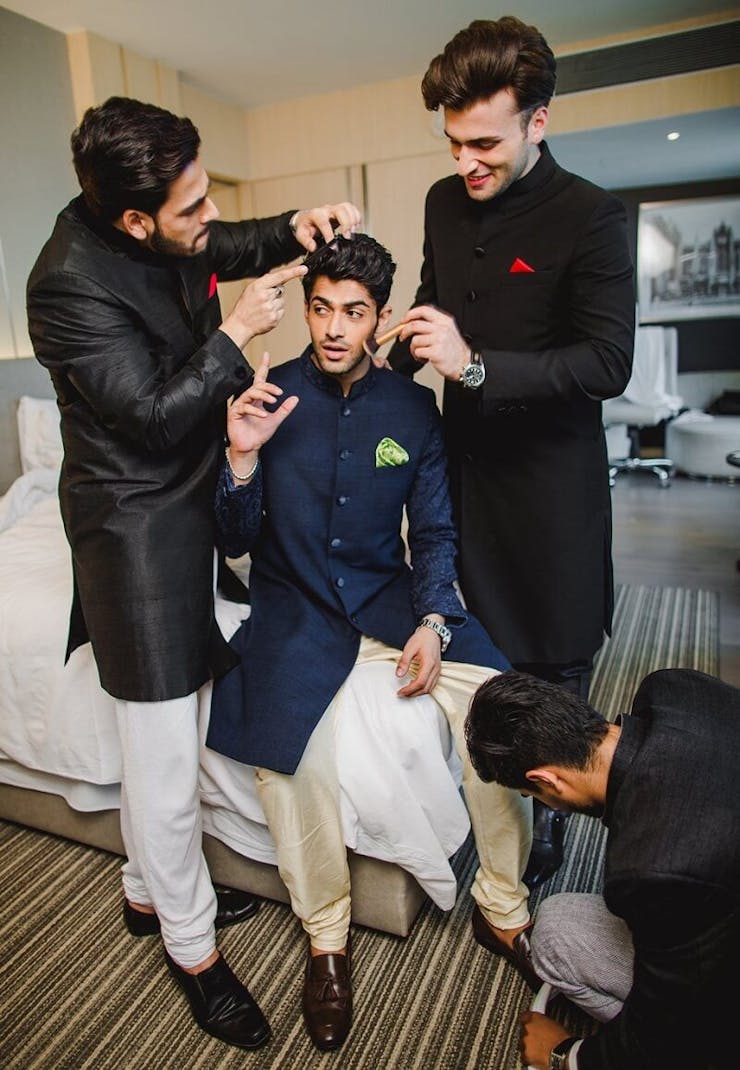 11. Let Your Wedding Outfit Do All The Talk
Make sure to take shots of your stunning wedding outfit and accessories. These pictures carry genuine emotions and excitement of the groom on the wedding day. Such heartwarming shots must be framed well to keep memories of the remarkable phase of life.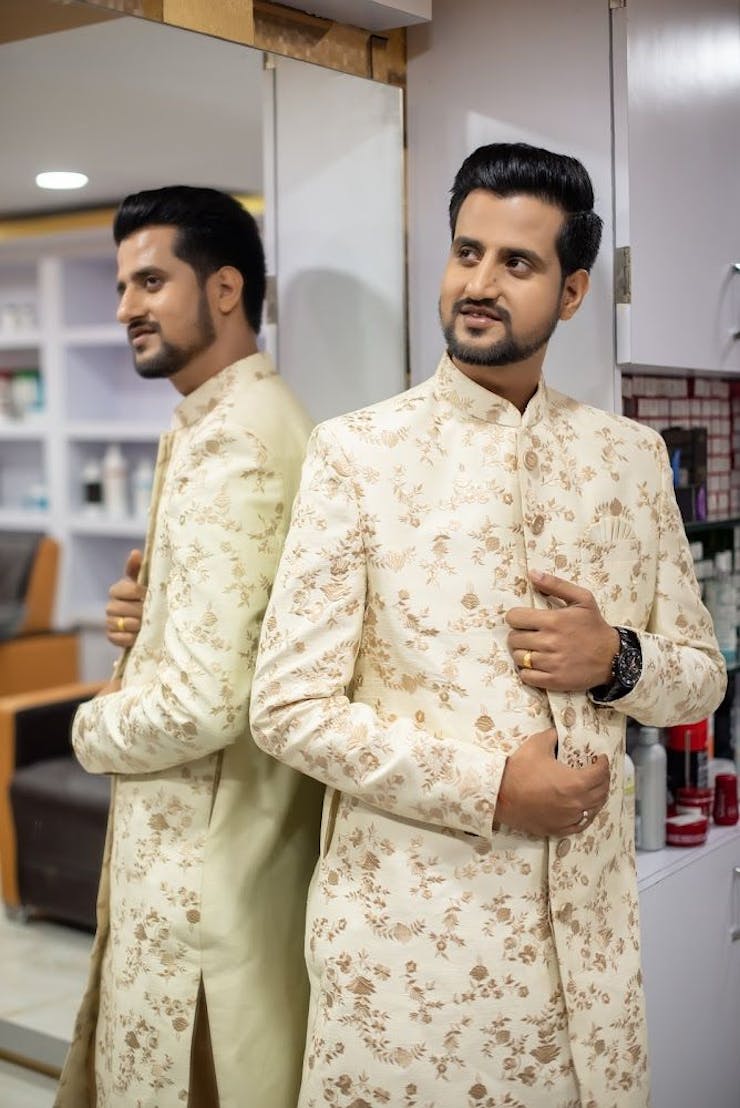 12. Highlight Your Kalgi Design
The Wedding Safa of a groom is the first element that gets noticed by everyone at the wedding. Hence, you must take creative shots of your designer Kalgi to add a royal feel to your wedding pictures. If you are a Bengali groom then you can do the same thing with your stylish Topor.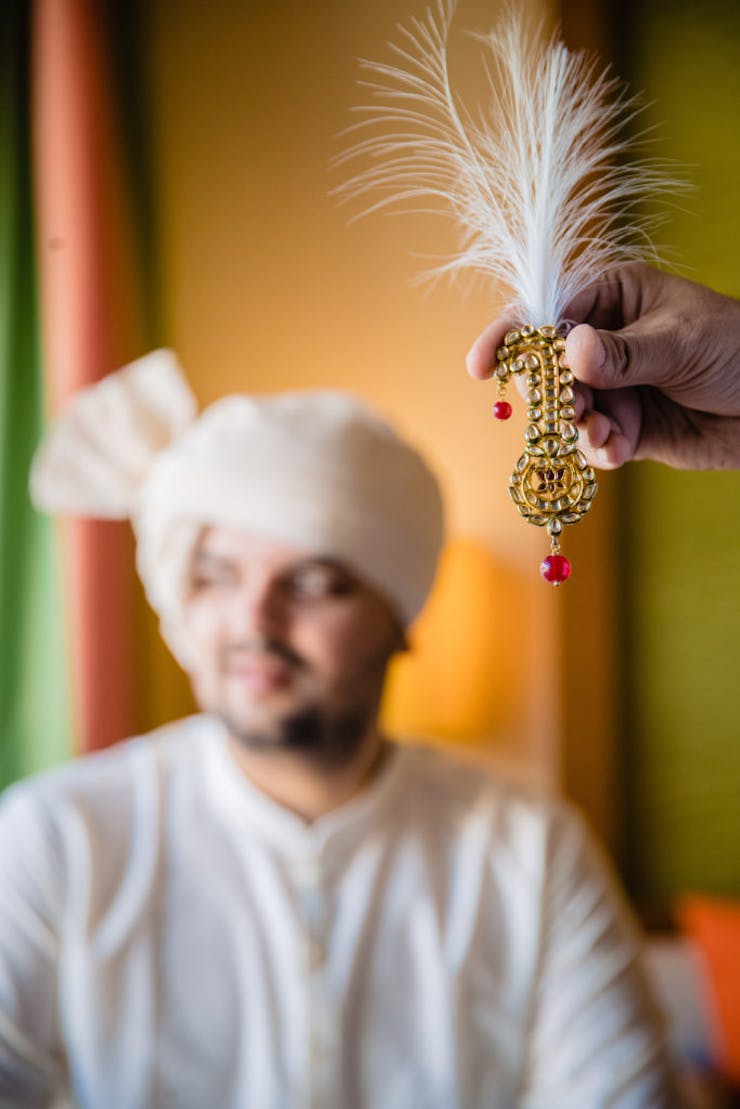 Some Important Tips To Get Perfect Pictures
1. Opt For A Good Posture
Practicing good posture can be helpful to get some amazing wedding photos. You can opt for a standing or sitting pose. Turning a 45-degree angle while posing for the groom getting ready shots will offer you flattering pictures. Another easiest way is playing with the sleeves of your wedding outfit. Such poses will allow you to sport a stylish look in pictures.
2. Eating Healthy Is Essential
Eating nuts and fruits not only cuts down your pre-marital stress. But it also brings a wonderful glow to your face and keeps you refresh and active for the photo shoot.
3. Practice Facial Expressions Beforehand
If you are a camera-shy person, then you must practice facial expressions. Because giving some natural expressions can turn your photos into a creative story. Don't try to fake expressions. Be natural and enjoy the photo session.
4. Choose The Right Outfit
This is why brides take months deciding their wedding outfit. A wedding outfit defines your personality. Hence, you must choose an outfit that tells your story in the wedding photographs.
5. Find A Professional Photographer
Now, this is the key factor of well-planned wedding photography. Hiring a good photographer can help you get wonderful wedding photos. You should meet your photographer in person and exchange ideas about planning a stress-free photo shoot.
More About Wedding Photography
Latest Blog Posts