The Best Tray Decoration Ideas for Indian Wedding Ceremonies
Wondering how to make your wedding trays look captivating? Check these tray decoration ideas for Indian wedding and bookmark the best ones!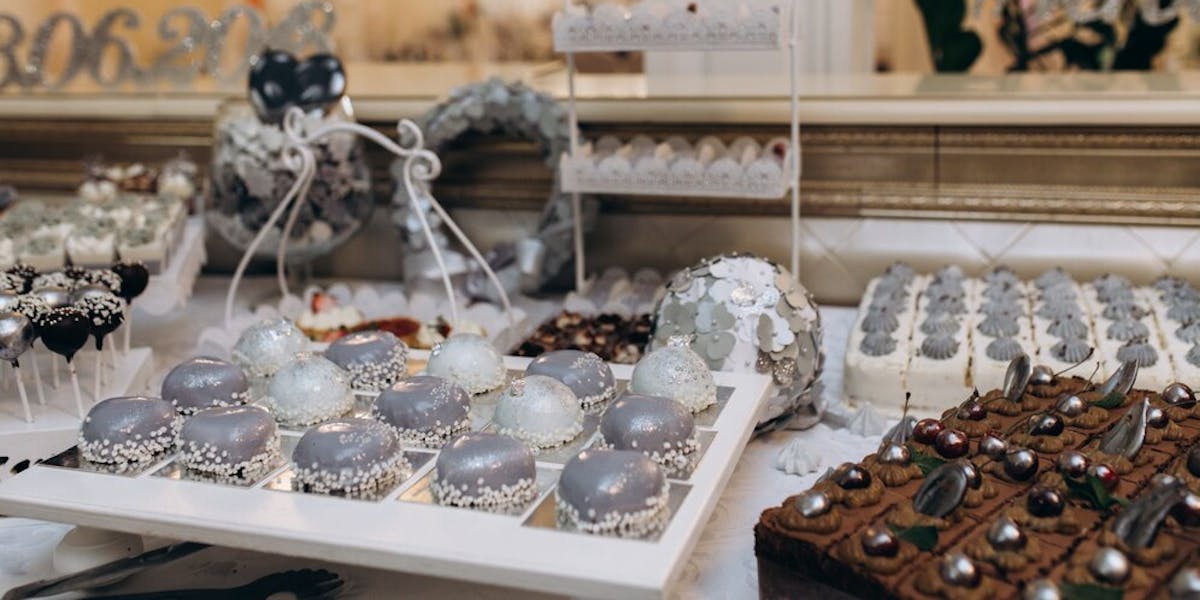 Indian weddings are known for their vibrant colors and decorations. One of the most important elements of any Indian wedding is the wedding tray decoration. Even the wedding rings are also carried on beautifully decorated wedding trays. There is a wide range of options available for couples when it comes to decorate their wedding trays.
Being the best wedding photographers in Kolkata, we look for decorative things to create wedding memories. Whether you are looking for something traditional or modern, there is sure to be something that will suit your taste and budget. So, here we are sharing a list of the best tray decoration ideas for Indian wedding that will make your special day even more memorable!
Recommended: Benarasi Blouse Design For Bengali Wedding - The Weddart
1. Haldi Tray Decoration With Flowers
To celebrate the Haldi ceremony, you will need the haldi plate. Decorating your Haldi platter with fresh flowers will add more beauty to this vibrant ritual. Beautiful flower decorations all around the haldi thal are all the rage right now. This will also let your Kolkata wedding photographer to capture creative wedding photos.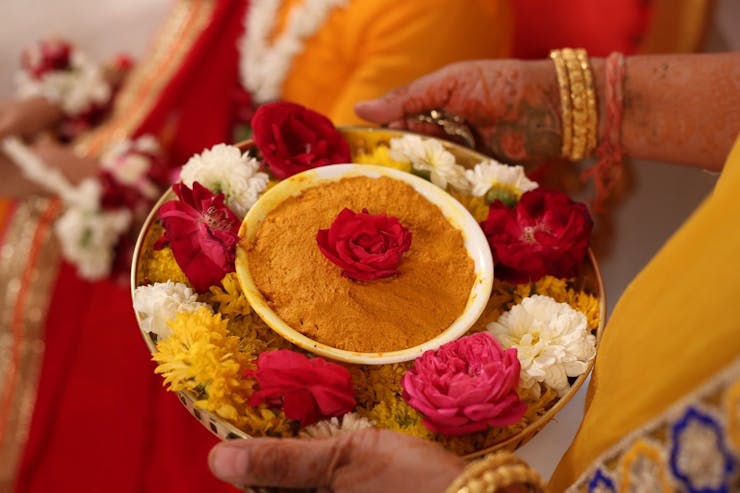 Must Read: 12+ Amazing Destination Wedding Places In Kolkata
2. Chocolate Tray Decoration For Indian Wedding
An amazing way to pack your wedding sweets or chocolates is by adding a golden touch to the wedding decoration tray. A golden tray when decorated with silver-hued artificial flowers looks eye pleasing. The sweet delights in gold and silver hue further enhance the look of the decoration tray for wedding.
See More: Save These Bengali Wedding Shopping List For Bride
3. Ring Tray Decoration Ideas
There are many attractive options to decorate your engagement ring tray. But an enchanting tray like this one always is the highlight of your special event. A ring tray decorated with crystals and pearls adds a royal touch to the decoration.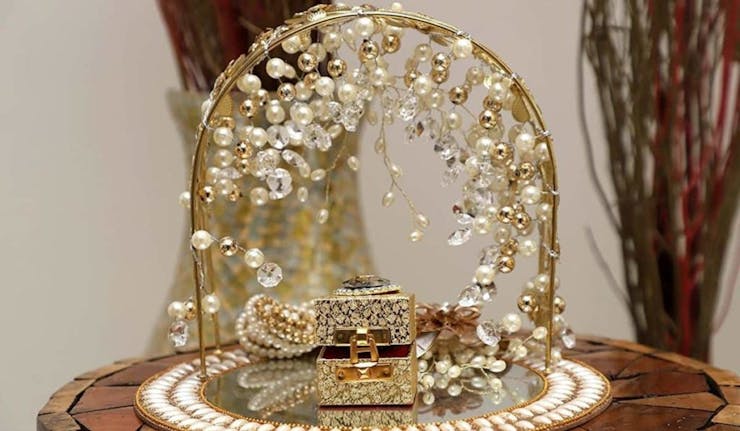 4. Dry Fruits Wedding Tray Ideas
If you are wondering about how to decorate the dry fruits thali, opt for this tray decoration for Indian wedding. The dry fruit plate has been beautifully decorated with colorful stones. Even the dry fruits are also aligned in a decorative manner.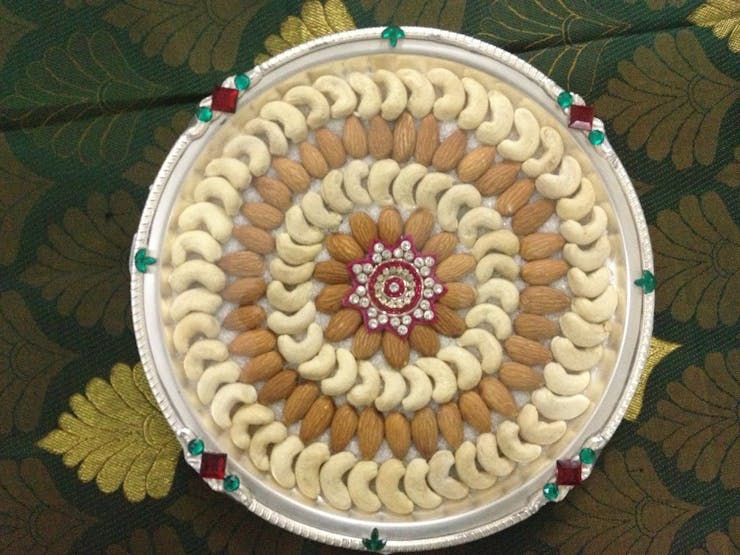 5. Cosmetics Tray Decoration For Wedding
This kind of wedding tray decoration gives a sense of richness to the gift. Adding fairy lights makes your gift wrapping more unique and attractive. This is the best diy wedding tray decoration for packing cosmetics gifts for the bride-to-be.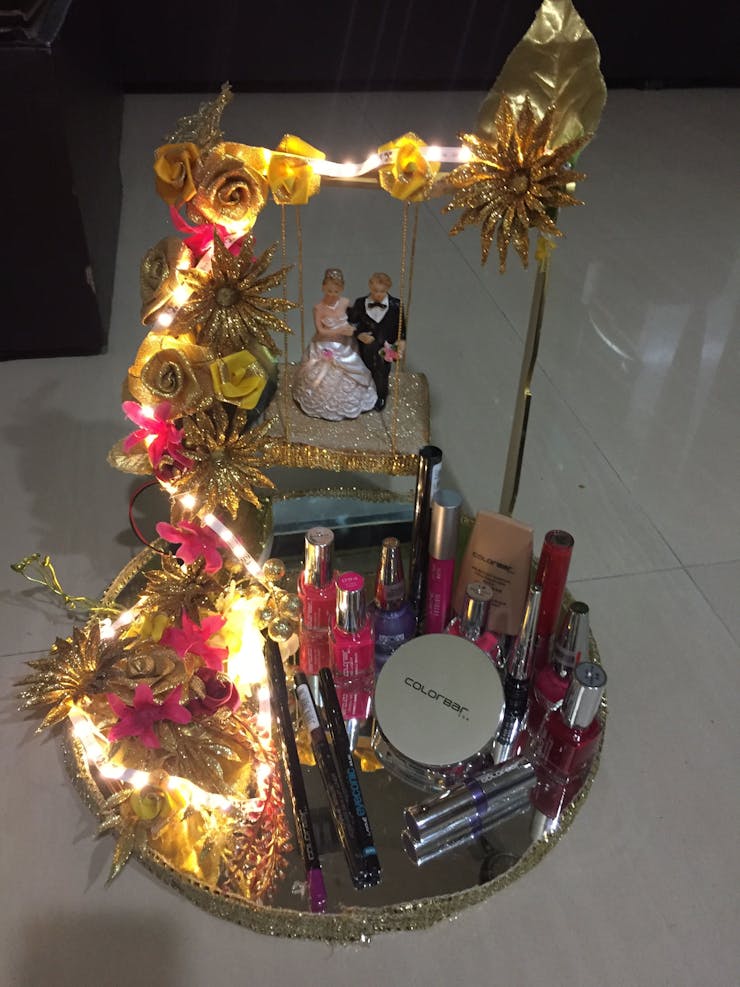 6. Watches Wedding Gift Tray Decoration
Gifts that come in an attractive box are sure to grab the attention easily. You can choose a metallic box and decorate it with artificial flowers. This will be the best idea to present a beautiful watch to the couple. This is also the most attractive wedding tray decoration ideas that will bring a smile to the couple's face.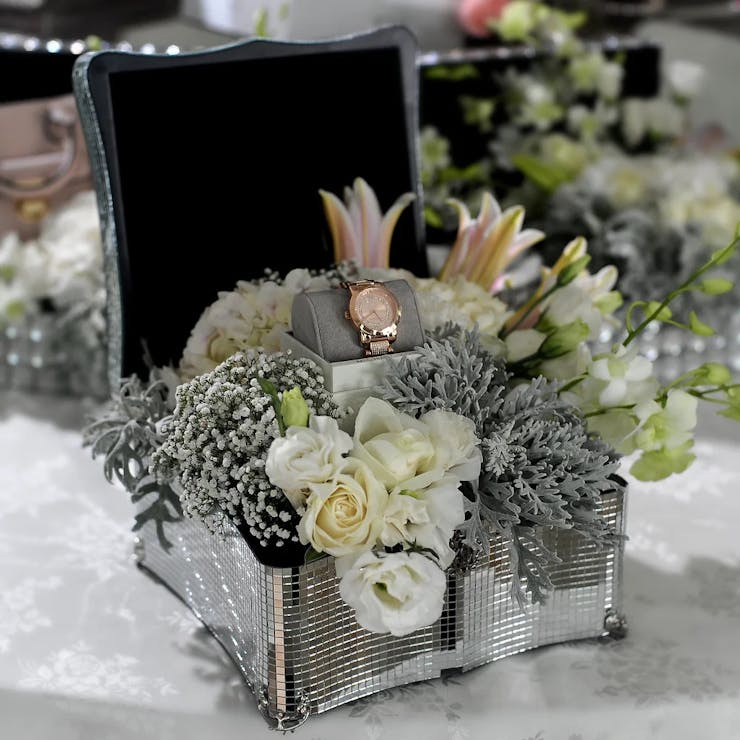 7. Clothes Tray Decoration For Indian Wedding
Wrapped and layered wedding trays add a touch of class to the wedding gifts. This is the most popular Bengali wedding tray decoration ideas for bridal outfits. All that you need is a wooden tray and a gift packing sheet.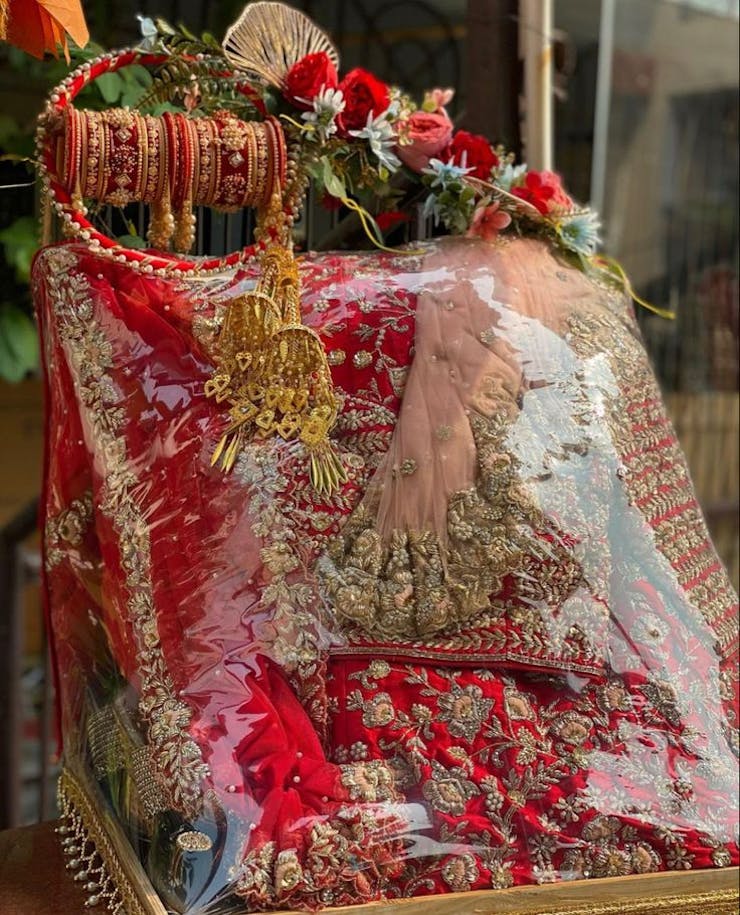 8.  Jewelry Tray Decoration For Marriage
Bridal Jewelry decorated on a round colorful tray is a true delight to watch. Take a round tray, cover it with velvet and net fabric. Then decorate the borders with artificial flowers. This is the best jewelry tray decorating ideas for grand weddings.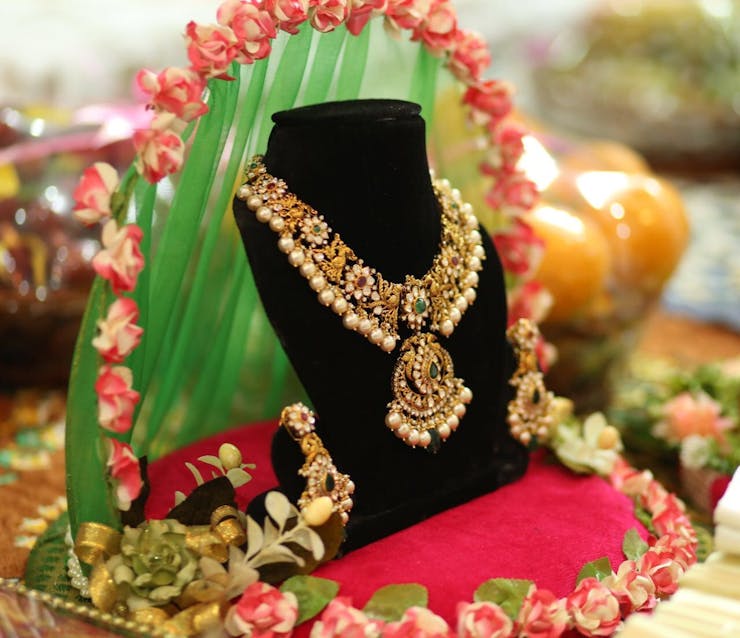 More About Wedding Photography
Latest Blog Posts