13 Gorgeous Engagement Hairstyle For Bengali Bride
Hey girls do you know that your hairstyle defines your personality? Check these trending bridal hairstyle for engagement to amp up your bridal persona.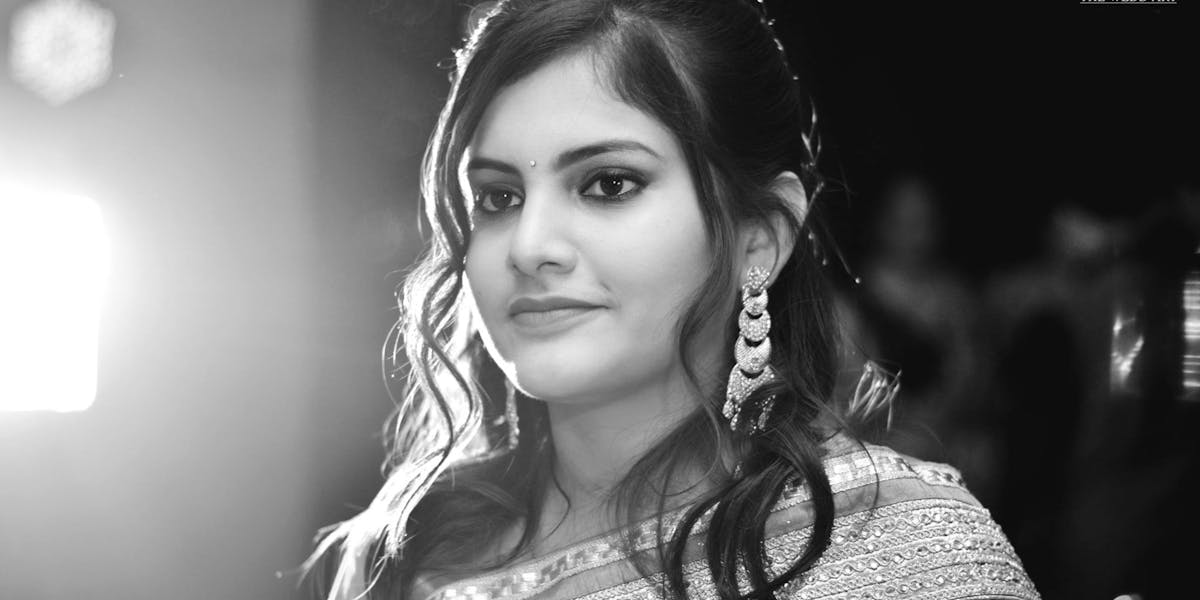 Most girls get so concerned about their outfits, jewelry, and makeup that they almost forget the most beautiful element of a bridal look. Hair is the most important element of the bridal look that enhances her beauty. A gorgeous hairstyle can improve the entire appearance of your engagement day look. It can attract people's attention. It also reveals your personality to others. Though there are many bridal engagement hairstyle options available on search engines. But figuring out the perfect hairstyle is a confusing task. You might feel lost while searching for the best one. From a stylish braid to a sophisticated bun, every hairstyle has its own charm. But before finalizing a hairstyle for engagement you need to know which one will suit you the best. You must look for a hairstyle looks good in your engagement pictures. After all, preserving such moments brings a smile to our faces for the rest of our lives. So let's check out some of most bridal hairstyle ideas shared by professional bengali wedding photographer.
1. Open Curls For A Sophisticated Look
An open curls hairstyle is the most decent option for an elegant bride. Here the bride has kept the top part of her hair straightened and give a dramatic twist towards the end of the hair by curling them. The simplistic charm of this beauty is further enhanced by the choice of her sophisticated hairstyle.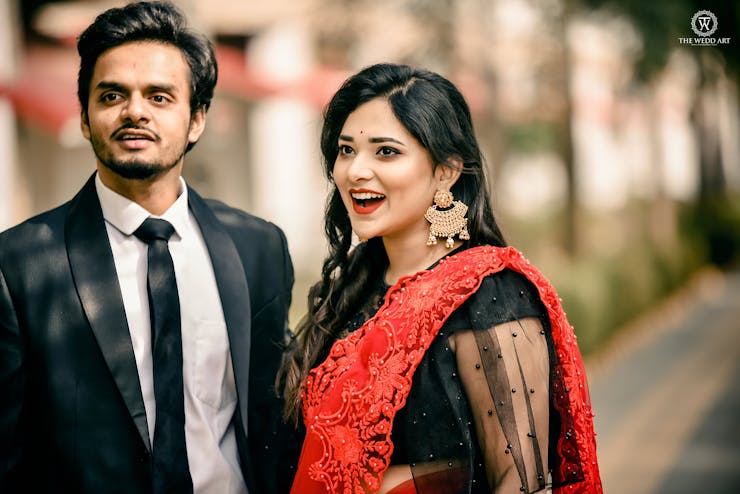 Recommended: Trending Pre-wedding Shoot Dresses Ideas For Couples In 2022
2. Short Bridal Hairstyle For Engagement For A Confident Personality
No one can deny that this modern-day bride has defeated everyone in style and boldness. Rather than choosing a classic bun or conventional brides, she has opted to curl her short hair and set it loose. This is the best way to present your style and thoughts. Remember to roll the ends of your hair well to get a captivating look.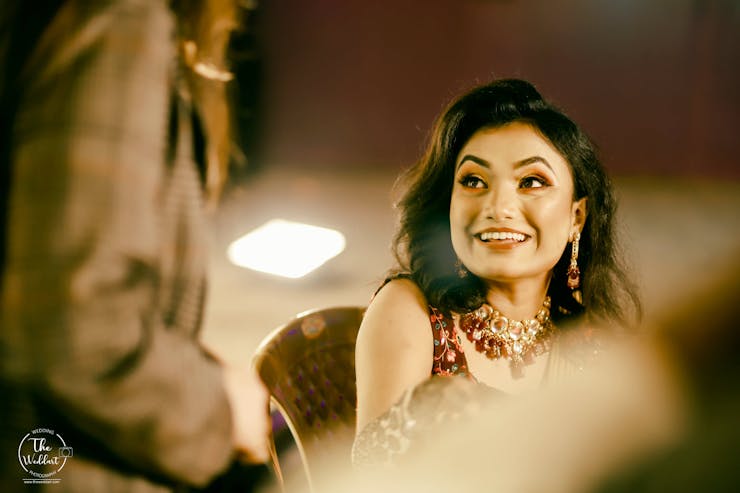 Also Check: The Ultimate Guide To Pre Wedding Shoot Ideas In Kolkata
3. An Elegant Bun Hairstyle For Wedding For A Charming Bride
Let's admit the fact that leaves everyone awestruck. Adding a floral wreath in an elegant bun can make it super eye-catchy. The addition of baby breath in her bun is complimenting the Kundan-pearl Maang-tika on her forehead. This is one of the most simple wedding hairstyles. For brides who prefer simplicity.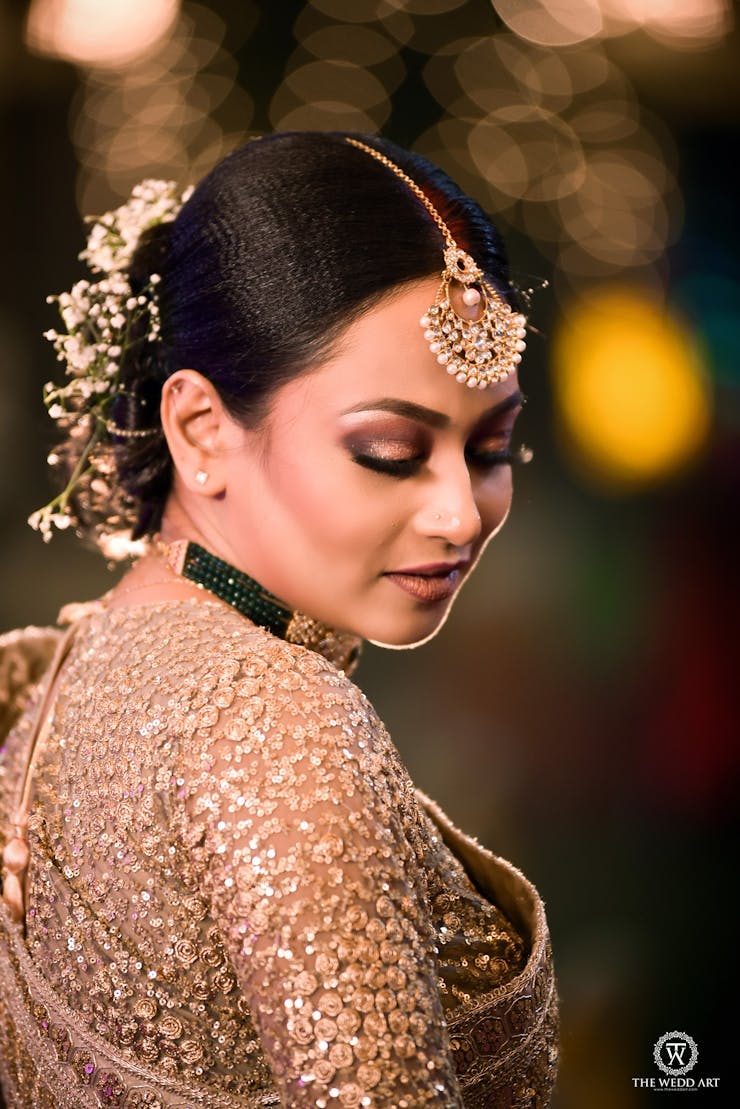 4. A Side Parted Bun For A Retro Look
The next one is another amazing hair bun for the girls who want to add a dash of drama to their engagement look. A side parted hair bun is an extraordinary option in an engagement hairstyle for bride. This kind of hairstyle suits the bride who has sleek hair and a round face cut.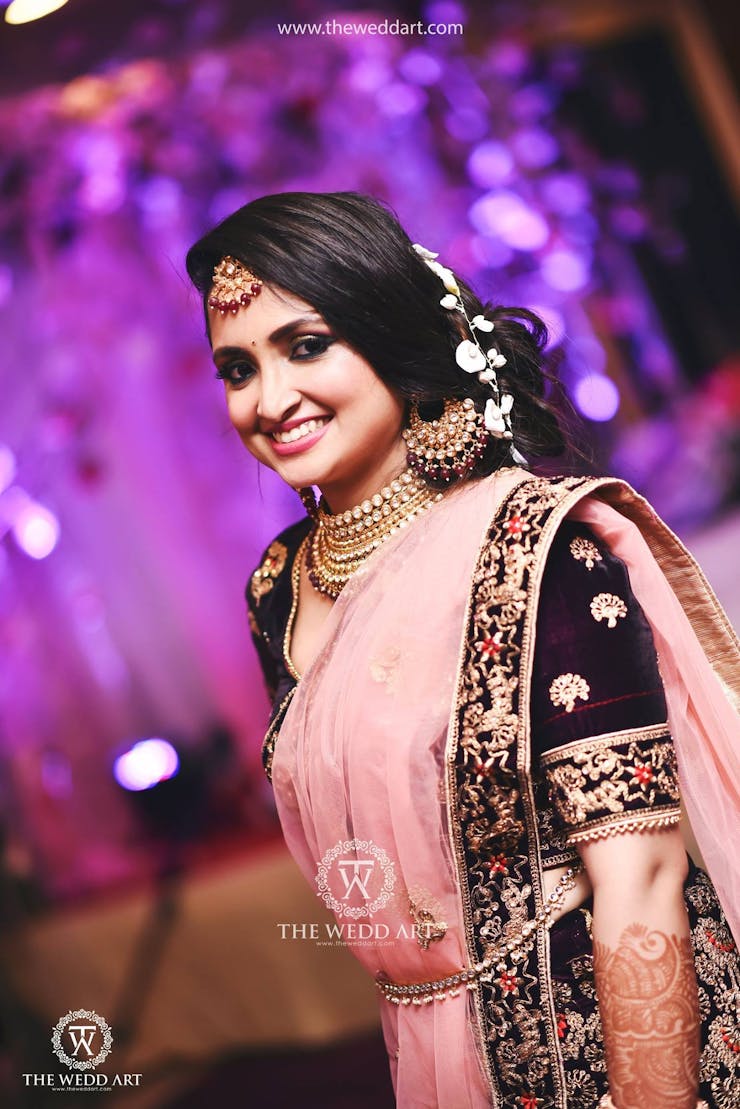 5. Half Tied Puffed Hairstyle For Stylish Brides
This kind of beautiful bridal portrait is a part of candid wedding photography in kolkata. A puffed hair style can match any type of bridal costume whether it's a beautiful gown or lovely lehenga. Here the stylish bride has opted for a puffed hairstyle with a high ponytail. Leaving your front hair to lose can add a definition to your stylish engagement look.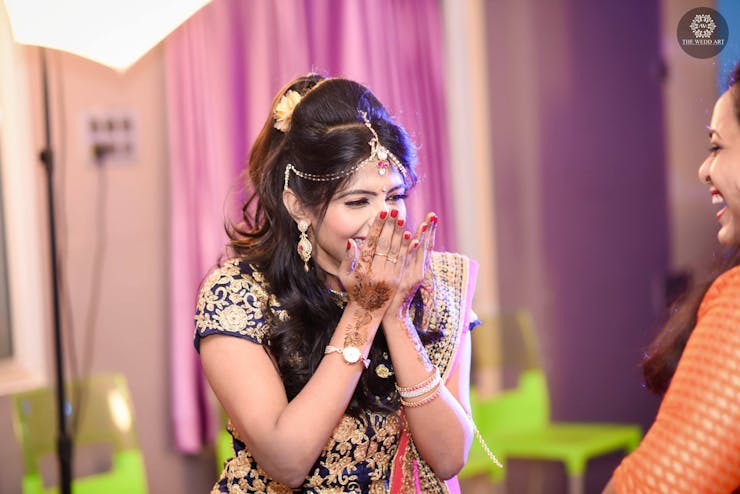 6. Low Buns Are The Most Classy Hairstyle For A Grand Engagement
This bride has chosen a soft and classy bun for her engagement day. This kind of simple engagement hairstyle for bride can turn the entire look into a captivating one. This low bun with a loose curl is perfect for a lavish engagement ceremony.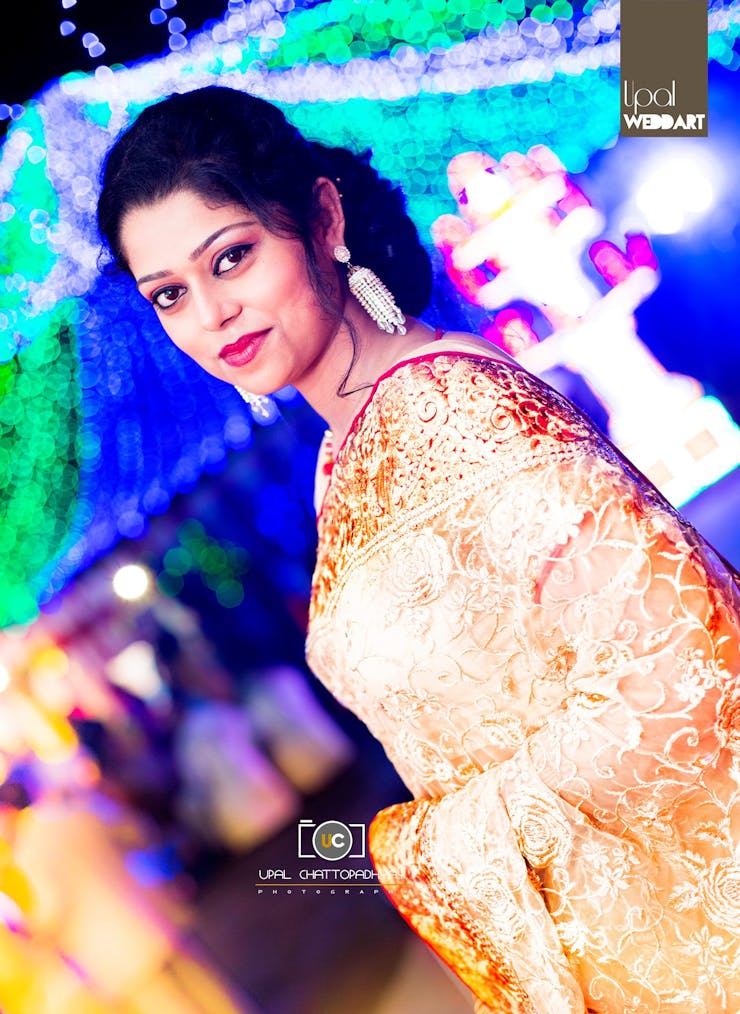 7. The Crown Braid Hairstyle Is A Sassy Option For Glamorous Brides
We are so impressed by this bridal hairstyle that we can't stop appreciating its beauty. The crown hairstyle is the latest one in the bridal fashion world. If you want to feel like an Indian princess on your engagement day then you must choose this wavy wedding hairstyles.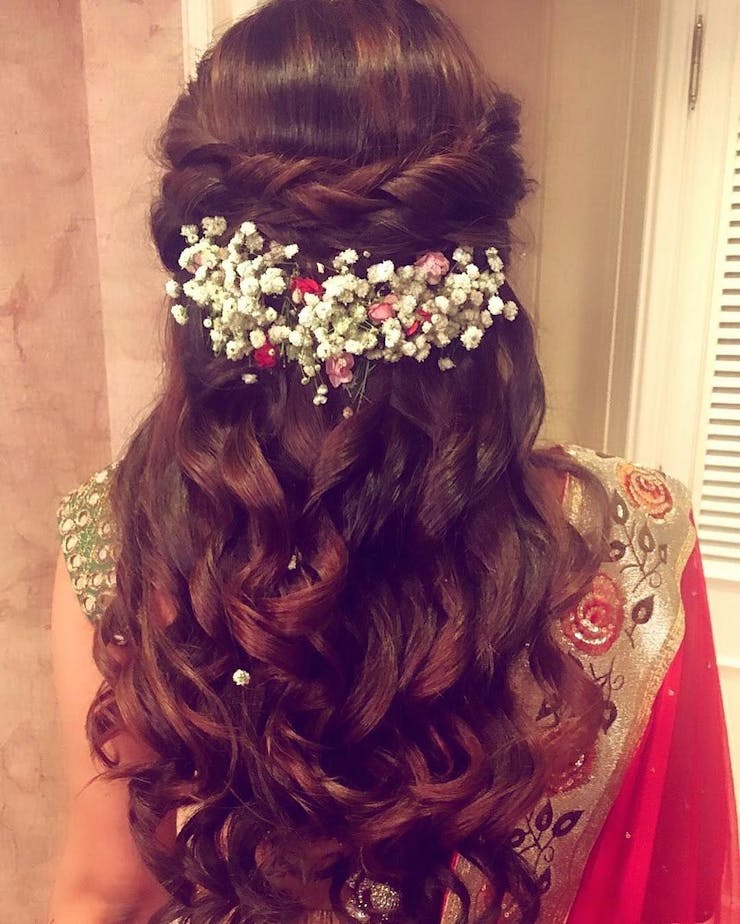 8. A Messy Bun Bridal Hair Style For Engagement Is A Popular Choice Among OTT Brides
Hair curls make a bride more beautiful. If you are looking for an unique and versatile hair bun then you must opt for a messy bun. A messy bun hair style with loose curls is the best choice for an evening engagement party. Adding dainty flowers or floral accessory provides a unique charm to your engagement day look.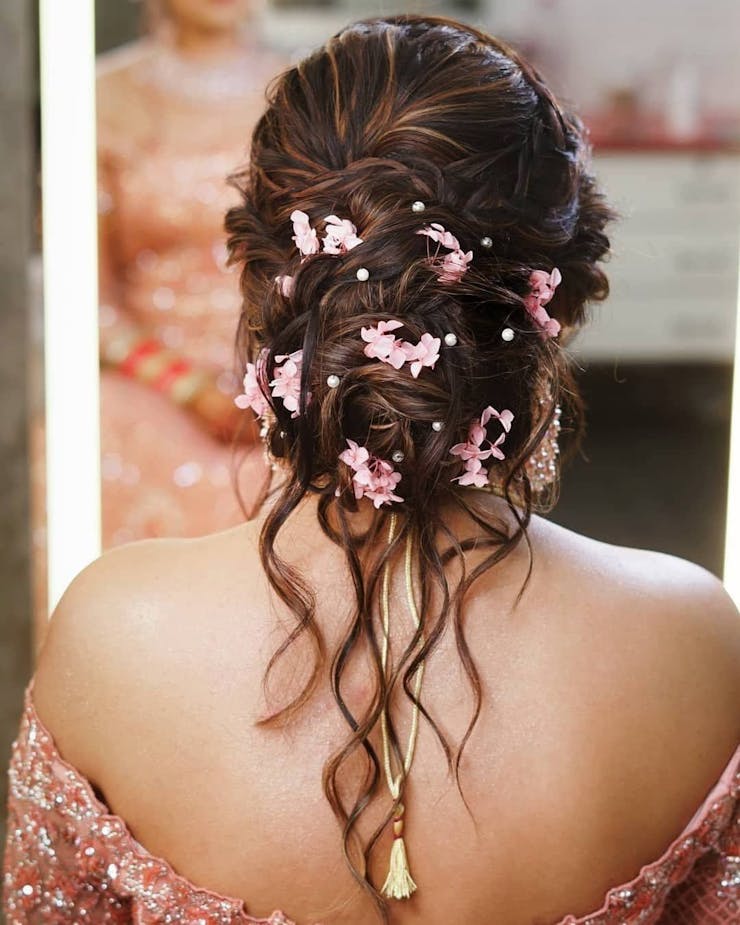 9. Stunning Voluminous Braids Are The Best Option to Flaunt Your Ethnicity
Voluminous braids adorn with hair accessory has their own beauty. A twisted hairstyle like voluminous braids always looks classy and graceful. This is a perfect Indian curly hairstyle that goes well with an ethnic lehenga or traditional silk saree.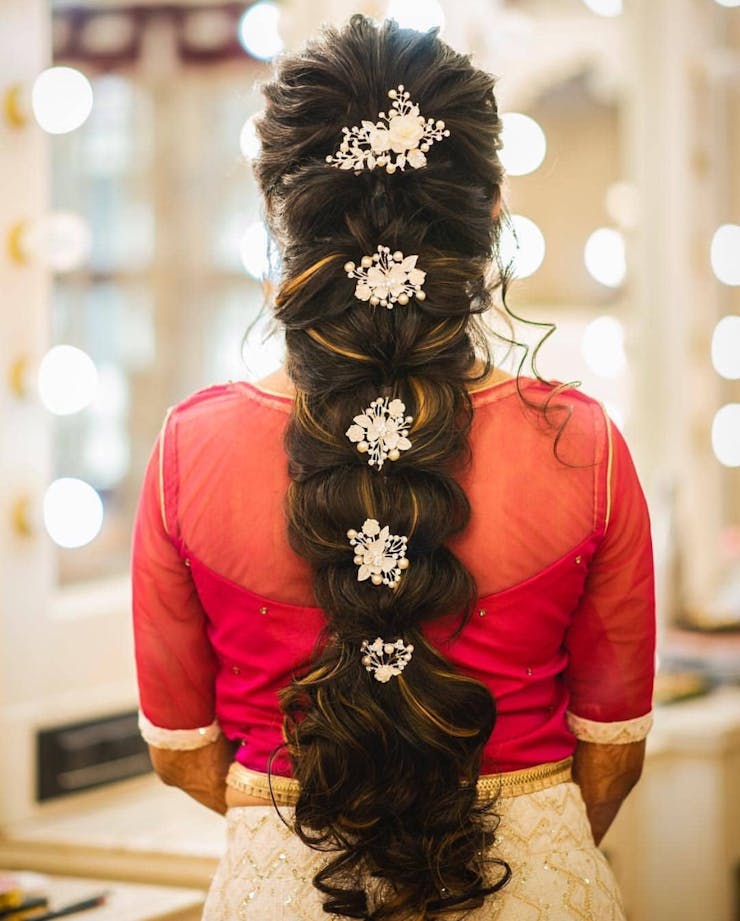 10. The Braided Bun Is The Most Gorgeous Bridal Engagement Hairstyle
If you want to mark a style statement on your ring ceremony then you must choose this braided bun hairstyle. Yet it might take a lot of patience to get this stylish braided bun but this gorgeous bun will add extra glamour to your engagement look.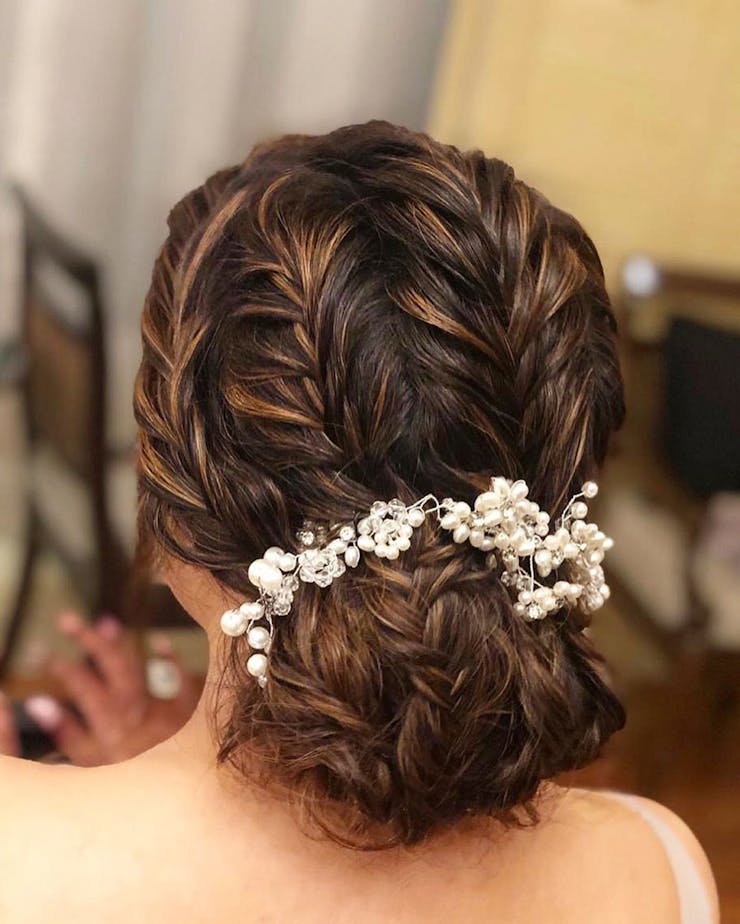 11. A Traditional Donut Bun Adds A Class To Your Bridal Persona
If you are looking for a neat hair bun then don't miss this donut bun hairstyle. Many traditional brides love to do a donut bun on their engagement and wedding day. To add a classic touch to your conventional hairstyle you can tie a floral gajra and hair brooch on your captivating bun.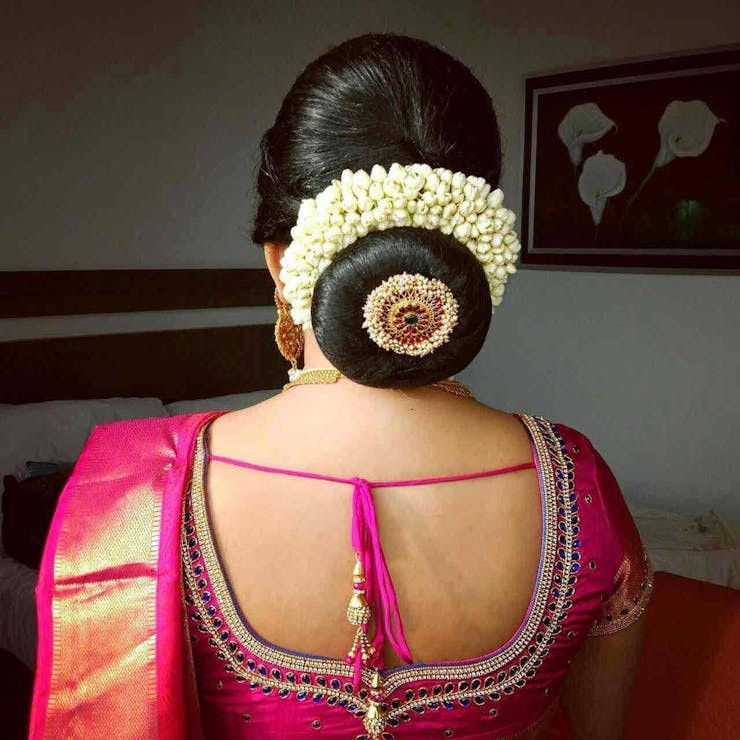 12. Attractive Fish Tail Braids Are Perfect For The Brides Having Thick Hair
A pretty fish tail can make your engagement day look impressive. You can add fresh flowers or hair accessories to adorn a gorgeous hairstyle. Opt for this wonderful hairstyle if you have thick hair and an oval face cut.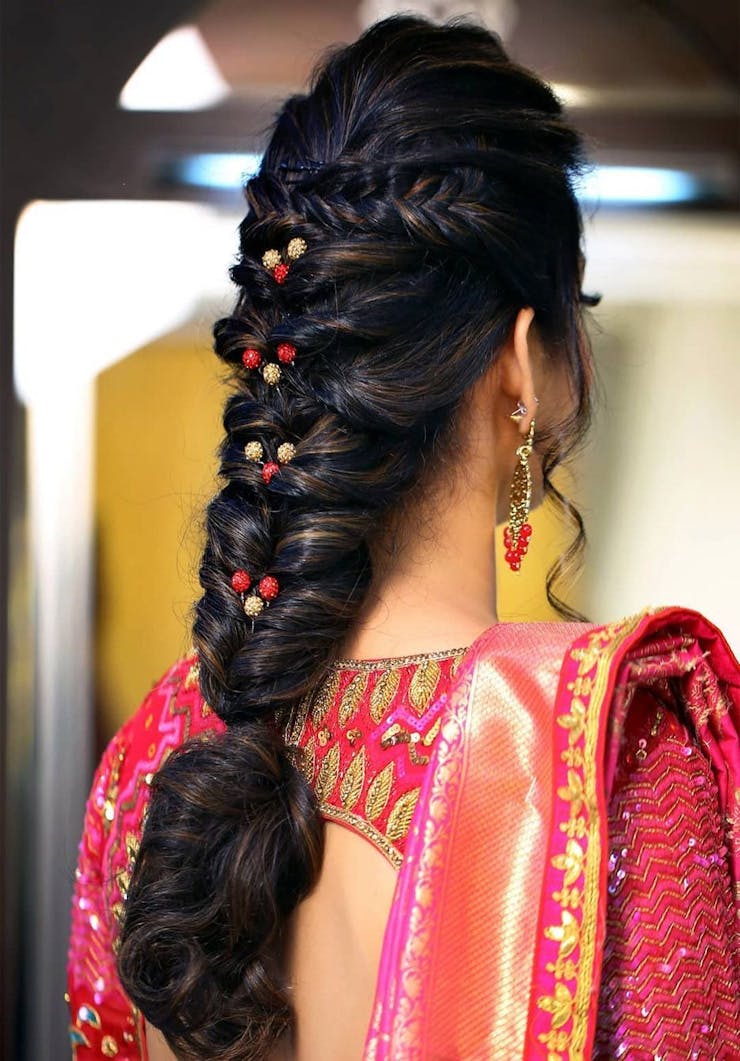 13. Cascading Hairstyle With Curly Ends Are The Most Amazing One
The last one on this list is the prettiest hairstyle for our lovely brides. The beautiful floral wreath added to her wavy hair is making this hairstyle very attractive. This mesmerizing hairstyle can steal the limelight of your engagement party.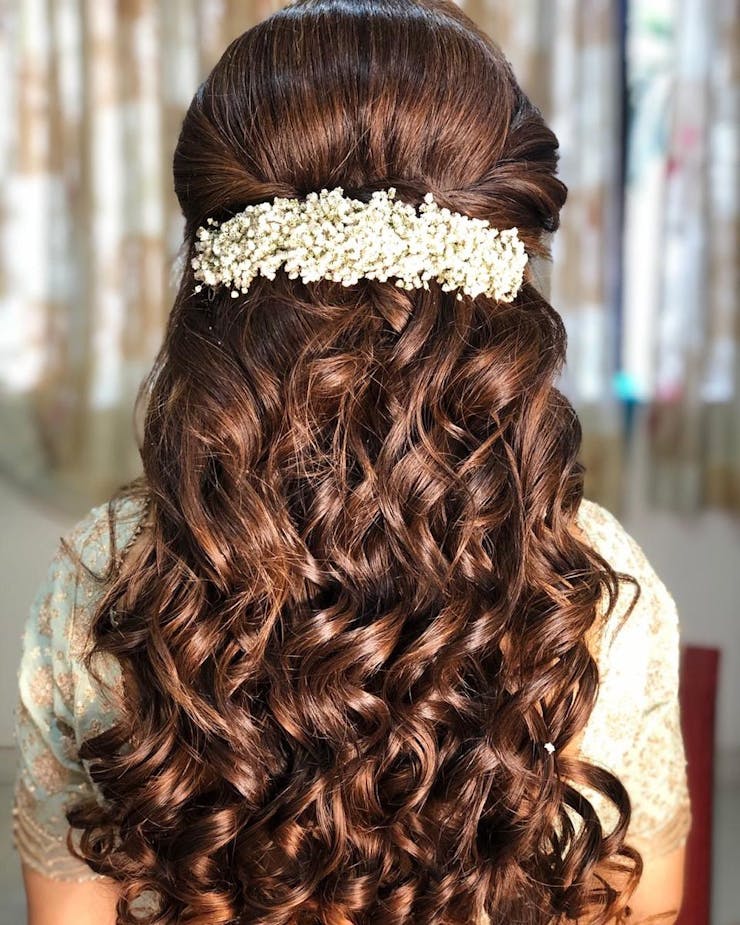 More About Wedding Photography
Latest Blog Posts